Welcome to Monkeyrockworld, a site about educating not so young couples to leave the certainties of the cubicle behind, and travelling together on the road less trodden. We are a Southeast Asia-based, mixed-race couple who travelled extensively across Asia, the Middle East and Europe for the past decade. What's more, we have turned our passion for travelling into the stories and photos we publish on some of the world's best travel media.
After a decade, we have no desire to stop just yet: with this blog, we strive to inspire not-so-young people and their significant others to make travel a huge part of their lives, and in so doing, learn more about themselves, their relationship, and the world around them. In other words, we want to teach you to be awesome and stop letting life's daily bullshit get in the way to realize your dreams of discovery!
Sounds like a great plan, isn't it?
Why should you trust us?
Because we are truly unique and we always have it our own way. We are Marco and Kit, Italian freelance writer and  Malaysian freelance photographer based in Penang, Malaysia, since 2009. Trust us because we are older than the average backpacker, and have turned a decade-plus of travel experience into a successful marriage, and a profitable career.
Not only we run a website on how to discover Penang's local secrets, but, as we anticipated, we also freelance for some of the world's best travel publishers, including Travel + Leisure Southeast Asia, the Rough Guides, BBC Travel, CNN Travel and many others. See a list of publishing credits and a photography portfolio.
Since we met in Penang in 2009 — you can read a summary of the story here — we have basically kept traveling around Asia and the Middle East non-stop, visiting more than 30 countries together. Along the way, we have learned how to manage a relationship on the road, while transforming the images and impressions of those wild adventures into travel stories and images that sell.
And more or less since 2013, we have never looked back, managing to make a living from this unorthodox craft. We are here to tell you how we do it, inspire you to live your lives to the fullest, and who knows, maybe even teach you a thing or two about travel writing and photography in not-so-obvious places.
How it all Started?
Truth be told, Monkeyrockworld goes well beyond and before our first meeting in Penang: the first version of this site has been online for a decade, when Marco left his native Italy in 2007 to move to Northeast China and become an Italian teacher. The stories of his culture shocks in pre-Olympic China were some of the first to appear online in the Italian language. The site quickly evolved into a personal travelogue collecting tales of his early jaunts in Asia and quickly switched to publishing English content. As soon as Marco ditched his one-year commitment teaching in Qinhuangdao and started gallivanting southbound from the wilds of Mongolia all the way to Australia, the site filled with more interesting stories. Until love — and a serious pet-peeve for the hedonistic backpackers populating Thailand — brought him to Penang.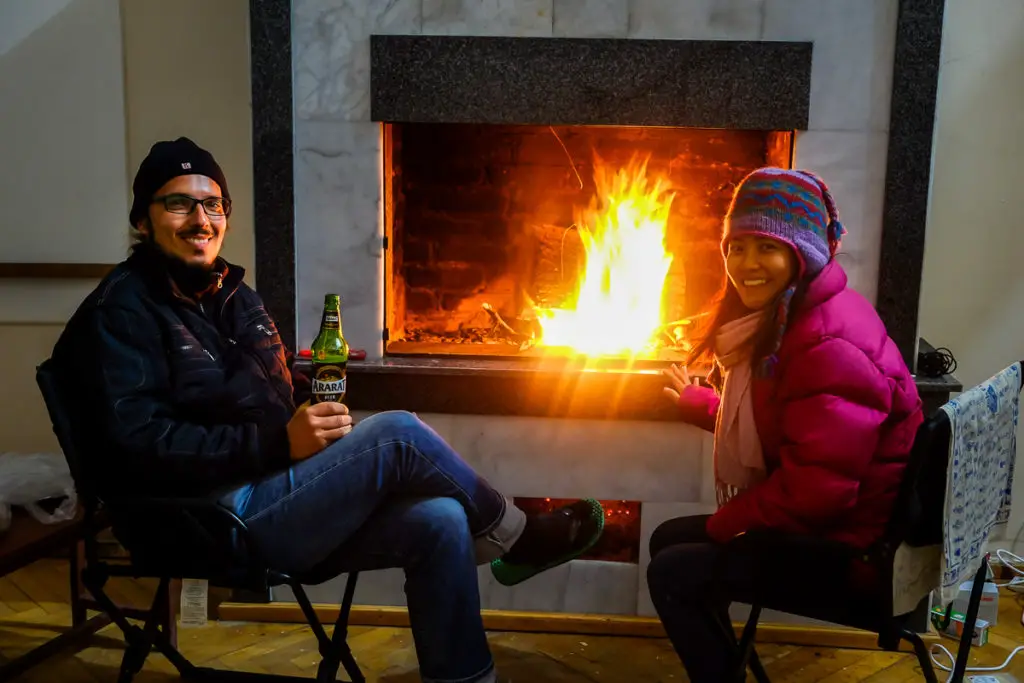 This was all before any street art or hipster cafe even existed: George Town was just populated by big cockroaches, rats the size of cats and balding sexpatriates sipping beers on the grimiest corners of Chulia Street, waiting for their Thai visas. Penang was also where Marco met Kit, and where Cupid struck the lethal arrow that still binds us together today — bites and bruises aside, it's still a very healthy relationship and a very happy marriage.
Why this site has such a silly name?
Why Monkeyrockworld? Well, silly and simple: Marco was once known as the international punk rock star and a Satanic entity known as Monkey Mother$%&er of The Nerds — an Italian metal-punk band who toured the world for 10 years. That's how the root of the travel bug seeded into his mind. When the group disbanded in 2007, this Monkey decided to abandon everything solid, and go on a wild jaunt to Rock the World. Marco kept this site online in a variety of forms until, in 2014, he got so overwhelmed and burnt-out by too-much-work exhaustion (please try to grow a freelance writing career as you are writing your Ph.D. dissertation, and then tell us about it) and Monkeyrockworld just naturally hibernated… until now.