If you are reading this travel guide to the fabled Hunza Valley, you may already know what the Karakoram Highway is. One of the highest paved roads in the world, the Karakoram Highway was completed in 1979, and opened to the public in 1985 as the China-Pakistan Friendship Highway. We think is one of the main reasons to visit Pakistan, and it's one of the best Pakistan tours you can ever take.
The Karakoram Highway is a 1300km road connecting Hasan Abdal, just beyond Pakistan's capital Islamabad, to Kashgar, China's Xinjiang Province second biggest city. As it's one of the planet's highest motorable roads, many people call the Karakoram Highway the "8th Wonder of the World". It has stunning mountainous scenery, boasting peaks that are rarely smaller than 7,000mt; mind-boggling high-altitude desert scenery; and some of the friendliest people found in Pakistan. Did we say that at the time of writing, the Karakoram Highway also has excellent asphalt, and is one of Pakistan's best roads?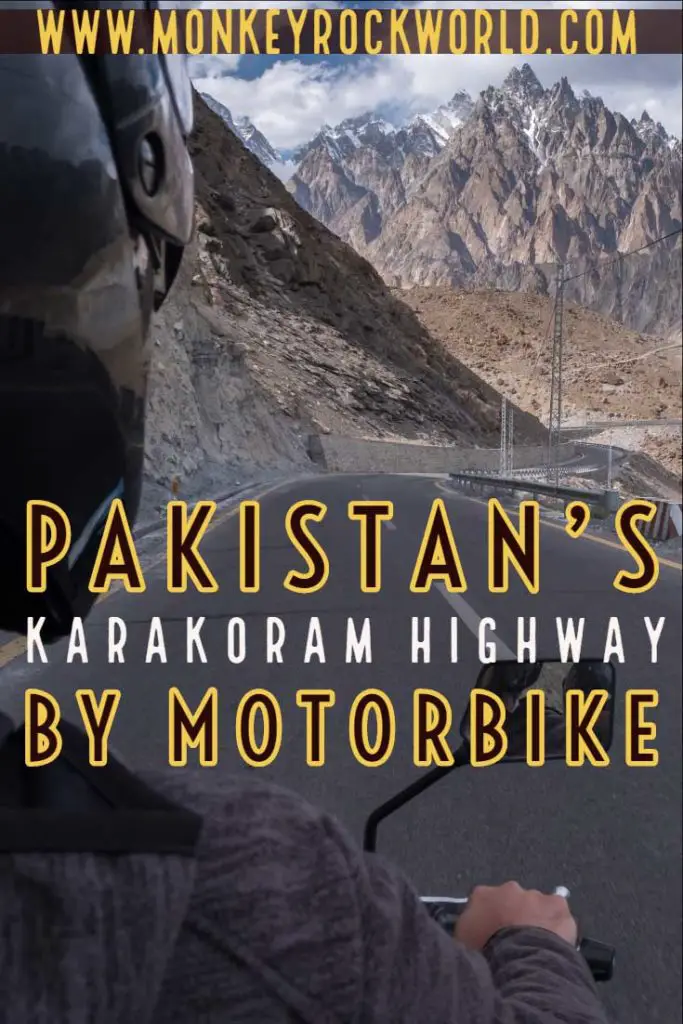 We have completed our first Pakistan tour in May 2018, and of course, made the Karakoram Highway and a Hunza Valley tour a priority. Given the great road conditions, to make it even more special and enjoy the freedom of movement we always love — did you know we cycled 200km around Indonesia's Lake Poso? — we decided to tour the Karakoram Highway on a motorbike.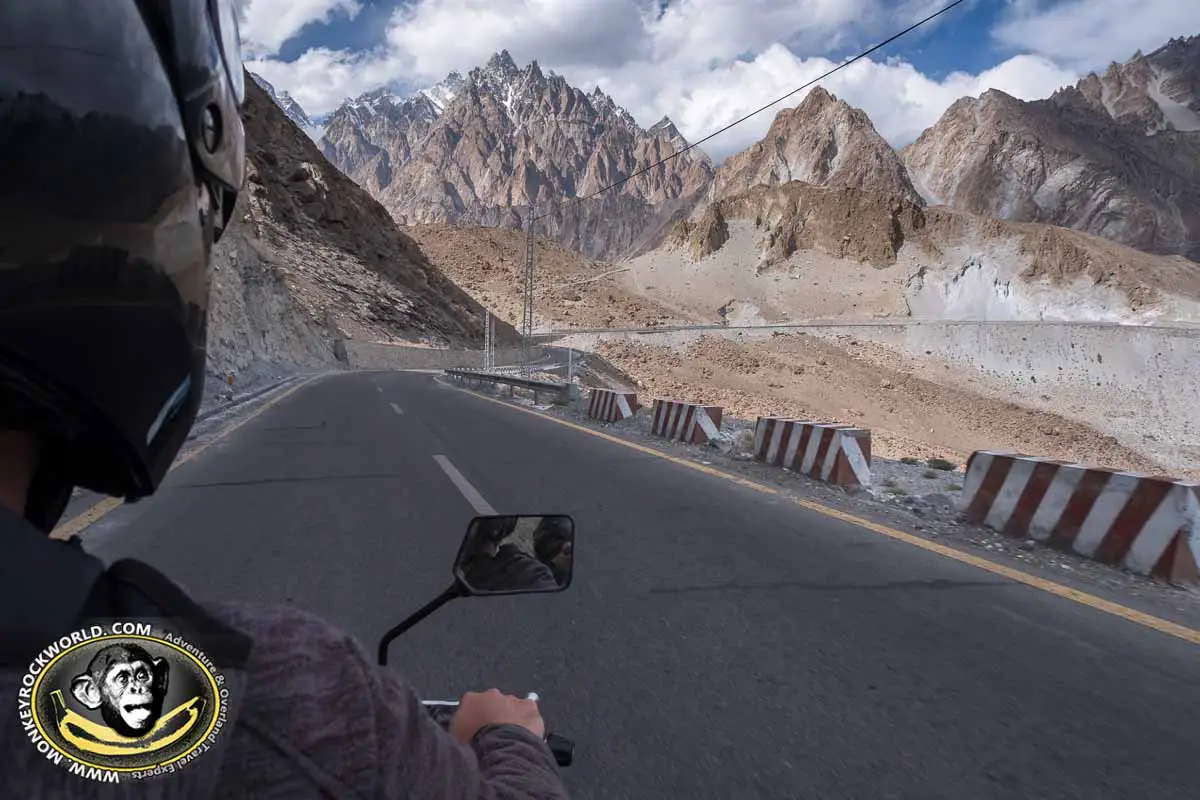 As we expected, riding on the highest highway in the world was one of the best adventure tours we could take in Pakistan. This post is the ultimate source of first-hand information on how to plan a motorbike tour of the Pakistani section of the Karakoram Highway, from Gilgit to the Khunjerab Pass.
Read on for a wealth of good advice, an itinerary of the best spots to plan your Karakoram Highway adventure, and some practical information on getting visas and other required documents and get started on your Pakistan tour by motorbike.
How to prepare for a Pakistan Tour on the Karakoram Highway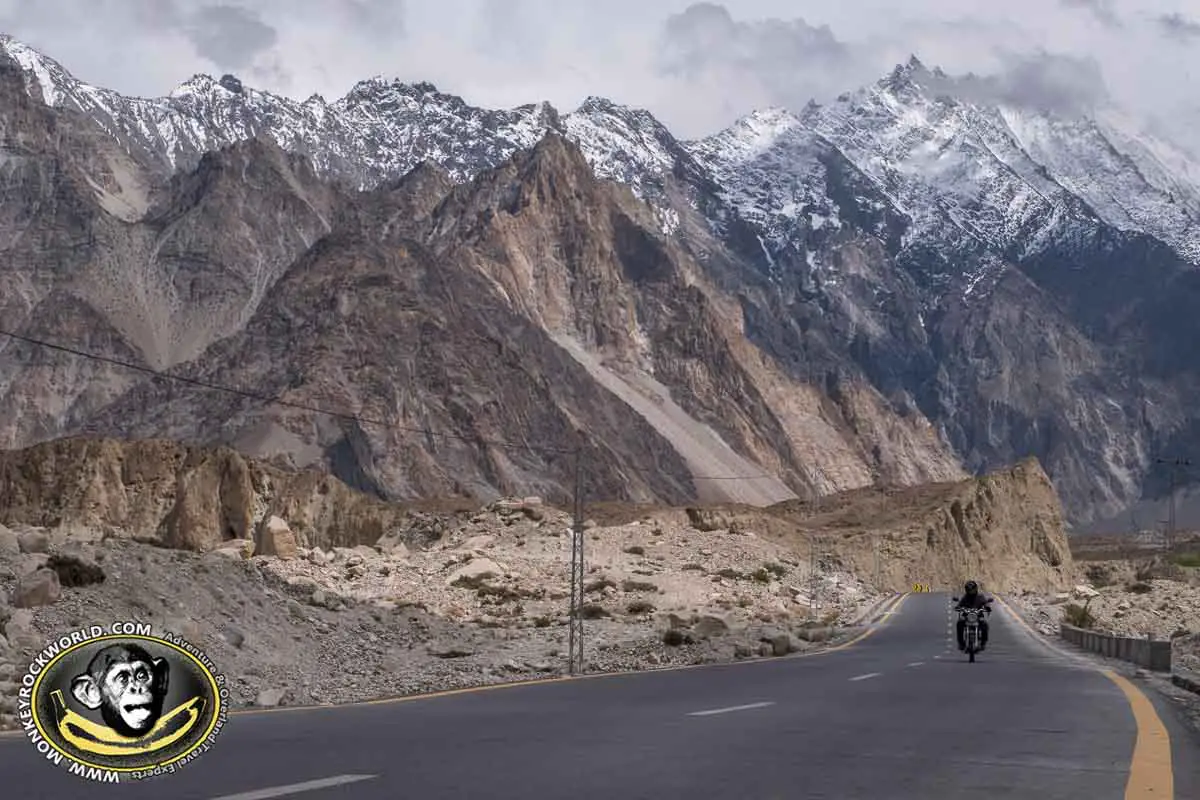 When to Go on a Karakoram Highway Tour
As the Hunza Valley experiences sub-zero temperatures in the winter (even locals move from Hunza to Islamabad), the best time to go is from May to September. Days are longer, giving you more riding time and sunlight, the villages are full of people, and unfortunately, the place gets crammed with local holidaymakers.
We started our tour of Pakistan in the holy month of Ramadan. Touring the Hunza Valley during Ramadan is actually a great idea because prices are at the lowest, local holidaymakers stay back in their cities, and since Hunza is inhabited by moderate Ismaili Muslims, you'll never go hungry.
September is also a good shoulder month, but consider it starts to get pretty cold the closer you get to the Khunjerab Pass, the world's highest border at 4,800mt.
Is Pakistan safe for travelers?
Pakistan's security situation improved tremendously in recent years, and even if getting visas is still quite a paranoid process, Pakistan announced that in 2019 a free visa on arrival scheme will be granted to 55 nationalities, provided they buy their Pakistan tours through a company registered with the Pakistani government.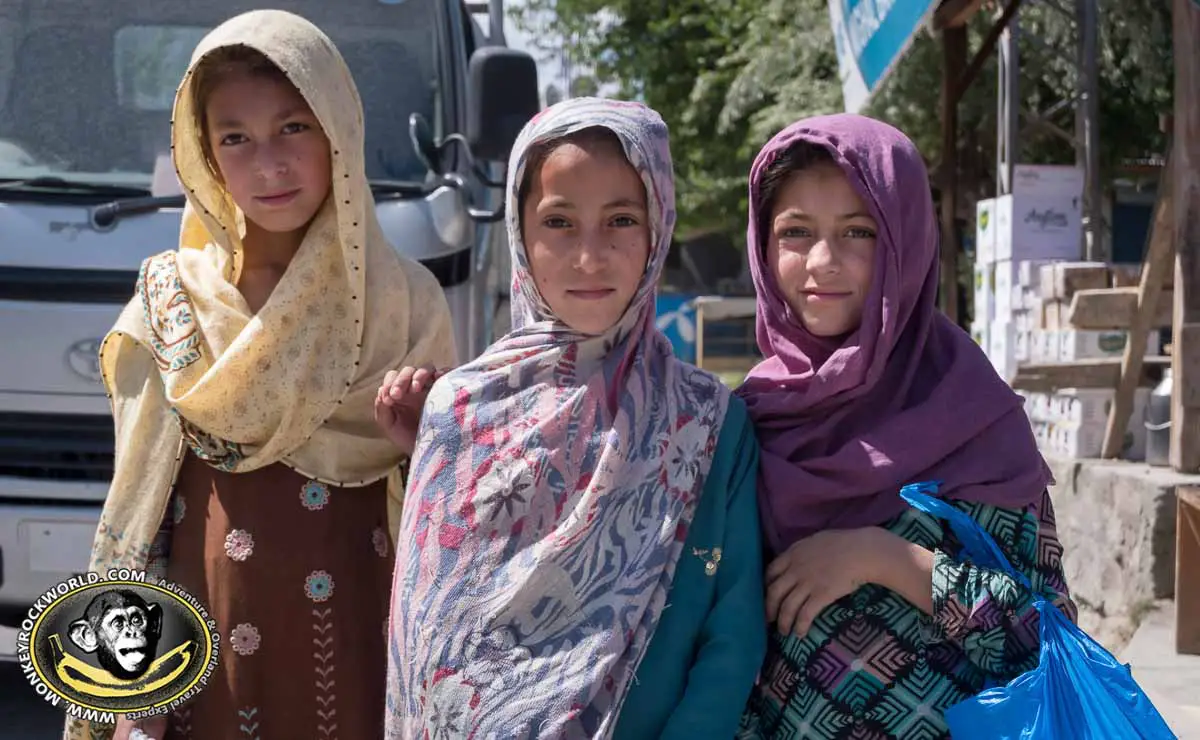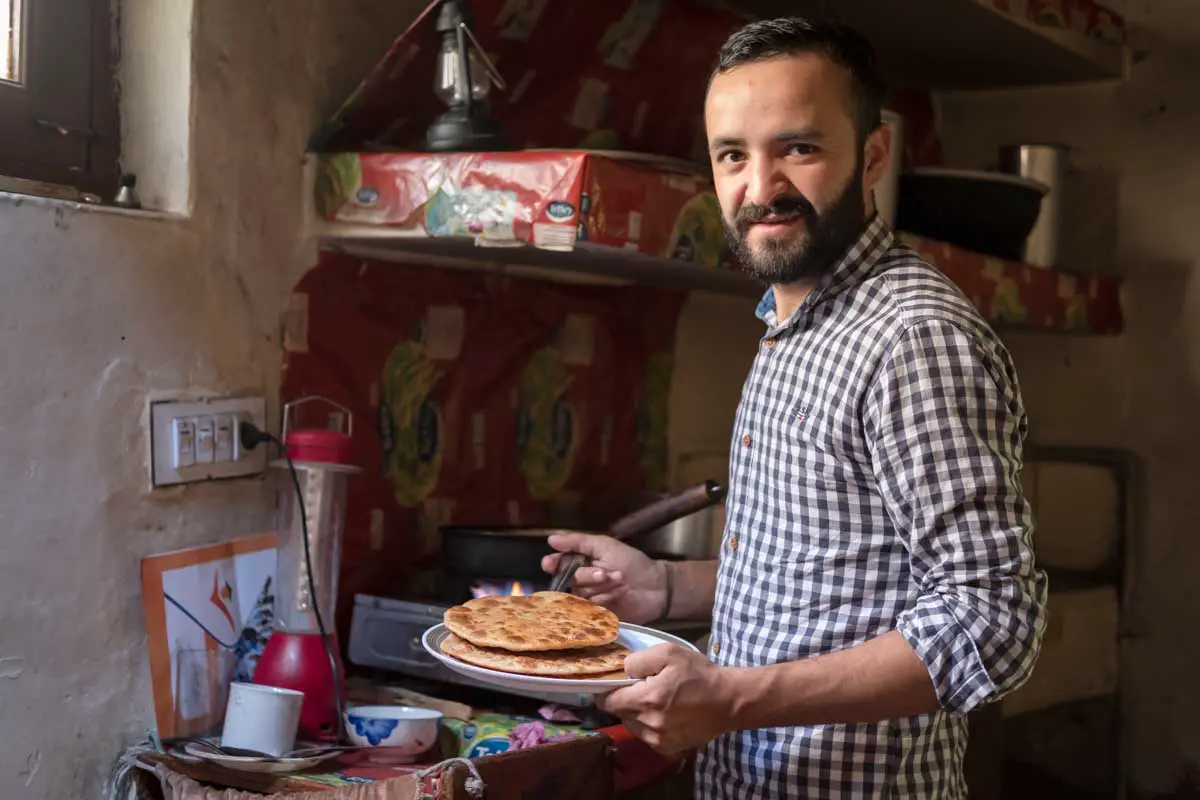 The Hunza Valley, in particular, is possibly the most relaxed, problem-free area to visit in Pakistan at the moment. People are extremely hospitable, speak decent English, and still love to see foreigners coming through. This may change with the rising number of backpackers traveling to the country, but let's hope for the best.
The thing with security and Pakistan is, it pays to trust the police and the military, and accept an escort if they say so. You will NOT be allowed to travel in regions they consider unsafe, or to sensitive border zones. Check-posts will stop you and turn you back. But for the rest, we found Pakistan to be much safer and less chaotic than neighboring India. Under a married couple-perspective, and in such a male-centered society, Kit felt much more at ease here than in other male-dominated, Islamic societies – like, for example, Bangladesh.
How to get a Pakistani Visa
You can apply for a Pakistan Tourist visa only in your country of birth or residence. This is how we applied for our Pakistani visas in Kuala Lumpur.
By law, to apply for a tourist visa to Pakistan most independent travelers need a Letter of Invitation (LOI) from a Pakistani-based tour operator. Like many other overland travelers, we used Karakoram Bikers, and had no problem throughout the whole process.
They provided an LOI, completed with copies of their business registration, and the ID of a person of reference in Pakistan. The best thing was, we had the choice to set on our Karakoram Highway tour by ourselves, or join one of their guided motorbike tours.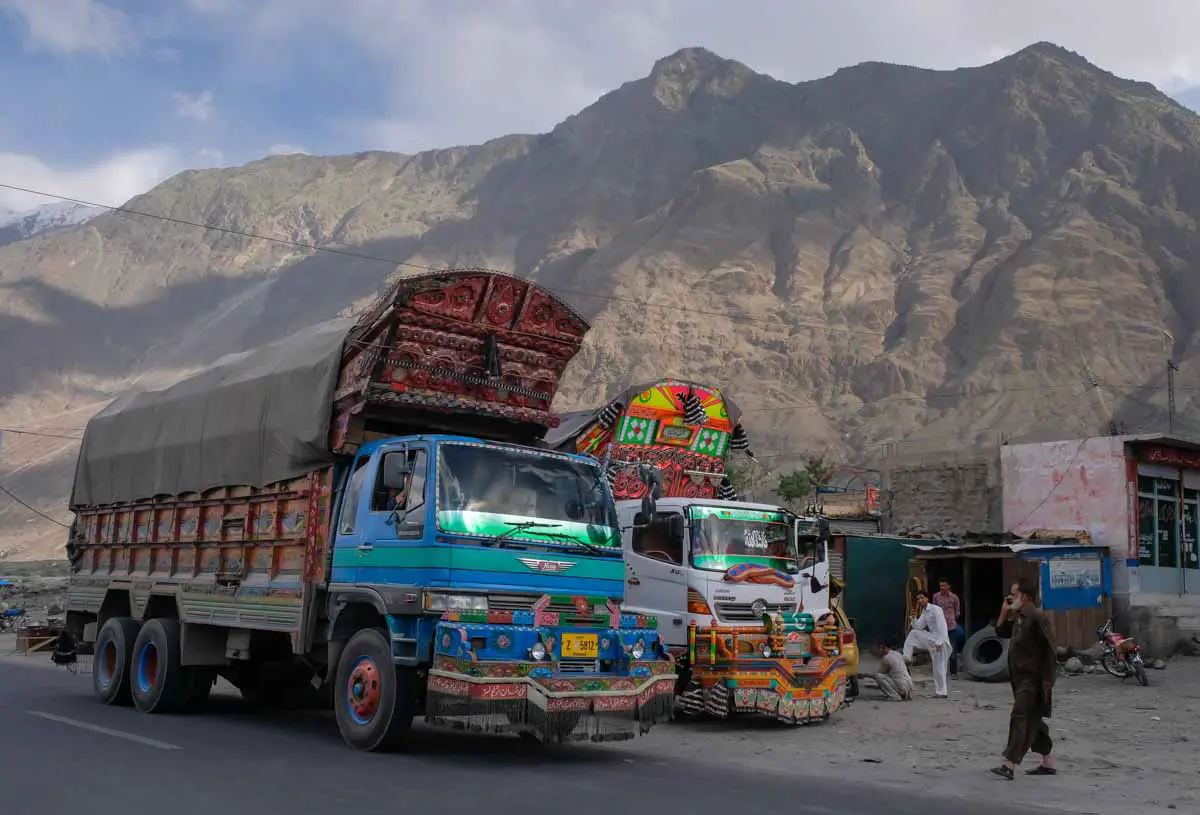 Can I get a Pakistani visa while traveling?
As a rule of thumb, no, you cannot apply for a Pakistan visa while traveling — but as everything Pakistan, it all depends on where, when, and how you apply. Throughout 2018, many overland travelers coming from Iran into Pakistan reported that the Pakistani embassy in Tehran could issue 15-days transit visas at a cost of USD50. These visas could then be extended once in Pakistan, either in Islamabad or Lahore.
But at the time of writing this article, it seems that obtaining a Pakistani transit visa in Tehran is no longer a possibility. Your best bet is to contact a tour operator and inquire them directly. Which is another reason to give the Karakoram Bikers people a go, because they deal with visas all the time, have experience and contacts in dealing with most Pakistani embassies around the globe, and are able to assist you with the most current information. Another good place to ask is the Backpacking Pakistan Facebook Group.
Driving License and Red Tape
UK or international driving licenses are valid for driving in Pakistan up to 6 months from your date of arrival. In practice, however, as long as you have a bike with valid road tax and ownership documents in order, nobody will care if you have a valid license.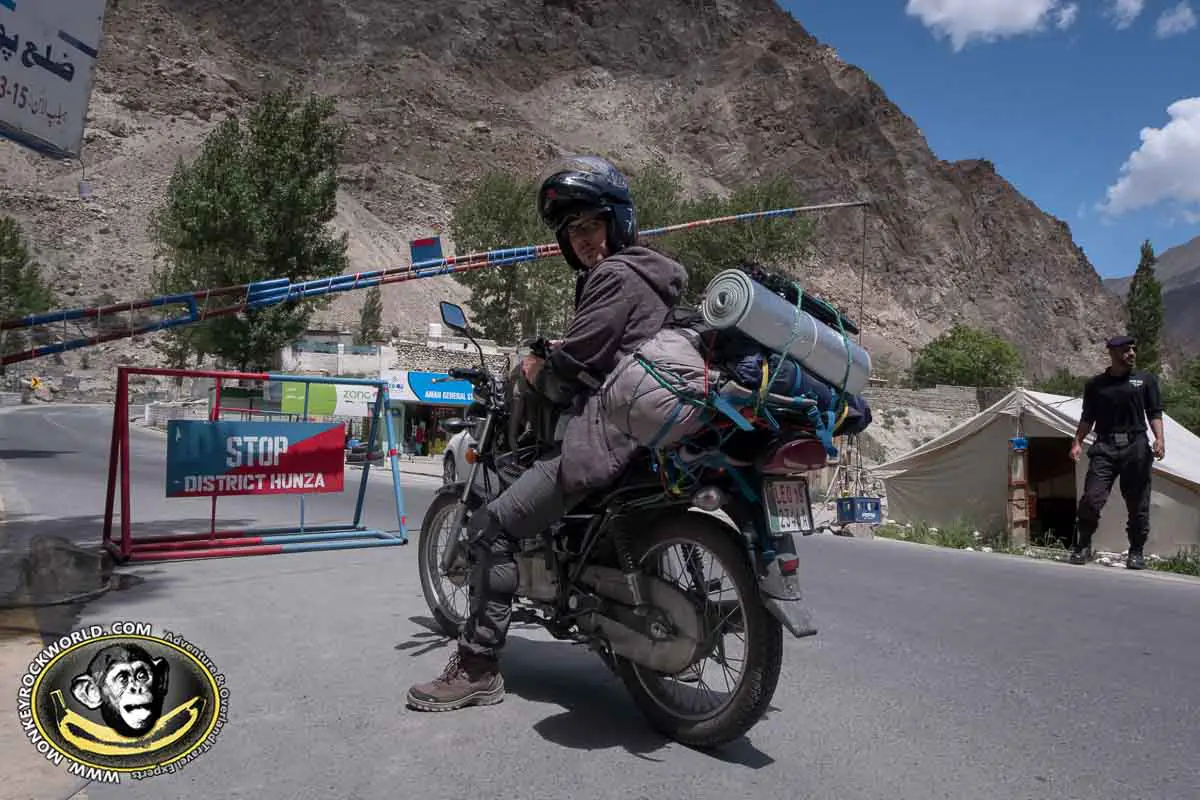 Hold your horses: a tour of the Karakoram Highway is subjected to passing A LOT of check-posts where the military or the police will need to register your arrival and pass this information onto the next checkpoint. The best way to speed through these forced halts is to prepare plenty of photocopies of your passport's detail page and Pakistan visa. Hand it to the officials and you'll be both happy to save time filling up their paper registers. Call it a boring safety measure, but registering you is for YOUR OWN SAFETY, not theirs.
Gilgit-Baltistan Entry Card
Whether you start your Karakoram Highway tour in Islamabad or Gilgit, you'll probably enter the region from the Chilas check-post. Make sure the immigration police hands you a copy of the Gilgit-Baltistan Entry Card. It's a cardboard document reporting your name, passport details, date of entry and expected period of stay in Gilgit-Baltistan. It's safer to ask for a longer amount of time rather than your expected departure date to accommodate for any eventual delays — you may end up staying longer, as Upper Hunza is really an awesome place on earth.
Hold onto this paper at all times, even if it's seldom checked at check-posts. It's very important because you will have to surrender it once you exit the Gilgit-Baltistan region. We ourselves had to submit it to immigration officers when we left Gilgit-Baltistan by bus, going towards Chitral. The card was required to exit the Shandur Pass check-post.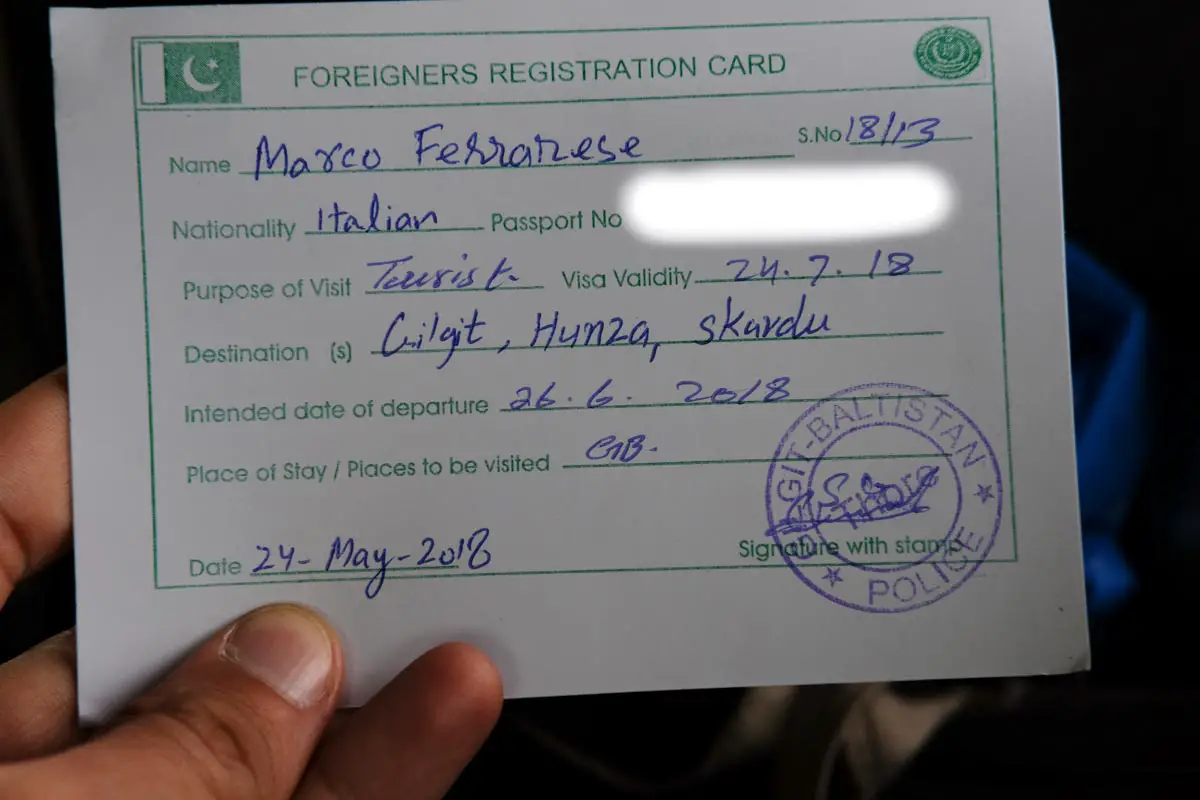 We've heard of cases this wasn't required, but like everything in Pakistan, it's hard to confirm a precise rule. For sure, we know that travelers were sent back from Gilgit to Chilas because they didn't pick the entry card up, or because the officers on duty forgot to write one up for them. Just be mindful and save your time.
Also, make sure that all the places you'd like to visit are written on the card. For example, if you plan to go to Skardu after your Hunza Valley Tour, and the officers only write "Hunza" you may be refused entry at Skardu's military checkpoint. It certainly happened in the past.
Where to rent a good motorbike to tour the Karakoram Highway
Once again, the answer is Karakoram Bikers. You may wonder why I keep plugging these guys, but man, their service is excellent. They are a small tour operator based in Melbourne, Australia, and Lahore/Gilgit, and probably because they are a grassroots and dedicated team, and experienced travelers themselves, they have zero attitude, low-impact ego, and top-notch level of professionalism.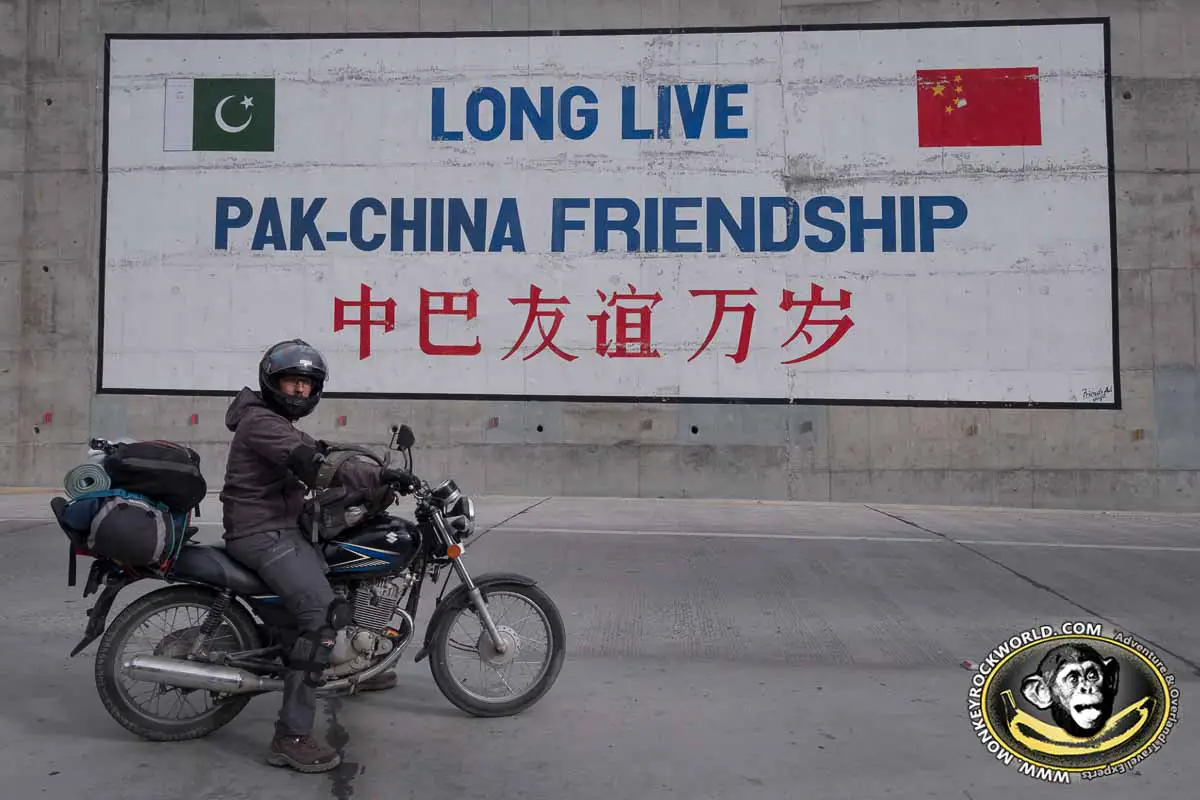 You can rent a bike from them for PKR2000/day. They have a fleet of sleek Suzuki GS150 which perform extremely well both on the perfectly paved asphalt of the Karakoram Highway and also off-road. We used it and think it's one the best bikes in Pakistan. For sure, we wouldn't tour the Karakoram Highway with anything smaller than 150cc.
Getting Fuel on the Karakoram Highway
Don't worry too much because petrol stations are located in most towns along the Karakoram Highway. If starting your ride in Gilgit, you can fill up your tank on the highway near the bridge to Daniyor/Upper Hunza and that will last for about 350km. You can easily top up again in Aliabad.
Make sure you leave to Khunjerab with a full tank for your return journey to Sost as to avoid getting stuck where it's coldest.
Karakoram Highway Tour Itinerary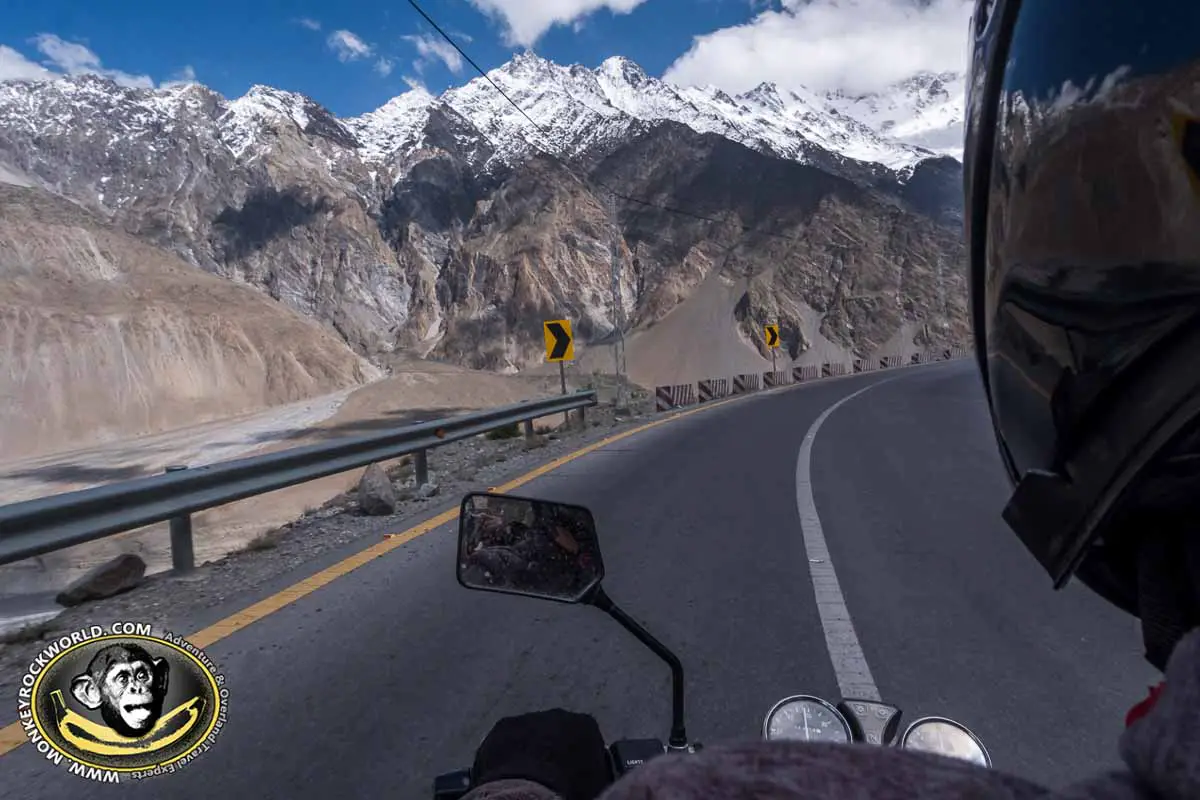 You can complete a motorbike tour of the Karakoram Highway from Gilgit to the Khunjerab Pass in 5 to 7 days, depending on your speed, and how long you stop at each point of interest. Why not start in Islamabad? Well, there's not so much to see on the way, and especially if you have only a week, it's better to concentrate where the real mountains are.
The following are the places we recommend you include in your Karakoram Highway tour, whether you travel by motorbike (freedom) or public transport (a pain in the neck).
Best stops along the Karakoram Highway
The Himalaya, the Karakoram, and the Hindukush Mountain Ranges Meeting point
This viewpoint is just along the Karakoram Highway, only about 20 minutes south of Gilgit Town. It's a narrow gorge where you can see the Gilgit River flow under the flanks of three of the world's highest mountain ranges. The convergence is just off the highway, and yet so unreal. A five minute stop would be more than enough to take pictures, but we bet you'll end up spending more time here, pondering how insignificant your existence is when standing before these pointy giants.
Gilgit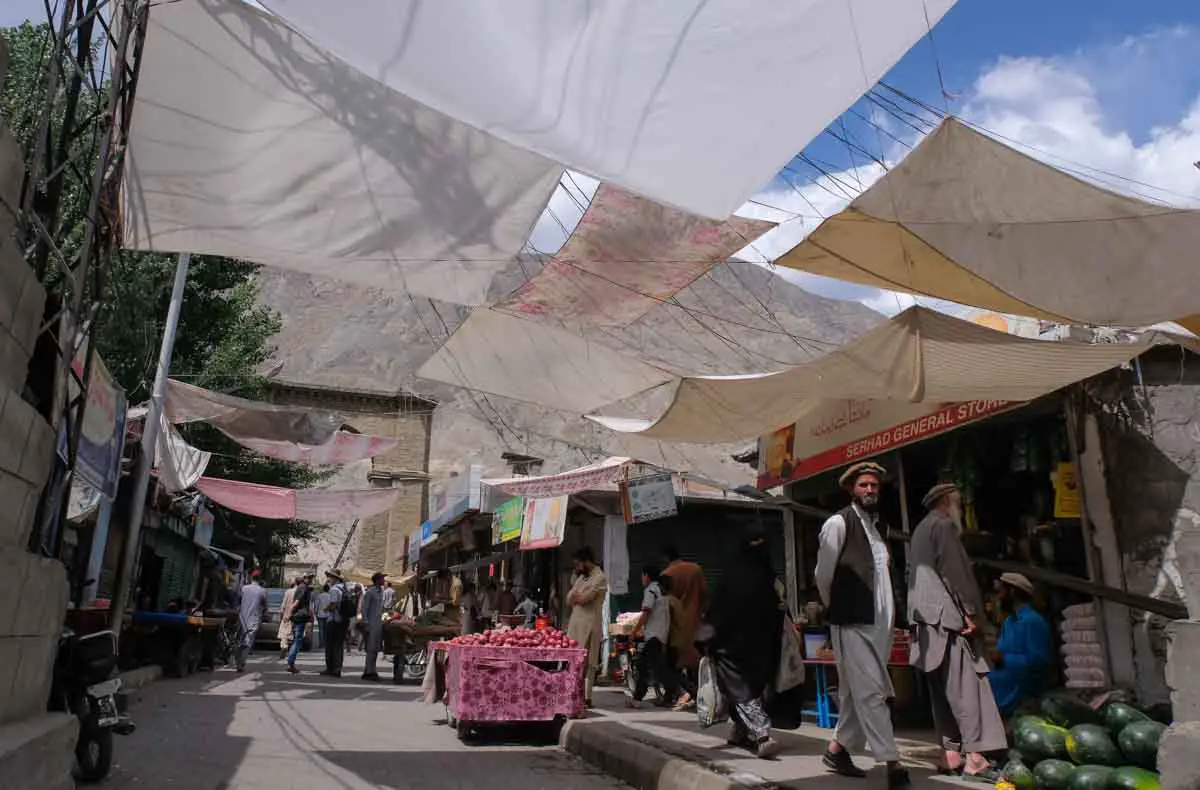 Gilgit-Baltistan's main city may need a bit of time to warm up to — but it's a popular pit-stop, and a friendly, yet spread-out place. This is probably where you'll rent your motorbike, too.
The market area, with its mosques and endless avenues filled with all kinds of cheap goods, is the place to be. Don't miss the Kargah Buddha, one archaeological evidence of how Buddhism traveled from South Asia into Central Asia and China. It's carved into a cliff-face near the ravine of Kargah Nillah, about 10km from Gilgit Town.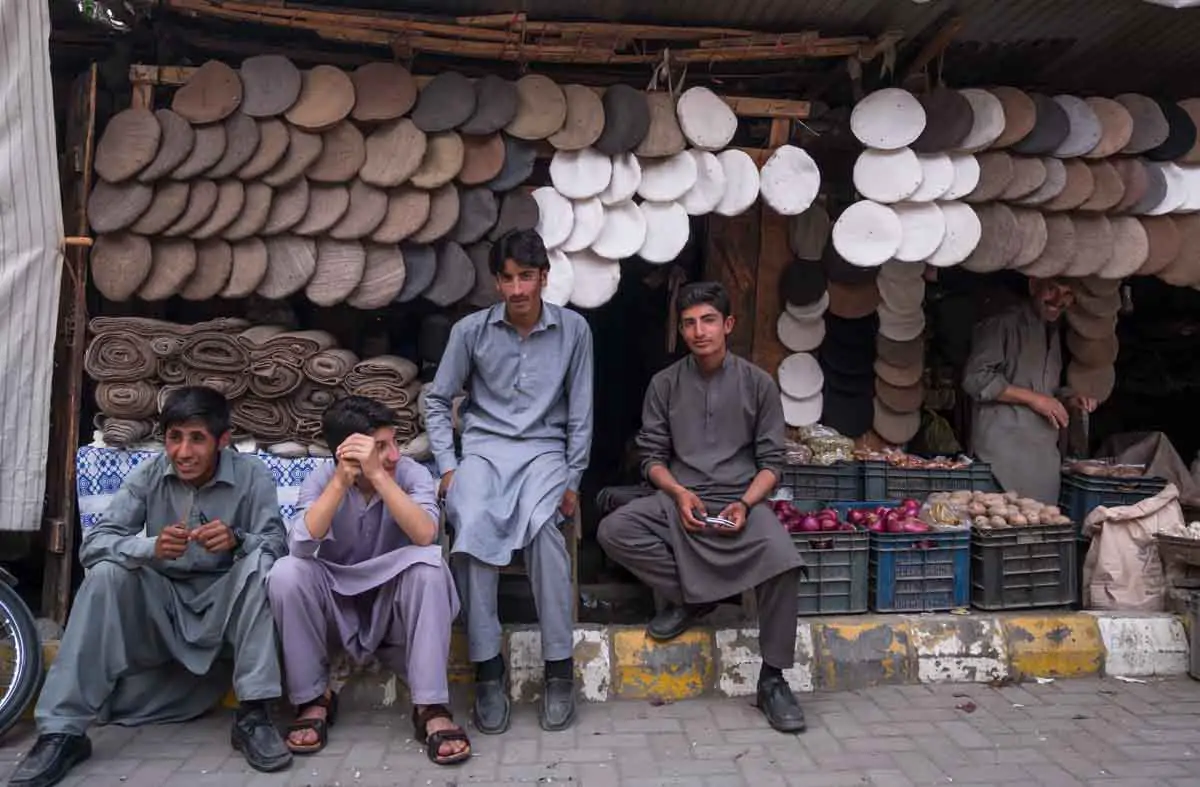 Aliabad
Few people care about this one-horse town, literally strewn on the two sides of the Karakoram Highway, but we stayed here for a couple nights and loved it. There's frankly nothing much to do in town beside soaking some of the best views of 7,788mt-high Rakaposhi. But locals are friendly, there are a small Couchsurfing community and plenty of modestly priced accommodation.
Karimabad (Lower Hunza)
The Thailand of Hunza Valley didn't bode well with us, I'm afraid. The home of UNESCO Heritage Sites Altit and Baltit Fort is also Pakistan's most touristy village, choked-full of guesthouses, souvenir shops, Western food joints, and all the bells and whistles that international tourists on a Karakoram Highway tour love and expect.
If coming on a motorbike, you can easily visit the forts and soak the sunset at Eagle's Nest — a majestic viewpoint that takes in a 360-degree view of Rakaposhi, Diran, and Lady Finger mountains.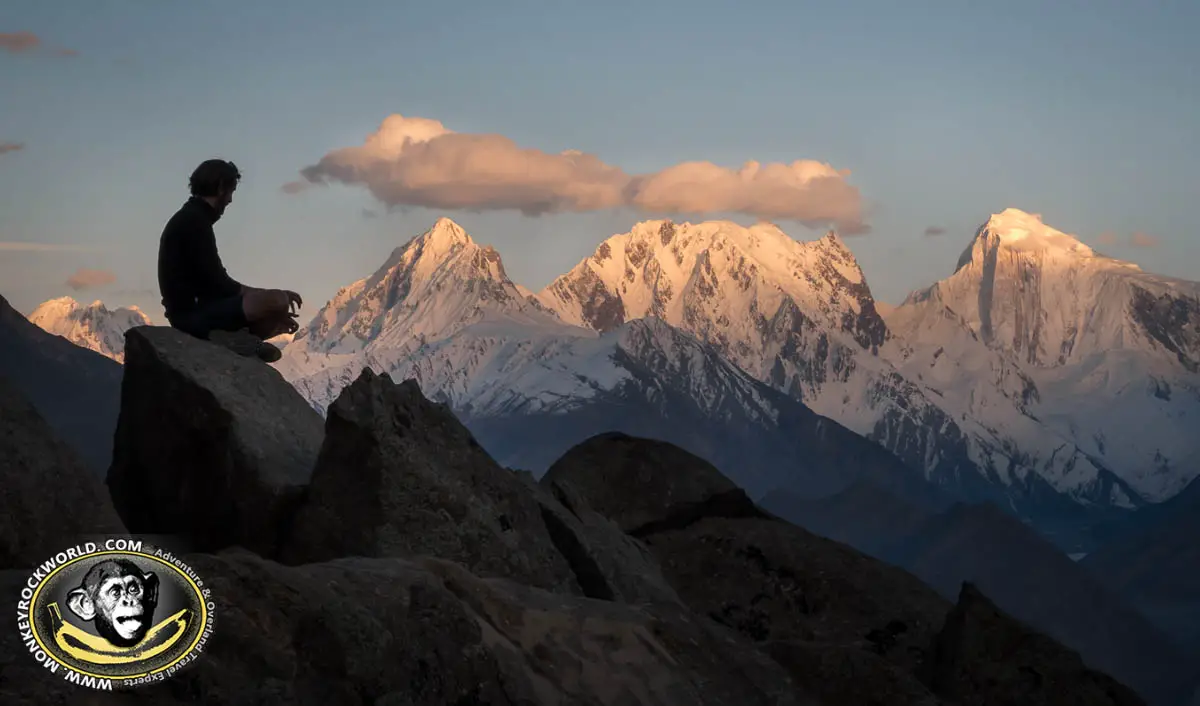 CULTURAL NOTE – The Hunza valley is inhabited by Ismaili Muslims, one of the most moderate forms of Islam. Don't be surprised if people here drink, women won't wear a hijab, and Ramadan fasting is barely observed. It's a very diverse part of Pakistan, and one you'll probably want to spend most of your time during your Karakoram Highway tour.
Attabad Lake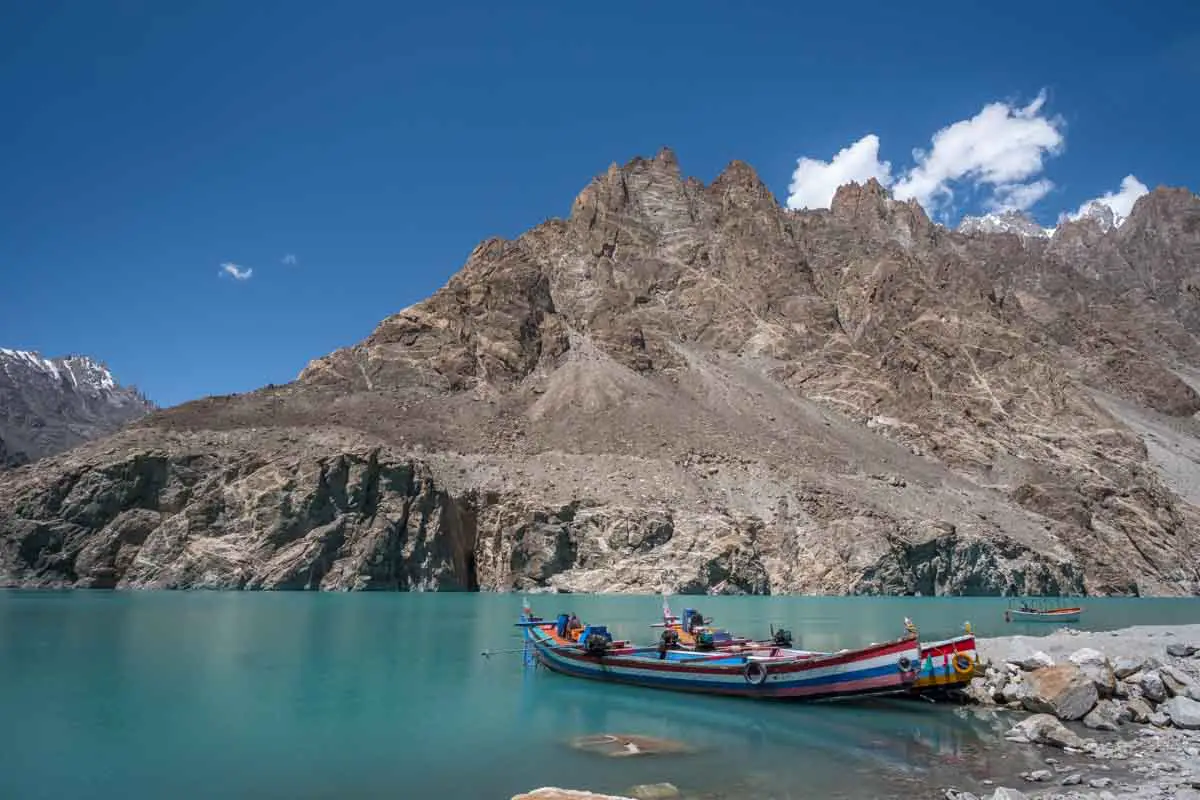 On January 4th, 2010, a landslide created one of Hunza Valley's most striking sights: the deep blue Attabad Lake. What was born out of tragedy became one of Gilgit-Baltistan main tourist draw-cards, a place that helps locals make a living off the thousands of local and international tourists who come visiting. You can ride your motorbike next to Attabad Lake's shore by following the Karakoram Highway, as the Chinese have built a series of tunnels to bypass the flood area.
Husseini Bridge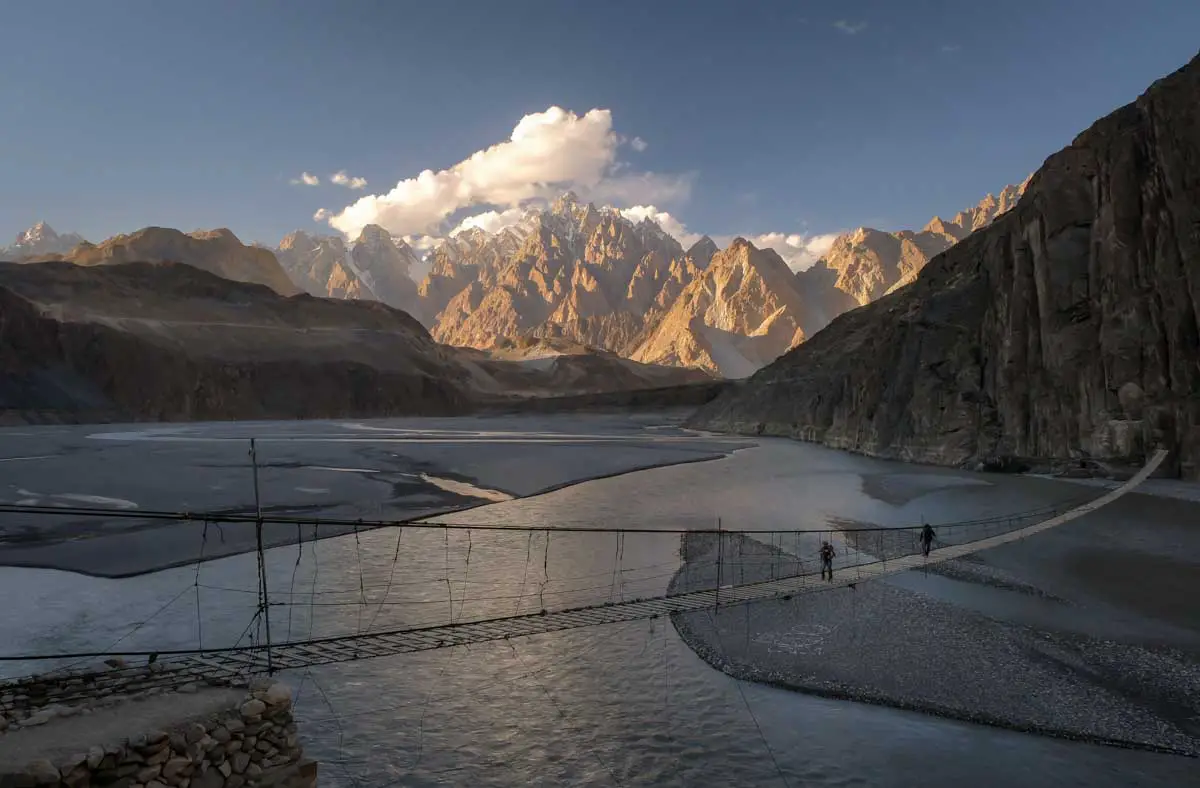 This hanging bridge is considered one of the most dangerous in the world. Indeed, its rickety wooden steps have 20cm gaps, suspended over crashing waters. It's definitely not for those with a fear of heights — I for one didn't manage to complete the crossing, but Kit did. Local guides can organize treks connecting Husseini Bridge with another bridge, Passu Bridge, which is supposedly even scarier than the former. You can park your bike and at the side of the Karakoram Highway, and walk down to Husseini Bridge. We've heard that locals are now charging a few hundred rupees to walk across Husseini Bridge — a certain sign of worst times to come.
Passu Cones and the Batura glacier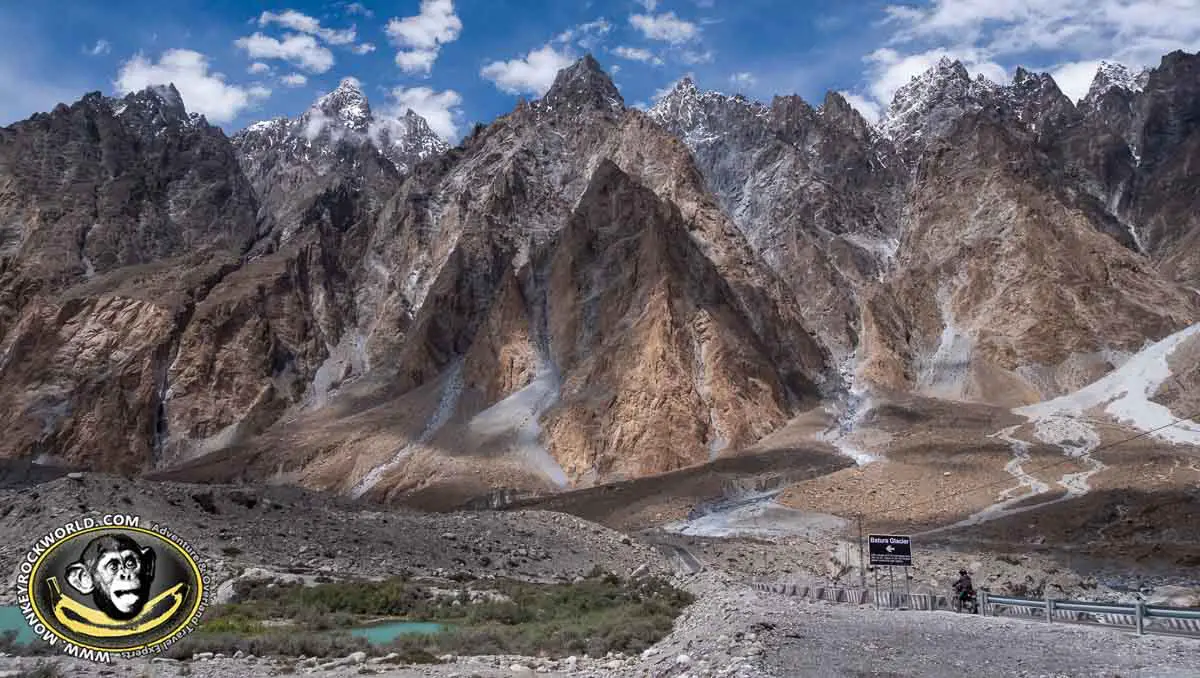 Often considered the real highlight of any Karakoram Highway tour, the rock formations known to the world as "the Cones" or "the Cathedrals" are a series of huge, massive boulders that soar like a line of ethereal fangs against the deep blue sky.
They are just outside the village of Passu, a quiet, interesting hamlet with a few decent accommodation options. It's much more rewarding to stay here than Karimabad, nonetheless for a chance to hike to the base of the Batura glacier, at 56km long, one of the biggest in the world outside of the polar region.
Sost
Sost is North Pakistan's frontier town to China, and has frankly not much to do. It will possibly be a night stop on your Karakoram Highway tour, because, given the Khunjerab's unpredictable weather conditions, you may want to sleep here and hit the road to the border in the early morning the next day.
Khunjerab Pass
At 4,800mt of height, The Khunjerab pass is the planet's highest international border and connects Pakistan to the People's Republic of China. Their border gate, like a medieval castle's door, stands in the middle of nowhere to sanction the start of the Middle Kingdom. This is where you will pass if you are bound for China, and of course, only if you already have a Chinese visa in your passport.
The Khunjerab pass also marks the end of the line of most independent motorbike tours in the Hunza valley. To be able to cross into China and travel up to Tashkurgan, the closest town to the Pakistan-China border, you must use the services of a Chinese tour guide, which is very expensive.
Before you set off, make sure to check Khunjerab's weather, as it often experiences snows, and it's freezing most of the times. When riding a motorbike along Upper Hunza, the last thing you want is minus zero temperatures and winds that can literally knock you off the bike.
Did you like this Guide? Please pin it to your Pinterest boards!