Sikkim is a jewel of an Indian state and one that's increasingly getting on most people's itineraries. We certainly love it: we have been in 2012 and in 2018, both times catching a sleeper class train until New Jalpaiguri; and from there, a shared jeep to Darjeeling — check our roundup of the best hill stations in North India including Leh, one of our favourite places. From Darjeeling, there are plenty of shared jeeps plying the 3 hour-road to Gangtok for about 250 rupees.
This post wants to inspire you by sharing the destinations in Sikkim we loved the most. These places in Sikkim can be visited without hiring guides, and without applying for any extra permit. But first of all…
What about getting a Sikkim permit?
Don't worry and don't waste time trying to get one in Darjeeling, because at the time of writing, the very convenient Sikkim Tourism office we used back in 2012 is no longer open. Thankfully, getting a Sikkim permit is very simple: you just need to bring two (we were asked for one, but have two handy) passport photographs and a photocopy of your passport's data page and current Indian visa.
Get a jeep to Singtam or Gangtok — note that you can't travel anymore via Naya Bazaar to Jorethang, as you can't get a permit at this border. Your driver will stop and wait for you while you walk up to the registration office and get your 15 or 30 days entry permit. Which is absolutely free of charge, don't forget. Alternatively, you can get a permit by applying online here.
Best places to visit in Sikkim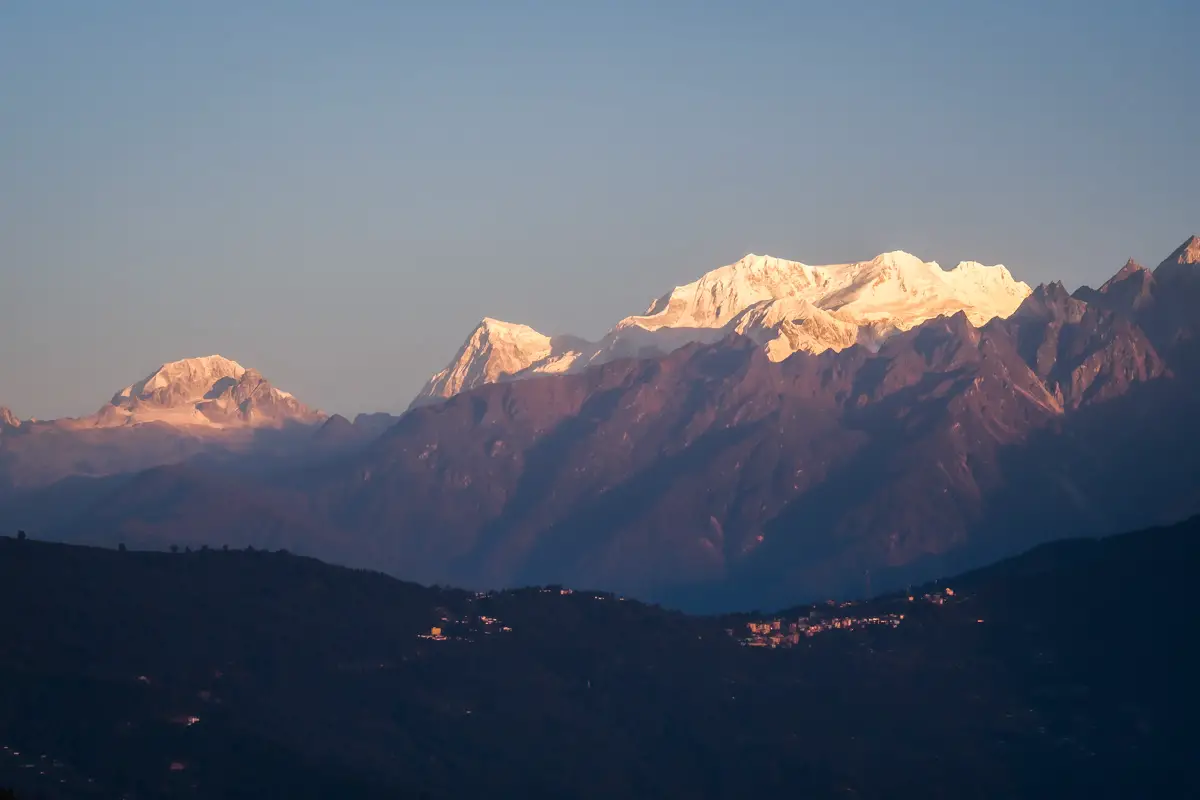 The following is a selection of the best places to visit in Sikkim according to us. Remember that we have not considered the Northern valleys, such as Yamthang, which we are certain are beyond beautiful, but require expensive permits and getting tour guides and porters from a local tour company.
We have stuck to places in Sikkim you can visit with a normal entry permit, without any additional documentation, nor paying for expensive tours. Also, we have left out places that, like the Nathu La Pass — the official land border between Sikkim and the Tibetan Autonomous Region in China — are only accessible to Indian tourists.
Gangtok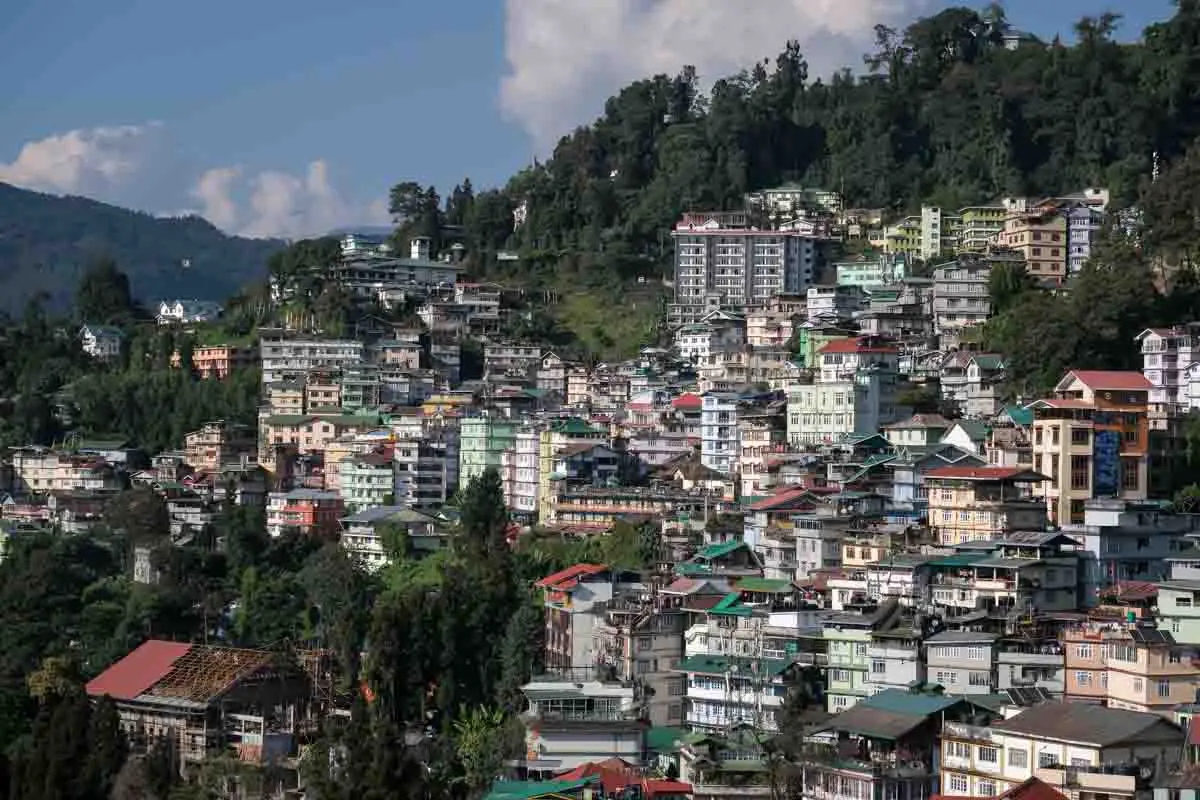 You may decide to skip Gangtok exactly as we did in 2012 when we visited Sikkim for the first time, but… it was a mistake. Like it or not, the busiest of Sikkim places, and its only (small) city, is often gridlocked in traffic, but is a very cool place to be.
Central MG Marg has a plethora of pubs, cafes, restaurants and fast food joints to meet any need. There are a couple backpacker hostels (we recommend you book at Tag Along Backpackers, a super clean, attractive and recently opened hostel run by two energetic sisters, who also provide cheap tours in the North), plenty of boutique hotels, and anything you may need to stock up on provisions, or just have a good time.
But Gangtok's beauty lies in the fact that nature is never too far away: during our latest trip to India we stayed with friends in Deorali, to the south of central Gangtok. We had viridian mountains peeking at us from outside the balcony. On our first night, we even managed to hear the whistle of a jogi — a Sikkimese shaman of sorts, who roams alone at night playing the flute made out of an animal horn, to chase away the evil spirits of the darkness. On the next morning, the jogi came to collect his round of alms, and we managed to meet him and talk to him.
We know well that there's no biggest travel writing cliche than "a land of contrasts", but in Gangtok, you really have a foot projected toward the future, and one into a thick, deep Buddhist tradition. Take a trip to nearby Rumtek and Enchey monasteries, and you'll see lamas and experience another side of Sikkim you'd never expected to find within its capital city.
Chalamthang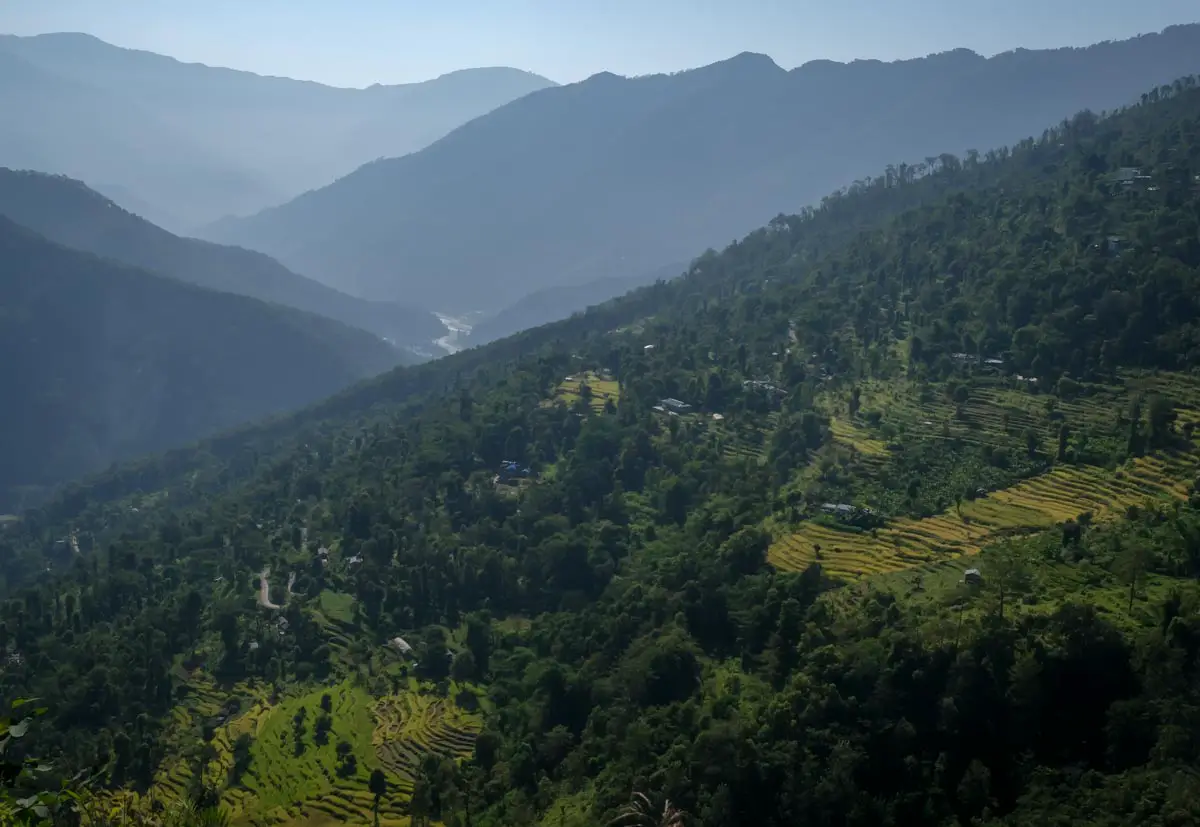 Natural beauty is aplenty in this rising star of a village. Perched high above Singtam, Chalamthang village firmly put a foot down and declared its desire to grow as a tourist destination and becoming the state's cleanest village. Chalamthang today promotes community-based homestay tourism, using a 100% organic, vegetarian lifestyle. All the food consumed in the village is produced in an organic garden supervised by an 88-year old warden, the village's oldest farmer.
In Chalamthang, you can do more than just relaxing as the village has a number of easy hikes. Start with walking to Devi Mandir, a Shiva temple sheltered by a 200-year-old tree. There are chances to do a bit of easy spelunking in several caves nearby, for example, the Ban Jakhri Cave. And at last, the village is surrounded by several scenic viewpoints — called deorali in Nepali. We enjoyed the Deorali Dara, which soars above breath-taking views of the Teesta River as it snakes into the surrounding valleys and mountain ranges below. At last, Chalamthang has a 160-year-old heritage Nepali house, a memorial to Sikkim's architecture of way back when.
Lingmoo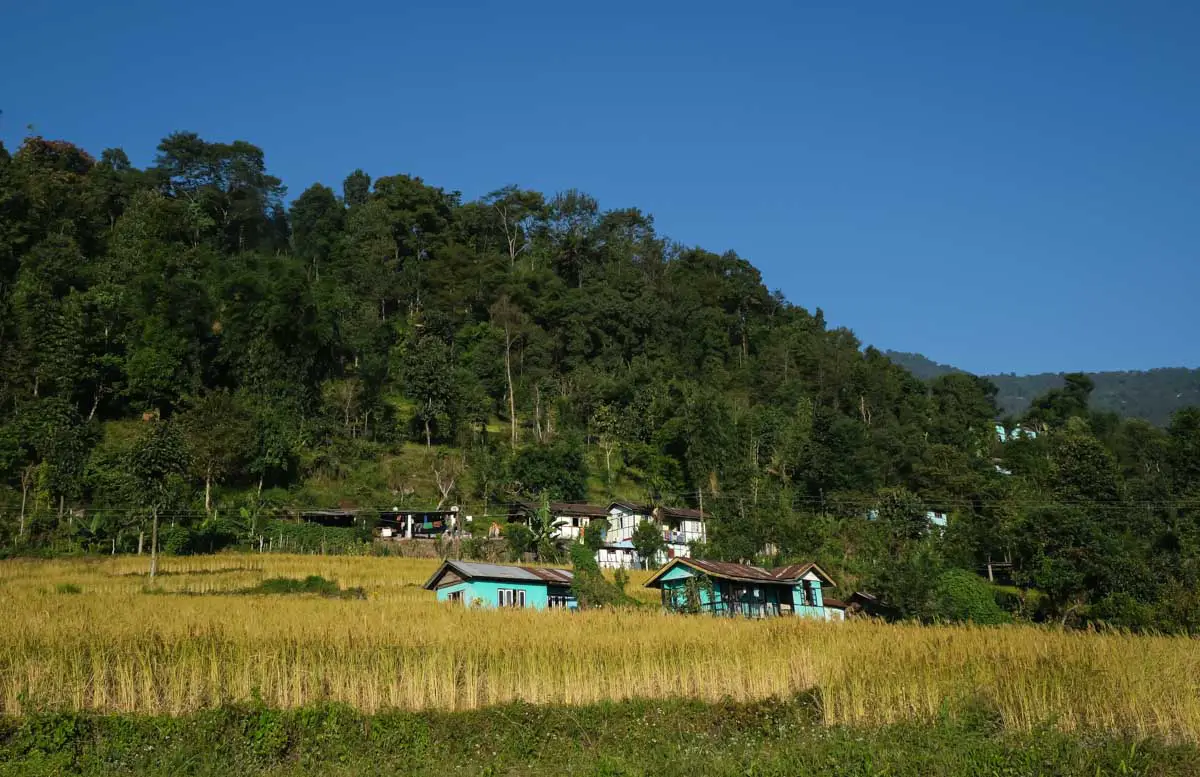 We were lucky enough to be invited to visit this village, an idyllic place not far from Singtam, and just about 2 hours away from Gangtok. Lingmmo is listed in no guidebook, and nobody really knows about it. It's not a "tourist destination", and could be any village in east, south, or west Sikkim. Lingmoo is just an example of how you, as a traveler, can be rewarded with true Sikkimese hospitality by just letting yourself go and accepting a genuine invitation.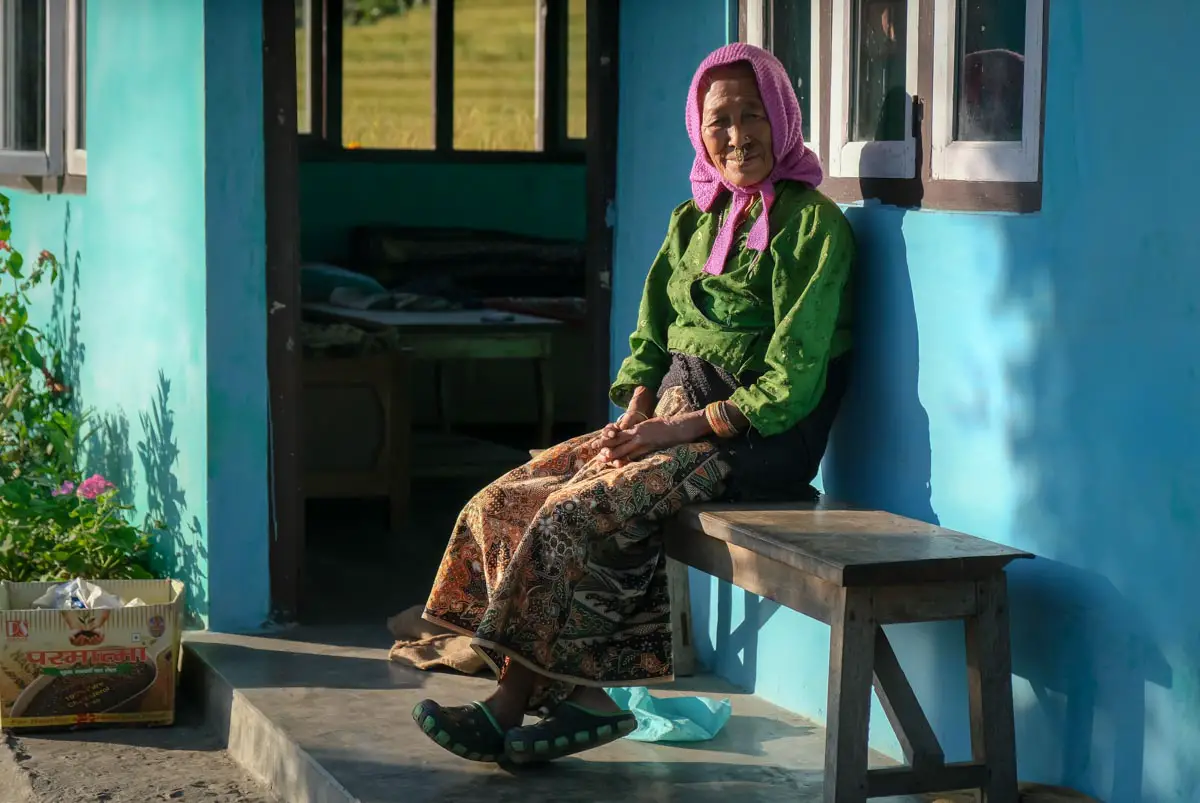 That's how we went to Jeet's home and found ourselves in a beautiful wooden home overlooking maize and paddy fields. We followed our friend's family to work, and observed how the rice is harvested, beaten, and collected by these hard working mountain people. We have sat in their traditional Nepali kitchen, sipping fresh milk taken directly from their own cows, and ate delicious organic pumpkins we collected from their garden. At night, we went back to the field and made a bonfire under stars so bright the light couldn't overshadow.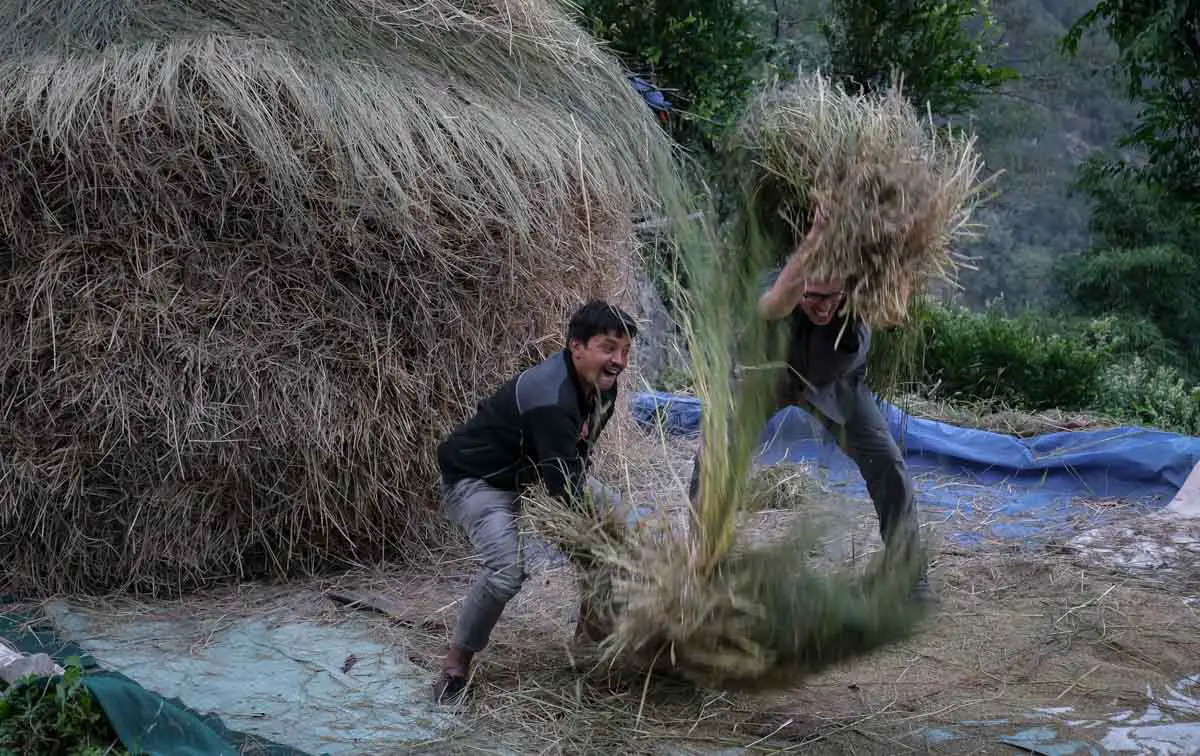 Jeet and other residents of Lingmoo are considering to open their village to homestays and eco-tourism. We wish them the best, and we tell you: there are a hundred Lingmoo's in Sikkim, just open your earth and ears, make local friends, and let them take you back to their village for unique experiences. And first and foremost, don't behave like a first-world asshole.
Temi Tea Garden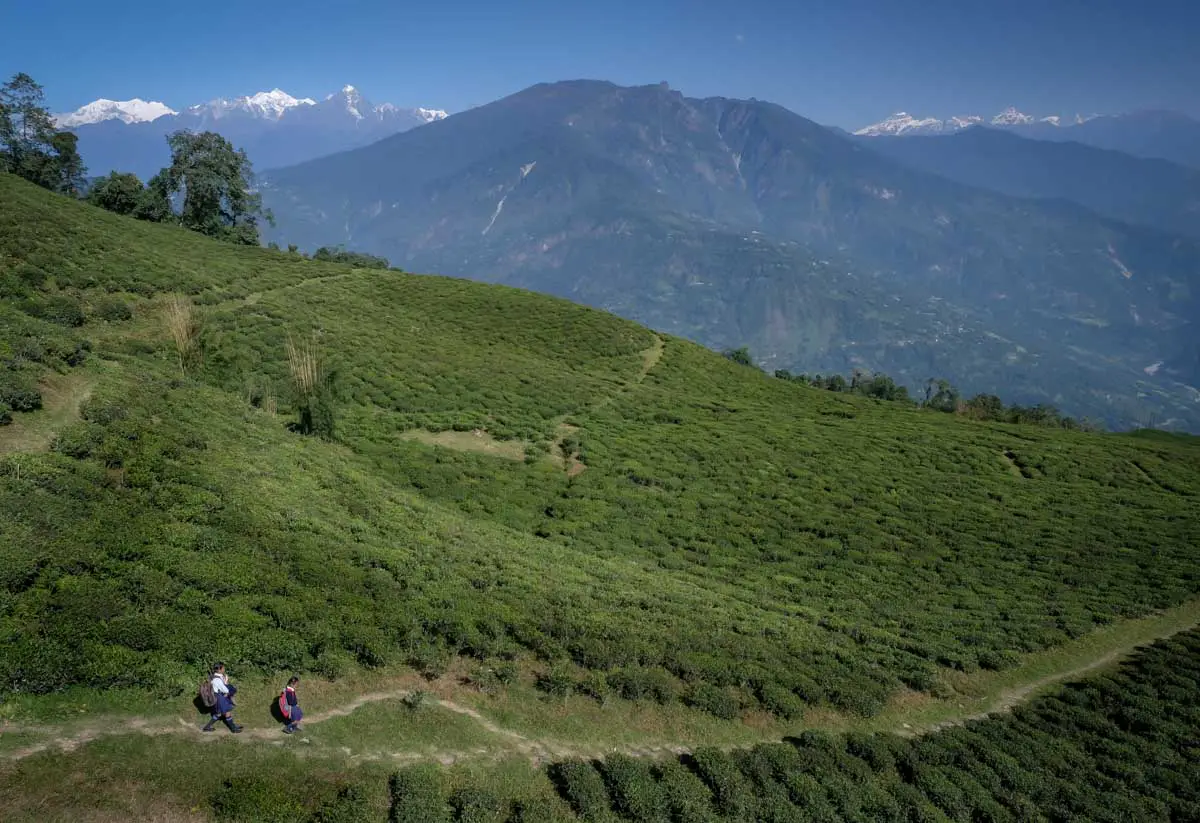 Sikkim's only organic tea estate is sprawled over 177 hectares in a gradient slope between 1450m and 1920m of height, graced by breathtaking views of Kanchenjunga. It opened in 1969, under the direct supervision of the Chogyal of Sikkim, and has delivered top-quality tea worldwide ever since.
The main activity at Temi Tea Garden is visiting the factory, where workers haul in tea leaves twice a day, starting the process that will dry and turn them into tea. To boost its potential for tourism, the garden also has a zip line (INR300 per ride) perched above the tea fields, and offers para-gliding (INR3500 per flight).
You can also rent a mountain bike and adventure around the estate (guided tours cost ?400/hr, including bike rental), or sign up for bonfires and cultural nights, with local performers ready to surprise you with a traditional masked dance (INR3600 for a group of 4).
The Tea Estate also has a couple of cozy rooms right above the tea-drying storage halls… one perfect way to feel like a planter for a day.
Ravangla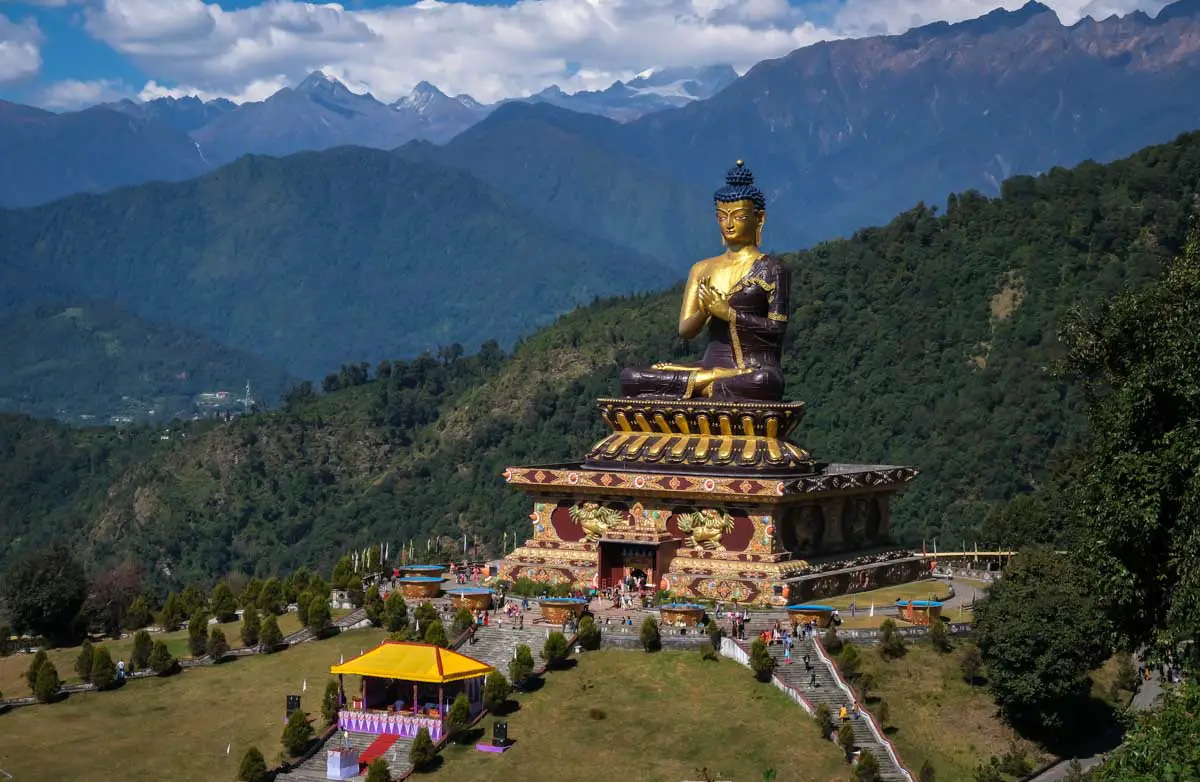 65km west of Gangtok and 52km east of Pelling is Ravangla, a rising market town set below mountains clad in the last remaining rhododendron forests in this part of Sikkim. Check the Maenam Sanctuary, at the base of the peak rising just close to town.
Ravangla bazaar has plenty of Tibetan handicrafts and a lively bunch of sellers, and beyond it, to the north of town, you can find a Nyingmapa monastery. A few hundred meters beyond it lies the Buddha Park.
Dominated by a grandiose 40m-high seated statue of Sakyamuni Buddha, this well-manicured park was built between 2006 and 2013 to celebrate the 2550th birthday of Lord Gautama Buddha. There's a temple under the main statue, where you can see a glass-covered golden Buddha and murals depicting the life of Gautama. At INR200, it's a bit costly for foreign visitors, but still quite a necessary stop during your trip to Sikkim.
Down the road from the Buddha Park is Chodzo Lake: this green, man-made pond hosts a festival once a year. In normal days, it's popular with locals, who love to the paddle on boats, bringing their families to enjoy Sikkimese and North Indian cuisine in the simple restaurants that dot the shore. Up above in the jungle slopes, a series of cartoonish statues of Himalayan animals such as Red Panda, Snow Leopard, and Bear, peek down at you with a benevolent, stoned gaze.
Samdruptse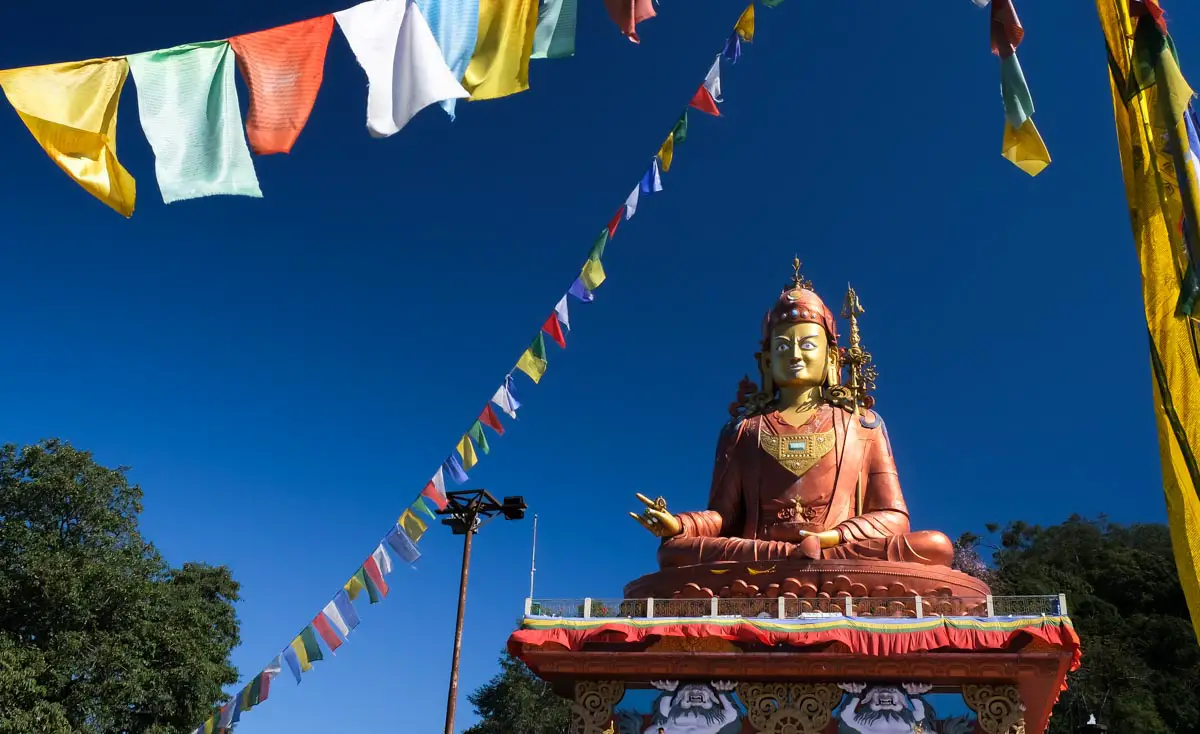 You will visit Namchi at some point. Don't forget that high above town is a huge statue of Guru Rinpoche, also known as the Second Buddha, or Padma Sambhava. This statue is 41mt high and is widely known as Samdruptse. It sits quietly, looking to the south towards the hillock were one of North India's best hill stations, Darjeeling, is.
Samdruptse was inaugurated in the year 2004 by the 14th Dalai Lama, and cost around US$16 million to build. It's connected by a ropeway to the Rock Garden, which in 2019 will also be linked directly to the area right above Namchi's District Hospital — another scenic way to experience a bird's eye view of Sikkim, akin to Gangtok's ropeway.
Char Dham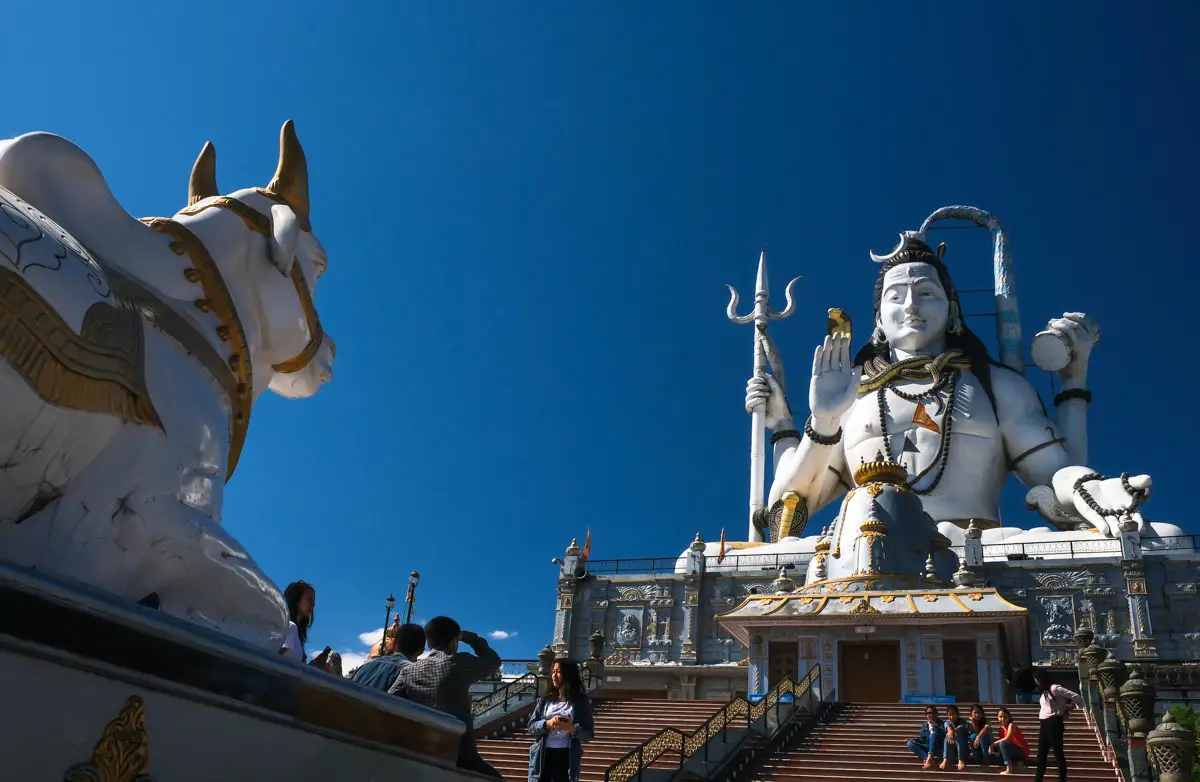 The "four abodes", or Siddhesvara Dham, lies 5km southwest of Namchi. It's a hilltop temple complex featuring the replicas of India's four sacred Vaishnavite Hindu Temples found in the cities of Badrinath, Dwaraka, Puri, and Rameswaram. They all surround a towering 33m-high statue of Lord Shiva, quietly seated in the middle of an amphitheater of Himalayan mountains.
The Char Dham is visited by many local pilgrims who come to pray in the replicas of the famous shrines, but for setting, atmosphere, and considering it only costs INR50, it's also one of the best places to visit in Sikkim.
Pelling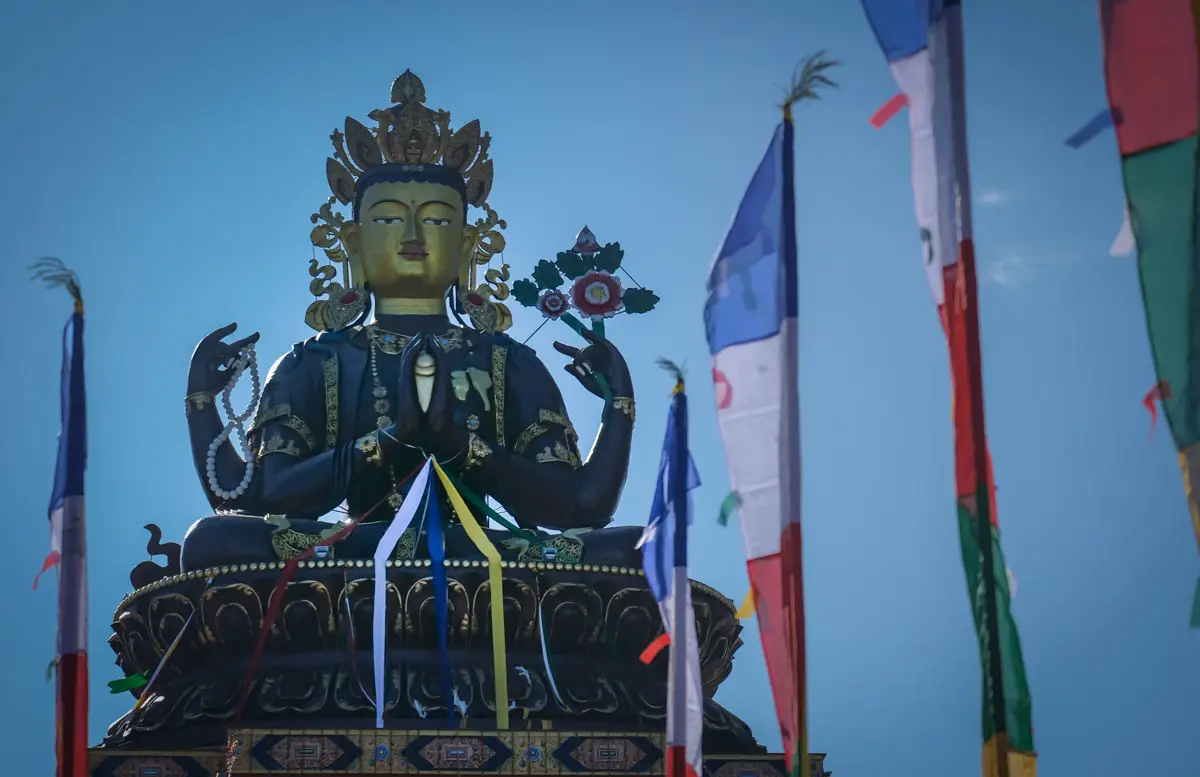 The small town of Pelling is east Sikkim's main tourist center, filled to the brim with friendly homestays, guesthouses, and breathtaking views of Kangchenjunga, the world's third, and India's highest peak.
Pelling is the starting point of several treks, the most famous of which is the one to Kecheopalri Lake and Tashiding monastery. We walked this route in 2012, and even then, it was mostly along a motorable road, so we don't recommend striking off this way on foot… better on a bicycle, or hitchhiking — read some hitchhiking suggestions for couples from our trip to Iran. Once you get to Yuksom it's the end of the line — you will need a tour company and a bunch of yaks and porters to tackle the real mountains ahead.
Back to Pelling: perched high above the town is the Nyingmapa monastery of Sanga Choling, one of the oldest in Sikkim. It was rebuilt in 1948 and just upholstered in November 2018 with the world's tallest statue of Chenrezing — a 42m-high rendition of Amitabha, the earthly manifestation of the eternal Buddha. There is also a skywalk here, Sikkim's first, which may sound like a tourist trap, but grants some blood-chilling views of the mountain slopes below your feet.
WANT MORE PRACTICAL TIPS TO TRAVEL IN INDIA AND OFFBEAT ASIA? SUBSCRIBE TO OUR MAILING LIST.
YES SIR, I WANT IN