The former Himalayan Kingdom of Ladakh is a beautiful area of India. Its capital Leh is one of the unmissable hill stations in North India you should visit at least once in your life, and certainly also still one of the real unexplored destinations in India. It's so close to Tibet in landscape and culture you may find this list of essential things to know before traveling to Tibet useful.
But when is the best time to visit Ladakh? We recently visited in October on a tour of Leh and Ladakh with India Someday and their Ladakhi operations Unplugged Life.
We took a local tour because transportation in Ladakh, and especially at the end of the tourist season, is hard to come by. Even finding people to share a car with is more difficult, given the scarcity of tourists around Leh in October.
These two companies made for a responsible choice: they only employ local drivers, promote responsible eco-tourism, and are also very conscious about waste disposal — something so important Ladakh, where waste management is not well developed.
This post explains in detail the reasons why we believe that October (and the beginning or end of the tourist season) is the best time to visit Leh and Ladakh.
We have also compiled a one week Ladakh itinerary based on our own experience, so that you'll be able to have all the proper information to plan your own Ladakh adventure in October.
Ladakh Temperature
The new Union territory of Ladakh is a land of extreme climates with roughly two main seasons. In the winter (October to May), temperatures can get down to –25 degrees celsius, while during the summer (June to September), they can soar up to around 20 degrees celsius. The best time to visit is obviously in the Summer. However, the shoulder months of May until mid-October are also good options. There are lesser visitors and the colours of nature are at their flaming best.
What is the Best Time to Visit Leh and Ladakh?
We have visited Ladakh in both the peak of the Summer (August) and at the beginning of the Winter (October), and have experienced two very different places. The following information will help you make your decision.
Ladakh in October: the Best Season to Visit Leh and Ladakh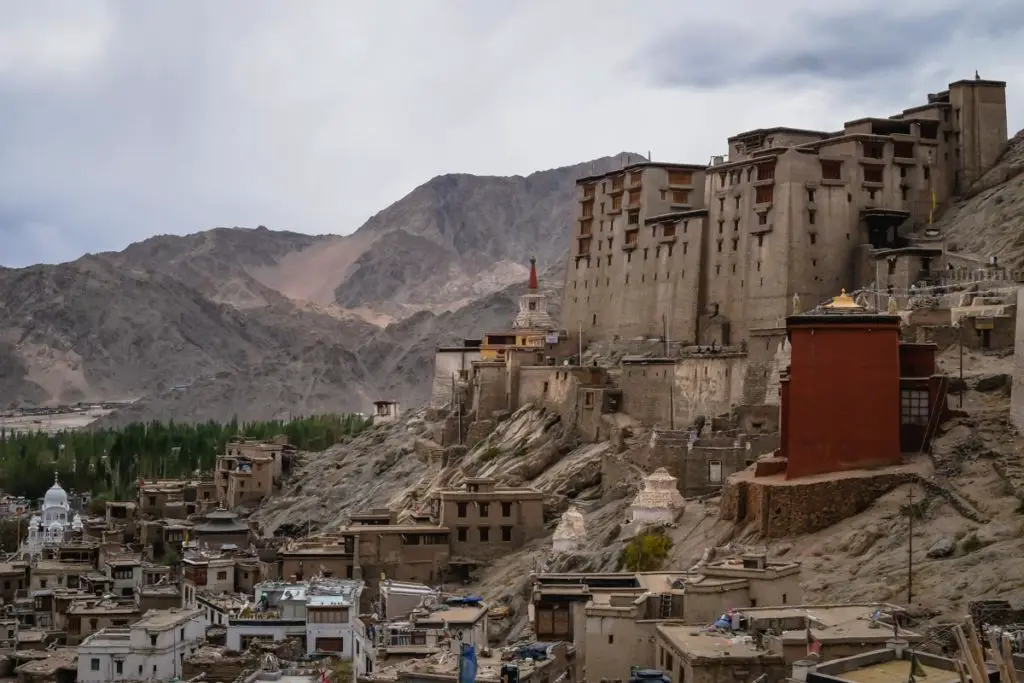 Let's start by saying that, to us, the best time to visit Ladakh is between the end of September and the first two weeks of October. This is when the tourist season officially ends, but depending on the years and the number of visitors, hotels and tour companies may close even earlier.
Ladakh in October is perfect because:
You will find fewer tourists and, especially in Leh, everything is less crowded
Accommodation prices drop sensibly
Fewer people mean less congestion and more enjoyable experience at the different sights.
The rivers are crystal clear and not muddy, as during the summer, glaciers melt faster and with climate change, impurities make the scenery less beautiful.
Treks are empty and all for yourself.
There are, of course, some issues as well:
Fewer people mean it's harder to team up with others when booking tours or cars with drivers
Transportation is less frequent or completely at a standstill
How is the weather in Ladakh and Leh in October?
While it's still sunny during the day, the weather in Ladakh starts getting cold at night in October. Temperatures can get down to zero, and mind well that most accommodations do not use the central heating system. You should be prepared to carry some woollen warmers and appropriate winter gear and use the heavy blankets provided to sleep at night.
Why you should avoid visiting Ladakh in the Summer
Why shall I avoid Ladakh in the summer, which for many are the best months to visit Leh, you may think.
Well, the town gets very congested with both domestic and international tourists, and at times there's no accommodation available. Prices soar, and the town's small lanes get truly choked up with all sorts of traffic — Leh really becomes not pleasant during that time. June and July in particularly are the most peak months when flights from New Delhi are the most expensive.
Of course, this is a good window to leave Leh behind and strike off on hiking trails because the weather is good, and especially if you plan on camping out at night. But July and August remain the worst months to stick around the town.
Getting to Ladakh in Winter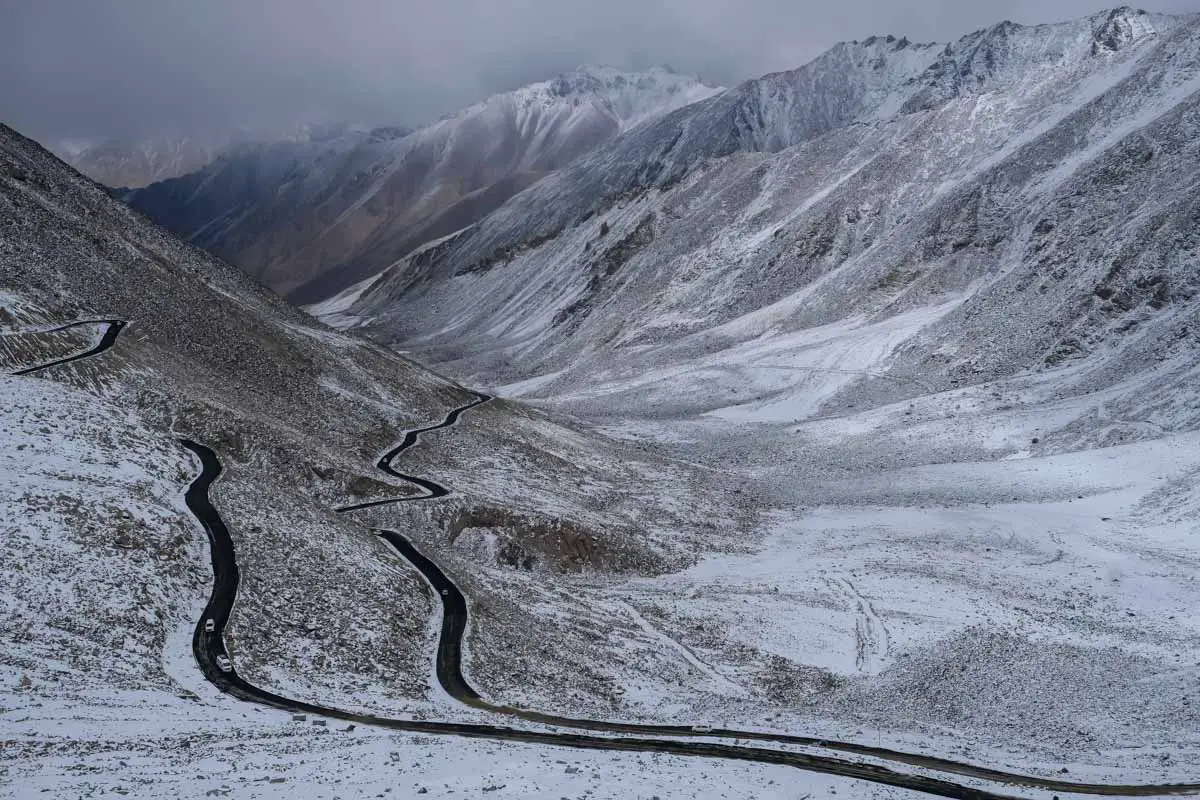 Flights from Delhi to Leh are open year-round, but the mountain passes get snowed over and close by mid to late October, and they reopen for all vehicle access only in June.
If you want to self-drive or catch a bus, you can get to Ladakh in two ways:
Manali-Leh Highway, the most popular, cuts through five mountain passes in the Pir Panjal range, including the Rohtang Pass, and three passes in the Zanskar Range. They are all high and given the steep ascent, it's common to suffer altitude sickness. The passes are not in optimal condition before June and from early October, when finding public buses, or even private taxis become difficult given snows and unpredictable conditions on the roads.
Srinagar-Leh Highway, is a bit less popular, especially given the continuous unrest in Srinagar that often closes off the city entirely to traffic. You can drive up via Patankhot and Jammu, Srinagar, and then travel west via Kargil.
One Week Ladakh Itinerary: What to See and Do in October
The following one week Ladakh itinerary is based on our own recent trip in October 2019. We flew from New Delhi to Leh and used private transportation to get around the main sights
Visiting Leh and Around in October
Suggested time: 3 to 4 Days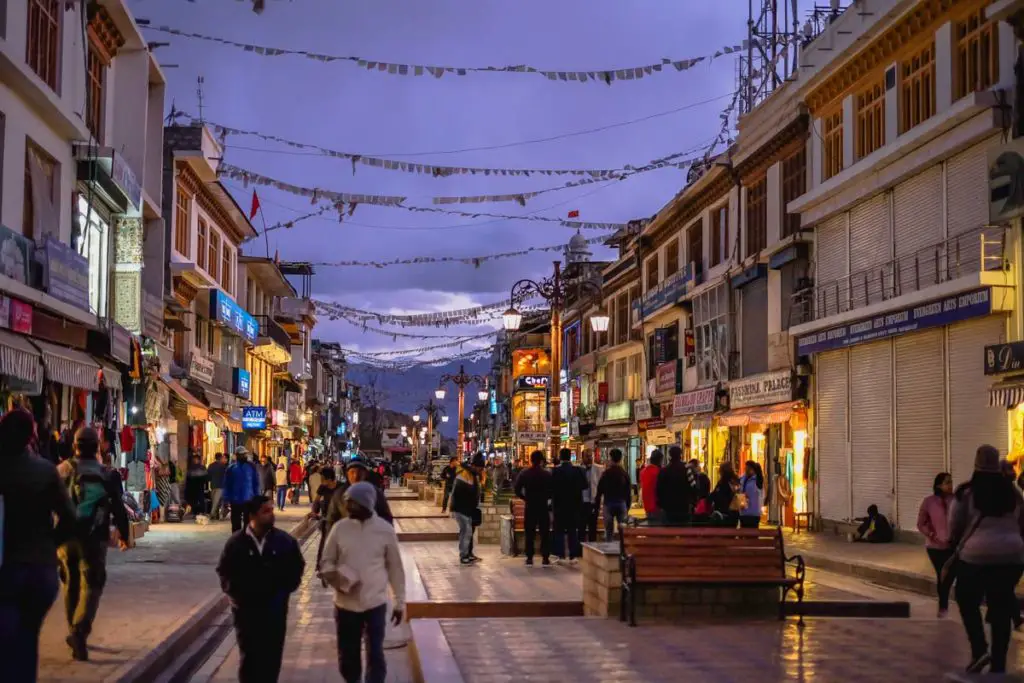 Leh in October deserves more of your time. Start in Leh town itself, walking at your own leisure in its interesting markets. There is a Tibetan Refugees market that's worth strolling by for its handicraft that directly supports the cause of refugees.
READ MORE
How to catch a train to Tibet
How to Cross the Tibet Nepal border
If you continue walking downhill towards Leh Bus Station, you will find many other street stalls selling winter clothes (good if you need to stock up on any).
Leh's main attractions are the Shanti Stupa set on a hillock overlooking the town, and Leh Palace, the former residence of the Royals of Ladakh. A visit here is definitely a must, for it's a vantage point over the valley that's perfect for photographers.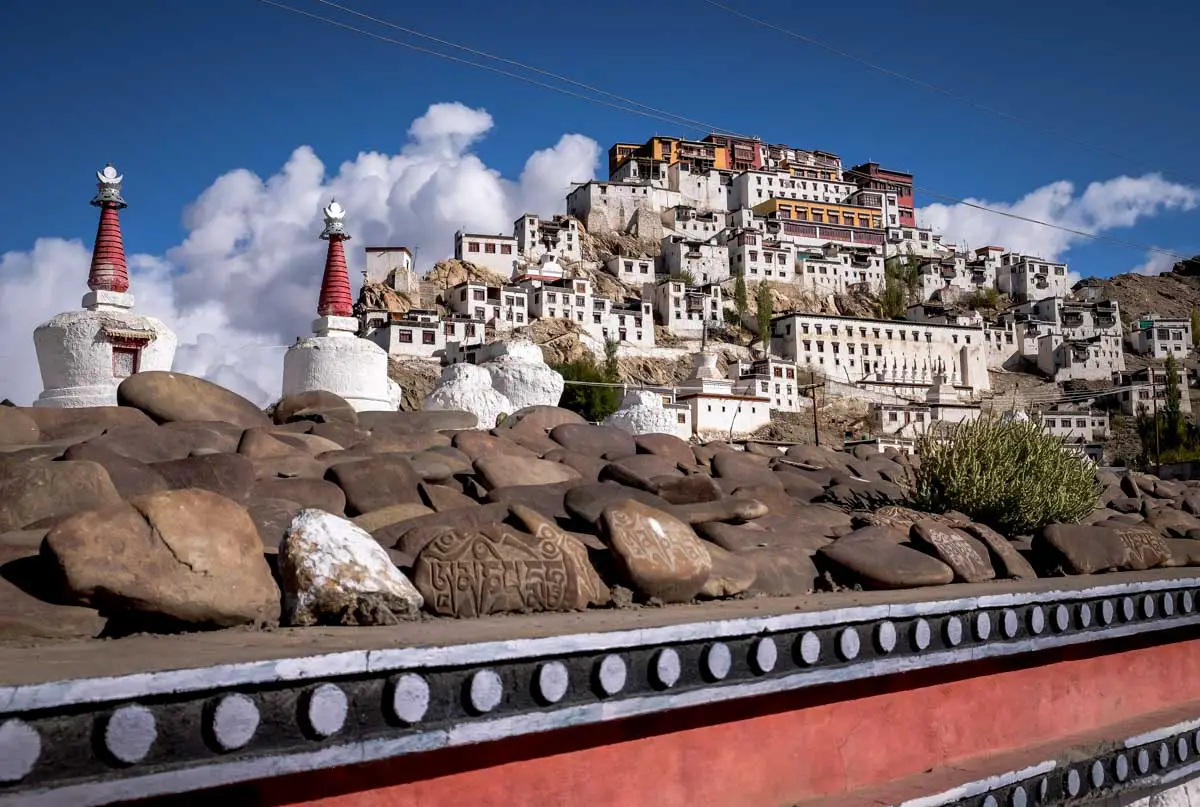 You should time a visit to the important Thiksey Monastery early in the morning at 6.45 am when the monks start their chanting. It's only 16km south of Leh on the Leh-Manali highway. You will be able to see them wear their yellow hats (Thiksay is the most important monastery of the Gelugpa sect) and perform their daily prayers. Be ready for drinking quite a lot of butter tea.
Only 4km further north is Shey with its former palace, that can be hiked, and many crumbling stupas dotted all over the surrounding landscape. Don't miss a hike here and to the local villages, where you'll be able to catch a glimpse of rural Ladakhi life.
SAFETY TIP – Don't overestimate the risks of altitude sickness, especially if you fly into Leh because the roads are closed. You should spend your first day in town resting and drinking as much water as possible and keep your head covered. A combination of high altitude and dry air may make most feel dizzy or nauseous, in which case, don't panic and seek the help of your hosts. Usually, all you need is more rest and hydration, but at times, an oxygen canister will set you right back on your feet.
For this same reason, hiking or walking around too much on your first day is really not recommended.
Where to Stay in Leh
Gangba Homestay
The Hermitage Hotel
Babu Guest House
for an atmospheric heritage stay, and a bit of a splurge, check out
Visiting Nubra Valley in October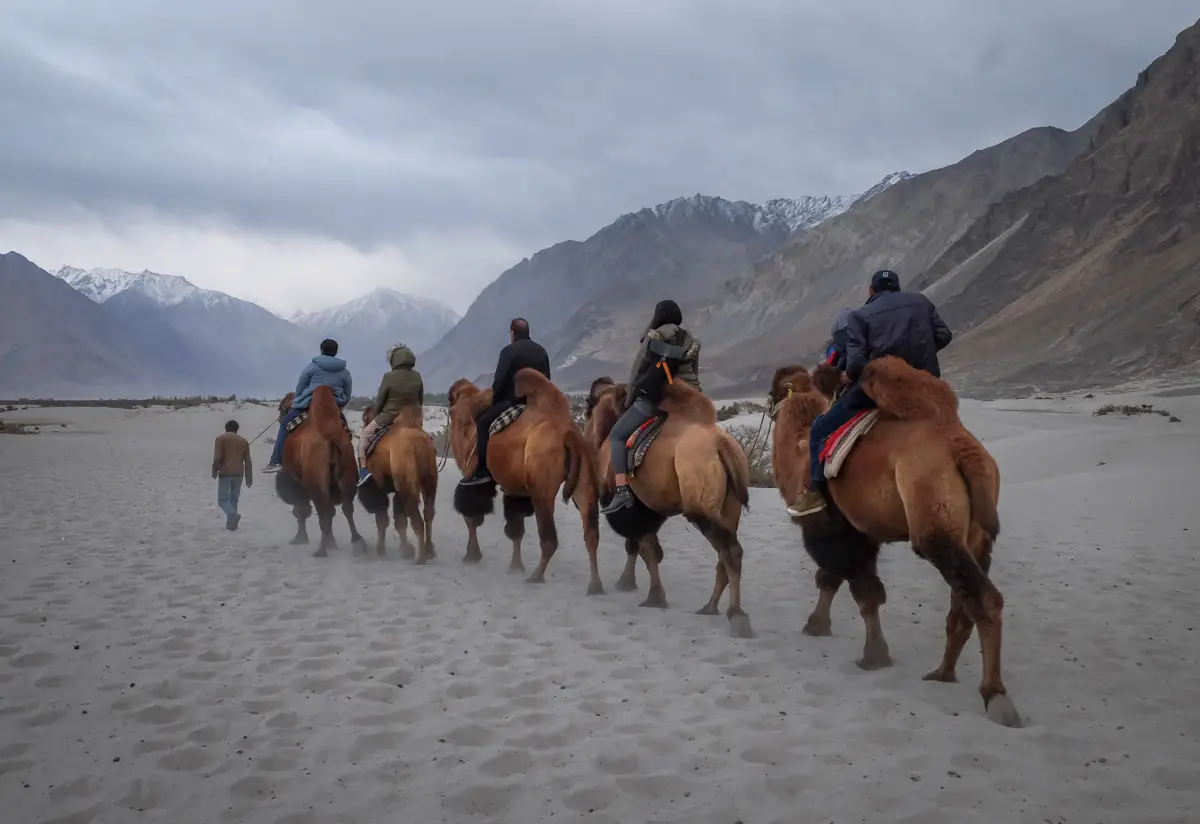 Suggested time: 2 Days
The Nubra Valley is set on the northernmost end of Ladakh on the way to the Pakistani border on an ancient Silk Road route. It's famous for the sand dunes near the village of Hunder, that pack tourists even in October — but are indeed pretty beautiful. Try to visit in the morning when the sun directly hits the sand, making them beautiful for photography.
In nearby Diskit, you shouldn't skip the Diskit Monastery. It has a big statue of the Buddha facing directly over the Nubra Valley set on a platform that's a perfect viewpoint to soak in the views.
With a couple of days on your hands, you'll be able to soak in the quiet atmosphere of this area and spend time exploring Hunder and Diskit villages. The people here are quite friendly, and with a bit of time on your hands, you may be able to explore the way they live.
Where to Stay in the Nubra Valley
Visiting Pangong Lake in October
Suggested time: 1 Day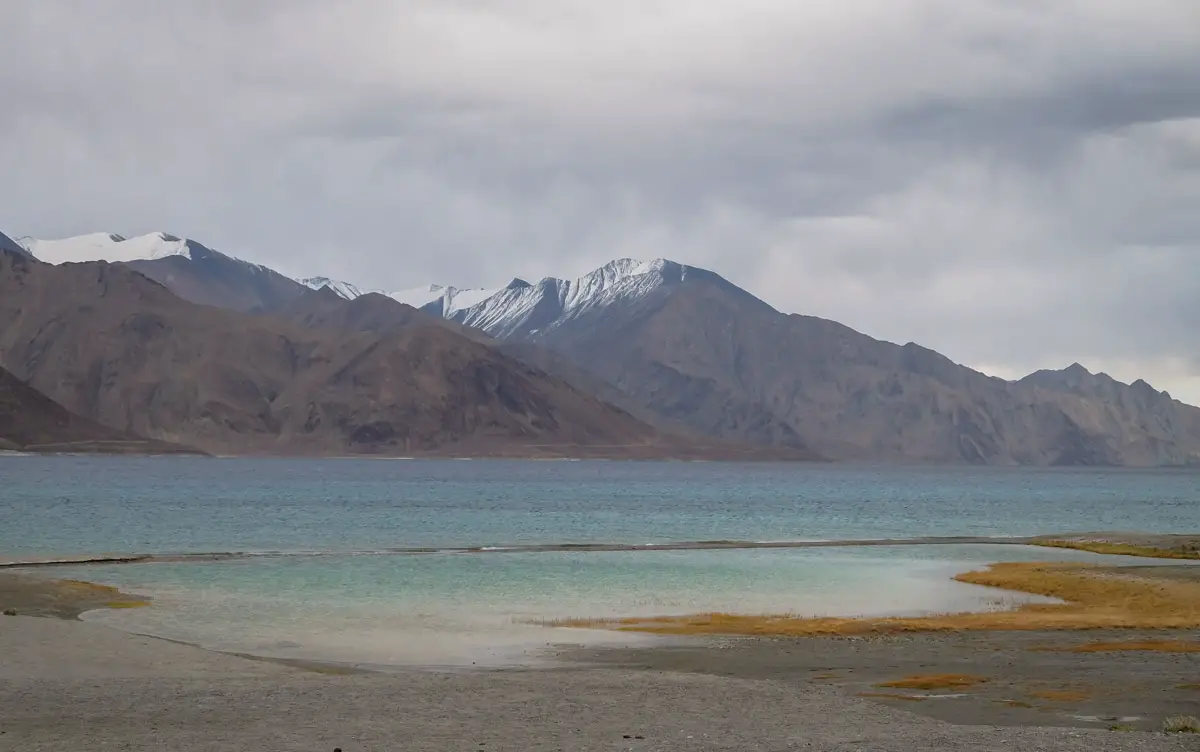 Pangong Lake is set at a higher altitude compared to the Nubra valley and the weather is more punishing here. In October, you will invariably experience strong and cold winds sweeping the valley, and staying overnight will be definitely cold. Try to time your visit with the Super Moon at Panggong.
The weather may also be overcast, taking away the beauty and switching colours of the lake. But on the plus side, you will not experience the congestion that the area often has, given its famous link to the Bollywood film Three Idiots, which brings in a lot of Indian tourists.
We recommend spending one day here, trying to arrive from Nubra valley at around 3pm, and spending time on Pangong Lakeshore. By 6pm it will be dark and cold, but it is recommended you get up very early the next day to see the sunrise at 5.30am. Generally, this is the best time to see the blue hues of colour on the water. Have breakfast at 8am and then start proceeding to Leh, where you should arrive after a 6 to 8 hours drive.
Consider stopping at Hemis Monastery on your way back. This is one of Ladakh's most important and the biggest Red Hat Gompa in the region. In October, it will be free of crowds, and you will be able to explore it quietly and at your own leisure.
Where to Stay in Pangong Lake
Tso Pangong (Shooting Point) Native Hut
Mountain Homestays
Good Luck Guest House

---
Blogging Transparency: India Someday and Unplugged Life sponsored our tour of Leh and Ladakh, but all the opinions expressed in this article are our own. We would not endorse any tours or companies we wouldn't use ourselves, or which don't align with our vision of sustainable, low impact and eco-friendly tourism.
---