If you are a freelance writer or you are thinking of becoming one, you may be struggling with knowing where to look for advice, inspiration and work.
Seven years ago, before having my stories published by the likes of Lonely Planet, Nikkei Asia, South China Morning Post and many others, I was confused, like you. The hardest was finding the information I needed — at least until I landed on a few very useful websites for freelance writers.
I want to help you out by sharing my own advice on the best freelance writing websites that truly made a difference for me and my education in those early years of trial and error. Believe me: whether you are just starting out, or are already a well-established pitching wizard, I am sure that you'll find some value in the suggestions below.
Best websites to create a freelance writer portfolio
If you want to be a freelance writer you need to have your best clips accessible in one place for editors to see. A writing portfolio is the most basic, professional and necessary tool that a freelance writer needs to have in order to claim to be one.
This "place" should be your own website, ideally yourname.com, but I hear you, that costs some small money. When starting out, these two sites offer some pretty neat portfolio-building capabilities you can use free of charge.
1.Contently
Contently is many things, but basically, it's a free writing portfolio where you can showcase your clips. All you need is to pull an URL into a tab, and here you go — it populates with an image and an excerpt of your clips. This is an example of my own Contently page.
The layout is not too customizable but it's free. You can upload unlimited clips, and has many more perks I will explain later.
2.Clippings Me
This award-winning platform offers a bit more flexibility than Contently. You can add clips from URLs, upload PDFs, add multimedia and create sections. You can also upload your clips via Facebook Messenger, arranging their order and linking to your social profiles. It's also quite good for SEO, as the platform ranks high.
The catch is, it's free and looks beautiful for up to 10 clips, then it's $5.99 a month for unlimited usage. Check it out here.
Best websites for a freelance writer's education
Freelance writers agree that nothing you learned in journalism school can prepare you for the reality of freelancing.
This is pretty much true, but a few worthy websites offer plenty of great writing advice. From pitching to marketing, the latest trends, and the nuts and bolts of these unconventional career choices, it's all covered. The following are those that helped me the most, and I still look at them for inspiration.
3.The International Freelancer
Natasha Khullar Relph has been around for a while. As a freelance journalist from India, she has a story that's more interesting than most. Natasha worked for some of the world's most renowned publications, including the New York Times. Hers is one of the best freelance writing websites I've seen, full of zest and personality, and covering all about the nitty-gritty of the trade.
If you subscribe to her mailing list you'll get some cool freebies, such as a list of 70+ publications that pay US$1 a word or more, and examples of 9 query letters that sold. She also offers courses, but the free stuff is enough for hours of reading and learning. Check it out here.
4.Travel Writing 2.0
Before the coronavirus, my beat was almost entirely in travel. Tim Leffel's Travel Writing 2.0 is a goldmine of information on what works in this industry. Leffel's case studies and in-depth interviews with bloggers, editors and writers dispense practical advice and clever suggestions to master the right work attitude and reflect on what it takes to make it in the travel media industry. I found some gold here, so go browse through the archives here.
5.Travel Write Earn
James Durston, the former editor at CNN Travel, published some very useful advice on the art of pitching from an editor's perspective. Durston is also selling an ebook on making it as a travel journalist, but the free advice published on this website is already a very good starting point to crack the process behind editorial queries. Check it out here.
6.The Write Life
This site is a colossus and has a lot of material that's suitable to any writer, from magazine freelancers to aspiring novelists. Whether you want to better understand how to blog, improve your writing craft, or get help find resources, there's plenty of free advice to browse here.
7. Successful Pitches
The hardest part of freelance writing is learning how to master the complicated art (if there is one) of pitching your story ideas to editors. This database is curated by published writers and packs plenty of successful pitches showing what editors paid for. An invaluable resource for those who still need to score their key clients. Have a look here.
8. Who Pays Writers
Another interesting database was established in 2012 and compiled by writers. It collects details about rates from hundreds of publications across the globe. You can see average pay, learn if a publication has a good track record and if pays timely, and understand if you are being underpaid. Essential browsing when looking for new markets and clients. Find it here.
9. Rates Database
Curated by Contently, this database has plenty of detail on different types of publications and their rates. Real freelance writers comment on the experience of working with them, making it a very useful resource when looking for new clients. Check it out here.
Best websites for finding freelance writing work
10. Pitchwhiz
Created by James Durston, the former CNN Travel editor, this one-stop pitching software brings editors and freelance writers together. Started with the travel industry in mind, it expanded to other areas and it's a good place to find what editors want and when. Sign up and try it out here if you are looking for contacts and paid work. You can also read an in-depth explanation of how Pitchwhiz works by Durston himself.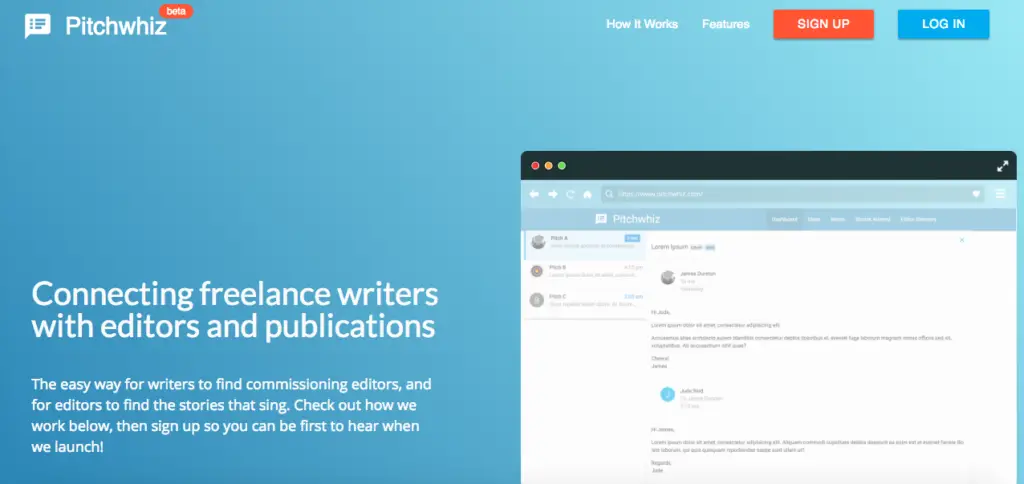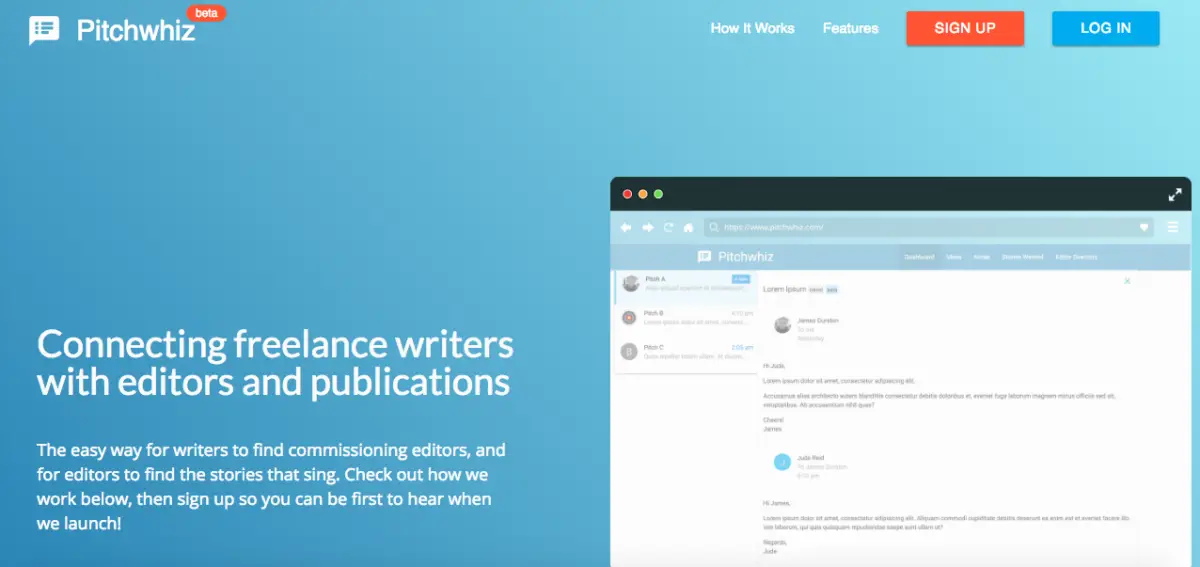 11. Travmedia
Created by and for freelance writers and editors in the travel media industry, this is an easy platform to connect with editors and check their calls for pitches. Divided by region of the world, Travmedia is helpful to zero down on potential new opportunities for your own writing. I got work through it and can testify it's definitely worth investing some time. Register and check it out here.
12. Contently
Did you follow my advice and created your Contently portfolio, loading it with the best clips from your niche? Great, because if you did that, Contently itself will find you and offer you well-paid content writing opportunities in your niche. Since joining, I was recruited by Marriott Bonvoy Hotels, ANZ Bank and other corporate clients to write short and well-paid blog posts and marketing copy. It doesn't always lead to steady income, but it's a nice addition to any freelance writer's arsenal, so try it here.
13. Freedom with Writing's newsletter
Freedom With Writing is a website and newsletter provider that sends you writing jobs directly by email. Every week, you'll receive a round-up of opportunities, the highlight of which is a selection of call for pitches by editors that the staff here monitors and collects via Twitter. Have a look at some of their case studies and articles, and if you like what you see, sign up here.
14. Mediabistro
This is America's #1 media job board and community, filled with actionable advice and step by step pitching guidelines to snare bylines in hundreds of important publications. It also has courses and plenty of incredibly useful content, and for that very reason, it is not free. For US$14.99 a month, you can access a lot of good information and editorial contacts. It's actually very cheap if you consider that most of the publications you will access pay up to $1/word. Have a look at the free part of the site or try their 14-day free trial membership here.
15. Twitter
Why mentioning a social media channel? Because all the cool kids, and most editors, like to hang out on Twitter. @callforpitches is a good place to start browsing, as much as searching for the hashtag #freelancers and #callforpitches. If you have time to spend browsing social media, this may be the best use of it.
16. Opportunities of the week newsletter
Sonia Weiser's newsletter collects many freelance writing opportunities and, at $3/month, is a steal. She's even able to offer it for free to those who contact her giving a specific reason (for example, disadvantaged writers from the third world) so reach out, it's totally worth the small price.
17. Where to Pitch
This database has some quick information on what publication may want your story. Just type a vertical (let's say "health" or "travel") in their search box, and voila'. The pages link to most publications' submission guidelines, saving you time. Check it out here.
18. Journalism Jobs
This well-established job board offers media and journalism jobs, mostly in the United States, with the occasional foreign correspondent vacancy advertised. Once you have a portfolio and are ready to get cracking pitching and looking for work, have a look through the classifieds here and shoot your resume.