Of all the countries in Southeast Asia — see our suggestions on the places you should avoid visiting — Thailand is stunningly diverse. From the northern hilly regions bordering China, Laos, and Myanmar, to hundreds of kilometers of coastlines and islands, photographing Thailand is a dream, and whether you are a blogger (check our suggestions for the best cameras for bloggers) or a professional photographer, you'll find endless photo opportunities here.
Of course, there are a few things any sensible photographer should know before pointing his lens at the wrong place and offend local sensitivities. This guide will help you grasp the basics of how to photograph Thailand following cultural sensibilities, and suggest some of the best places to shoot country-wide.
Photography Taboos in Thailand
Thailand is very welcoming to tourists: it's been the first country in Southeast Asia to reopen tourism during the post-COVID-19 recovery period.
This said the Thai culture is definitely bound to many unwritten rules that are wildly different from the habits in the West, and look like a "stupid farang" (foreigner) is easier than it may seem. Here's a lowdown of the basics you'll need to grasp to take photographs more freely while traveling in Thailand.
Can I photograph monks in Thailand?
The short answer is yes, provided you do so politely. When thinking of what such "politeness" means, the first thing to think about is the way you present yourself.
There are a few unwritten and very simple cultural rules you should keep in mind while approaching monks and places of worship in Thailand:
Don't wear shorts/a skirt
Women should not have revealing clothes
You must wear clothes that cover your shoulders
If you observe that courtesy, you'll already be one step ahead.
It's frankly as easy to find monks who love to be photographed as it is to find monks who are not. Just observe them before clicking: do you feel like they are visibly bothered by your camera? Then step back, as simple as that.
---
Photographing temples in Thailand
Thailand is literally a land of temples, and their gilded golden decorations, arched roofs, and architectural motifs are a real delight to photograph. Of course, there are a few definite don'ts one should always respect when photographing temples in Thailand.
Don't turn your back at the Buddha (no selfies)
It is considered rude to enter a Thai temple and not face the Buddha statues contained inside. Buddha statues carry great significance, and the most dreadful cultural mistake you can make is to pose next to it for a selfie.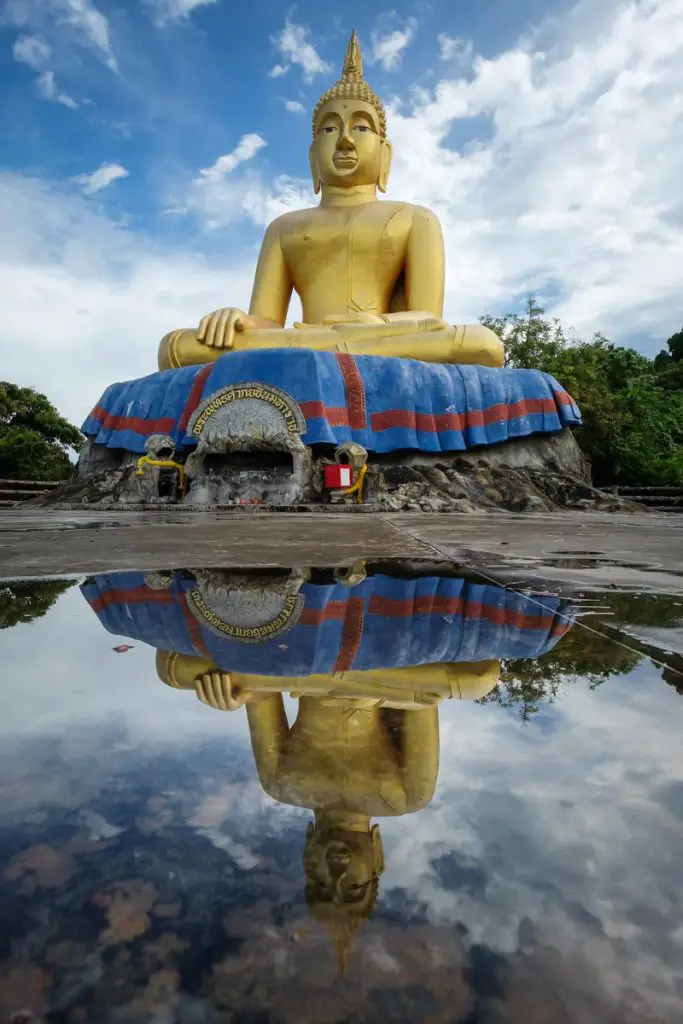 You can certainly photograph the Buddhas, but please do so by knowing that you are treading sacred ground, and as such, a respectful demeanor is a must.
Dress appropriately
Enter temples possibly wearing long pants and at least a t-shirt. Tank tops and short skirts are definitely not tolerated unless your goal is to look like a "stupid farang".
One very easy trick is to always carry a sarong with you: this can easily be folded inside your bag or day pack, and wrapped around your waist or around your shoulders whenever you need to enter a temple.
Don't stand in the temple's threshold
Standing in a temple's threshold is considered wrong and impolite, so please don't do that. If you want a larger shot, step back outside.
Don't climb on anything to shoot from a better angle
I really shouldn't be writing this, but it never hurts to be crystal clear on what would really be irresponsible behavior when photographing the inside of a temple in Thailand. Never, ever step on anything higher than the ground you walk on to try to get any inventive shot.
Use a wide-angle or a fish eye lens instead, but keep your feet firmly on the floor.
See if women are allowed
Occasionally, some temples in Thailand do not allow women. If that's the rare case, there will most likely be signs to advise you. If so, please refrain to enter and don't play the "I didn't know"-foreigner game.
---
Is street photography legal in Thailand?
Yes, street photography in Thailand is generally legal, meaning you can simply go around and shoot people and things. There are however some places where that's not allowed, and these would be particularly temples. Some will not allow taking pictures of the Buddha. Please check for the appropriate information on signboards before you start shooting.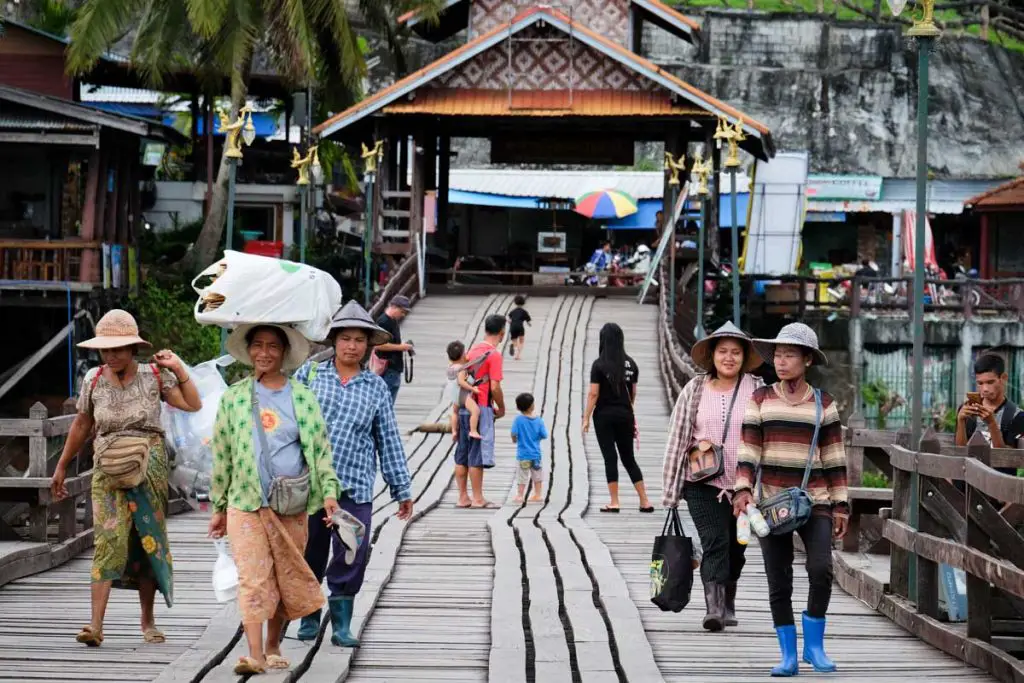 ---
Should I pay people when taking their photos in Thailand?
In general, I don't think you should pay people for taking their picture because this encourages begging and dependence from tourism. Of course you may have a different opinion, so this goes to your discretion.
If you have spent some time talking with your subject before you push your camera in his/her face, then in my experience it's much more likely that you won't be asked for any money.
The Thais generally like to have their photo taken, and unless you travel in the most remote border areas close to Myanmar or you mingle with Hill Tribes, you shouldn't be expected to pay because these days, many Thais have better incomes than the photographers who come to "harass" them.
But when meeting poorer/more disadvantaged people, think of the value the camera in your hands has, and the show of wealth you are displaying. Then think of the value of a 20 Thai baht note (0.6 US$). If for you it's close to nothing, please consider that it could be a meal or two for your subject instead.

At times, offering a little tip can actually spark some interesting photo opportunities: what if, happy with the tip you have given, the person you photographed will then introduce you to the rest of the beautiful characters in her village, free of charge?
The main advice I'd like to give is to be aware of fake monks: they will inevitably ask for money, which you shouldn't give them, exactly because they impersonate fake holy men. A monk DOES NOT need money, because it's against the rules of monkhood to use it.
---
Can I photograph Children in Thailand?
Yes, you generally can. Thais love to show off their children as much as they like to play with yours, so again, with a smile and a respectful attitude, it's generally always OK to take a snap of Thai kids.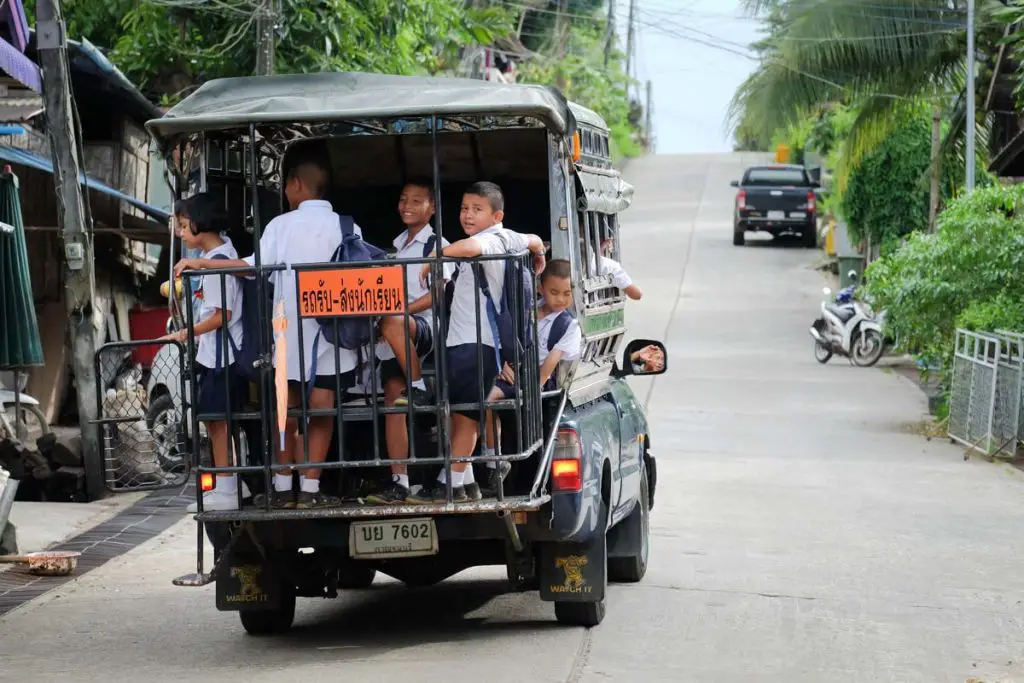 What about children in ethnic garb?
This is keeps being a contentious topic all over Southeast Asia. For inasmuch as a child asking for some spare change to have his/her picture taken may not seem like a big issue, it actually is — this way children are encouraged to keep "working" by their parents instead of going to school.
I always refrain from giving money to any children, regardless of the country I am in and the state they are in. You may have a different opinion, but try to think about the long-term problems of this practice. If you want to donate, do so to a reputable charity to avoid the unwilling damage you'll be making.
---
Can I take pictures of Thailand Hill Tribes during a trek?
Yes, you can. But it would be best if you asked them first, for some don't really like to be photographed. The elders specifically may still have notions that a camera is an evil machine capable of taking away their souls, and even if this is quite odd these days, you should always ask before shooting.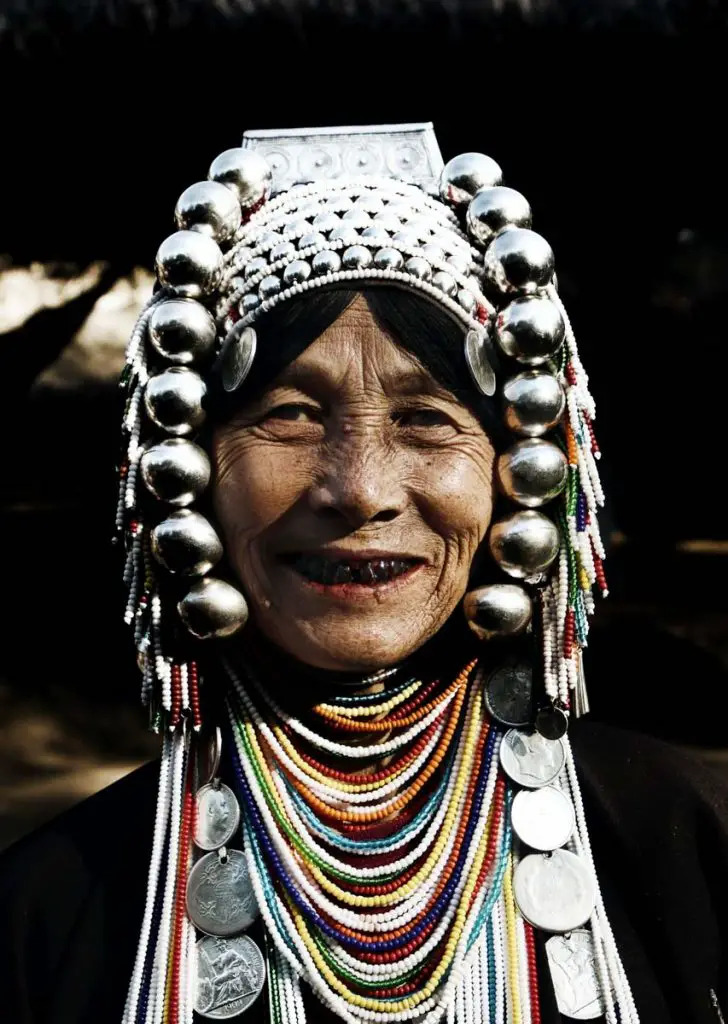 When you go on an organized trek, and the people who host you have obviously been paid for their hospitality, photographing them is usually fine — but again, asking makes the whole experience much more nice and equitable.
Please don't forget to also ask before shooting tribal people you may meet trekking, especially if they are working — how would you feel if someone stumbled into your cubicle and started taking pictures of yourself as if there was no tomorrow?
---
Where Can I take Pictures in Thailand? These are 13 of the best places to photograph in Thailand
Now that you have a general idea of the best practices for photographing people and places in Thailand, here's a list of some of the best places to go shoot.
I have asked several other travel bloggers to share their favorites and came up with an interesting list that should be a good starting point for your next photography trip in Thailand.
Disclosure: Please note that some of the links below are affiliate links. Every purchase you make will help support the time we need to write and maintain this site through the commission I earn at no extra cost on your side. We strive to offer the most unbiased and honest recommendations based on our experiences.
---
Best Places for Photography in Bangkok, Thailand
King Power MahaNakhon Skyscraper in Bangkok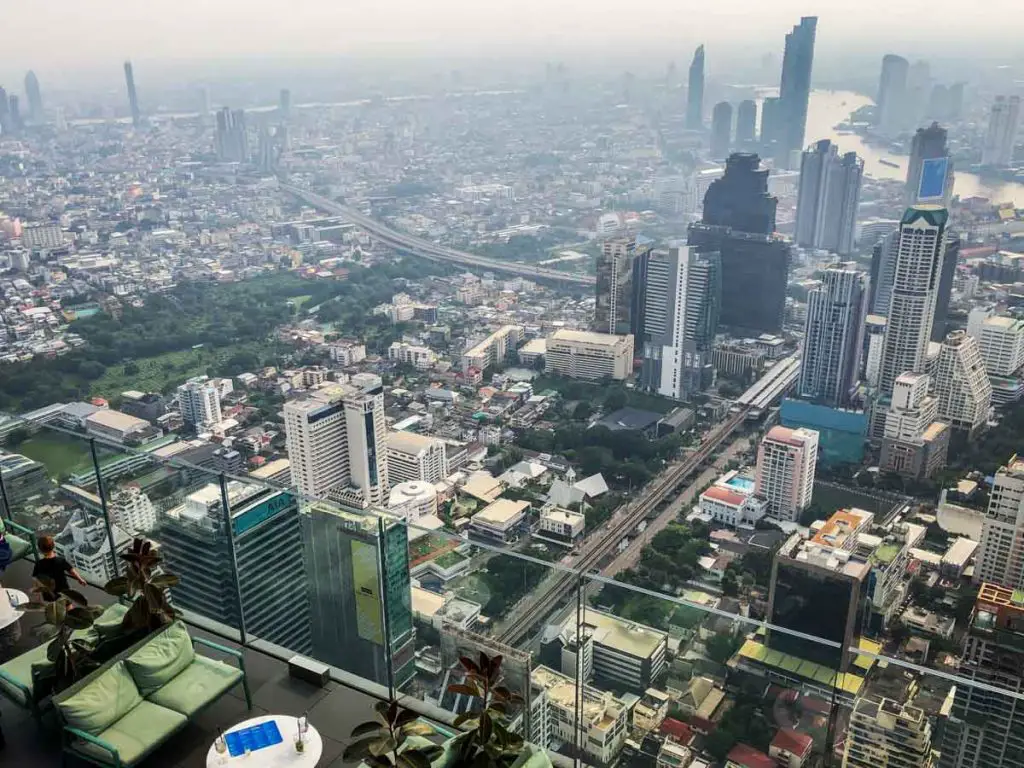 King Power MahaNakhon is the tallest building in Bangkok and one of the best things to do in Bangkok. It has an observatory and sky bar at the top. It offers a great panoramic view of the Bangkok urban skyline from Siam down the BTS line, the Lumphini Park, and the Chao Phraya Riverside. The building itself is an architectural marvel featuring a cuboid-surface spiral around the building as if part of the structure is pixelated and dissolved. Designed by German architect Ole Scheeren, it has become a landmark and the most photographed architecture among visitors of Bangkok.
SHOOTING TIPS: The best location to shoot the exterior is at the entrance of the W Hotel in front of The House on Sathorn. The restaurant is a restoration of an old building that offers an interesting mix of old and new.
GEAR TIPS: The observatory could be crowded during sunset, get there earlier to secure a seat at the sky bar which has an unobstructed view of Bangkok. The glass platform is said to be the highest in Thailand and it's a great Instagram moment to take pictures standing on the glass with the city beneath.
By Kenny of Knycxjourneying
---
Bangkok's Chinatown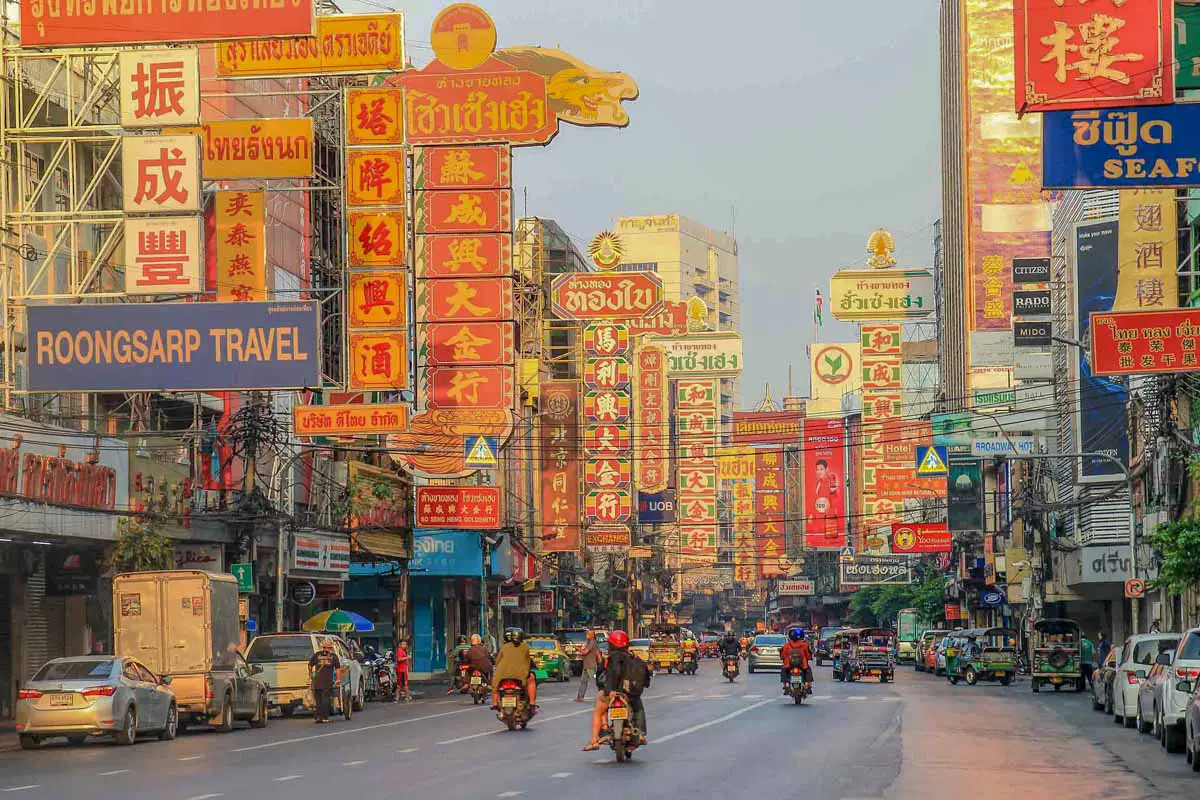 Chinatown in Bangkok is certainly one of the coolest neighborhoods in the Thai capital and among the most unique photo locations in Thailand. Both locals and tourists love Chinatown's hustle and bustle, its many colorful lights, and hanging billboards pitted in Chinese characters. Here you can take great photos at any time of day.
Bangkok's Chinatown is filled with a true variety of photogenic places: from beautiful Chinese temples such as the Golden Buddha Temple, with its precious statue, or Wat Mangkon Kamalawat, all gilded in striking reds.
The markets in Bangkok's Chinatown are a literal maze of hole-in-the-wall stores and street food, a real bounty of great opportunities for candid street photography. Here you can not just taste your way through the delicious local cuisine, but also see a lot of interesting things that make for great photographic subjects.
Let's not forget the hidden side alleys filled with cool street art, hidden mansions, and pretty cafes. The best thing to do is to let yourself drift through the neighborhood, and great photo opportunities and spots will just come your way.
SHOOTING TIPS: The most characteristic spot for taking pictures is Yaowarat Road, totally filled with colorful lights and hanging Chinese billboards. Taking pictures here is best in the evening when the illumination of the famous Yaowarat Road comes into its own. You could also come here in the morning when the monks walk around receiving alms, and the street's atmosphere truly becomes unique.
GEAR TIPS: Don`t forget to take your tripod with you to take amazingly crisp and sharp pictures when you visit at night.
By PlacesOfJuma
---
Bangkok's Airplane Graveyard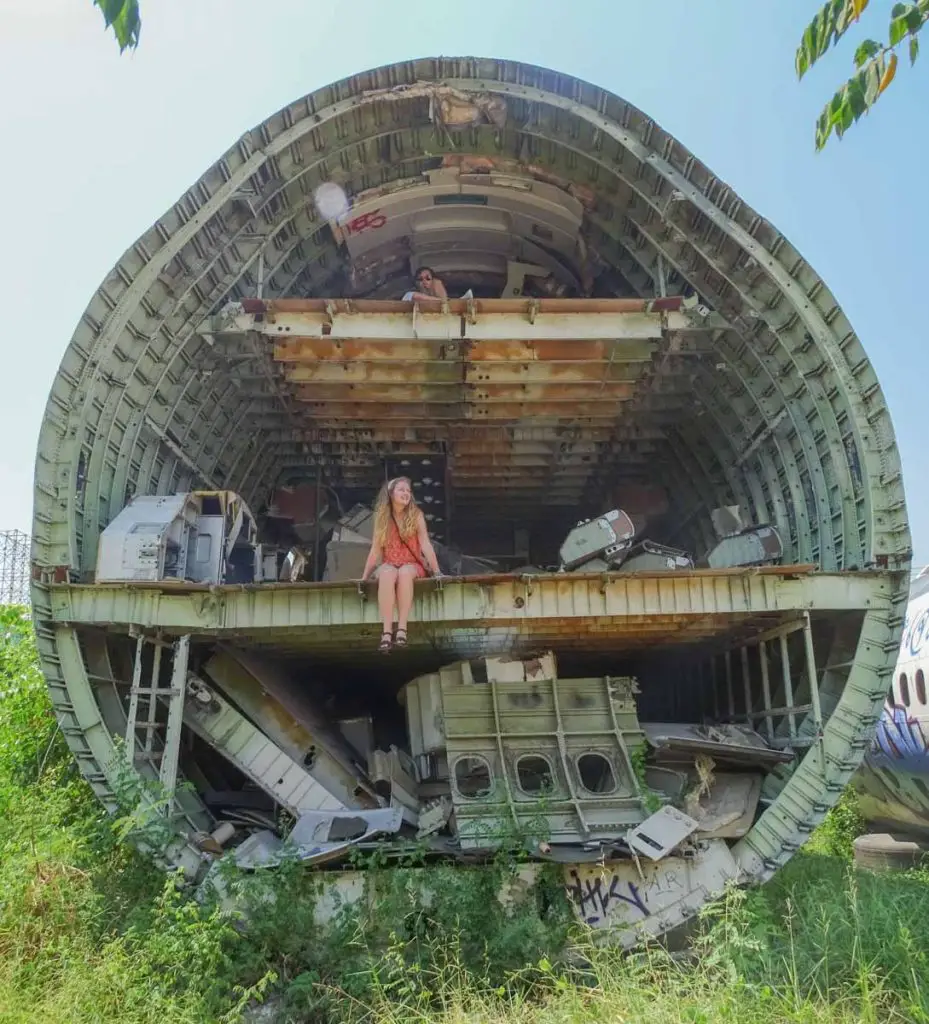 This quirky location is an urban playground for photographers. The abandoned planes at Bangkok Airplane Graveyard are split in two, exposing their insides. You can climb into the planes and walk inside the cockpits which are now splattered with urban murals. What makes the scene even more photogenic is the Bangkok skyscraper backdrop.
SHOOTING TIPS: Visiting early or late in the day will give you the best chance of having the place to yourself. It's become a popular spot with photographers and Instagrammers over the last few years so you'll want to avoid them being in the background of your shots.
There are several options for taking unique photos at the Airplane Graveyard. One is taking photos of the planes from the outside with the Bangkok skyline on the horizon. Another option is taking photos from inside the larger plane, also with the skyline pictured.
If you are visiting solo and want to capture yourself in the photos, you may wish to bring a tripod. Use the longest timer possible or a remote-controlled option as it will take you a while to scramble into the plane from the ground.
GEAR TIPS: The planes are fairly straightforward to photograph and I used the regular lens on my Canon camera. For taking photos inside the planes, you may want to use a flash depending on the lighting when you visit. For photos taken within the planes looking out over the city backdrop, your only challenge will be the lighting. Unless you brighten the photos later, the belly of the plane will be dark, however, this can make for striking photos.
By Rose of WhereGoesRose
---
Best Places for Photography in Thailand
Vegetarian Festival in Phuket or Trang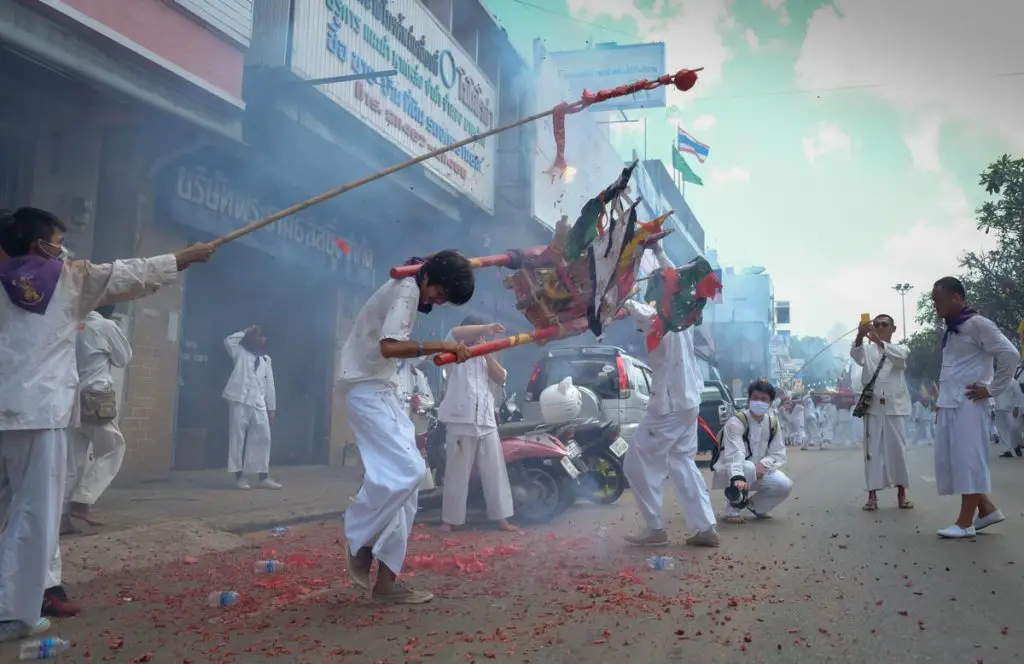 If your goal is to take some really out of the ordinary pictures of Thailand, then the Vegetarian Festival in Phuket (also celebrated on a smaller scale, but also providing a much more intimate experience, in the southern town of Trang, on the way to Malaysia and Penang) is an absolute must. Held for a week in the 9th month of the Chinese calendar, usually in October, it celebrates the Nine Emperors gods and is founded on the belief that abstinence from meat, sex, and other stimulants will help the devotees obtain prosperity and health. It's certainly one of the unmissable festivals of Asia: the devotees mortify themselves with all sorts of piercings, inserting literally anything, from skewers to blades and sharp objects, into their faces. If you are squeamish, this isn't a place for you to go.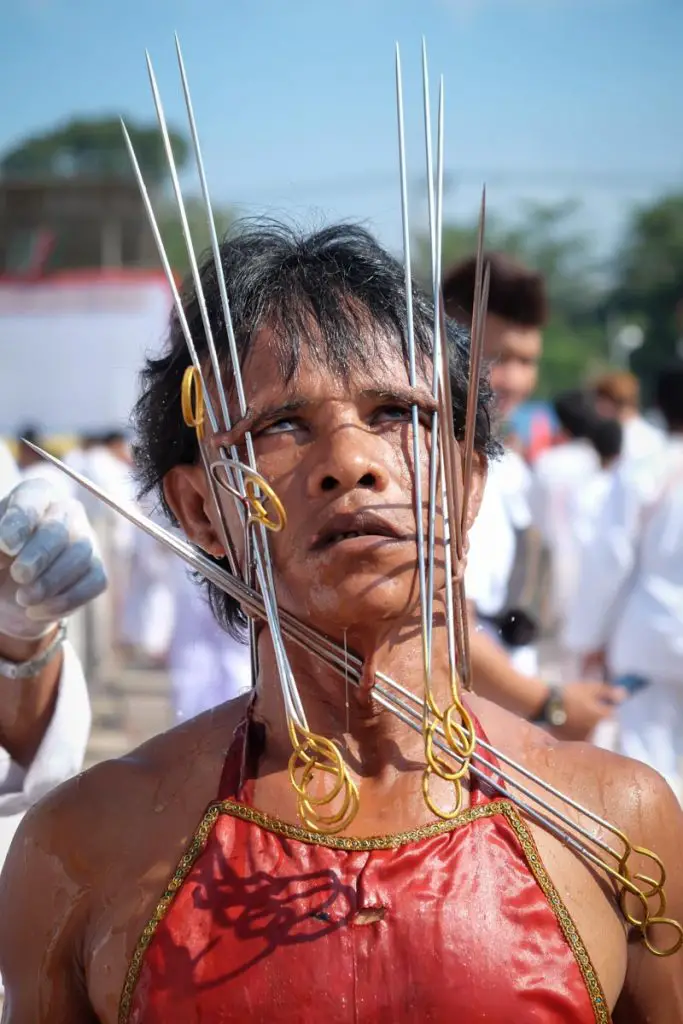 SHOOTING TIPS: The procession is of course popular with photographers, so try to avoid the main temples and try, instead, to talk to locals to know where devotees are pierced before the procession, and when. It's also a good idea to book yourself in a Phuket Old Town hotel for the whole week so that you'll be able
GEAR TIPS: Mirrorless cameras that are smaller, lighter, and yet have strikingly good sensor quality are always recommended in travel environments — and you'll have to move around a lot to follow these processions. A flexible zoom lens like a 20mm – 70MM F2.8 lens will be helpful to both take good close-up shots of the devotees, and also snap fast when standing at the roadside and watching them come by. For incredibly sharp portraiture and a rich bokeh effect, try a prime lens. We recommend these from Fujifilm, the 35mm F1.4 and 16mm F1.4. They both never failed us once.
---
Wat Phra That Doi Suthep or Chiang Mai's Golden Temple
One of the most photographic locations in Thailand is located in Northern Thailand in Chiang Mai at the Golden Temple or Wat Phra That Doi Suthep. This temple complex located on a hill overlooking the entire city is a striking complex of temples, amazing and colorful adornments, elaborate prayer bells, pagodas, altars, meeting halls, a museum filled with gorgeous gold and precious metals and stones adorning statues, sculpture,s or holy relics in this holy shrine to the Thai people.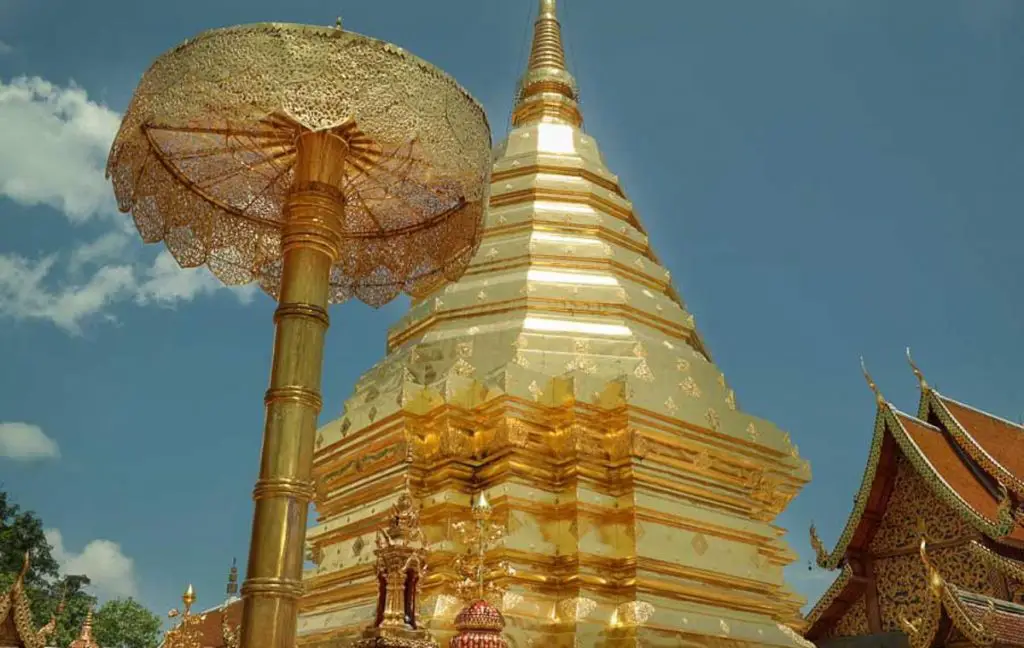 SHOOTING TIPS: Come early to avoid crowds or later in the day to capture the best light. You enter with a respectful dress and walk barefoot throughout the entire complex that houses the holy relic of the Buddha's shoulder bone located in the main golden chedi of the temple complex. There's so much to see, witness, and capture in photographs around the site, but be respectful and only photograph what is respectful without capturing everything that you want from visiting.
GEAR TIPS: You can bring a variety of mirrorless cameras that are smaller frames and very light cameras with lenses that work better in travel environments. Working with a nice flexible zoom lens like a 20mm – 70MM F2.8 lens that lets you capture wide to more detailed shots sharp and in different lighting conditions.

Things happen quickly around the temple grounds so being present at the right spot you want to highlight and just wait for the right opportunity to happen is always key here. Or if you want to be more comfortable without being intrusive, the newer smartphones from Samsung, LG, or Apple offer some pretty amazing options and customizing features that in my opinion are pretty good.
By Noel Morata of Travel Photo Discovery
---
Khao Sok National Park
A sweeping expanse of dense vegetation and a stunning emerald lake, Khao Sok National Park is a haven of natural beauty and rare wildlife. Away from the main tourist traps, it is not overrun with people like many other popular photographic locations in Thailand. This makes it a perfect spot for every type of photographer to capture some gorgeous shots, from wildlife close-ups to vast landscape photos.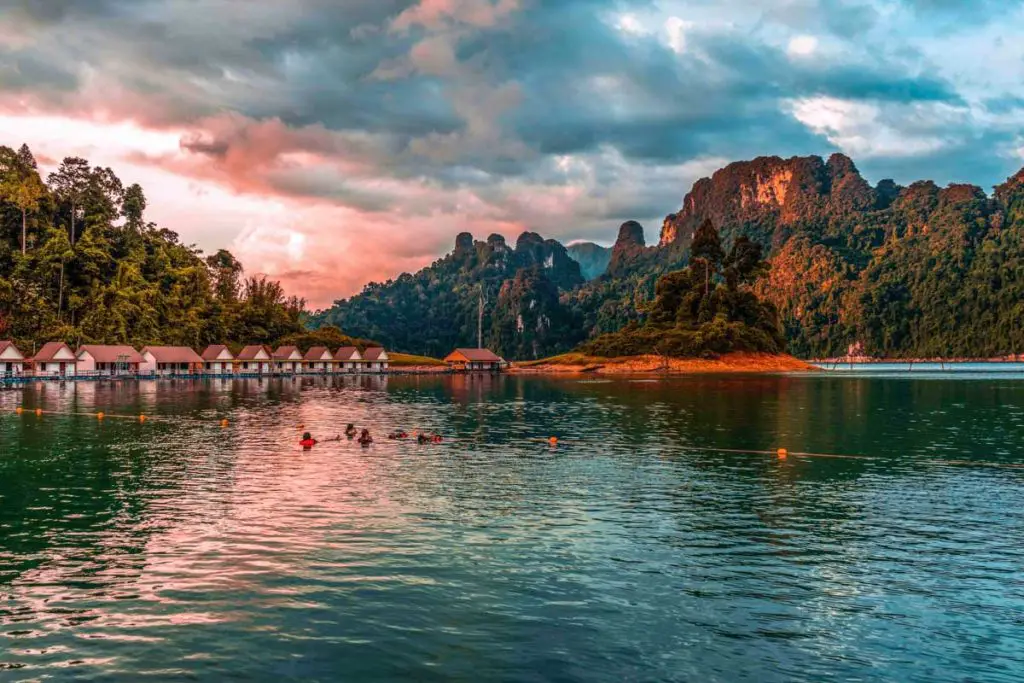 SHOOTING TIPS: As with many beautiful landscapes, one of the best times to shoot is at sunset when the golden glow reflects off the lake and bounces off the white limestone cliffs. Early mornings are often defined by low clouds which roll over the water and between the trees, providing an ethereal alternative photographic angle.
Wildlife photographers would benefit from a guided tour of the jungle. An experienced guide will help you identify rare plants and fauna, as well as spot the many animals which reside in the rainforest.
GEAR TIPS: Due to the variety of shooting on offer in Khao Sok National Park, bringing a number of different lenses will help you make the most of this photographic location. As a travel and landscape photographer, I used a wide-angle lens to capture the vastness of the park and the way the limestone cliffs frame the lake. A telephoto lens is a must for any wildlife photographer in Khao Sok National Park, while a 50mm prime lens is perfect for capturing spectacular close-ups of the exotic flowers in the rainforest.
By Jessie Moore of Pocket Wanderings
---
White Temple in Chiang Rai
One of the most beautiful and iconic places in Thailand is the famed White Temple in Chiang Rai. Though it's actually not a temple but an exquisite art installation, it's a top draw to this small city in northern Thailand. It tells the story of life and the cycle of rebirth as you walk over the bridge to the gate of heaven, passing over a sea of hands extending to the sky. Inside the structure, you'll find some rather strong symbolism that seems to make a statement on human morality with some quirky touches. Both the Dalai Lama and Michael Jackson make an appearance, so this is left to your interpretation. This mix of beauty and quirkiness flows throughout the property.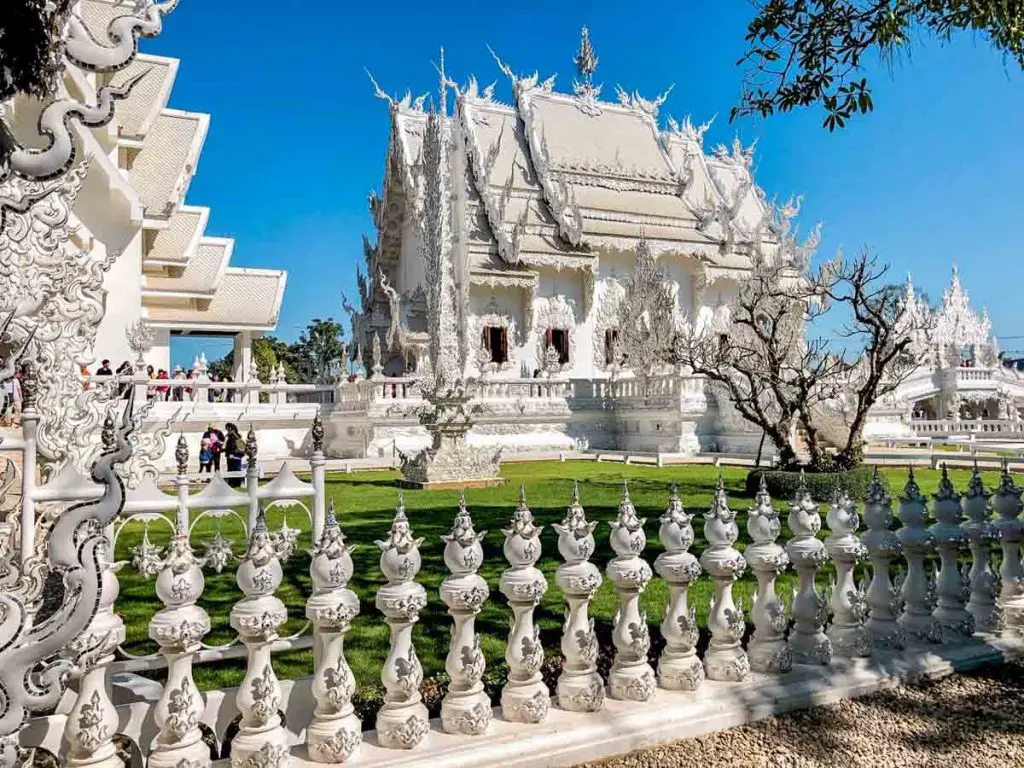 SHOOTING TIPS: You'll want to arrive at the White Temple as close to when it opens in the morning as possible to get the best photos. This site draws massive crowds, especially starting in the late morning when day-trippers from Chiang Mai arrive.
GEAR TIPS: You really can't take a bad picture of the stunning White Temple. This image was taken with an iPhone 8. The detail and visual interest of this unique and striking temple make it easy to capture the beauty of it, no matter what you use to photograph it.
By Sam of My Flying Leap
---
Waterfalls of Erawan National Park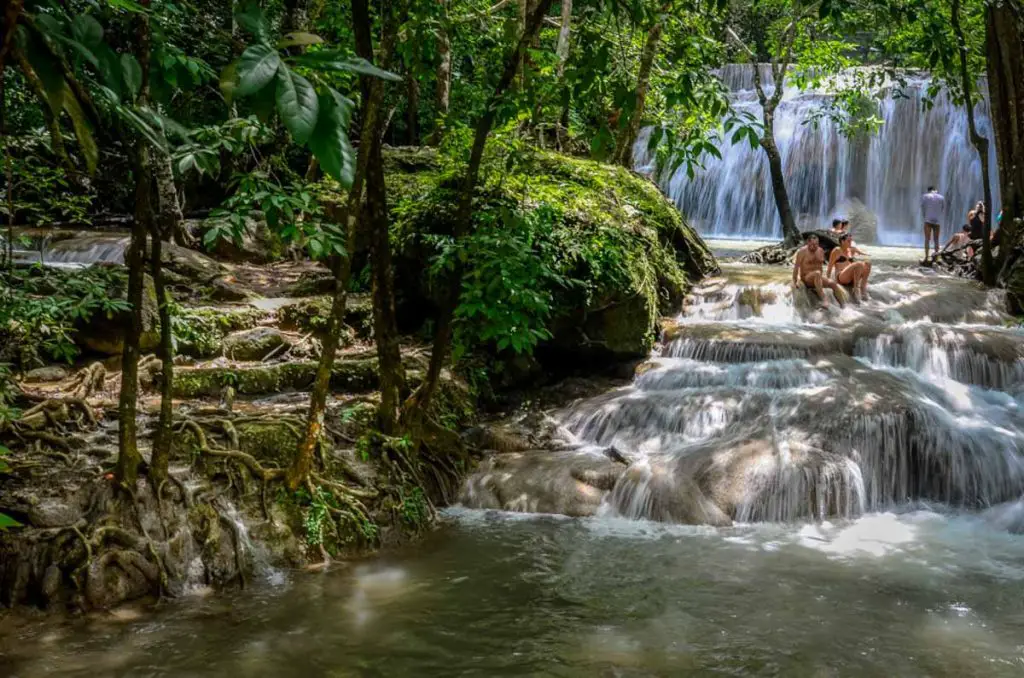 Erawan Falls, a series of waterfalls spread over seven separate tiers, is considered the most beautiful waterfalls in Thailand. Lush surroundings and fish swimming around in the pools underneath the falls all make good subject material in addition to the falls.
Combine your trip to Erawan falls with a few days in Kanchanaburi, one of the best places to chill in Southeast Asia. Here you can photograph the Bridge over the River Kwai and other WWII memorials.
SHOOTING TIPS: Erawan Falls are at their highest flow during the rainy season, from late May until early September. The falls and pools will be at their highest during this time, but the water might be murky.
To see the pale blue pools, best visit right after the rainy season – mid-September to late November.
GEAR TIPS: To best capture the flow of the water, you need to use a slow shutter speed. Play around with a shutter speed of between 1 to 3 seconds to start. This speed will capture the movement nicely without overexposing the whites.
A wide-angle zoom lens, like the Sigma 12–24mm, will give you ample field of view to capture as much of the scene as possible.
A tripod is essential to keep the surroundings in focus and clear while blurring the motion of the water. If you don't have a tripod, try to stabilize your camera on a rock, frame and focus the shot, and then set the timer to take the picture. This way, you'll minimize camera shake.
By De Wet of Museum of Wander
---
Sukhothai Historical Park, Thailand
Sukhothai Historical Park has ruins of several temples & other constructions from Thailand's first true capital – the Kingdom of Sukhothai. The whole park is beautifully landscaped with green lawns, massive trees, beautiful water bodies, well laid out roads and the ruins spread across them far and wide. Whether you want to capture a huge part of the landscape through your lens, or, zoom in on the carvings of the beautiful monuments, either way, Sukhothai Historical Park will give you ample opportunities to test your photography skills on your trip to Thailand.

SHOOTING TIPS: Both dusk and dawn are the best times to visit Sukhothai Historical Park to take some great shots. During sunrise, the rays of the sun scattering from behind the monuments provide for a perfect backdrop. While during sunset, the multiple colors of the sky – orange and purple, and red – create a dramatic backdrop against the green landscapes and the grey-brown monuments of the park.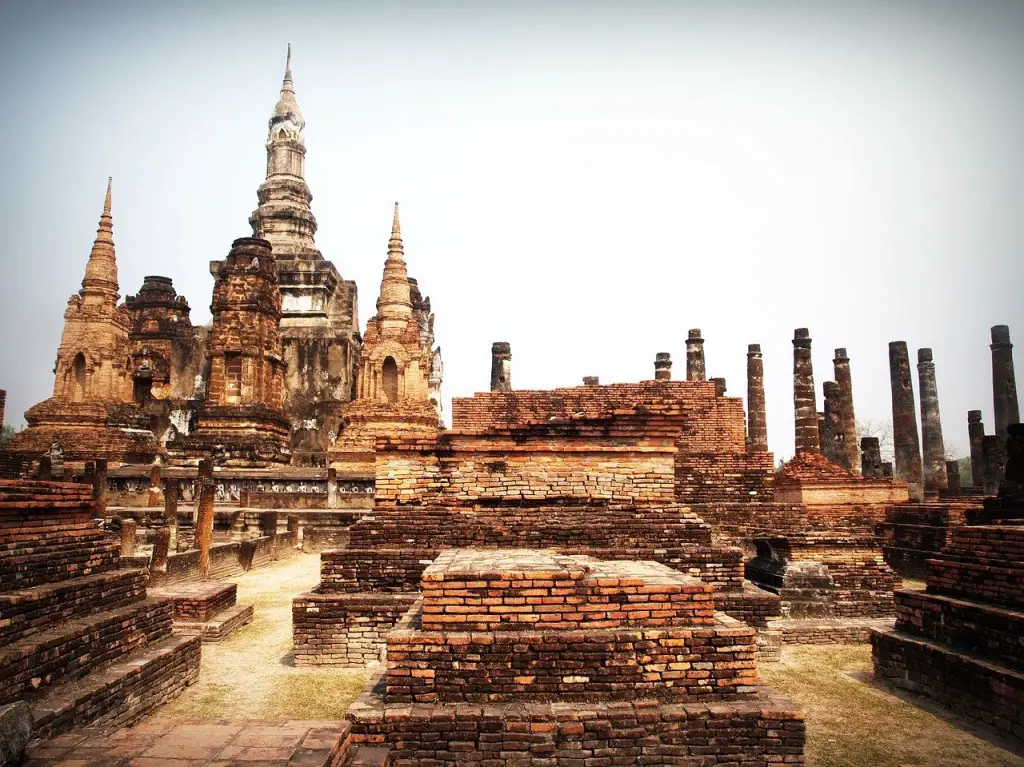 GEAR TIPS: Sukhothai Historical Park is one place where you can play around with different lenses. You could zoom in on the beauty of the monuments & the ruins, as well as the natural beauties surrounding them like the beautiful lotus in the ponds or the flowers blooming in the gardens. Or, you could widen your lens and capture a panoramic view of the park with several monuments and landscapes around them fitting in one shot.
By Neha of Revolving Compass
---
The Ruins of Ayutthaya
No doubt if you've seen any type of promotional content for Thailand you will have seen the famous shot of the Buddha's head entwined in the trunk of a Bodhi tree. This iconic landmark is located in the Ruins of Ayutthaya, in Wat Mahathat, a short journey north of Bangkok.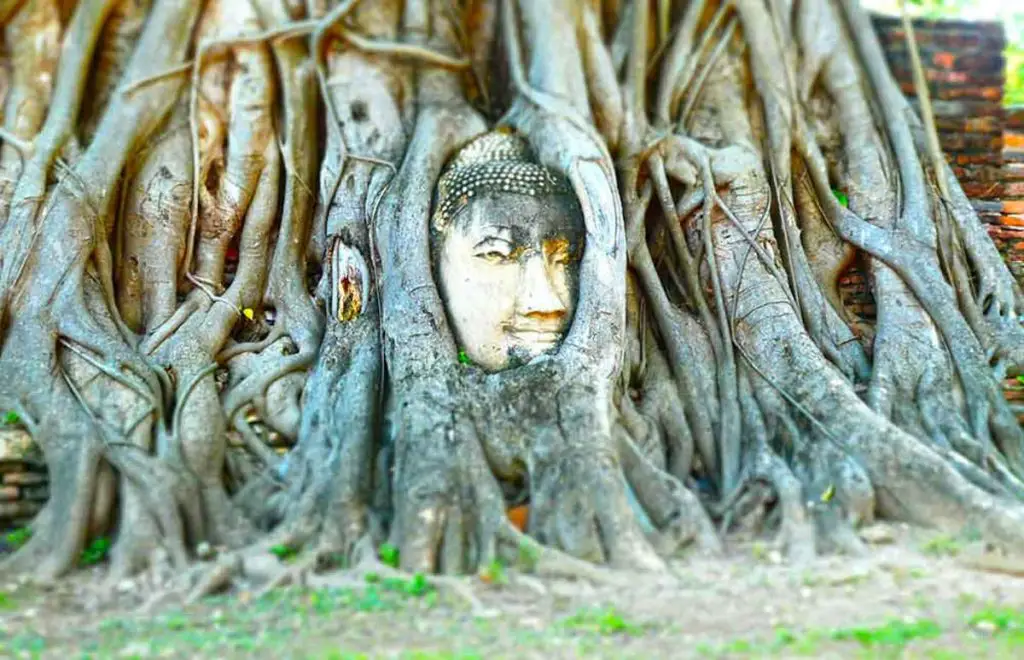 The whole of Ayutthaya Historical Park is a photographer's delight with beautiful carvings and crumbling remnants of a once-great city and if you're into UNESCO sites, it's certainly a destination worth adding to your Thailand itinerary. The city was founded under the Siam empire and dates back to 1350, the city expanded through the centuries until in 1767, it was destroyed by an invasion from the Burmese.
SHOOTING TIPS: The whole of the archaeological park is incredibly photogenic, especially during golden hour. Arriving at sunrise in particular also means that you miss the crowds and can photograph the monuments without people in the way. Because some of the buildings are vast, a camera with a wide lens will get you the optimum images.

Because of the sacred nature of the Buddha's head in the tree, you are watched by a guard. For instance, your head can not be higher than that of the Buddha, because the Buddha is fairly near the ground, it does mean you have to crawl in front of it. Another rule is that you can not turn your back to the Buddha either, so take note of this when you're composing your photos.
By Becki from Meet Me In Departures
---
Krabi's Tiger Cave Temple
The Tiger Cave Temple is an amazing place to visit whilst in Thailand. Plus, it's a brilliant place for photography. To get to the temple, you can take a tuk-tuk, a taxi, or hire a motorbike. That's the easy part! You then have to walk up 1237 steps (600m) to get to the top of the temple.
SHOOTING TIPS: It's a good shooting location because of its position high up in the mountains. You can see for miles and the views are amazing! As mentioned, it is a lot of steps though, so to make things easier, carry light and try to take the minimum amount of camera kit possible. 1 standard/kit lens and 1 zoom lens should be enough. A tripod would be great; however, it isn't necessary. Also, ensure you take a bottle of water as you'll need it.
GEAR TIPS: Once you've reached the top, it's time to get your camera out and start snapping. To get some close-up photos, use a zoom lens and use a standard lens for photos of the scenery. Many cameras such as the Fuji XT30 come with automatic settings which allow you to take photos depending on the scenery/location.
With this, you can select the "landscape" setting, which will allow you to take some beautiful photos. If you come at sunrise or sunset, you can select a different setting such as "sunrise" which again, will automatically adjust the camera settings to focus on the bright orange colors of the sunset and the beautiful views.
By Alice from Adventures of Alice
---
Caves in Krabi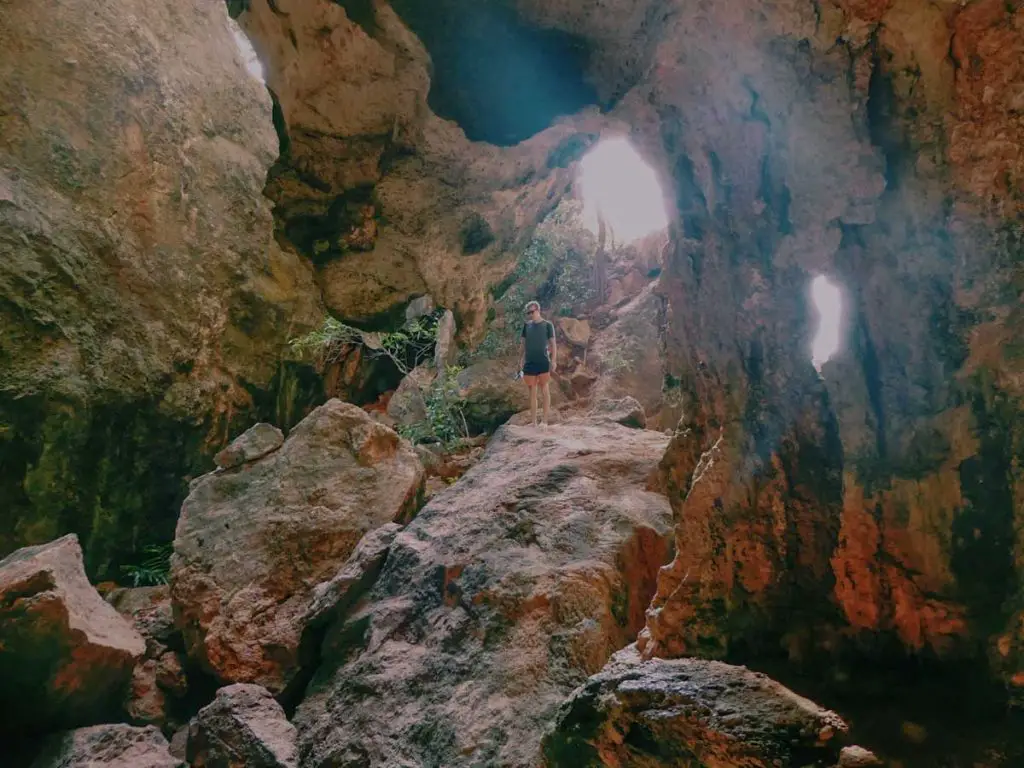 Why it's a great photo location: Thailand is known for its incredible caves. Krabi has some of the best ones including the Diamond Cave, Princess Cave, and the Viking Cave on Koh Phi Phi which is one of Thailand's best islands. All these caves are impressive in their own way and are the perfect locations to shoot some photos.
SHOOTING TIPS: Shooting in the dark isn't always easy. If you plan on taking photos inside these caves make sure to bring a tripod so you can avoid shaky photos. In the dark, you'll need to expose your photos for longer so keeping still is the most important thing. If you're taking photos from the outside of the caves you might want to come early in the morning to avoid crowds of people. Railay where two of these caves are located is very small so you'll always encounter other tourists.
The best way to get to the Viking cave is by boat. You can book a boat tour from Krabi or Phi Phi or hire a local guide to take you.
By Victoria of Guide Your Travel
---
Limestone Landscapes in Krabi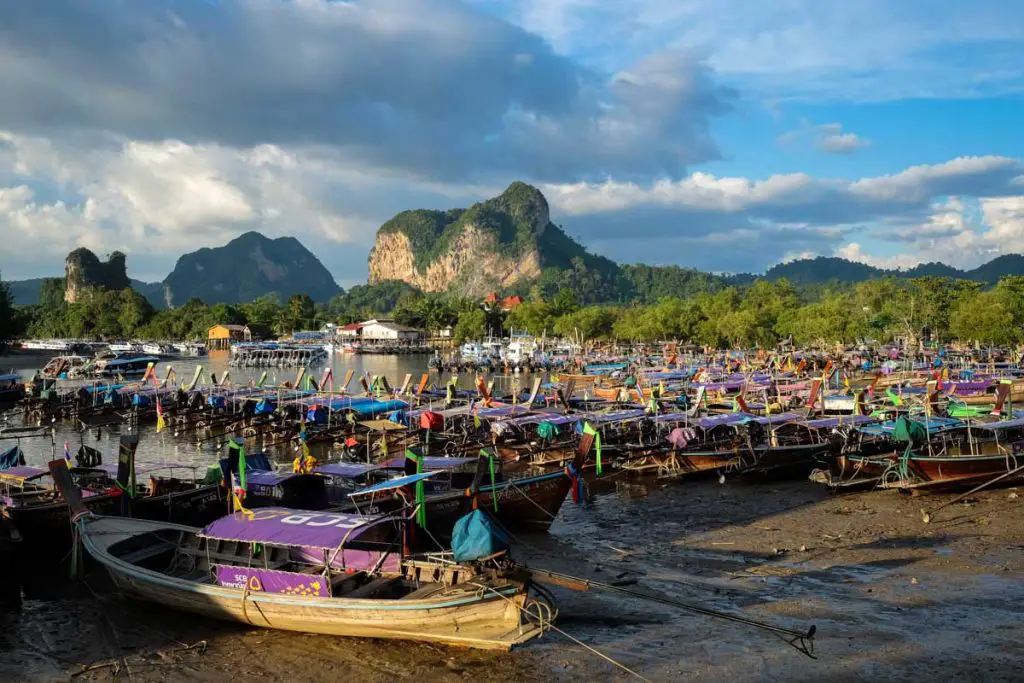 Krabi in Thailand is a perfect location to find beautiful photo spots in Thailand. This beautiful region is located on the Andaman Sea in southern Thailand and is famous for its jagged limestone cliffs, dense green jungle, snow-white sandy beaches, turquoise sea, tiny islands, and huge palm trees – a very photogenic mix. Whether you start by taking a trip to Krabi's many offshore islands or directly on the mainland, the landscapes here all offer the quintessential travel magazine-spread photo ops.
If you want to take great photos be sure to visit the Railay Peninsula, which although wildly touristed, is also one of the most unique places in Thailand thanks to its series of soaring limestone cliffs that rise just next to the sea.
Another top sight for brilliant photos is the Tiger Cave Temple. To reach it, however, you have to climb 1237 steps up to a limestone. Once at the top, the most beautiful view of Krabi's limestone landscape awaits you.
SHOOTING TIPS: The best shots are taken in the early morning (8:00 am) to avoid the crowds. Railay is specially packed with daytrippers from 10:00 am, so avoid it like the plague. You can find more great photo opportunities on other picturesque offshore islands like Koh Hong, Koh Poda, and Chicken Island – where there's a limestone shaped like a chicken head. These are also perfect places to snorkel and photograph the colorful underwater world.
GEAR TIPS: Using a wide-angle is a must when taking amazing landscape pictures in Krabi. If you have a drone you should also bring it with you, as the area's topography results in beautiful aerial shots.
By PlacesofJuma
---