As a guidebook author and widely published journalist who runs two blogs, I have had my hands full with words and photography for the past 7 years.

Whether I cruise down a river in Borneo or speed along the Karakoram Highway on a motorbike, I know that great images are even more important than using the best websites for freelance writers. And no matter the niche, I am also well aware that when it comes to blogging and content creation for the media, having good photographs is almost more important than writing great stories. But what are the best cameras for bloggers and content creators in 2021?
This article will tell you all about 15 great cameras, drones (and even a smartphone) for bloggers, breaking down some basic photography information that will be helpful to better understand the specifics and the reviews of the cameras I recommend here.
And since there's nobody better suited than first-hand bloggers to suggest what are the best cameras for blogging in any niche, I have interviewed 15 bloggers from around the world, from South America to Europe and Asia, asking them to pin down the pros and cons of their favorite cameras for blogging.
---
Best Cameras for Bloggers at a Glance
1. Sony RX100 Series Best Compact camera for Bloggers
2. Canon G7XMarkII Best Compact Camera for Vlogging
3. Fujifilm X-T4 Best mirrorless camera for Bloggers
4. Sony a7III Most Professional Camera for Bloggers
5. Sony a6400 Most Professional Camera for Bloggers on a Budget
6. Canon 7D MarkII Best DSLR camera for Bloggers
7. GoPro Hero 9 Best Action Camera for Bloggers
8. DJI Mavic Air 2 Best Drone Camera for Bloggers
9. Samsung Galaxy S20 Best Smartphone Camera for Bloggers
---
Why is a good camera a crucial tool for bloggers?
With an estimated 600 million blogs around the world, and given that the attention span of readers these days is shorter than ever, having not just good, but GREAT-looking images is super important to stand out as a blogger and a content creator in a crowded space these days.
Give a More Professional Look to your content
I am a firm believer that the world would be a much better place if books were not judged by their covers, but unfortunately, they are. Having a reliable, sharp, and professional camera for your blogging needs will help you immediately look better and have an edge over the competition. And if your content looks good, you, as a blogger/content creator, will also look good — and more people will spend time reading your blog.
---
Spend Less time doing image post-production
Post-production image software such as Adobe Lightroom and Capture One have made photographers' lives easier, but getting the best picture quality you can possibly get from the very start is crucial to avoid spending hours toying with software whose learning curve is steep.
Buy a good camera for blogging, and you'll spend less time editing in front of a screen, and more time shooting and doing what you like outdoors.
---
How to Choose the best camera for blogging?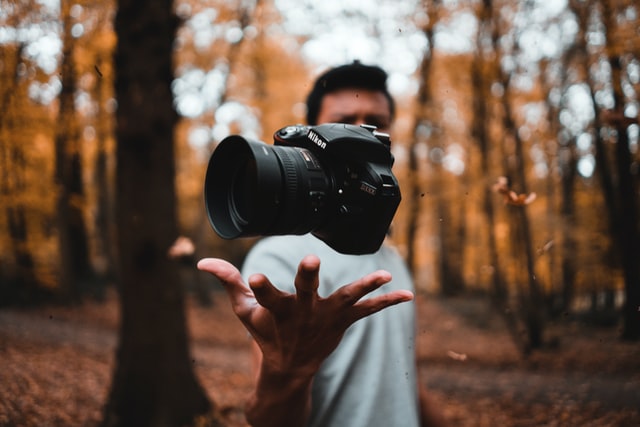 Different types of blogging have different reasons for choosing a great camera for content creation. But even if you aren't a travel/lifestyle blogger like me, there are certain basic considerations that every content creator should consider before choosing the best camera for his/her blogging needs.
---
Size and Weight
We believe that the size and weight of a camera are the most important factors to consider when deciding what is the best camera for your own blogging journey. We travel long and hard and prefer a compact, light, weather-resistant, and sturdy camera to be able to get on an adventure without worrying too much about shuttling and taking care of our gear. But we think that even a food or a fashion blogger would prefer a camera that can be pulled in and out of a handbag or a pocket easily.
The smallest and lightest, the better — even if we also know well that to reach a certain level of image quality you can't really just go with a point & shoot. Our preference is for high-quality cameras for bloggers that are also as small and portable as possible.
---
Grip and Ergonomics
The best cameras for bloggers are those who feel just right in your hand, and that can also be controlled easily, without fumbling too much with your fingers. A good grip, whether the camera is small, is also crucial to be able to compose and shoot great images for your blog.
Megapixels
Talk to any rookie photographer and they'd tell you that the more megapixels, the better the camera. This is absolutely wrong, especially when considering the best cameras for bloggers. Megapixels mean the resolution of an image, but this has little to relate to the quality.
A common number of megapixels these days is 24, meaning 24 million pixels. In simpler terms, a 24-megapixel image is a 6000 per 4000-pixel image, because 6000 multiplied per 4000 is 24 million. But a 15.6-inch laptop screen usually only has a resolution of 1920 per 1080 pixels.
What does it mean? If you are a blogger, you are working with images for screen, and not for print. A 24-megapixel image is essentially a good five to six times bigger than what you'd need even if you thought of always using full-size images that fill up a computer screen — practically nobody does, because big files are heavier, and slow down your website's loading speed considerably.
If you consider that most of your readers will read your content from a smartphone anyway, the need for many megapixels when choosing a good camera for blogging is frankly not so relevant. If you wanted to shoot advertisements for printing billboards, well, that is a different story.
---
Sensor Size & Quality
Of all things, the sensor in a camera is possibly the most important. Sensors help you capturing light, which is the secret of photography. The bigger the sensor, the better quality of images you'll get.
These days, full-frame sensor cameras are at the top of the range. They have bigger sensors compared to 1" or APS-C, which is called "cropped sensors". Full-frame cameras are also the bulkiest, more expensive, and most often are not considered as good cameras for bloggers because they overdeliver.
The key here is, the bigger the sensor, the higher ISO your camera can use without mudding your images with white noise. ISO is a camera's sensitivity to light, and it's very crucial for bloggers to be able to shoot well in low light conditions. Think of dimly lit places, or even food bloggers, who have to resource to all the light they can get in closed indoor environments.
---
Video Capability
Most cameras for bloggers these days also have video-recording capabilities, and many people use them to record their vlogs. 4K technology has increased the ability to take sharp, beautiful videos, and depending on what type of blogger you are, you may want to consider the best blogging cameras that take the best video.
---
Maximum Burst Rate
This is the maximum amount of shots a camera can take before it needs to buffer. It may not seem a very important thing, but in a camera for bloggers, it often means the difference between having a great shot and missing it.
A camera with a higher maximum burst rate allows taking better shots of a subject in motion. In a fast, real-world situation photography such as most blogging is (whether it is travel, or sports, DIY, cycling, whatever), being able to catch one good shot in a sequence of movements can make or break your content.
This doesn't apply only to moving subjects, but even to yourself — especially when you use your camera on a tripod trying to get that perfect image for your social media channels. A higher burst rate equals a higher chance to capture that natural-looking shot you are after.
---
Lens selection
Many bloggers start with a simple camera whose lens cannot be changed, but if you are serious with your photography, you'll soon find limited by many point-and-shoot cameras.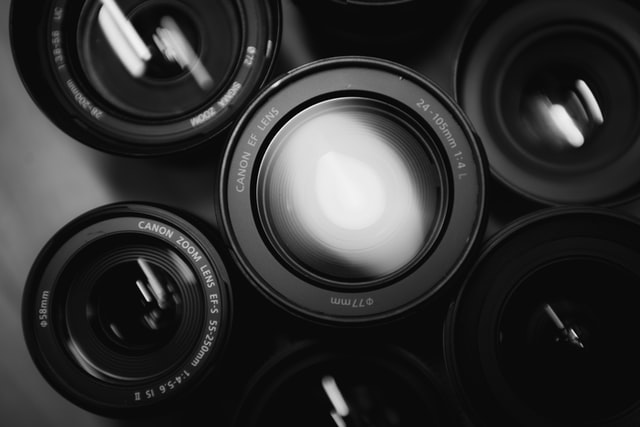 As blogging is a long slow-burn game, you should consider a camera with the ability to change lenses, so that it may grow with you, as you grow as a blogger.
Shooting food? You'll soon realize that, without going macro, lenses with a wider aperture that allow capturing more light are definitely better than the kit lens you've been provided with when you bought your mirrorless camera.
It's also important to check the cost of lenses, and what range each camera brand has because this initial choice will impact the future of your journey as a blogger with a camera.
---
Tilting or Fully Articulated LCD Screen
If you are a blogger, choosing a camera with a Fully Articulated LCD Screen — meaning a screen that can tilt 180 degrees so that you can see yourself while filming or shooting photos — is quite important. Some camera screens only tilt by 90 degrees but are still valuable to shoot rising your camera above your head, or from below, for some striking effects.
Even though the pros of having a tilting screen are obvious, many cameras on the market, especially the most compact, do not have one in fact. It pays to consider getting a camera for blogging with a fully articulated LCD screen.
---
Point and Shoot VS Mirrorless VS DSLR
The main question is, what type of camera for blogging should I buy?
Here are the main 3 types of cameras available on the market, and what each one offers, at a quick glance.
Point and Shoot
Point and shoot cameras have a built-in, non-changeable lens, autofocus, and flash. They don't necessarily have to be entry-level cameras, as their quality has improved greatly over time.
They mostly work automatically, even though some of the models we recommend have some manual settings, such as aperture and shutter speed. Point and shoot cameras are some of the easiest, best cameras for bloggers who are starting out, don't want to invest too much in a camera, but still want to achieve pretty decent results.
The main limit of a point and shoot is, as their name implies, that you can't change lenses. The size of their sensors is also smaller compared to a mirrorless or a DSLR, meaning that at low light, they don't perform as well. But again, there are some excellent point-and-shoot cameras for bloggers who want something affordable, quick, and easy to use.
Mirrorless
Mirrorless cameras, as the name says, don't have a reflex mirror inside. They are a new generation of super adaptable, amazing portable cameras that do not need the bulk of a DSLR t pack pretty much the same, or even better, functions.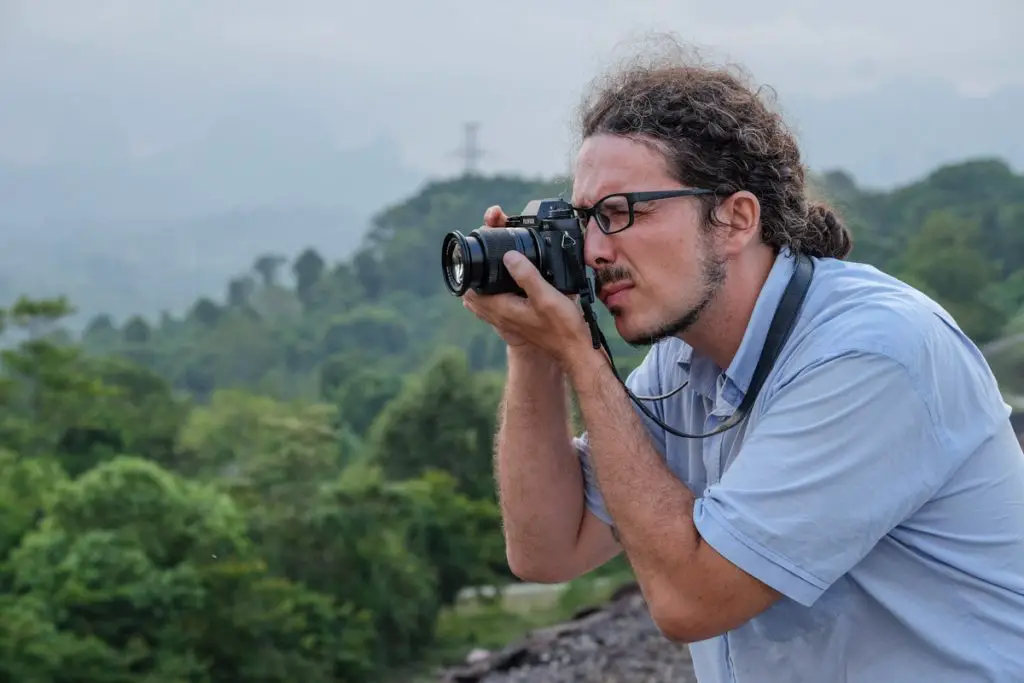 The main difference is that not having a reflex mirror, they reproduce the image on an LCD screen, and even those that do have a viewfinder, have it digital.
Many mirrorless cameras have perfect image stabilization and have a pretty quick sensor, meaning they are engineered to let you capture the action as it unfolds. In our case, as travel bloggers, the smaller size of a mirrorless camera has been a game-changer, not just for questions of portability, but also because a smaller body is less intrusive for the type of offbeat tribal portraiture that we often do.
Mirrorless cameras not having a mirror, are also very powerful tools for vloggers as they can capture continuous focus video much more easily than a DSLR.
The main downside is that, since they rely so much on electronics, their battery life is shorter than a DSLR.
DSLR
In this time and age, there's barely anything that a DSLR can do better than a mirrorless camera, especially given how less bulky to transport they are.
A DSLR, or a camera with a reflex mirror inside, is possibly the best of the range, but for bloggers, who often need to be fast and on the move, they may not be the best choice unless one is looking for longer battery life, a real viewfinder, or if a semi-pro shooter really needs to push his photography to the max.
For all the above reasons, we only have recommended two DSLRs in this list — and they are both provided by bloggers from India, where DSLRs still retain their "professional" status among photography enthusiasts.
---
Drones and Action Cameras
A category apart, drones and action cameras such as the GoPro are competing quite hard with traditional cameras among bloggers the world over. Drone photography is particularly spectacular and allows bloggers to really make a difference visually — even though many are using drones these days, and the typical shot from above is no more than interesting.
Action cameras are great for those bloggers who are into extreme sports, cycle touring, diving, and the like. We don't think they can fully substitute a traditional point and shoot, mirrorless or DSLR, but are a nice complement — and with rising quality, at times even a worthwhile substitute.
Smartphone Cameras
We have met many bloggers who don't want to bother using a point-and-shoot and are more than happy to use the camera on their smartphone to take their images. For sure, smartphone cameras have improved immensely, and some smartphones perform better as a camera for blogging than some of the more basic point and shoot models.
There's nothing quicker, more affordable, and basic than a smartphone camera. It's pocketable and you'll have it with you anywhere, and at times, it can work as a very nifty backup camera for your blogging. We do prefer, however, to stand out with better images and would recommend at least a good-quality point and shoot.
---
The 15 Best Cameras for Bloggers in 2021
As blogging is so diverse and every blogger may tell you what is his/her own preferred camera for blogging based on different reasons, we thought that the best guide to the most useful cameras for bloggers could have been written only with the contribution of many bloggers, and not just ourselves.
The following are 15 cameras for bloggers that include point and shoot, mirrorless, DSLR, drones, and smartphone cameras as tested and tried by bloggers from all over the world, from the Americas to Asia.
Disclosure: Please note that some of the links below are affiliate links. Every purchase you make will help support the time we need to write and maintain this site through the commission I earn at no extra cost on your side. We strive to offer the most unbiased and honest recommendations based on our experiences.
---
Best Point and Shoot Cameras for Bloggers
Weight: 10.7 oz (302 g); includes batteries
Sensor Size: 116.16mm2 (13.20mm x 8.80mm)
Megapixels: 20.1 mp
Video: Full HD 60 fps
LCD Screen: flip-up LCD
Max Burst rate: 20 fps with continuous autofocus
Price: Check the latest price here
---
MAIN OVERVIEW
The Sony RX100 Series (which reached the excellent mark VII) is a real battle-beast camera for bloggers. It's so small you can put it in a jeans' front pocket and packs an impressive sensor that's almost as big as a mirrorless camera. Images are sharp, with good color saturation, and it performs astoundingly well in low-light situations. Did I say that it has full manual controls, and an aperture ring? What's not to like?
LEARNING CURVE
Some have complained about the not-so user-friendly Sony menus, but I don't think it's the case. This camera actually has a back menu ring which makes navigating options quite easy. Once you are ready to try manual controls, the front aperture ring is a great feature to really get physical and hands-on even with such a small camera. You'll like to handle it so much that learning how to use all its functions will be a breeze.
SHOOTING EXPERIENCE
I usually shoot with a Fuji XT1 mirrorless camera, but it was damaged right before I left for my first South American trip, and I decided to get a smaller yet professional point and shoot because many people had put in my mind that it's easy to get robbed in South America. I wanted to limit risks. I went for a second-hand Sony RX100 II and couldn't be happier of the choice: it was so easy to put in a pocket in busy streets and markets, as it was easy to pull out to snap an impromptu shot. It really does perform very well in low-light, producing beautiful images without white noise that can be edited in Lightroom to perfection. I have even sold some images I shot with it to magazines!
---
PROS of Sony RX100 Camera for Blogging
Super lightweight and compact
Front aperture ring
Great low light performance
Excellent image quality (including RAW)
CONS of Sony RX100 Camera for Blogging
No 4K video
AF is not good for tracking fast subjects
Average battery life
---
Weight: 319 gr
Sensor Size: BSI-CMOS
Megapixels: 21MP
Video: 1080P
LCD Screen: Articulating LCD
Max Burst rate: 8 fps
ISO range: 125 to 12,800
Price: Check the latest price here
Contributed by Cazzy of Dream Big, Travel Far
MAIN OVERVIEW
The Canon G7X Mark II is a particularly excellent camera for vlogging, although it takes equally beautiful still images. It's compact, lightweight, and travel-friendly, while its comfortable body means you can easily shoot with one hand. With a 4.2x zoom lens, RAW mode, excellent low light performance, and accurate autofocus, it's got everything you would want!
LEARNING CURVE
Considering this is a point and shoot, the Canon G7X Mark II is incredibly easy to use and master, whether you're a new or experienced content creator. The 3-inch touchscreen display is fun to use and the menus are very intuitive too, meaning it's not hard to learn at all. I also love the comfortable rubber grip which has made long hours of shooting bearable!
SHOOTING EXPERIENCE
I've personally been using this camera for three years and have had no complaints. It has been a lifesaver during a lot of my backpacking trips, including Bali and The Philippines, where you want the most portable and ergonomic camera to document all your activities and take stunning travel photographs.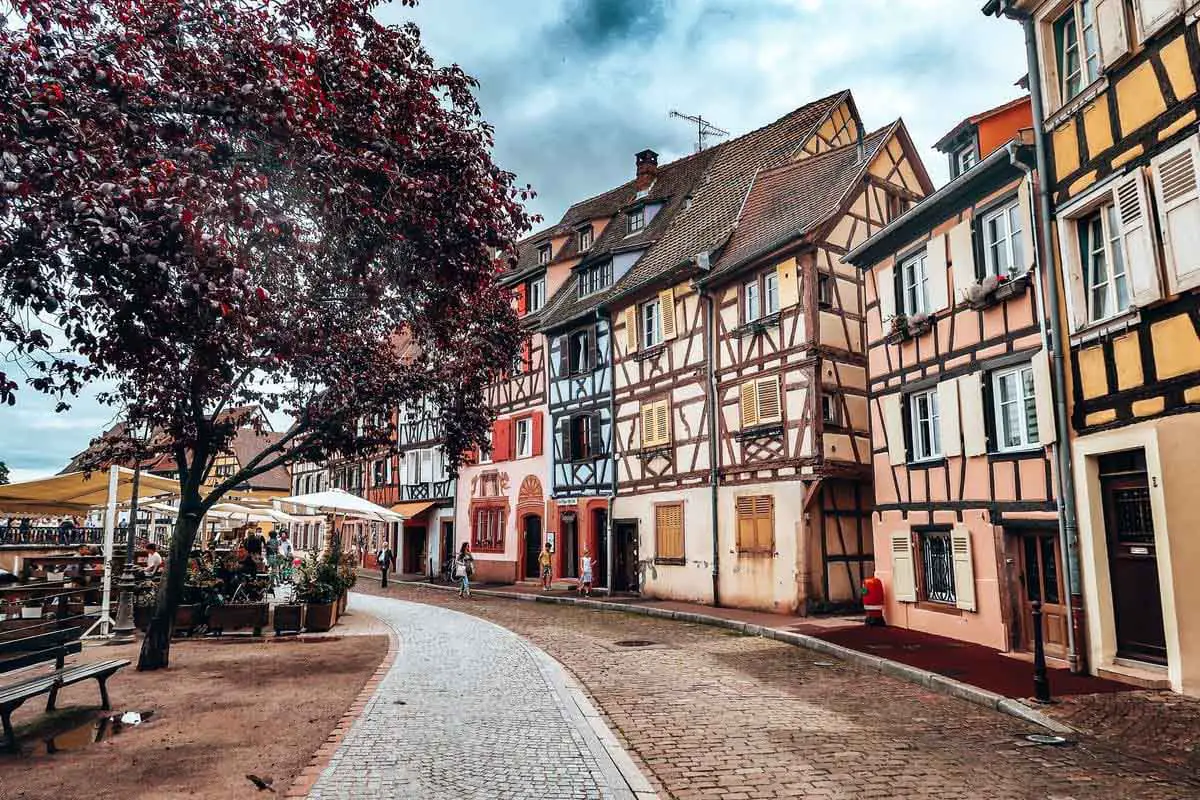 Additionally, the "Fine Detail" style can be a useful feature to use, which lets you edit details like sharpness, strength, and fineness. It's a faster way to make your final photos look much more natural and beautiful without having to go through post-processing.
---
PROS of Canon G7X Mark II Camera for Blogging
Super lightweight and compact
Comfortable for one-handed operation
Great low light performance
Excellent image quality (including RAW)
Fast 8fps burst mode
CONS of Canon G7X Mark II Camera for Blogging
No 4K video
AF is not good for tracking fast subjects
Average battery life
---
Best Mirrorless Cameras for Bloggers
Mirrorless cameras are top of the range and will bring your blogging and photography to greater heights… check all these models out.
Weight: 1.3 lb
Sensor Size: 366.6mm2 (23.50mm x 15.60mm), X-Trans CMOS 4
Megapixels: 26.1 Mp
Video: 4k
LCD Screen: fully articulated fold-out screen
Max Burst rate: 30 fps
ISO range: 50 to 51200
Price: Check the latest price here
Contributed By Sophie of the Beach Muse
MAIN OVERVIEW
If you are still in doubt on how to choose your travel camera, with its high resolution, in-body image stabilization, and full protection from dust, rain, and extreme temperatures, the X-T4 is an all-rounder camera that lets you create stunning visuals, wherever you are in the world.
LEARNING CURVE
I wouldn't recommend the Fujifilm X-T4 for beginners as there are no shooting modes and the number of buttons might be a little scary at first. For intermediate and advanced photographers, I find the X-T4 easy to use: the menus are straightforward and the settings extremely easy to adjust. The adjustments are previewed on the screen before shooting: a real-time-saver.
SHOOTING EXPERIENCE
Thanks to its compact body and vintage look, most people don't notice the X-T4 or its value, which is a real asset when traveling. There is little to no need for editing, the photos come out with beautiful, intense colors. I love how lightweight it is, carrying it with me wherever I go is never a question! Although the grip is quite small, it is still larger than most mirrorless cameras and works fine in comparison to the camera's weight. Its sturdiness makes it the ideal companion for any job: I managed to live stream hours long DJ sets with it in the Parisian cold last winter at 0°C and in the Greek heat this summer at 40°C without a problem.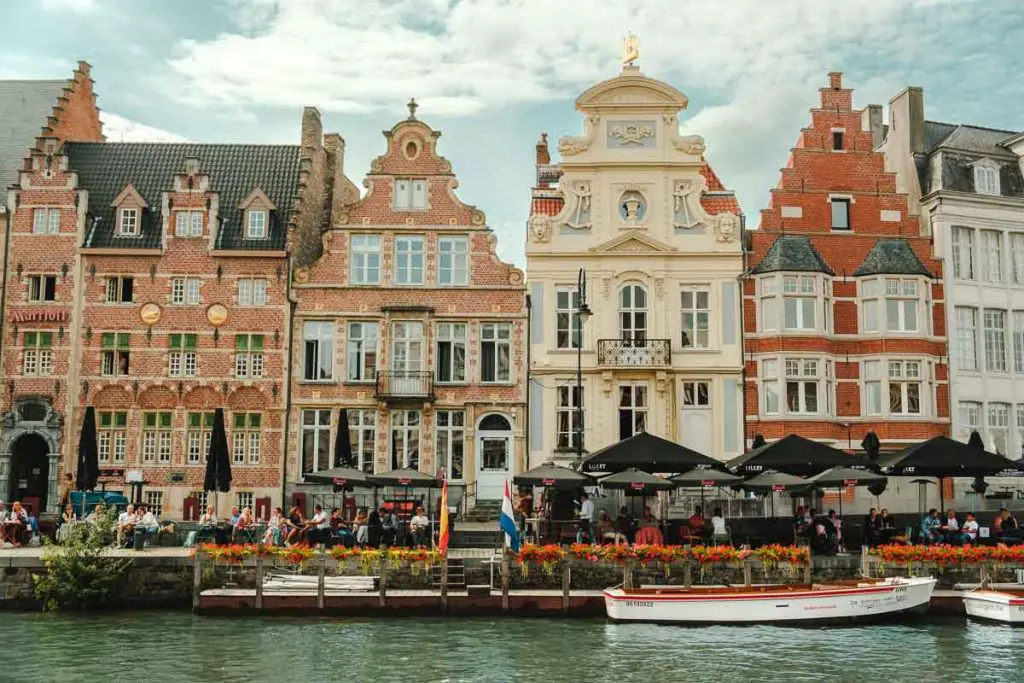 PROS of Fujifilm X-T4 Camera for Blogging
Great for both photos and videos
Film simulation
Easy wireless transfer on smartphones
Dual SD card slots
In-body image stabilization
Beautiful vintage design
Lightweight
CONS of Fujifilm X-T4 Camera for Blogging
A rather small grip
Photos not processed very well by Adobe Lightroom
No standard headphone jack
---
Weight: 599 gr
Sensor Size: Full-Frame CMOS Sensor
Megapixels: 24.3 MP
Video: Full HD 1920 x 1080
LCD Screen: Tilting LCD Monitor plus Electronic Viewfinder
Max Burst rate: 5 fps
Price: Check the latest price here
Contributed by Sean Lau of Living Out Lau
MAIN OVERVIEW
The Sony a7II is one of the best Sony's full-frame mirrorless cameras. When it was released in 2014, it shook the camera industry with its excellent specifications, portability, and ergonomics.
The most amazing thing about this camera is that all its incredible features come inside a 1.22-lb camera body, which is very light especially when compared to a DSLR camera.
LEARNING CURVE
Thanks to its EVF (electronic viewfinder), the Sony a7II is a fairly easy camera to use.
To start it off, the Sony a7II features a 24.3-megapixel sensor and a BIONZ X image processor, allowing users to capture crisp and vibrant images. Along with the built-in 5-axis SteadyShot image stabilization, there is no more worrying about capture shake and blurry photos.
So whether you need a camera for fashion blogging, travel, or lifestyle blogging, the Sony a7II is perfect for you. Additionally, since the camera was released a few years ago, the price is very affordable even for content creators that don't make a fortune yet.
SHOOTING EXPERIENCE
The Sony a7II is currently the camera I use for traveling. Its portability and excellent image quality thrived on my trip to Yellowstone National Park, where I had to carry my camera with me all day to capture the natural beauty of the park.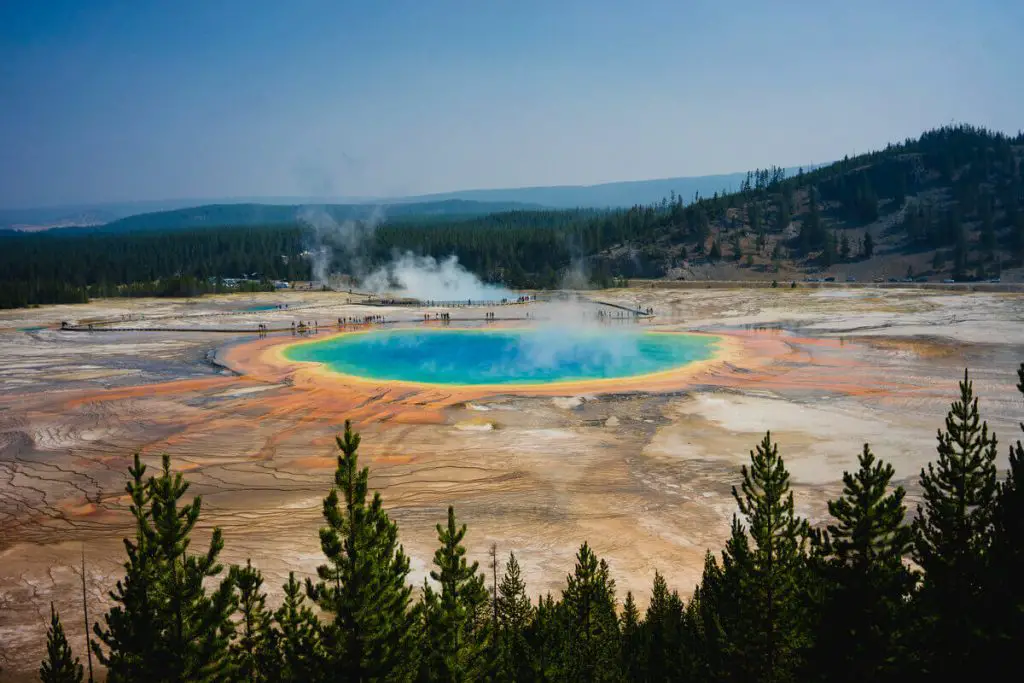 PROS of Sony a7II Camera for blogging
Lightweight & portable
Excellent dynamic range
Works well in low light situations thanks to its full-frame sensor
Built-in image stabilization
Affordable
CONS of Sony a7II Camera for blogging
Not fully articulating screen
Mediocre video specifications
Time-lapse feature only through an app
---
Weight: 1.43 lb / 650 g including battery
Sensor Size: 35.6 x 23.8 mm (full-frame)
Megapixels: 24,2 MP
Video: 4K at 30/24 FPS
LCD Screen: 45-degree Tilting
Max Burst rate: 10 FPS
Price: Check the latest price here
By Jiayi of The Diary of a Nomad
MAIN OVERVIEW
The Sony a7III is one of the best cameras for travel bloggers looking to capture high-quality photos with tons of details. It handles low-light situations really well (perfect for sunsets and sunrises), has a long battery life, and is also equipped with lots of vlog-friendly features.
LEARNING CURVE
While every camera has a learning curve, this camera is overall very user-friendly and easy even for beginners to learn. It has a "live view" electronic viewfinder, where you can easily preview what you're about to take and make adjustments there.
SHOOTING EXPERIENCE
In the past, I've bought cameras only to find out that the selection of lenses to pair it with was rather bleak. What I love about this camera is that you are literally spoilt for choice when it comes to amazing lenses to use it with. Some of my favorite Sony a7III lenses are the wide-angle Sony 16–35mm F2.8 lens for landscapes and the Sony FE 24–105mm F4 for general-purpose shots.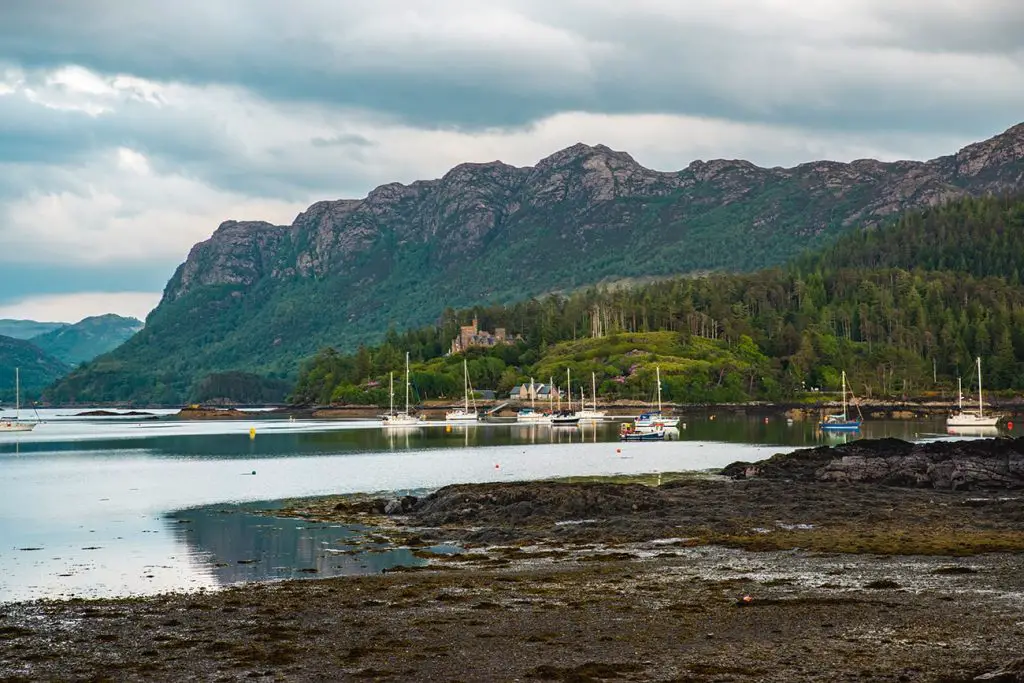 I also love that I can rely on this camera for any lighting condition, including poorly-lit indoor settings. For instance, I once came across a really beautiful mausoleum in Uzbekistan, but it was pretty dark inside. I was a bit worried that my shots would come out grainy (as many poorly lit shots usually do). However, my Sony a7III ended up giving me photos that looked super smooth, crisp, and pretty much grain-less. Needless to say, I was very impressed!
PROS of Sony a7III Camera for blogging
Super crisp image quality
Great for any lighting condition
Long battery life
Very vlog-friendly
Easy and intuitive to use
CONS of Sony a7III Camera for blogging
A bit pricey
The shutter is quite loud
Doesn't have a built-in flash
---
Weight: 1.45 lbs
Sensor Size: Full Frame (35 mm) APS-C Exmor CMOS sensor.
Megapixels: 24.2 megapixel
Video: 4k at 24/30 fps
LCD Screen: 2.95-inch 180-degree fully tiltable
Max Burst rate: 11 fps
Price: Check the latest price here
Contributed by By Mal from Raw Mal Roams
MAIN OVERVIEW
Sony a6400 is a fantastic mirrorless camera packed with features and able to produce some quality sharp images.
Sony a6400 comes with an APS-C sensor with a great selection of interchangeable lenses available on the market. It can be used with Sony full-frame lenses, third party, and Sony a6400 specific lenses which means that this Sony camera can be used virtually for anything. From macro shots, portraits to wide-angle landscapes, the Sony a6400 is highly versatile.
Sony a6400 weighs only just over 400g which is super light for a camera with this sort of features. Its compact body makes it the perfect camera to take traveling. It has a nice grip and a standard intuitive menu for controls such as ISO, aperture, and shutter speed.
LEARNING CURVE
Sony a600 is suitable for beginners upgrading to their first mirrorless camera. There are a few good automatic modes for different shooting scenarios, such as sunset and sports mode. It is also an excellent camera for intermediate photographers ready to switch to semi-manual and manual mode.
SHOOTING EXPERIENCE
I used Sony a600 during my seven months traveling around Bali. I loved using it with a prime Sony 35mm F/1.8 lens for creating content for hotels and my Instagram account. This combo was great for shooting in low light, recording high-quality videos, and even shooting landscapes.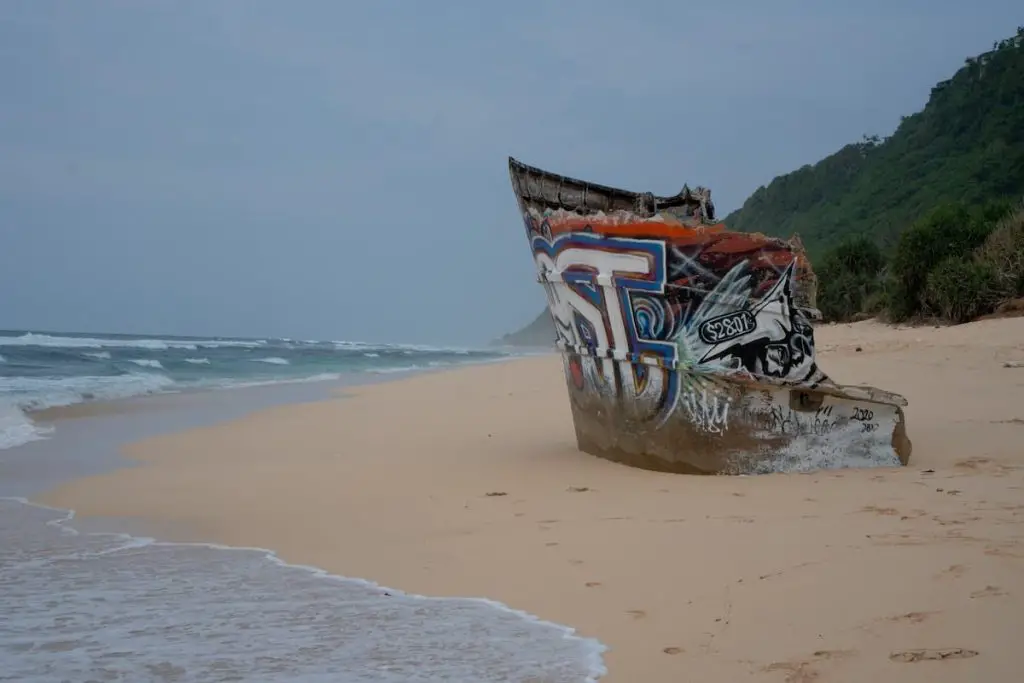 PROS of Sony a6400 Camera for Blogging
Affordable
Excellent image quality
A good range of interchangeable lenses
Light & compact
4k videos
CONS of Sony a6400 Camera for Blogging
No inbuilt image stabilisation
Screen doesn't fully flip
Not many physical controls
---
Weight: 465 g (Body with Battery and Memory)
Sensor Size: 23.5mm x 15.6mm (APS-C) X-Trans CMOS 4
Megapixels: 26.1 Mp
Video: 4K video
LCD Screen: 180 degree LCD touchscreen monitor
Max Burst rate: 30 Fps
Price: Check the latest price here
Contributed by Adam McConnaughhay of Cartagena Explorer
MAIN OVERVIEW
The Fujifilm X-S10 makes for a great mirrorless for content creators who are beginner to intermediate skilled with photography and video. It's an especially great fit for travel bloggers, being fairly easy to use and small enough to travel with easily. It also does well with video for those adding your YouTube channel alongside their blog content, and the articulating LCD is a rarity for cameras in its price range. The battery life is on the short side, so having a spare or portable power core is a good idea while on the go.
LEARNING CURVE
The X-S10 differs from many of Fujifilm's cameras in that it has a relatively simple and easy-to-use dial layout. Fujifilm is known for having great photos out of camera and the preset filters or film simulations let anyone add some flair without learning the more complicated photo editing techniques of professional photographers. The Vivid setting and its bright colors, in particular, work perfectly for Instagram. Of course, those who are more advanced can make the photos even better with all the options on camera and using post-production techniques.
SHOOTING EXPERIENCE
I especially enjoy the combination of compact size while still feeling solid and firm in hand with a nice grip. I was able to get some great shots of Cartagena, Colombia, and the surrounding islands, even while bobbing around on a boat.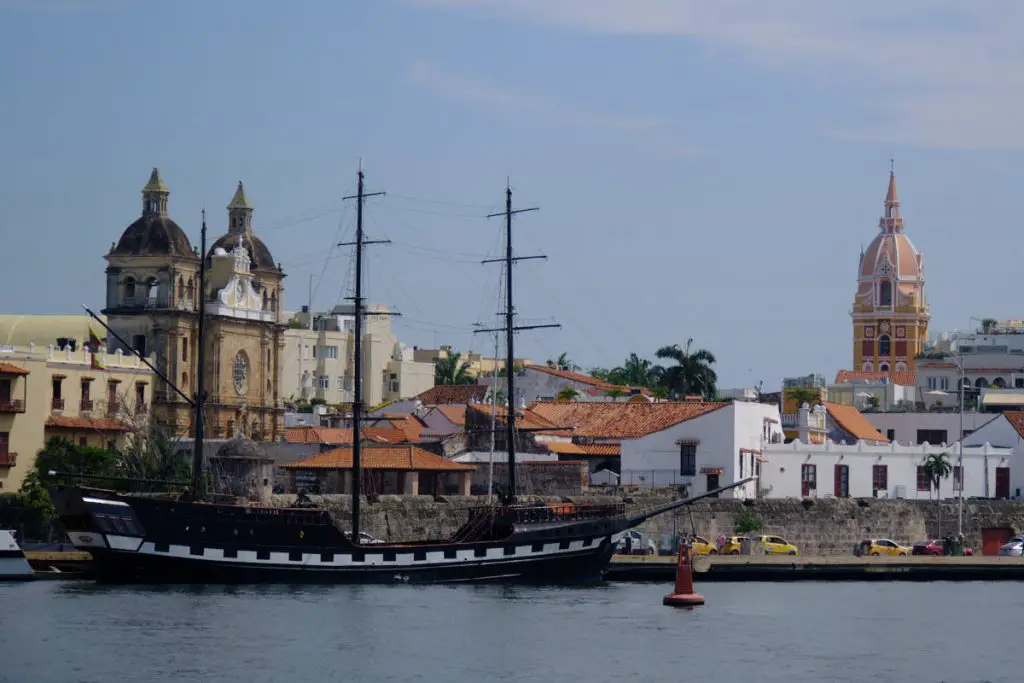 PROS of Fujifilm X-S10 Camera for Blogging
Easy to Use
The Fujifilm Simulations
Compact
Great Grip
Beginner Friendly but Room to Grow
CONS of Fujifilm X-S10 Camera for Blogging
Short Battery Life (you'll want an extra)
Not Weather Sealed
The Eye Hood on the Viewfinder is Quite Shallow
---
Weight: 414 g (Body with Battery and Memory)
Sensor Size: 17.4 mm (H) x 13.0 mm (V)
Megapixels: 20.4 Mp
Video: 4K 30p and Cinema 4K (C4K) 24p
LCD Screen: Tilting screen
Max Burst rate: 30 fps
Price: Check the latest price here
Contributed by Holly from Globeblogging

MAIN OVERVIEW
If you're put off by the size, weight, and price of a full-size DSLR, check out the Olympus Micro Four-Third technology. This compact mirrorless camera has full interchangeable lens capability, in a size you could pop in your handbag, at a fraction of a DSLR price.

LEARNING CURVE
Anyone familiar with a DSLR will find this works the same way. For photographers transitioning from a compact or even phone camera, the full auto mode is available while learning. I found the best way to learn the camera was to take the same photo working through the settings to learn what results I liked and what combinations achieved the results I wanted.

SHOOTING EXPERIENCE
As an active traveler and photographer, even hiking challenging terrain the Olympus is not in the way around my neck and is readily accessible. Quick lens changes are a breeze, I was in the car with a friend once and saw my holy grail of birds land in a tree several meters off the road. Before the car even stopped I had my lenses switched readily to get that shot. The Mark III also has an amazing feature called pro-capture, which allows you to get sharp images of motion using continuous focusing.
PROS of Olympus EM5 Mark III Camera for Blogging
Compact
Lightweight
Price
Weather protection
EVF gives a real-time image view
CONS of Olympus EM5 Mark III Camera for Blogging
Small sensor reduces low light capabilities and enlargement potential
Battery charger is not a USB
EVF has an electronic circuit board that can malfunction
---
Weight: 505 g
Sensor Size: Four Thirds MOS sensor
Megapixels: 16 Mp
Video: 4K
LCD Screen: tilting 3" display
Max Burst rate: 10 fps
Price: Check the latest price here
Contributed by Shimona Carvalho of Sidecarphoto
MAIN OVERVIEW
While surprisingly small, this camera is packed with some awesome features that make it great for content creators. It's an interchangeable-lens micro four-thirds (MFT) camera so, with a small set of lenses, you get a very versatile yet portable setup. It also has a ton of good in-camera features like HDR and panorama that allow you to go from shooting to publishing quickly, making it one of the best cameras for travel.
LEARNING CURVE
The camera has both auto and manual modes such as aperture or shutter priority. So all levels of users can find their sweet spot. The more advanced features like in-camera focus stacking will take a little time to learn before using in the field.
SHOOTING EXPERIENCE
One neat thing about this camera is its small size. With a small lens, it looks like a point and shoot rather than screaming expensive DSLR. Once, I went to a village concert on the outskirts of town, where I was unsure of the location and safety. I felt safer taking this camera disguised as a "point and shoot" and got some amazing photos.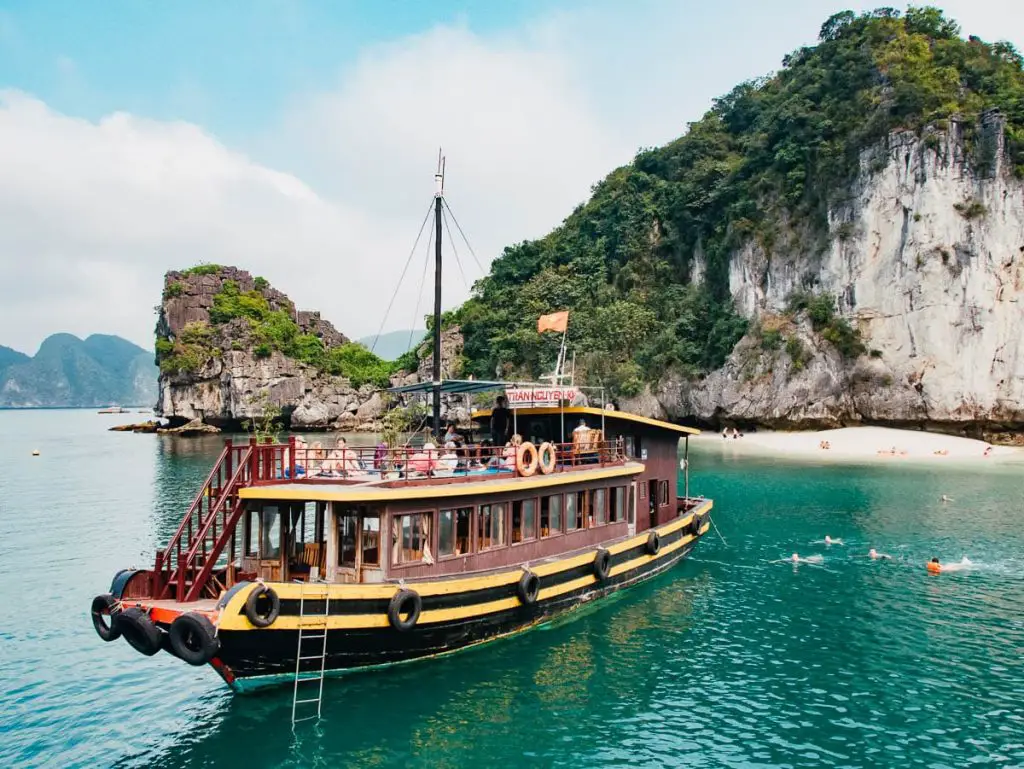 PROS of Panasonic GX–85 Camera for Blogging
It is one of the smallest interchangeable lens cameras you can buy.
It has 5 axis stabilization, which allows you to hand-hold on slower shutter speeds.
Great price for this camera so it fits in a variety of budgets.
In-camera HDR, Panorama and Focus Stacking reduce the need for post processing.
MFT standard means that the lens lineup is huge and you can find something for your style of photography.
CONS of Panasonic GX–85 Camera for Blogging
Not weatherproofed, so be careful in very wet situations.
The battery could be larger, so carry a spare battery or use a battery bank to charge through USB.
MFT is a smaller sized sensor than traditional APS-C so as you increase ISO, you will see more noise.
---
Best DSLR Cameras for Bloggers
Weight: 453 g
Sensor Size: APS-C CMOS sensor
Megapixels: 24.1 Mps
Video: Full HD 1920 x 1080 / 60 fps
LCD Screen: Vari angle touchscreen 7.7 cm
Max Burst rate: 5 fps
Price: Check the latest price here

Contributed by Vipin of Misfit Wanderers

MAIN OVERVIEW
Canon's EOS 200D, also known as EOS Rebel SL2 in North America, is a compact DSLR. The lightweight and sheer compactness make it one of the best and affordable cameras for budget travelers.

LEARNING CURVE
Canon has introduced an improved UI that feels more intuitive than its previous models in the same range – EOS 1300D and EOS 1500D. It took me almost three days to learn to shoot in all modes given. I frequently use it to capture and record moments during my travels.
You don't feel the weight on your hands when you hold the EOS 200D. However, the grip is rubbery and may irritate some.

SHOOTING EXPERIENCE
I remember one time when I was traveling solo in the Himalayas of Uttarakhand, India. I arrived at Kasar Devi Temple in Almora, on top of a cliff, tired of hiking and breathing rapidly. I couldn't hold my breath, and this view of the valley had already hooked my gaze.
I took out my 200D and shot this pic in Landscape scene mode: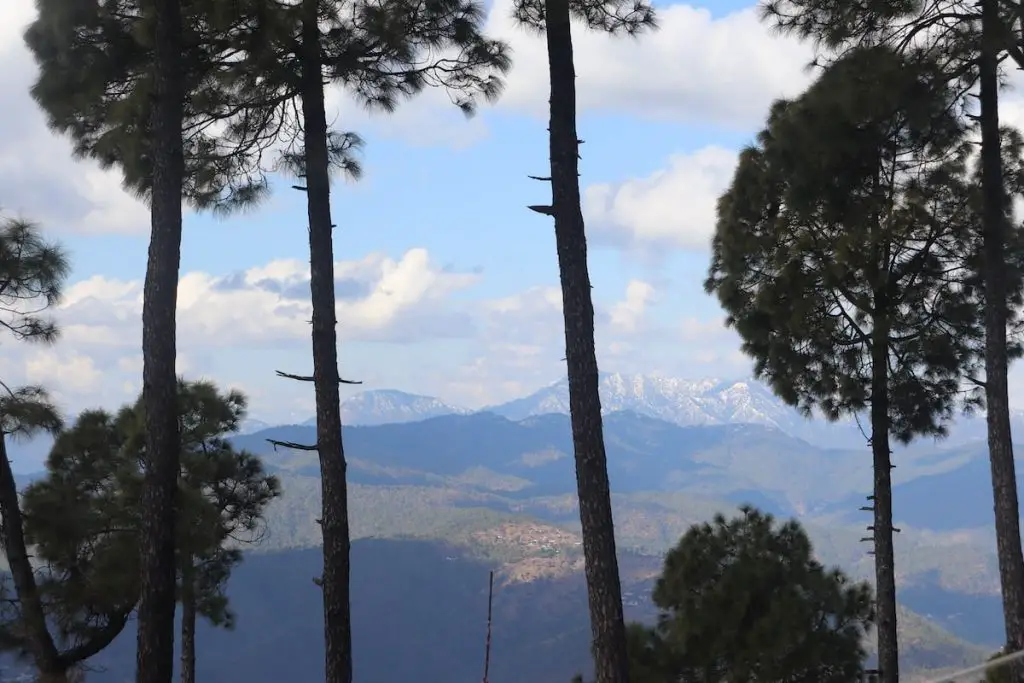 As you can see, daylight pics are brilliant – the colors, focus, and vibrancy are balanced.
Further, if you have sight problems or can't use the viewfinder, use the live view mode to shoot. The button for Live View mode is put cleverly, within reach of the right thumb. Also, there's a scene mode for shooting in various conditions such as night or low light, portraits, food, group photo, etc.
I didn't like that while shooting close-ups, the camera loses focus at the edges and sometimes gives too blurry images. I tried to capture the sunset, but pics came out to be a bit noisy.
PROS of Canon EOS 200D/EOS Rebel SL2 Camera for Blogging
Lightweight
Compact
Affordable and beginner-friendly
Rotating touchscreen
Autofocus while recording videos
3.5 mm mic for video blogs.
CONS of Canon EOS 200D/EOS Rebel SL2 Camera for Blogging
Manual photography isn't very great (only nine focus points)
Max video resolution is 1080p
Some users may find its tiny size rather a disadvantage
---
Weight: 910 g including batteries
Sensor Size: APS-C CMOS Sensor.
Megapixels: 20.2 Mp
Video: Full HD 1080p/60 Video & Movie Servo AF
LCD Screen: fixed
Max Burst rate: 10 fps
Price: Check the latest price here
Contributed by Raksha Nagaraj of Solopassport

MAIN OVERVIEW
Canon 7D Mark II is a professional DSLR. The camera has many features including the 20.2 megapixels sensor, full HD recording at 60fps, and 65 points autofocusing system. It is a great camera that is rain and dust resistant, and very apt for outdoor and wildlife shooting. The body of the camera is made up of a full magnesium alloy shell that provides great protection under any extreme weather.

LEARNING CURVE
Canon 7D Mark II is a powerful and complex camera. Having plenty of features and new things to explore, it does take a bit of time to explore and learn its full capabilities. It's easy to navigate with the menu, and the customization options are a great way to keep learning new things about this camera. Initially, the Canon 7D Mark II does seem a bit difficult to use and learn, but by following the instructions and exploring, it does become easy the more you use it.

SHOOTING EXPERIENCE
As the processor of Canon 7D Mark II can reach up to burst speed of 10 frames per second continuous shooting, the camera is excellent for nature and wildlife photography. With moving subjects such as wildlife, this camera has great potential to capture sharp images.
Even though not the best among all the Canon cameras, Canon 7D Mark II is also good at capturing the nightscapes and astrophotography, especially the Milky Way.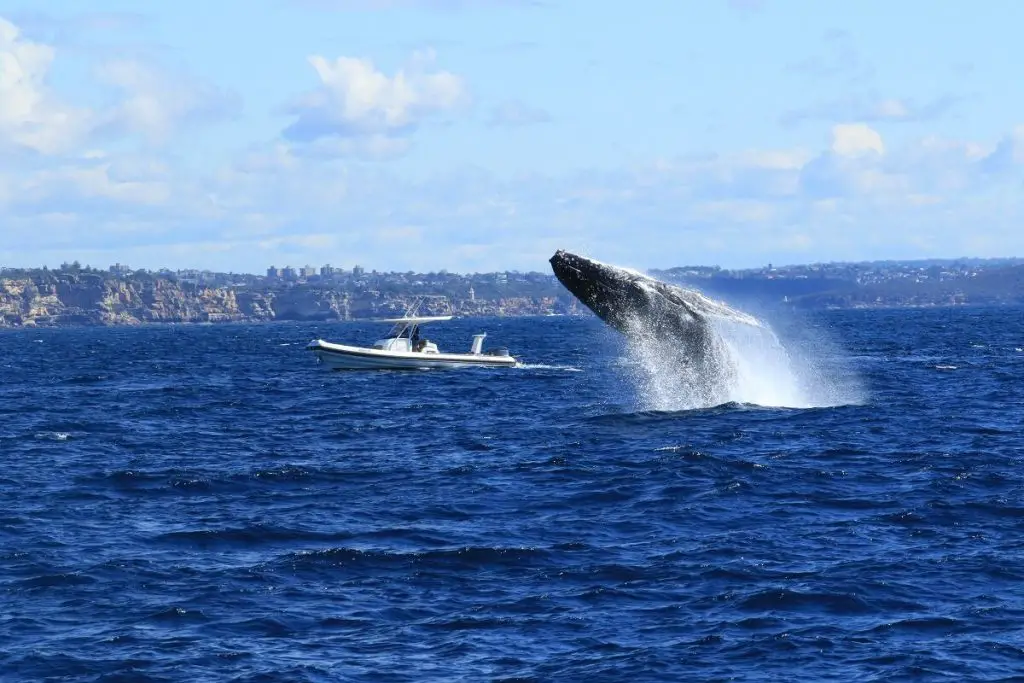 PROS of Canon 7D Mark II Camera for Blogging
Being weather-resistant (dust and rain) is one of the best things about the camera as it can easily be used for travel and outdoors.
The magnesium alloy shell makes it sturdy and strong. And handling the camera is easy as the structure supports the hold.
65 points autofocusing system for horizontal and vertical frames.
Dual memory slots for CF and SD cards.
Better low light performance.
CONS of Canon 7D Mark II Camera for Blogging
Lot of noise at high ISOs.
Battery life is not that great for the camera.
The body weighing at least 900 grams, the camera is heavy and bulky.
---
Best Drones for Bloggers
Skydio 2 Drone
Weight: 1.7 pounds
Battery: 23 minutes
Range: up to 3.5 km
Megapixels: total 45 MP shared by 6 cameras
Video: 4K60 HDR
Autonomous Speed: 35 Mph
Price: Check the latest price here
Contributed by Kay of The Awkward Traveller
MAIN OVERVIEW
As a drone, the Skydio 2 works great for aerial shots and outdoor landscape photography. However, what makes Skydio 2 different from other drones on the market is that it also has some of the best auto AI, meaning its self-tracking capabilities are unmatched and make it a great option for solo photographers and adventure/action videography. The Skydio doesn't fold down, due to its multiple tracking cameras, but it is very lightweight and portable as is. While the camera specs are on par with other high-end drones, the Skydio 2 has incredible color capture that doesn't overexpose video or images like some other drones.
LEARNING CURVE
It is also a very great beginner drone because most of the drone's features can be automated and its obstacle avoidance feature prevents new users from accidentally wrecking their drone. Those features also make the learning curve for the Skydio 2 very simple, and getting started is literally just pressing the on-switch.
SHOOTING EXPERIENCE
Once you are more comfortable with flying the drone, you also have the option for total control of flight characteristics, down to the throttle, swivel, ISO, and shutter speed. Or, you can let the self-tracking work its magic and follow you as it flies, with options for it to add cinematic pans and dynamic angles on its own. This is especially useful for adventure or action videography, such as mountain biking, trail running, or even scenic drives.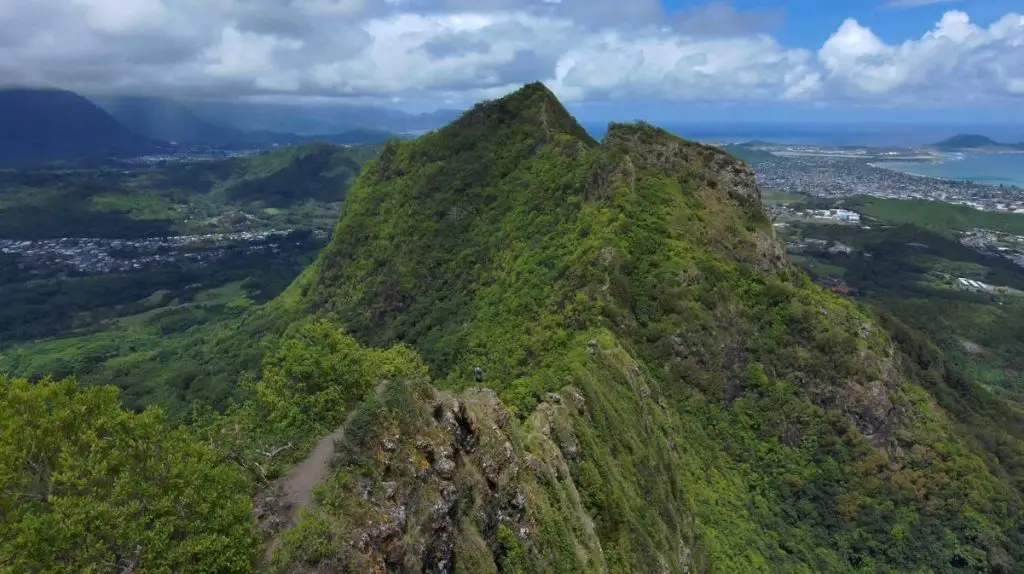 PROS of Skydio 2 Drone for Blogging
best self-tracking
obstacle avoidance with smart AI
cinematic capabilities
easy assembly (w/accessories as well)
total control of flight characteristics (throttle, ISO, pitch, shutter speed)
incredible color capture
CONS of Skydio 2 Drone for Blogging
body rigidness (not foldable)
cannot fly in low light
requires SD card
---
Weight: 570 gr
Battery: 33 minutes
Range: up to 18.5 km
Megapixels: 12 MP and 48 MP
Video: 4K Ultra HD: 3840×2160 24/25/30/48/50/60 fps
Price: Check the latest price here
Contributed by Tom & Zi from Craving Adventure
MAIN OVERVIEW
In recent years drones have become a must-have in the camera bag of any self-respecting photographer, and this goes twice for travel content creators. The new range of photography perspectives that drones bring to the table and the fact that they can go where you can't make them great for travel photography.
LEARNING CURVE
Current-day drones, and especially DJI drones, are so full of technology that flying them is a breeze. When you're not actively piloting the drone it will just hover in place, it is full of sensors for obstacle avoidance, and if it lost connection it will simply fly back to its take-off point. On top of that, there are countless pre-programmed shooting modes that shoot amazing content without you having to do anything other than setting the exposure and selecting the object to shoot. So in short, the learning curve is almost flat and you'll be able to shoot amazing content within minutes.
SHOOTING EXPERIENCE
One of the best features of the DJI Mavic Air 2 is its 3-axis gimbal system. This will always keep the camera stabilized and allows for super smooth video, even when flying fast or in windy conditions. This is especially useful when you're shooting above water, for example when chasing a speedboat into the sunset.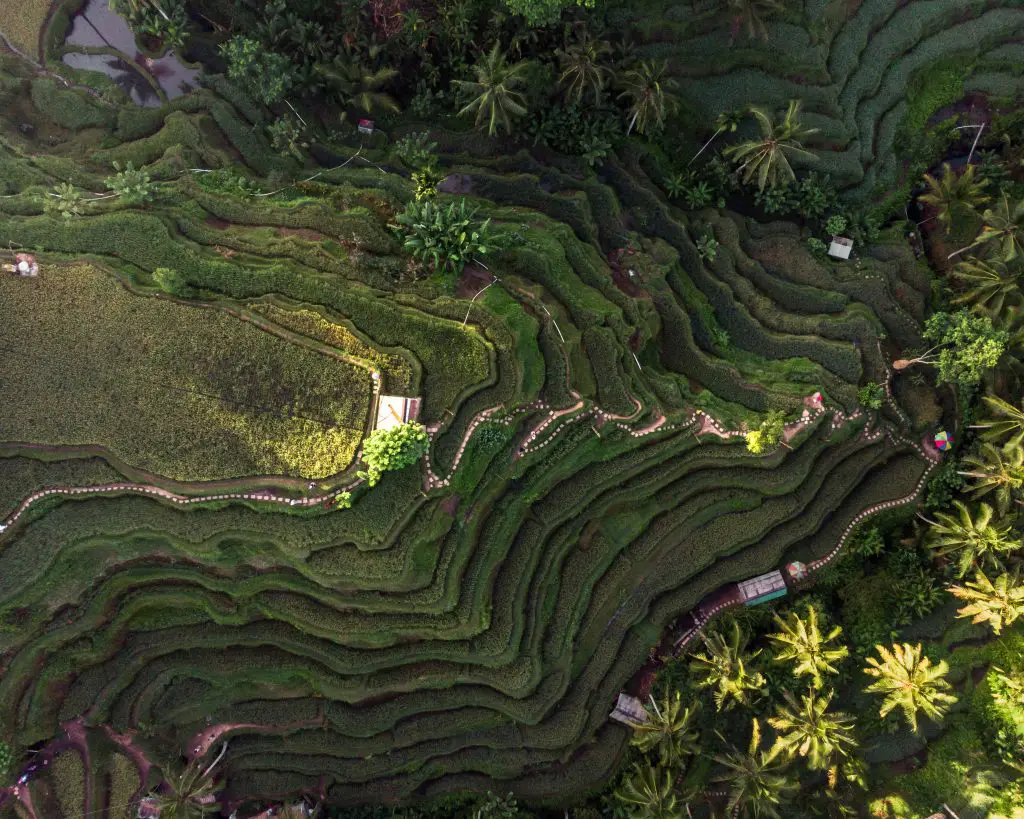 PROS of DJI Mavic Air 2 Drone for Blogging
3-axis gimbal system
4k 60 fps video
48 MP pictures
Small enough to fit into your jacket pocket
Range of 18.5 kilometers
Tons of intelligent pre-configured flight modes
CONS of DJI Mavic Air 2 Drone for Blogging
Battery life decreases drastically when flying in windy conditions
The FlyApp is oversimplified and lacks many of the advanced options the previous app (Go4App) had.
The remote is a bit bulky and feels somewhat flimsy
---
Best Action Camera for Bloggers
Weight: 158 gr
Sensor Size: 1/2.3 inch, Aperture F.2.80
Megapixels: 20 MP
Video: 4K60 5K30
Underwater: 10 meters
Raw Image File capability
Price: Check the latest price here
Contributed by Corritta of Itzafamilything
MAIN OVERVIEW
The GoPro Hero9 is the perfect camera for content creators that vlog or want to document their adventures. It is the best action camera on the market, especially for content creators on the go. This action camera packs unbelievable features in a compact camera that fits in your pocket.
LEARNING CURVE
The GoPro Hero9 is an easy camera to learn to use. It's so easy that kids can use a GoPro to take pictures or videos. Once you master the settings, it's one of the easier cameras to use. There aren't too many options, so you don't get confused, but enough features to take your content to the next level.
SHOOTING EXPERIENCE
As a new vlogger, the GoPro Hero 9 has made recording videos easier. One of the best features is a quick capture, which is essential when shooting family vlogs with a toddler. I have to be prepared at any moment, and the GoPro Hero 9 turns on and captures images quickly.
While trying to capture a moment of our 2-year-old speaking Spanish to a local girl in Mexico, I was able to get the video. Thanks to the compact design and quick capture, we have a beautiful moment.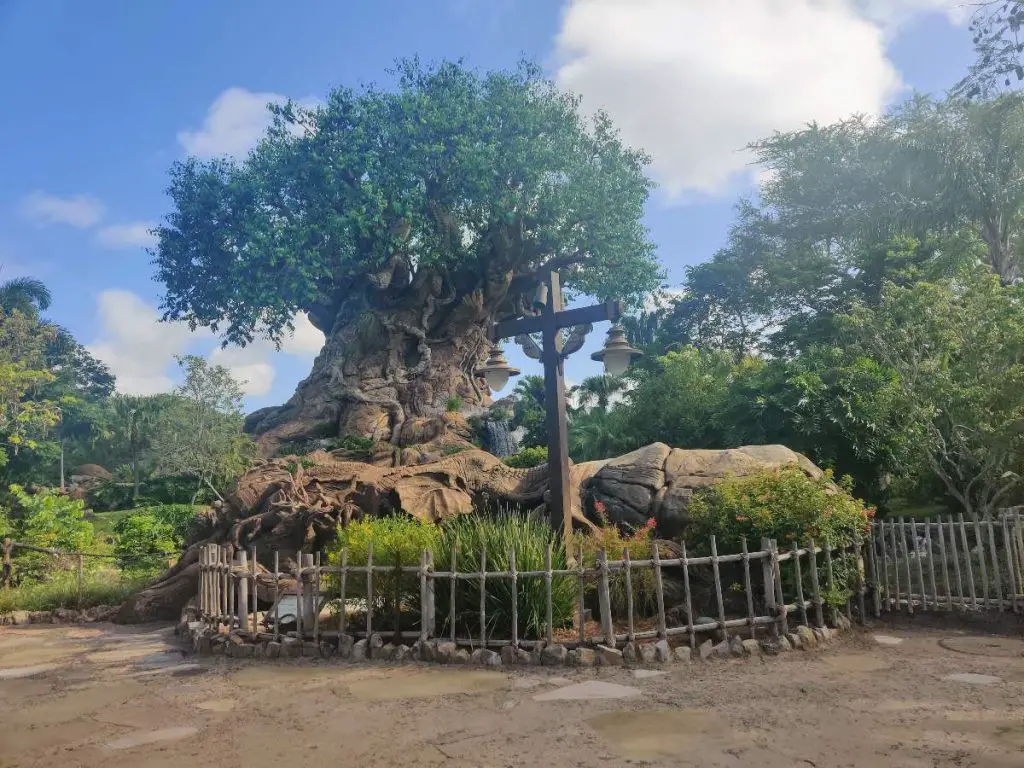 PROS of GoPro Hero 9 Action Camera for Bloggers
Compact/portable
Easy to use
Hypersmooth 3.0 for action shots
Front & rear screen
Waterproof up to 33 ft without a case
Quick capture
CONS of GoPro Hero 9 Action Camera for Bloggers
Accessories are expensive
Short Battery life
Touch screen
---
Best Smartphone Camera for Bloggers
Weight: 163 gr
Sensor Size: 108MP 1/1.33″ sensor
Megapixels: 12 Mp f 1.8 Wide, 64 Mp f 2.0 Telephoto
Video: 4k @ 30/60 fps
Price: Check the latest price here
Contributed by Yulia Saf of Miss Tourist
MAIN OVERVIEW
The camera on the Samsung S20 is a great camera for those just getting started or to capture the in-between moments on the go, when you don't have your primary camera ready but still want great quality.
LEARNING CURVE
Since the Samsung S20 is part of your phone, there is basically no learning curve. There are many smart automatic settings that will allow you to capture clear, vibrant images or videos in any type of light with just the touch of a button.
Samsung has also included some super useful features which can even automatically detect the best type of content to capture for any given situation! Pop this bad boy into single take mode and the phone will use artificial intelligence to analyze the situation and take up to 10 images and 4 videos, then apply effects or filters to capture the whole scene in an entertaining manner. This camera basically creates your social media content for you!
SHOOTING EXPERIENCE
The camera on the Samsung S20 is best used for situations where you have to be discrete or don't want to carry around the bulk of a larger camera but still wish to get great shots. Some types of situations where this camera thrives are at concerts or festivals, as well as during the everyday when something unexpected happens which you want to share with your audience.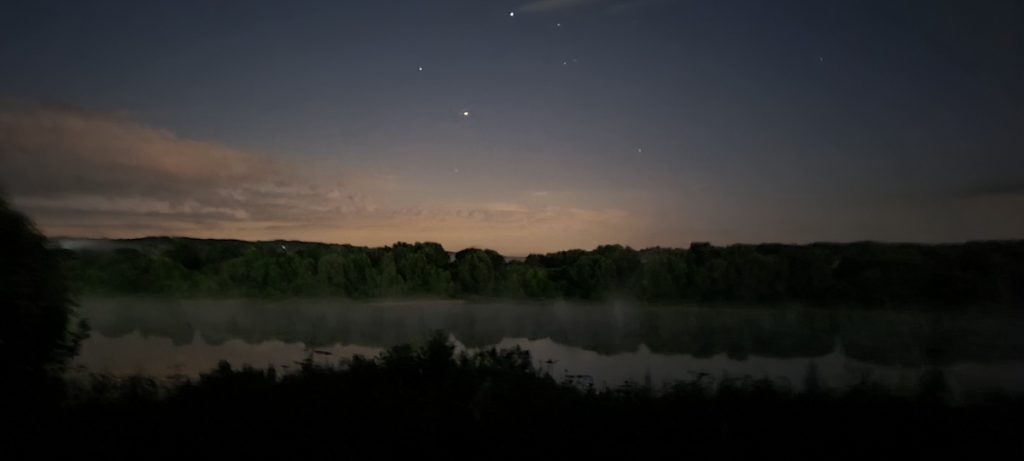 PROS of Samsung Galaxy S20 Smartphone Camera for Bloggers
Takes great photos in low light
Space zoom works really well for taking sharp images from far away photos
Built in stabilizer makes the video really smooth
Night shots are evenly lit with the shadows being lightened automatically and more saturated colors
In photo mode you can hold down the capture button to quickly change to recording
CONS of Samsung Galaxy S20 Smartphone Camera for Bloggers
Smoothes faces a bit too much, sometimes it blurs features and looks to unnatural
Zoom quality drops significantly after 10x zoom
Manual settings don't allow as much detailed personalisation as a regular camera
---