"You see, I could give her ten days visa for Peru. Or 5, or even 3. I can give her whatever Peru Visa I want!"
The rigid, pokerface Peruvian immigration officer scoffed at me when I asked him why he didn't give my wife, a Malaysian, the full 90 days Peru tourist visa she is entitled to get by law.
But he left us with no wiggle room to argue — get this 30 days or go back to Bolivia. Our first moments in Peru were certainly not the best introduction to appreciate this country. And so started a quest to extend Kit's Peru visa to more than the meagre 30 days she was given by that cranky immigration officer on a bad day and a serious power trip. Because of this man, we now needed to extend her visa for Peru as the country's too big and interesting to only stay for a single month.
First off: Don't believe what they say about extending a Visa for Peru
The first thing we did was thumbing through our digital copy of Lonely Planet's "South America on a Shoestring" to see if there was any information about extending a Peru tourist visa. The book said we had to go to one of the main offices of Migraciones (Peru's immigration)and apply there.
Well, the book is not very updated — the situation has now changed, and thankfully for the better. Read on.
Also, the Lonely Planet book says that you will receive a stamp and a migration card that you have to hold on for your life and surrender when you leave the country. That's no longer the case — no immigration card was given nor required, we only got a simple passport stamp.
Do I need to go to Immigration to extend my Peru Visa?
The immigration office in Peru is called "Migraciones". You can find offices in Puno (our first stop in Peru), Arequipa, Cusco, Lima of course, and most other major cities like Nasca, Trujillo etcetera. So, the next day we went to the office in Puno and waited just a few minutes to be attended.
After explaining the situation, the clerk took Kit's passport to her director upstairs so that he could check what we could do. The lady came down a few minutes later saying that "sure, she can extend her visa anytime within that one month window". The good news was, we actually didn't have to go to any Migraciones office at all, for tourists can renew their visa for Peru by simply logging online — plus pay a small fee with a trip to the Banco de la Nacion.
How to extend a Visa for Peru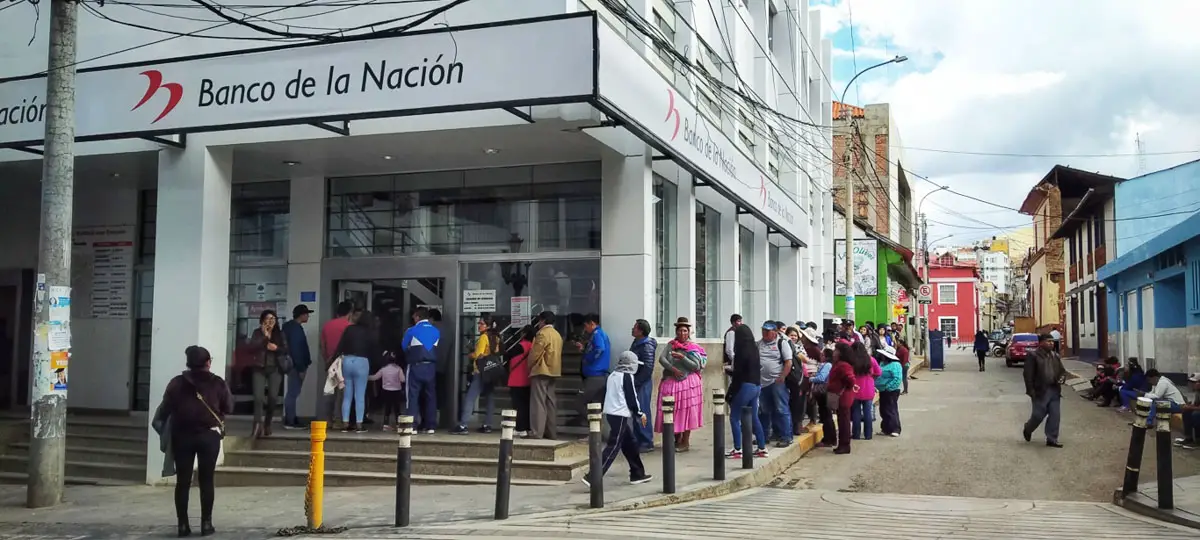 The only thing you need to do is to deposit payment of 12 Peruvian soles (about 3 USD) at Banco de la Nacion. This is easy enough to do but sounds easier than it's done. The thing is, of all Peruvian banks, Banco de la Nacion must be the one with the majority of customers. Hundreds of people waiting for their turn. When we went to the local Puno branch in the early morning, there was already a 200 meters queue waiting in line to be served.
Yes, some of you are thinking correctly – THERE is a way to pay for this ridiculously low fee online with any credit card, but the Migraciones lady I spoke to told me that "to ensure speed of service and correct registration of your payment, the best way by far is to go to the bank and pay in person". Alright, ma'am.
TIP FOR PAYING AT BANCO DE LA NACION – Be ready to wait for a long time — I asked the bank's guard if there was another way to get inside, and he pointed me to a smaller branch nearby, where the queue was smaller. Still, there were about 50/60 people waiting before us. The guard of that second branch suggested returning during lunchtime, between 1 and 2 pm. When we went back at that time, there was half the morning queue. Still, it took me close to an hour and a half to be allowed inside and make my payment. Be patient, as it's worth your time.
Once you pay your 12 soles, you will receive a payment slip that's very important as it contains the payment code you need to use online in order to extend your Peru tourist visa on the Migraciones website.
Using the Migraciones website to extend a Visa for Peru
Once you have paid, log onto Migraciones Peru website and select "Prorroga de Permanencia en Linea". You will be prompted to a second screen explaining that, in order to apply, you need to be in Peru on a valid visa and not having already stayed for more than 183 days in that particular calendar year. This is very important.
Get on the next screen, where you will have to insert your passport number and name so that your profile will come up.
Pray that the immigration officer at the border input the correct details of your name and passport number, or you'll have to do another trip to the immigration office — our man was ultra cranky, but could type alright. Provided it's all good, you'll see your profile pop up. You'll have to insert a few more details, like your date of birth and, of course, the email address where you want to receive your visa extension.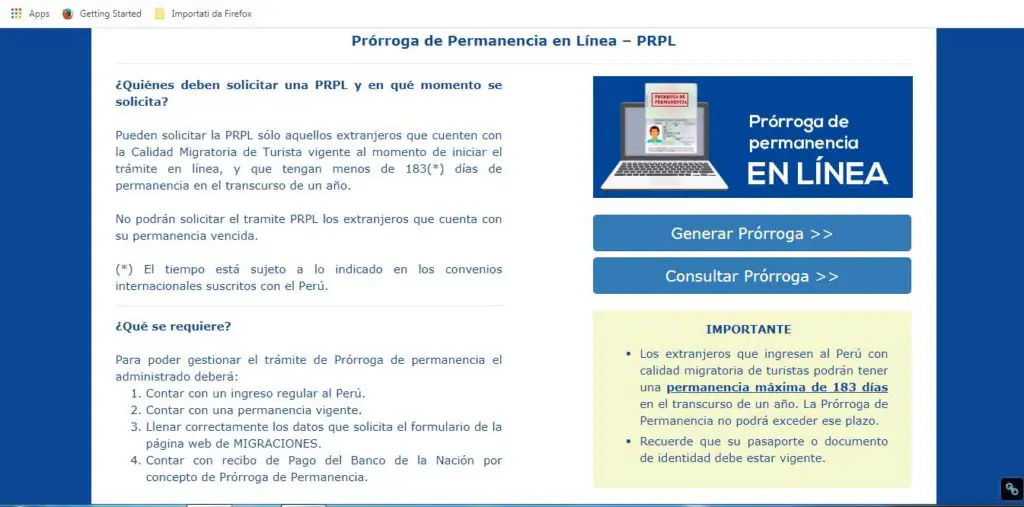 They will ask you also for a number of days you want your Peru visa extended for. Based on the Migraciones clerk's advice, I wrote "59", as she said the system loves numbers that end with 9. So, if you want 3 more months, write "89 days".
But the most important part at this stage is to check the payment slip you got from the Banco de la Nacion, and use it to insert the data printed at the bottom of the receipt (a series of numbers and letters). Type what is required and move on to the next page. If you have done everything correctly… success!!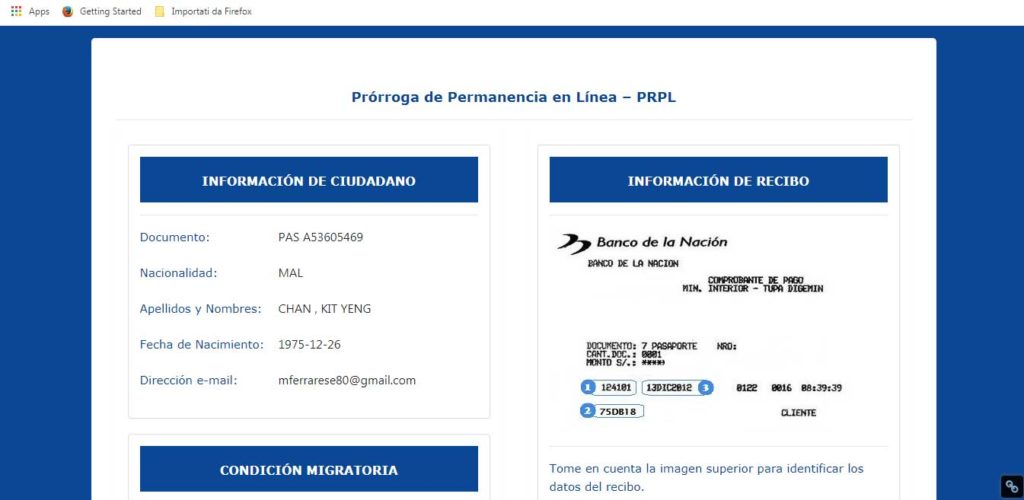 How long can I extend a Peru visa as a tourist?
As mentioned before, tourists in Peru can extend their visas up to a maximum of 183 days per calendar year. And yes, you are allowed to extend your stay twice or more if you wish so. The important is that you stay below the maximum allowed period of 6 months. Let's say, you arrived in Peru and got a 60 days tourists visa for Peru (even if you are allowed in for 90 days at a minimum, it happens, and it pays to tell the officer you want more time) and you want to stay for another month. Then you will extend for the first time. Need more time on your visa for Peru? Repeat the steps above for a second time, and ask an extension for a total of less than 183 days and you should be, technically, allowed to extend for a second time.
How long does it take to extend a Peru Visa?
From the moment I inserted the details of Kit's passport for her Peru visa extension to when I received an email stating the successful application and a PDF document with the final date of her new permission to stay in my inbox, I waited about 2 minutes. Very impressed by the speed of this service.
As it seemed too good to be true, the next day I went back to Puno's Migraciones office to ask the same clerk if the online procedure was all I had to do. "Yes sure," she said. She also said that I could have printed that page if I wanted to, but that the extension had already been registered into the Migraciones system, and for that reason, we didn't have to do anything else — just go to the airport or the border and leave Peru without any issue.
Impressed for the ease and quality of service, and it was all pretty straightforward to do.
Did you extend your Peru tourist visa as of late? Did you have a different experience? Please let us know in the comments so that others may use your valuable information.