To many, travel to Tibet is the stuff of dreams.
High mountain passes, ancient Buddhist culture (have you been to Ladakh too?), friendly people, yaks, stunning turquoise alpine lakes, and of course, the chance of seeing Mount Everest are all incredible travel experiences. We promise you that if you travel to Tibet, you'll have the trip of a lifetime.
But you should also know that Tibet is not one of the easiest places to travel in the world, especially now that independent travel is banned in the region. We wish we went before, but we didn't.
The downside is that going to Tibet nowadays require a bit of preparation: there are a lot of things to know before you can start your own tour of Tibet.
This Tibet Travel Guide contains 45 Useful tips to visit Tibet in 2021. It has everything (at least, what we think are the most important things) you need to know, including travel information about visas and permits, transportation, cultural etiquette, security concerns and tips to travel to Tibet.
We strive to present the most updated Tibet Travel Guide for beginners on the web, so please chime in if you think we forgot something, and otherwise, have a fantastic trip to Tibet!
Tibet Travel Guide – Useful Tips and Everything you need to know before you Visit Tibet
Visa Rules for a Tibet tour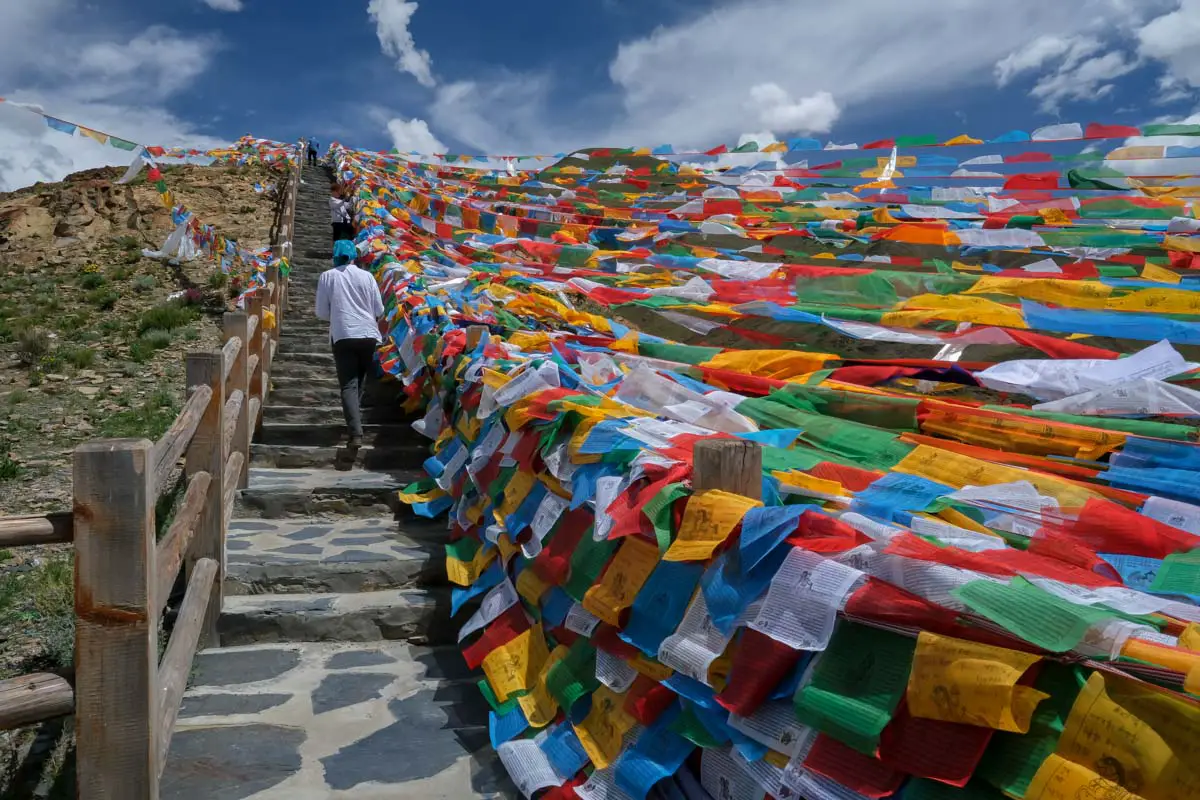 You need a Chinese visa to travel to Tibet
Like it or not, Tibet is officially a part of China (and remember that there are many beautiful places to visit in China) and you need to get a Chinese visa before you can go to Tibet. Read how we got a Chinese visa in Penang, Malaysia.
You can't travel to Tibet independently
Like it or not, at current entering the Tibetan Autonomous Region without being on an organized tour is not possible for everyone except Chinese and Hong Kong citizens. But we believe this hurdle shouldn't stop you from visiting.
Regardless of restrictions, parts of Tibet are open to everyone
Ancient Tibet extended beyond the borders of today's TAR into the regions of Kham and Amdo. These regions today make up big parts of the Chinese provinces of Qinghai, Yunnan and Gansu. You can see a lot of Tibetan culture here without the need of getting on a Tibet tour, and you'll still be in Tibet — even if few people seem to know about this. Litang is a good place to have a very authentic Tibetan experience.
Red Tape and Permits to travel Tibet
If you want to enter the TAR, you need a Tibet Travel Permit. This is issued by every Tibet tour operator and usually takes two to three weeks to be prepared. You will need to provide your Tibet tour company with digital copies of your Chinese visa and passport data page.
You can print your Tibet Travel Permit. Tibet Tour companies will send you a scan of your Tibet Travel Permit. This is two pages — one with your (and your travel partners if any) details, and one with the full itinerary of the places you will visit, all in Chinese. Just print both out in colour and carry them with you to the airport or train station.
You can also get a special Tibet Group Permit in Kathmandu. But this is not a real Chinese visa, has limitations and it's not ideal to continue your travels from Lhasa into China proper.
Tour Operator for Visiting Tibet
Support local Tibetan businesses. Everyone and their dog offers Tibet tours these days, and most companies are not even based in Lhasa. When shopping around, you should always try to support Tibetan companies that give jobs only to local guides. We toured with Explore Tibet and can recommend them.
Your Tibet Tour operator is responsible to issue your permits. This permit allows you to enter the TAR and it should be included in the cost of the tour.
Cultural Behavior and facts when Traveling in Tibet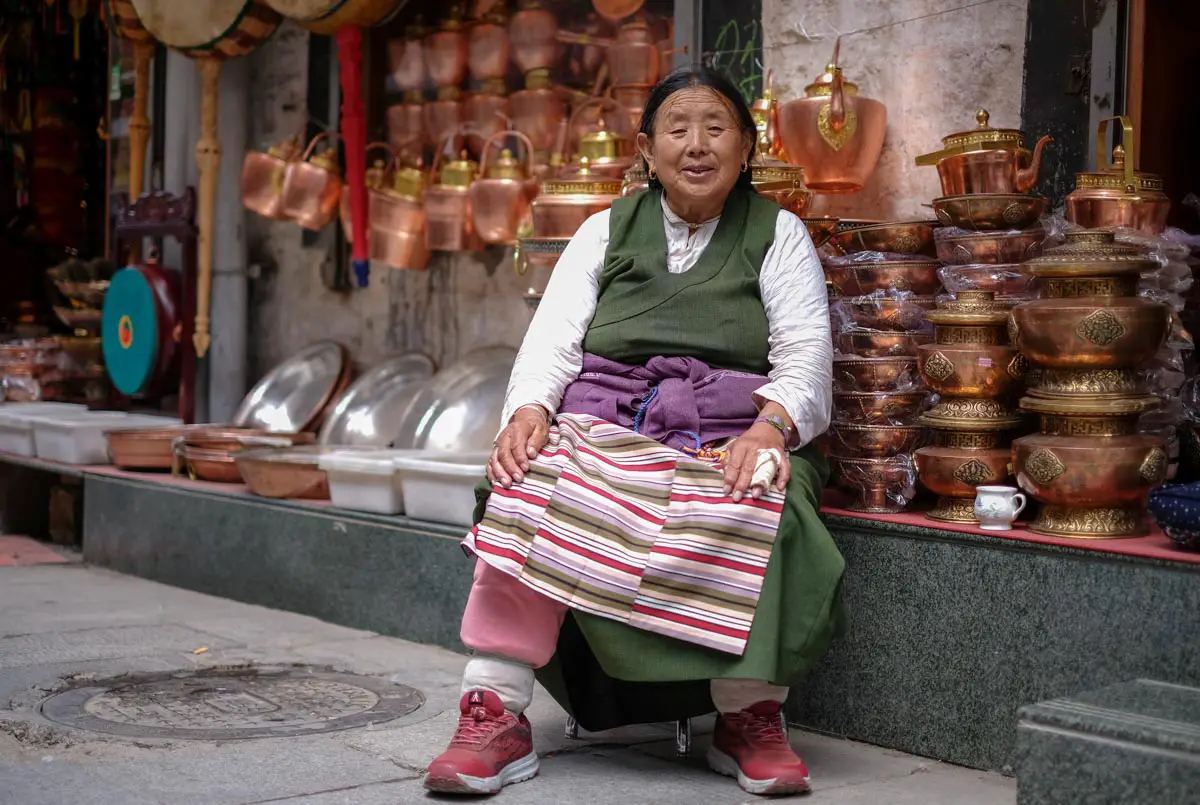 It may hurt, but Tibet is not Free Tibet. Like it or not, that part of ancient Tibet that's called the Tibetan Autonomous Region (TAR) today is a part of China. There are strict control and a lot of travel limitations in this region.
China has also helped somehow. I didn't say this, several Tibetans I met did. China brought to Tibet very good roads, development and opportunities that have lifted the Tibetans from a sad state — a religious-controlled society where serfdom and slavery were the norm — to a different form of a sad state. We are not here to judge, just to travel and observe. Just consider that not every Tibetan is suffering because of the current situation.
Shut your mouth. Yes, nobody likes the fact that Tibet was occupied by China and the Dalai Lama was forced in exiled to India. But bitching about it to Tibetans is useless. And it's especially silly to ask insistent questions to your guides who, unlike you, are forced to live in Tibet and will face the consequences of your arrogant behavior. Just zip your mouth if you have nothing else to say.
Say Tashi Delek. Tibetans are very friendly and even if they don't speak much English, by greeting them in Tibetan you'll make them very happy.
A tour of Tibet is like an episode of the Big Brother. There are CCTV cameras everywhere in Tibet: in the main temples and sights, in your hotel's reception, even in the car you will use for your Tibet tour. Don't say anything sensitive or act silly, or you may risk being barred from re-entering China. They got it all on tape.
Security and Safety when you Travel in Tibet
Beware of Acute Mountain Sickness. Don't take this lightly. Rest on your first day in Lhasa, drink a lot of water, cover your head with warm woollens if you have any feeling of a headache, and consult a doctor if it gets worse. You'll be fine but don't overestimate this and don't exert yourself on arrival.
It's far better to reach Lhasa by land rather than flying. Going by land is better to acclimatize. Here's how we caught the train to Tibet from Xining to Lhasa. You should also try to spend several days in and around Xining to help ease into Lhasa's altitude without issues.
Tibet is very safe. You will travel anywhere with a local guide and in a group, really lowering any potential risk. This said…
Better watch your belongings. There's not much armed violence in Tibet, but some minor petty crime can be a nuisance in Lhasa. Just have normal common sense and you'll be very much fine.
Useful books for Traveling to Tibet
To know more about the culture You should read the essential translation of the Tibetan Book of the Dead.
Introduction to Tibetan Buddhism is one of the most comprehensive and authoritative texts on Tibetan religion and thinking available on the market today.
For the political background
Tibet: a History recounts the events that led Tibet to be what it is today since the seventh century. For a more scholarly account of the same, you should read A History of Modern Tibet, 1913–1951: The Demise of the Lamaist State.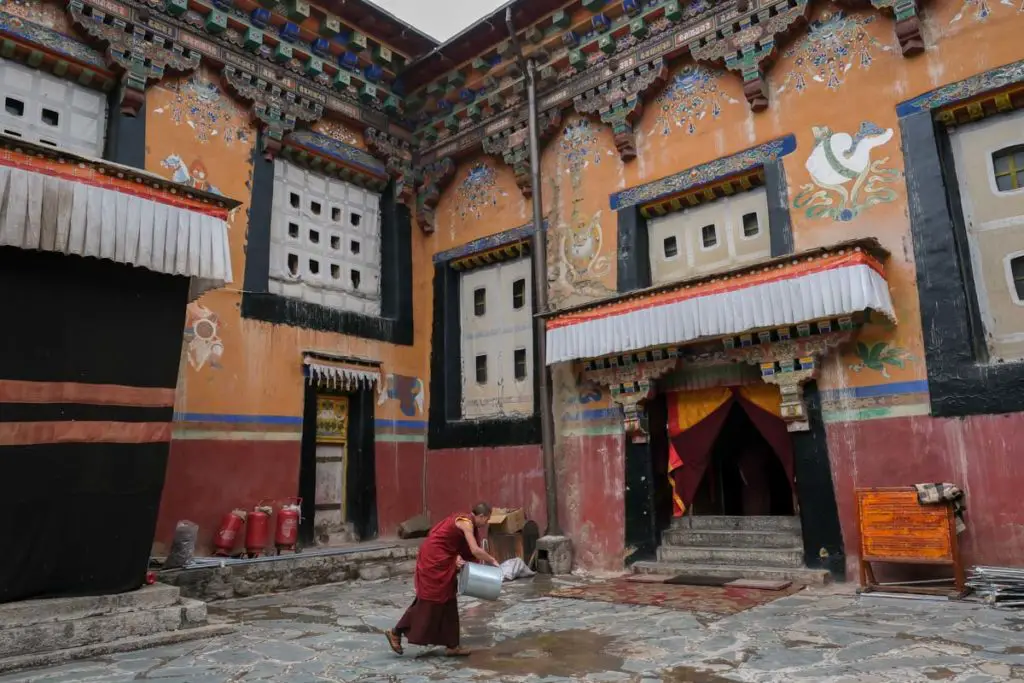 A few Tibet Travel guidebooks
The best title on the market is still Lonely Planet's Tibet. You can also find great information on traveling to Tibet in the Bradt Travel Guide to Tibet, and the Rough Guide to China — trust me on this one because I am updating the new edition.
Speak some of the local language Colloquial Tibetan: The Complete Course for Beginners is a great resource to get cracking with Tibetan language.
Costs and money for traveling in Tibet
Tibet is more expensive than the rest of China. Because of its remote location, things in Tibet cost more than in the rest of China.
The Chinese Yuan is the official currency. Because after all, you are in China. At the time of writing, 1USD was about 7 Yuan.
But Most of your costs will be taken care of by the company organizing your Tibet Tour. True enough, Tibet tours usually include transport, accommodation, guiding fees and sometimes food. Your main expense for a tour of Tibet will be then paid before you actually arrive in Lhasa. Consider that tours of Lhasa city and surroundings start at about $300, and an 8-day overland trip to Nepal will set you back about $1100
You can't really bargain. You may try to do so in Lhasa's market, but consider that every money you give to Tibetans can really make a big difference to their livelihoods. Try to support local Tibetan businesses whenever you can.
There are banks and ATMs in every major city. Don't think Tibet is a remote, underdeveloped part of the world. Not anymore. All the international credit cards that work in the rest of China can be also used here, no issues.
Internet and calls in Tibet
You can use a Chinese SIM card in Tibet. Get a SIM card once you arrive in China (you need your passport and visiting a phone company's main branch for that)
Tibet has 4G connection mostly everywhere. Yes, beyond Lhasa the Internet works pretty well almost anywhere bar the very remotest areas where you probably won't go anyways.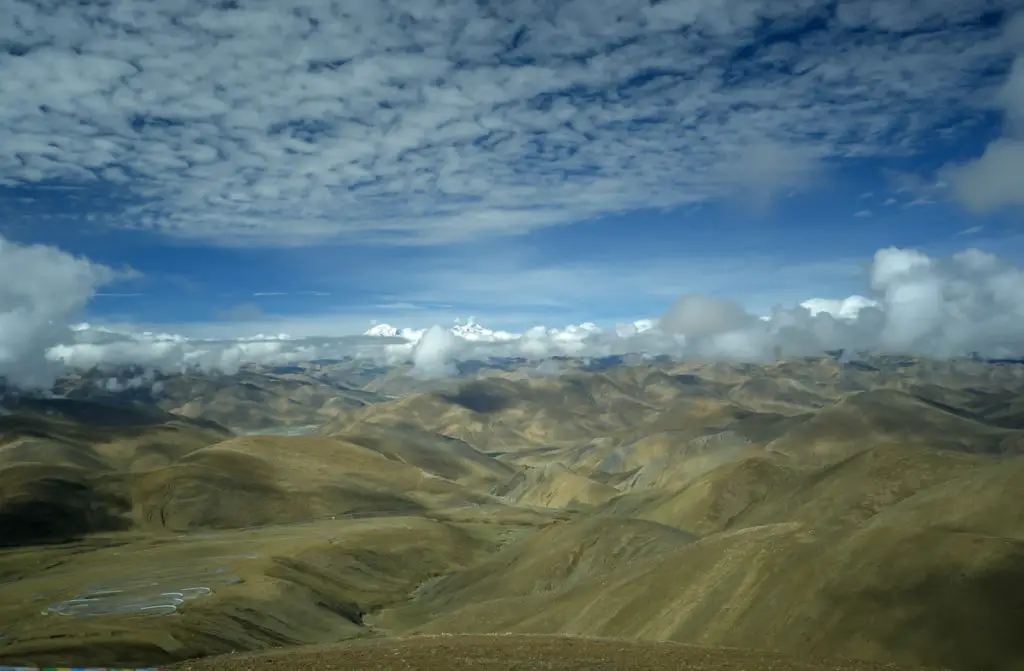 You need a VPN to get around the Great China Firewall. All the websites you probably use for social media, including Facebook, Instagram, Tik Tok and others like Google, Gmail and YouTube do not work in China. The solution to getting around this is paying for a VPN.
You better download the WeChat app. WeChat is the most widely used internet call and messaging app in China. Everyone has it and will want to use it to be in touch with you. You can also use it to store and print files at many shops all over Tibet and China, and for those with a Chinese bank account – maybe not you, the tourist — it also works as a cashless payment system. WeChat rocks on any Tibet Tour so go for it. It's free.
International IDD calls are available in Lhasa and major towns. An Internet-connected smartphone would be a better option to call via phone apps, but if you really need, you can find IDD call services in most hotels and several shops in the main towns of Tibet.
Transportation for traveling around Tibet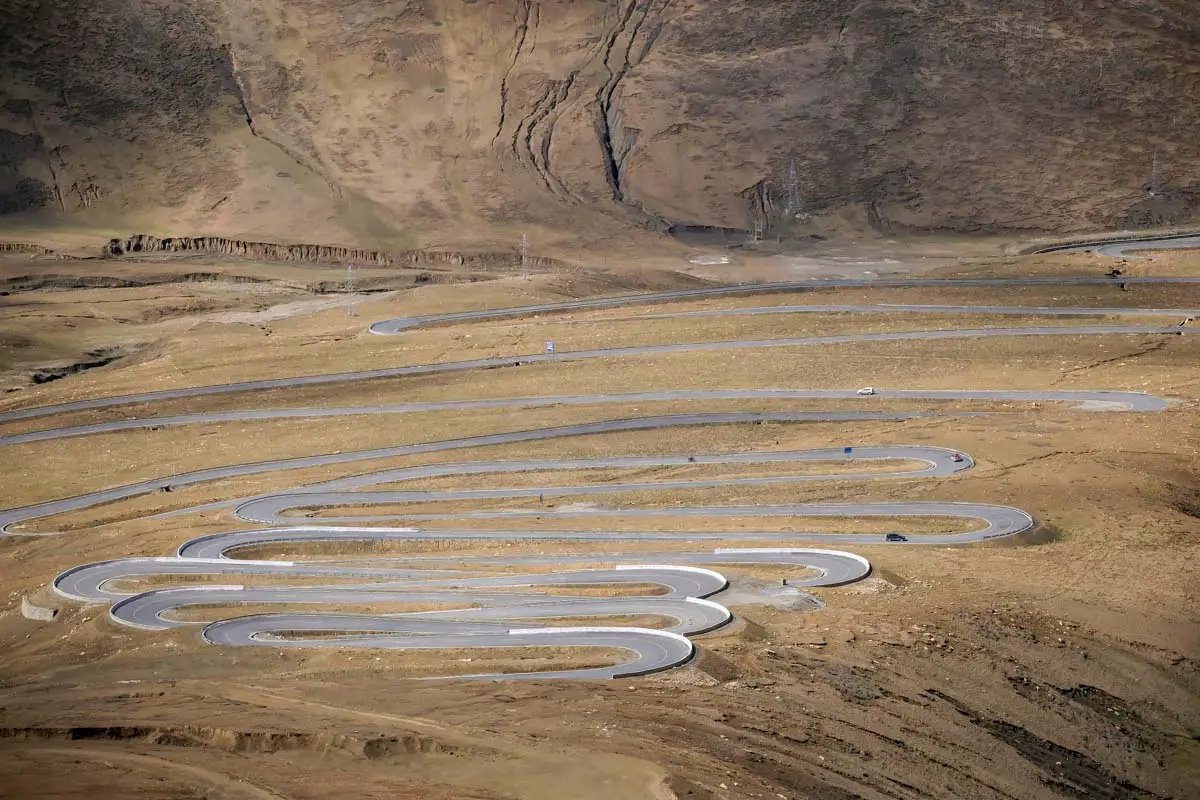 You need a Tibet Travel Permit to board any transport to Lhasa. Print out the digital copy of your Tibet Travel Permit and carry it with you when entering the train station or the airport of choice in China. Without this, you won't be allowed to travel.
You can reach Lhasa in Tibet by flight or train.
Lhasa is well connected to the rest of China via Lhasa's airport or the Qinghai-Tibet railway, the highest in the world. You can read our guide on how you can take a train from Xining to Lhasa.
But you can't get out of Lhasa alone. Foreigners are not allowed to board public buses going out of Lhasa, or the train to Shigatse without a Tibet Travel Permit. Again, you must be on a tour.
You can explore Lhasa on foot. It's possible to move around relatively freely when in Lhasa. Walking from the Barkhor out to the Potala and back is a very interesting half-hour walk that takes in the best of the old and the new in Lhasa.
Trekking in Tibet
Did we say you can't move independently? Use a tour agent. There are many treks in Tibet, but to get on one, all the rules regarding other forms of travel outside of Lhasa apply. This said trekking in Tibet is awesome.
Food and Drinks in Tibet
There's a bit of every cuisine in Lhasa. Lhasa has any possible food you may imagine, including Pizza Hut and Mc Donalds right on the Barkhor. But there's plenty of Tibetan food, too, and good street food around the Muslim Quarter and the Old Mosque.
Tibet is not a party place. You can certainly get beer in Lhasa, but beyond that, drinking and partying doesn't really bode well with Tibetans so keep your spirits down until you reach the western comforts of Thamel in Kathmandu.
Accommodation during your Tibet tour
Accommodation in Tibet is often included in the price of a tour. So you generally don't have to worry about it. But if you want to save some money and choose your own accommodation, you can do so. Clarify this when shopping around for a tour.
Lhasa has some very nice hotels. From hostels to boutique hotels to a Holiday Inn, Lhasa has the best of the lot of Tibet's accommodation. These are some places we recommend you consider:
Tashitagke Hotel
Shambhala Palace Hotel
Tashi Choeta Boutique Hotel
Holiday Inn Lhasa
Check best prices for Lhasa hotels on Booking.com|Hotels Combined
The further you go west, the worst the accommodation gets. And so do facilities in general. You can still find some decent places in Shigar and on the way to Everest Base Camp. Here are some suggestions:
Forget about Couchsurfing. Wherever we travel, we treasure the chance of knowing the country and the locals via Couchsurfing. See what we think of Couchsurfing in India for example. But in Tibet, this not only doesn't really exist — and you need a VPN to access. You just can't stay anywhere that's not a hotel with a licence to host foreigners.
More information you should know for going on a Tibet tour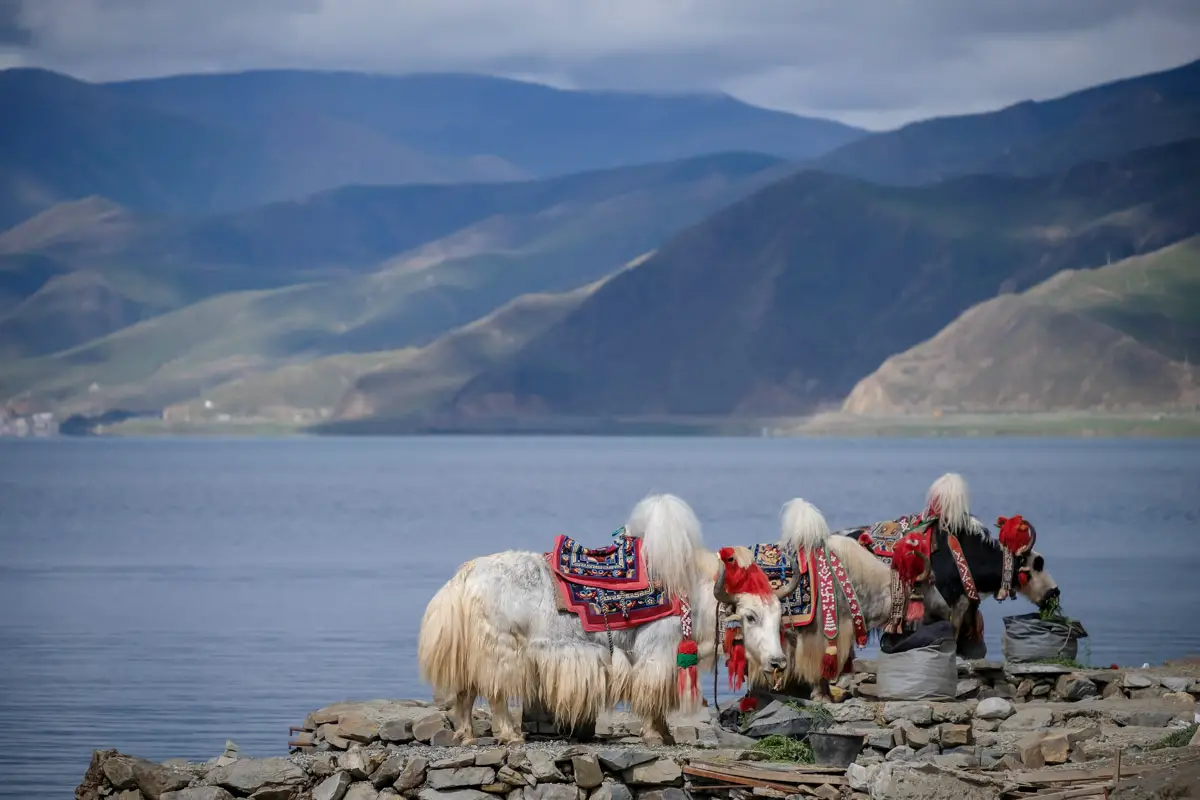 Best times to go to Tibet. Tibet is best visited during the summer, of course. Days are warm and sunny and night never too cold outside the highest mountain regions. Winter can be punishing cold, but the snow makes everything look different, prices are slashed, and highways are generally very well-maintained so travel is possible if you really want. In March, the TAR is generally closed and off-limits after the Tibetan Riots took place in this month in 2008. The best times overall, we believe, are the shoulder season of May and October – good weather, beautiful colours, less people.
Border crossing in Tibet. You can enter or exit Tibet at the Tibet Nepal border of Kyirong. Read our complete guide to the crossing. This makes a perfect circuit from Lhasa to Kathmandu overland.
More Resources
The Land of Snows is a travel company but have some good free blogs on traveling to Tibet and the outlying Himalayan region.
You can check updated information on Tibet travel on Explore Tibet's blog.
More Monkey-approved travel
Do you fancy traveling to Pakistan?
What about spending time in amazing India instead?
We do live in Malaysia and know quite a lot about this country.
For some off-beat adventures, Indonesia has a lot to offer.