Backpacking Borneo is one of the best experiences you can have in Malaysia, period. We know well: we have hiked, biked, ate, danced with tribal elders, drank tuak (the indigenous rice wine) and made life long friends all the way from Kuching, Sarawak's beautiful capital, to the jungles of Tawau. I have worked on guides to Malaysia and Brunei for the Rough Guides, and believe me, I can eat my sago worms and laksa for breakfast, and when it comes to Borneo Backpacking, I ain't gonna take no shit from no one.
READ MORE – The Ultimate 2 Weeks Borneo Itinerary
So it's time to share my 10-plus years of Borneo backpacking knowledge with you all. This guide will focus on Sarawak, Sabah and Brunei (Borneo Malaysia, that is) as I have no great experience of Kalimantan — yet. It will break some general myths about backpacking in Borneo and give you a solid head start to plan your adventurous backpacking trip or short trip in Malaysia in one of the most stunning parts of Malaysia, and why not, entire Southeast Asia.
Why You Should Backpack in Borneo
In brief, because there are few backpackers in Borneo and you will enjoy your time much more. Wait wait wait… did I say fewer backpackers in Borneo? Oh yes. To me, the higher number of backpackers, the lower number of adventures, the lesser interactions with locals. C'mon, traveling to an exotic locale like Malaysian Borneo, and end up spending all your time with a bunch of Brits… just plain nuts. Jeez! See what backpackers did to Penang, for example.
So yes, backpacking Borneo is not in the same foreigner-friendly scale of West Malaysian cities like Penang, Kuala Lumpur, and Langkawi, where there is a well-oiled backpacker infrastructure, and people can party hard every single night. Borneo, on the contrary, is all about quiet cities — some backpackers call them downright boring, well, that's because they don't know where to look — nature, national parks, and wildlife. In Brunei, which has Sharia Law, things are even quieter. So leave your high heels at home, because they are of no use in the jungle — maybe they are OK in Kota Kinabalu, where the large numbers of Mainland Chinese tourists have boosted a much more eclectic nightlife. For the rest, be prepared to chill at the rhythms of the local kampung, ok bah, kalau kau?
How to Reach Borneo
Like it or not, the times in which you could take a steamer from Singapore to Kuching like Mr. Alfred Russel Wallace did are long gone. You can reach Malaysian Borneo only by flying from West Malaysia, or take the long (and risky) ferry from the town of Zamboanga in Philippines' Mindanao — don't complain if you get kidnapped by Sulu pirates. Read below.
The easiest and cheapest way is to fly from Penang Airport or Kuala Lumpur's KLIA/KLIA2 to either the hubs of Kuching and Miri in Sarawak or Kota Kinabalu in Sabah. If you buy tickets in advance, AirAsia has very cheap tickets that can cost a mere 10/20$ one way.
READ MORE – Best Places to Visit in Malaysia in 3 Days
If you are in Indonesia, on the contrary, there are connections to Kalimantan cities like Balikpapan and Pontianak via the almighty PELNI ferries. To know what kind of ordeal they are, read our complete guide to booking and travelling on a PELNI in Indonesia.
Important Things you should know before Backpacking in Borneo
Some quick tips to make your Borneo backpacking trip a better one:
Borneo is ALL about the Rainforest
Don't think of the huge deforestation and logging issues in Borneo for a moment. You are going backpacking, after all. Borneo landmass is still covered in jungle up to 80%, so a backpacking trip to Borneo is all about nature, jungle, wildlife and… did I say nature?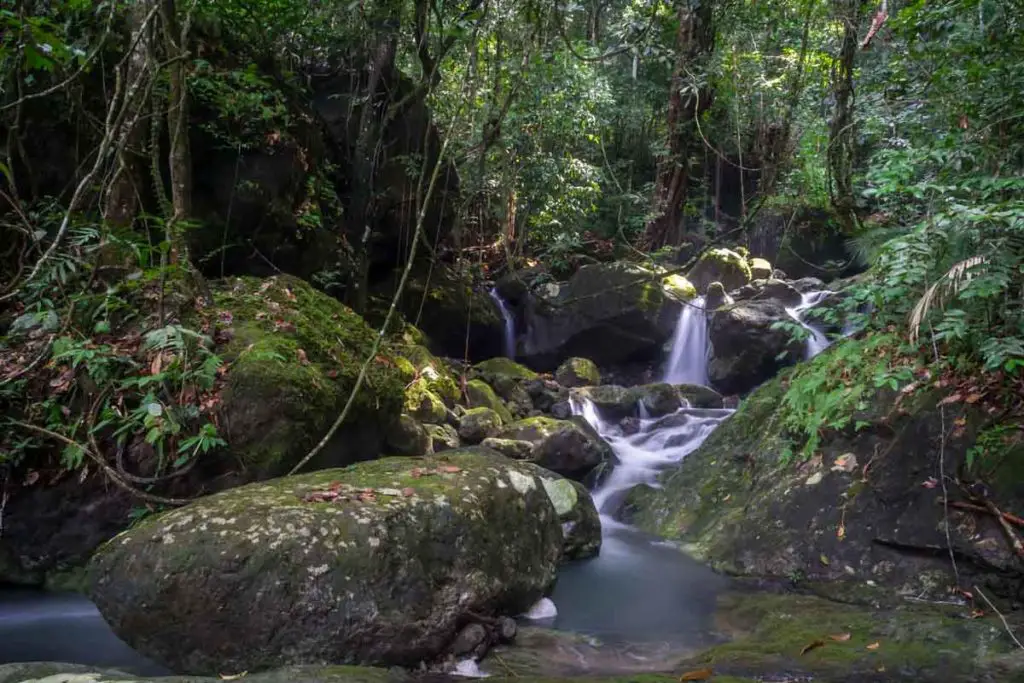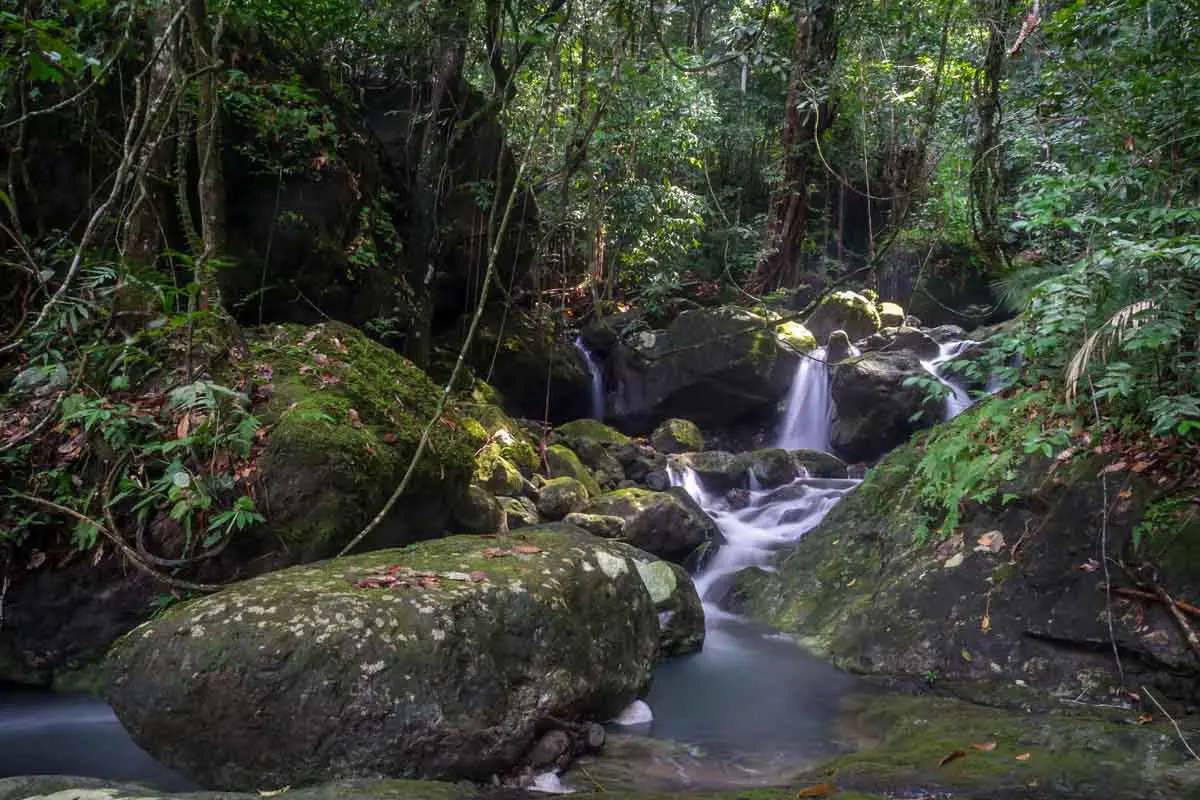 If you are planning on visiting deep jungles such as the amazing Danum Valley Conservation Area, come prepared with, at a minimum, good hiking shoes (or even better, their Malaysian ultra-cheap variety Adidas kampung), insect repellent, hiking socks, long pants and long sleeves — do you know what a tiger leech is? Hide your skin please — and a very good sun hat to protect yourself from the unforgiving sun. And don't forget that Borneo also has some pretty amazing beaches where nature, as expected, wins over development.
Borneo is a Rich Tapestry of Ethnic Diversity
Unlike West Malaysia, there are at least 30 different ethnic groups in Sarawak, Sabah and Brunei alone. Kalimantan probably has even more. In Sarawak, they are bundled under the name of Dayaks and are the descendants of headhunters. Most speak Malay, and most are, unlike West Malaysia's Malay Muslims, strong Christians. The Kelabit of Bario are VERY religious, so don't be a prick when you visit.
Longhouse culture can get a while to get used to, and true authentic encounters are rare unless you get lucky and get invited to one. In any way, consider that men in longhouses are often drunk, and machismo can get uncomfortable. If you are not happy to get drunk with locals, in general, it's wiser to avoid visiting the longhouses.
Regardless, most Borneo people live in cities and are extremely Westernized. Don't expect to see people walking around in loincloths even though, as of late, young urban Borneo people have taken up Dayak culture to affirm their identity. This sparked a flourishing of tattoo shops selling traditional designs, and a lot of related hipsterisms. Thread carefully.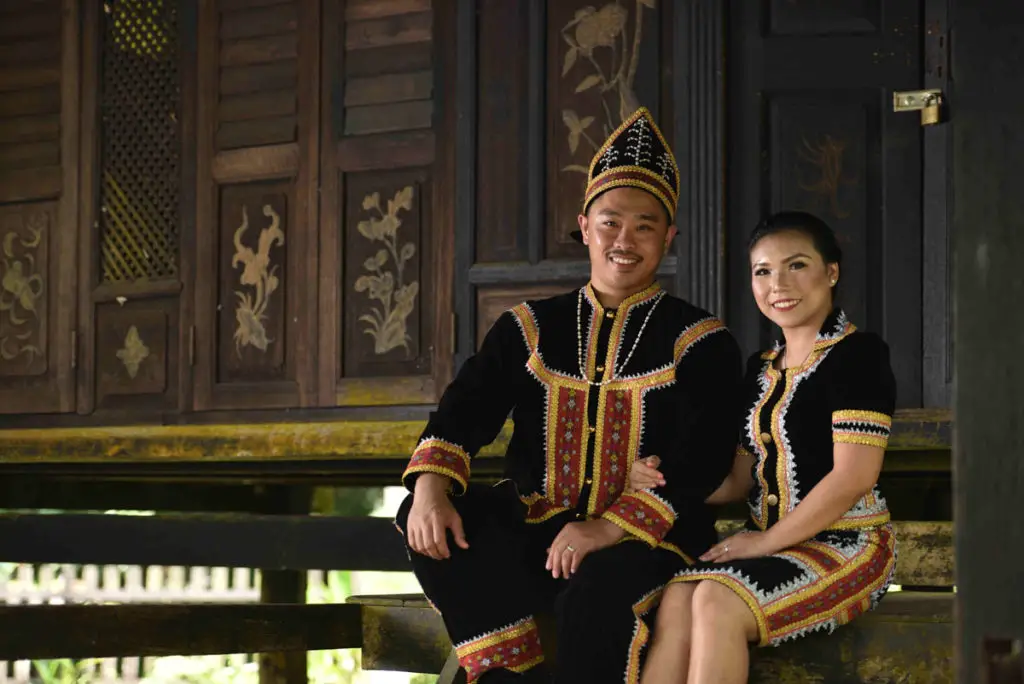 Costs of Backpacking Borneo
I'm sorry to say that, compared to West Malaysia, backpacking in Borneo is more expensive. This goes all the way from food (expect to pay in the order of RM10 for a meal) to accommodation (more expensive than in Penang or Kuala Lumpur, for sure) and especially, the tours.
Some examples of costs are:
1 meal – $1 to $10. Expect Brunei to cost two or three times more than Malaysian and Indonesian Borneo.
1 beer – $3++. Beer is largely available in cities and restaurants. In Brunei, it's only possible to drink at high-end establishments such s 5 Star Hotel, and prices are higher.
1 night at a backpacker hostel – $8 to $15
1 Grab car for inner-city travel (only available in major cities) – $2 to $5
1 hygiene/medical essential – $1 to $10
1 entry to sights – $2 up to $20 Sabah is definitely the most expensive, while Sarawak has cheaper national parks, but double-tiering prices for foreigners are normal.
Taking tours while Backpacking Borneo
This is a very important aspect of any trip to Borneo: in order to get your ass into the REAL rainforest (not a park with a feeding platform full of snap-happy monkeys of both the human and the animal kind), there are high costs involved. Boatmen, guides, cooks, you name it.
What is very important to say is, independent backpacking in Borneo only takes you that far. In other words, it will be close to impossible for an independent traveler to be able to reach places like Sungai Kapur, or private orangutan reserves like Bukit Piton. There are places you can do independently, for sure, but getting to the real jungle at a minimum requires hiring a guide.
I highly recommend two companies, Sticky Rice Travel in Kota Kinabalu — the biggest in Sabah, working with the likes of National Geographic — and Bike and Tours in the southern Sabah city of Lahad Datu.
These are a few recommended Borneo tours we think you should consider taking (they all come with a 10% discount if you book through our links):
Risks of Malaria in Borneo
As long as you travel to towns and cities, there is no risk of contracting malaria in Borneo. We have been many, many times, and had no problem whatsoever. Taking anti-malarial drugs is often less benefic than you think, and we don't recommend using any prophylaxis during a normal Borneo backpacking trip.
However, if you intend visiting remote areas of Kalimantan or doing some remote trekking in the Kelabit areas around Bario and cross into Indonesia from there, then consult your doctor before embarking on your Borneo backpacking trip.
Dengue fever, on the other hand, is a possible threat. There are no vaccines for dengue, and it generally won't kill you. We have been living in Malaysia for 10 years and frankly, never had a problem with that.
Borneo Rainy Season
Borneo sits within the tropics and is humid and rainy all year. It's not recommended to go on a Borneo backpacking trip between December and February, which are by far the wettest month. This means more leeches on the trails, fewer animals around, and a very unpleasant sticky heat all day long.
The best months for backpacking in Borneo are definitely between March and October.
How to Get Around when backpacking in Borneo
Bus, boats, planes and thumbs all work pretty well to backpack around Borneo.
By Bus
Backpackers in Borneo by far use the bus. Bus travel in Borneo is fairly comfortable and of a standard comparable to bus travel in West Malaysia, however, expect to pay about 25% more.
Check out prices and book buses from Kuching | Check out prices and book buses from Kota Kinabalu | Check out prices and book buses from Miri |
Borneo by Boat
There aren't as many boats in Borneo as they used to, but river travel up the mighty Rejang and other Borneo rivers is still an option and a real adventure.
One of the most famous boat trips in Sarawak is taking ferries from Sibu to Belaga via Kapit, or you can also catch a boat from Kuching to Sarikei and Sibu.
In Sabah, river trips on the Kinabatangan River or the Sungai Kapur reserve are a must. You also go by boat from Tawau across the Indonesian Kalimantan border at Nunukan or Tarakan islands.
In Brunei, you can take a boat from Bandar Seri Bagawan to Labuan Island and onwards to Kota Kinabalu in Sabah, avoiding going by land across one of the most passport-taxing multi-border areas in the world. Also, the Ulu Temburong National Park is only accessible by boat.
In Kalimantan, going from Samarinda up the Mahakam River into the interior is a real adventure for the most ballsy backpackers out there. Be happy if you'll get back with your head still hanging on your neck! Ah!
Borneo by plane
Besides flying in and out of West Malaysia, planes in Borneo are very helpful to connect remote communities. One of the most exhilarating is the twin otter flight from Miri to the Kelabit Highlands in Bario, one of the smallest planes I ever flew in!
Hitchhiking in Borneo
Don't listen to all the naysayers, hitchhiking in Borneo works very well. We did it from Sibu all the way to Lahad Datu over the pan-Borneo highway without a problem. Remember that the thumb sign here can be confused and it's better if you just wave at the car moving your hand up and down. As a matter of fact, without any Bahasa Melayu or Indonesia, you will not go very far as people rarely speak English around these parts. Try to pick up some essential language skills before you go.
8 Unmissable Places to See in Borneo
There are a lot of great things to do and places to see in Borneo, and this list is absolutely not exhaustive and just covers the very basic unmissable places for any Borneo backpacking trip to get you started planning.
For a more unique experience, check our itinerary for some offbeat things to do in Sabah.

Mount Kinabalu, Sabah
Southeast Asia's tallest mountain is one of Borneo's most iconic and visited sights and one of Sabah's main attractions. True, the costs incurring in the climb are not the most backpacker-friendly, but a visit to Mount Kinabalu doesn't mean you must necessarily climb it. Take a stroll inside the Kinabalu Park, which is free of charge, to have a good sample of the fauna and flora that abounds on this mountain. The climb is strenuous but grants unparalleled views up to Sabah's northernmost coast. A definite Borneo must-do, provided, again, that you can shell out the amount required to do it.
Bako National Park, Sarawak
A beautiful park set on a promontory and natural habitat of the endemic proboscis monkeys, it's a must-see when in Kuching. It's better overnight at least for one day to have more time to enjoy the hiking trails.
Gunung Mulu National Park, Sarawak
UNESCO-listed Gunung Mulu National Park has a series of incredible natural sights like the Deer Cave, one of the world's biggest chambers, and the eerie pinnacles — a series of jagged limestone spikes jutting from the top of a mountain. Hiking to the summit is definitely one of the toughest hikes we did in Malaysia. The Headhunter's Trail is a popular hiking route that starts inside the park.
Danum Valley Conservation Area, Sabah
Deep in the heart of Sabah about two hours away from Lahad Datu is this patch of primary rainforest teeming with wildlife. Stay at a research centre for overnight stays to access the rainforest early in the day, when an incredible array of wildlife, from orangutans to pygmy elephants and clouded leopards can be found — with a good guide and some luck, of course.
READ MORE Our Ultimate Guide to Visiting the Danum Valley
Kelabit Highlands, Sarawak
This stunning area in the southeastern corner of Sarawak borders Indonesian Kalimantan and offers pure time travel. You can hike between villages, explore the original first longhouse in Bario and stay with its ancestral inhabitants, or brave some of the regions most arduous treks.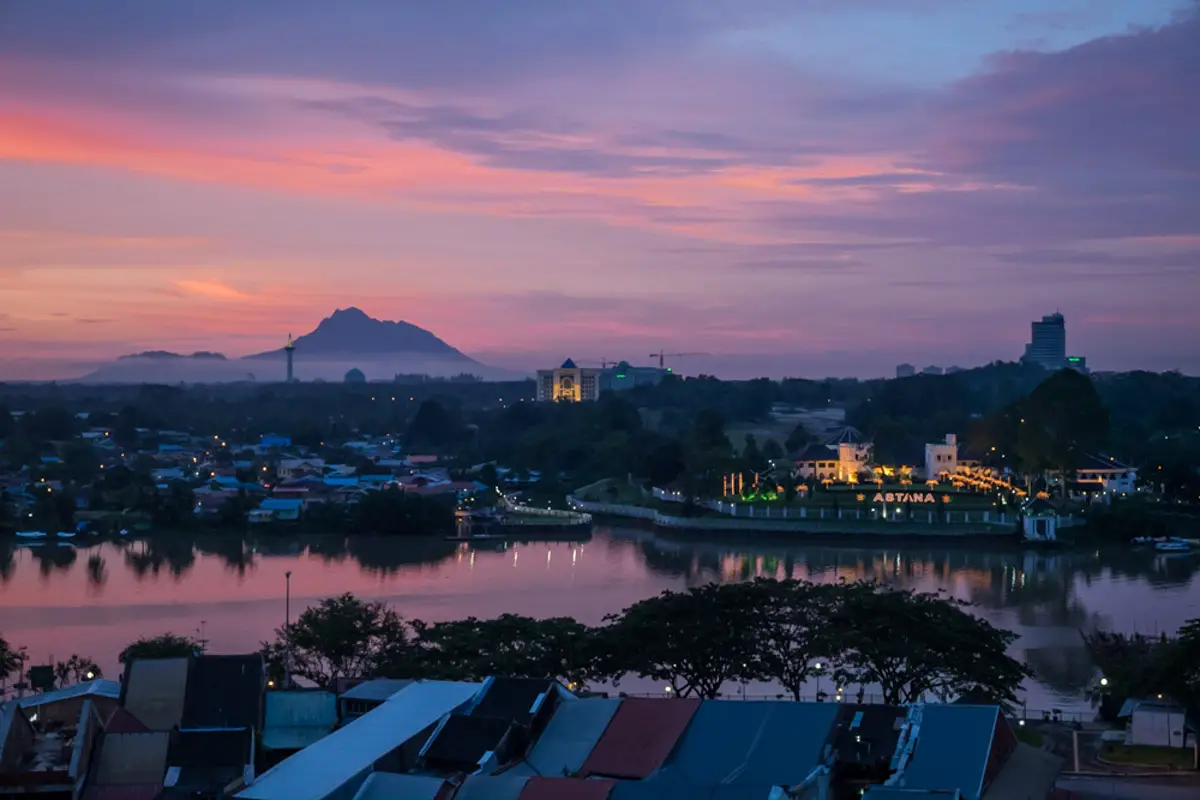 Kuching, Sarawak
One of Borneo's most appealing cities mixes traditions with an impressive number of bars and restaurants, nightlife, music and arts. It's probably the most forward-looking city in Borneo, and yet it's steeped in beautiful traditions and set at a stone throw from some of West Sarawak's most impressive national parks and sights, including the Semenggoh Orangutan sanctuary and Bako national park.
Tunku Abdul Rahman Marine Park, Sabah
Right in front of Kota Kinabalu, this marine park made up of 5 tropical islands may be a hit with tourists, but it's also one of the closest tropical getaways to a buzzing Asian city. There is snorkelling, diving, the Coral Flyer zip line perched above two islands, and plenty of options for island hopping and relaxation.
Shared boats leave from the Jesselton jetty in downtown Kota Kinabalu throughout the day, and if you want to beat the crowds, we recommend you buy your return tickets online via Klook here. It always saves us some time!
Do you want a 10% Coral Flyer discount? Buy your tickets here.
You can also get on a PADI Discover Scuba Diving course in Kota Kinabalu with a 12RM discount by clicking here.
Bandar Seri Begawan, Brunei
Borneo's most conservative city is one to remember — get to know its locals, and you'll see how things are not as "Sharia" as most backpackers say. Don't forget to visit Kampung Ayer, Asia's largest water village on stilts, a stark contrast with the gilded golden domes of the Omar Ali Saifuddien Mosque that dominates the centre of town. Badar Seri Begawan is also the jump-off point for visits to the Ulu Temburong National Park, one of Borneo's most pristine ecosystems.
Bucket List Experiences in Borneo
See Wild Orangutans in their natural habitat
Deforestation and logging have threatened the natural habitat of this majestic primate, but if you want to try to see it, Borneo is the place to go. There are two main orangutan rehabilitation centers, Semenggoh near Kuching and Sepilok in Sandakan, but there are chances to explore areas where the orangutans still dwell in the wild.
Usually, cruises on the Kinabatangan river may offer a glimpse of orange fur hidden up in the jungle thicket, but a better option is the Bukit Piton reserve, a small, enclosed forested area where more than 20 wild orangutans have taken up home.
Borneo is a Diving Paradise
Borneo has arguably some of the best diving to be found in Asia and the world. Beyond the Tunku Abdul Rahman Marine Park, off the southern Sabah town of Semporna lay beautiful aquamarine-ringed islands like Mabul, Kapalai and Sipadan — nominated by marine biologist Jaques Cousteau as one of the richest marine environments in the world.
Pulau Derawan in northeastern Kalimantan offers more of the same incredible array of sharks, giant turtles, hammerheads and so on.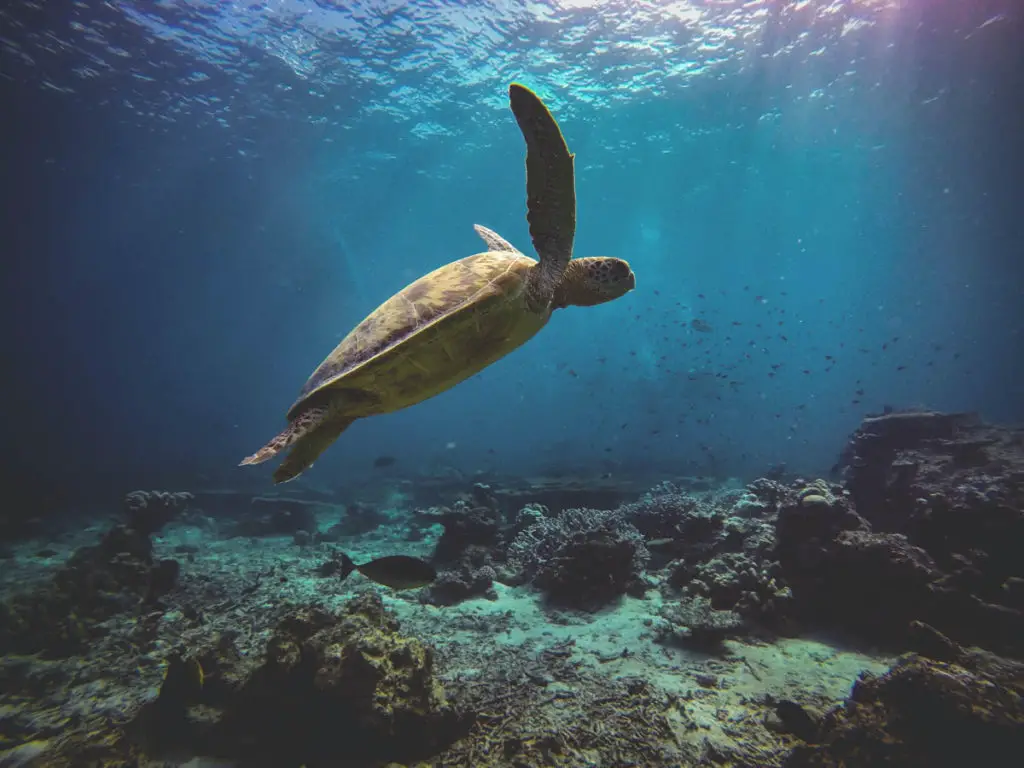 Meet Disappearing Tribes
In the whole world, Borneo is well-known for its troubled past of headhunters and pagans. Those traditions are certainly long forgotten today, especially when the majority of people embraced Christianity. However, Borneo is one of the last remaining places in the world where the descendants of those tribes still live semi-traditional lives.
Taking a trip up one of Borneo's several rivers, stopping at longhouses along the way, is a great chance to discover those disappearing traditions.
Dance at the Rhythm of the Rainforest
Born as an underground event, the Rainforest Music Festival, a yearly music festival held in July at the Sarawak Cultural Village near Kuching, has turned into one of Asia's most important world music events. It attracts bands from all over the world and has helped foster a strong ethnic-music scene in Borneo itself. Think of bands such as At Adau who mixes traditional Borneo instruments like the Orang Ulu's Sape with modern guitars and percussions. Check them out:
Best Time to Visit Borneo
In brief:
The Dry Season in Borneo is from March to October, and you'll experience less rain. It's the best time to see orangutans in the wild, but is also, of course, peak tourist season and prices can be higher.
The best time to Dive in Borneo is between April to December, with the best visibility in July and August. From March to May, whale sharks visit Borneo's waters during their migrations.
Between June and September, turtles come to lay eggs at Lankayan Island.
Try to avoid travelling between December and January, when the conditions of sea and rainfall are the worst and you won't have many opportunities to see animals.
Where to Stay in Borneo
Borneo has world-class accommodation in cities like Kuching, Kota Kinabalu, Miri, Sibu, Lahad Datu and others. Given the high number of backpackers coming to Borneo every year, there are some pretty good hostels all over the place.
These are some of the hotels we recommend you check out while backpacking Borneo:
Best Backpacker Hostels in Kuching
Traveller Homestay
Hornbill's Nest Kuching
Le Nomade Hostel
Radioman Heritage Hostel
Check more Kuching accommodation and prices
Best Backpacker Hostels in Kota Kinabalu
Akinabalu Youth Hostel
Borneo Backpackers
TOOJOU Kota Kinabalu
Zoku Lifestyle
The Bunk
Vibrant Hostel
Escape Backpackers KK
Check more Kota Kinabalu accommodation and prices
Best Backpacker Hostels in Miri
Shuang Ling Inn
Tabun Homestay
Check more Miri accommodation and prices
Eating in Borneo
Like the rest of Malaysia, Borneo has a lot of delicious foods and most of it is found on the street. Markets are fantastic places to get fresh produce and try local delicacies such as Sarawak Laksa.
Borneo Safety: Important Security Concerns
If backpacking in Borneo is generally a pretty safe affair, with friendly people willing to help you all along the way, the eastern coast of Sabah has experienced some unrest in the past few years.
It's all due to the territorial claims of the Islamic insurgents from the nearby Sulu islands in the southern Philippines, which is also a hot spot of the Islamic militants of Abu Sayaf. The situation heated up in 2013 during the Lahad Datu standoff when Sulu militants attacked the village of Tanduo on Sabah's southern coast and occupied it for several weeks. Foreigners and locals have certainly been kidnapped by Abu Sayaf until as late as 2019.
If tourism in Sandakan and Lahad Datu is generally not affected, you should travel with a tour operator if, let's say, you wanted to go to Sungai Kapur or other offbeat areas in Sabah's southern coast.
This is also the primary reason why we don't recommend catching the ferry from Sandakan to Zamboanga in the Philippines — if it's true that several backpackers have done that, traveling to Zamboanga as a solo backpacker without any Bahasa Malaysia or Tagalog is just plain hazardous.
Final considerations on Backpacking in Borneo
This guide should have clarified all the aspects involved in backpacking Borneo. It may be just a little bit more expensive than the rest of Malaysia and Indonesia, but it's safe and welcoming and will offer you an experience to treasure for a lifetime. You will be able to witness an ancient and charming culture, and see how development and globalization have changed this land and its indigenous peoples. The best way is to go, see, and experience it all by yourself.
Backpacking Borneo is generally very easy by yourself — transportation is ubiquitous and not so expensive, and you can even hitchhike to have an adventure. However, remember that seeing wildlife and getting into the real jungle requires the help of tour operators, which will leave you with the main task of taking pictures and enjoying the trip.
Would I backpack Borneo again? For sure. Even if I have been to most of the big and small towns and all the important national parks in Malaysian Borneo, there's always something more to see. And Kalimantan… that's something I miss greatly, and I am looking forward to writing about it as soon as possible.