Her face was as red as a tomato, veins bulging at the sides of her forehead, deep fatigue cracking her breath like a bad stammer problem.
"How long more do I have to the top?"
Every Indian and foreign tourist seemed to ask me the same question as we crossed paths on the gruelling staircase that descends from Tyrna to Nongriat village in the East Khasi Hills, the home of the Umshiang double-decker bridge, one of the most interesting things to see in Meghalaya, and on top of most India bucket lists (read our 19 alternative suggestions to unexplored places in India to beat the crowds). This is one place in India, and the world, where a person truly realizes how good or bad is her level of fitness. The woman who had just finished talking to me had definitely realized she wasn't, and probably expected a more comforting answer, something in the vein of "the end of the trek is only five minutes away".
It was mid-afternoon, and I had started descending to Nongriat with the idea of staying overnight because doing it in one day really equals to bashing into your own knees with a jackhammer. In fact, Nongriat sits at the bottom of a forested valley that's only connected to the rest of the world via remote trekking routes, or a 3000-plus concrete stairway that was completed a few years back to support the increased number of tourists to the Umshiang Double-Decker bridge.
When we first completed the Nongriat trek on our first visit to Northeast India in the year 2012, there was no staircase or steps, just a slippery path… and also no tourists. Only a bunch of years have passed, and yet, Meghalaya's quirky living root bridges and waterfalls have become Northeast India's most popular destination, drawing in dozens of domestic Indian tourists, and more and more foreigners, every day.
I am still surprised then to see how most travelers decide to attempt this knee-grinding enterprise in a single day, not only descending but also ascending (the toughest part) without taking a much-needed rest. Which is what we did, and we recommend you do, too.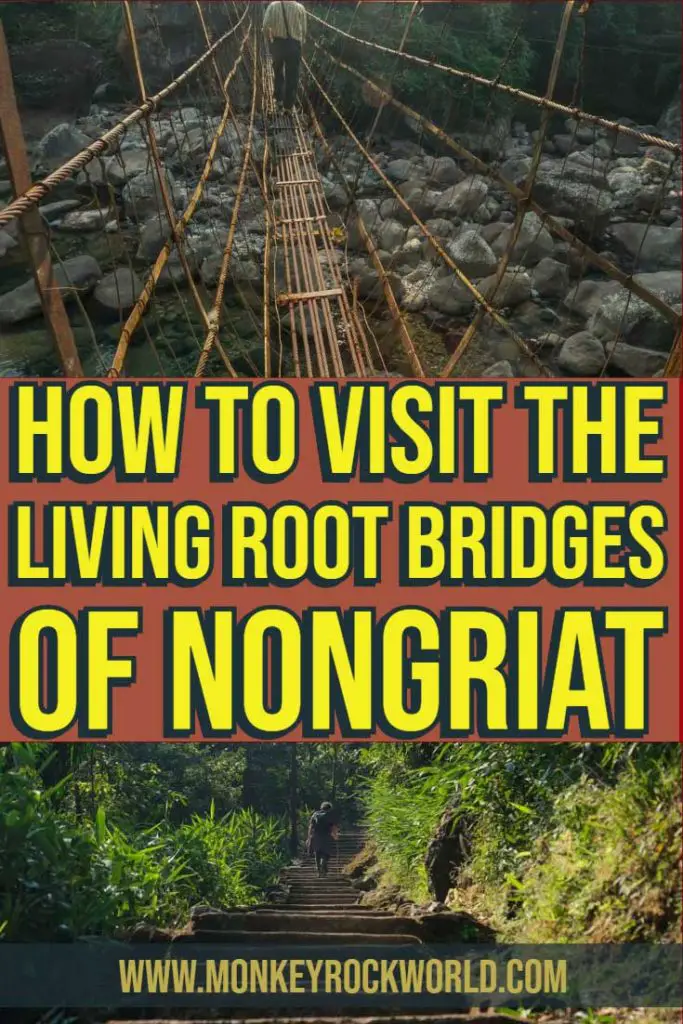 The Living Root Bridges of Nongriat Village
Nongriat village has become famous and one of the best places to visit in Northeast India thanks to its bio-engineering marvel, the Umshiang Living Root Bridge. For centuries, the local Khasi tribe had played with nature to help themselves overcome the harshness of their own land — in this case, the lack of bridges over the many rivers and streams crisscrossing this wettest part of India. The Khasi realized that they could build natural bridges by driving tree roots together, and then waiting for years for them to meet and solidify in natural bridge-like structures that could support the weight of humans. Most Living Root Bridges, such as the one in Riwai village near Mawlynnong, only have one level. But Umshiang in Nongriat has a staggering two, one running on top of the other. It's a powerful sight to behold, and one of the most talked about sights in Northeast India.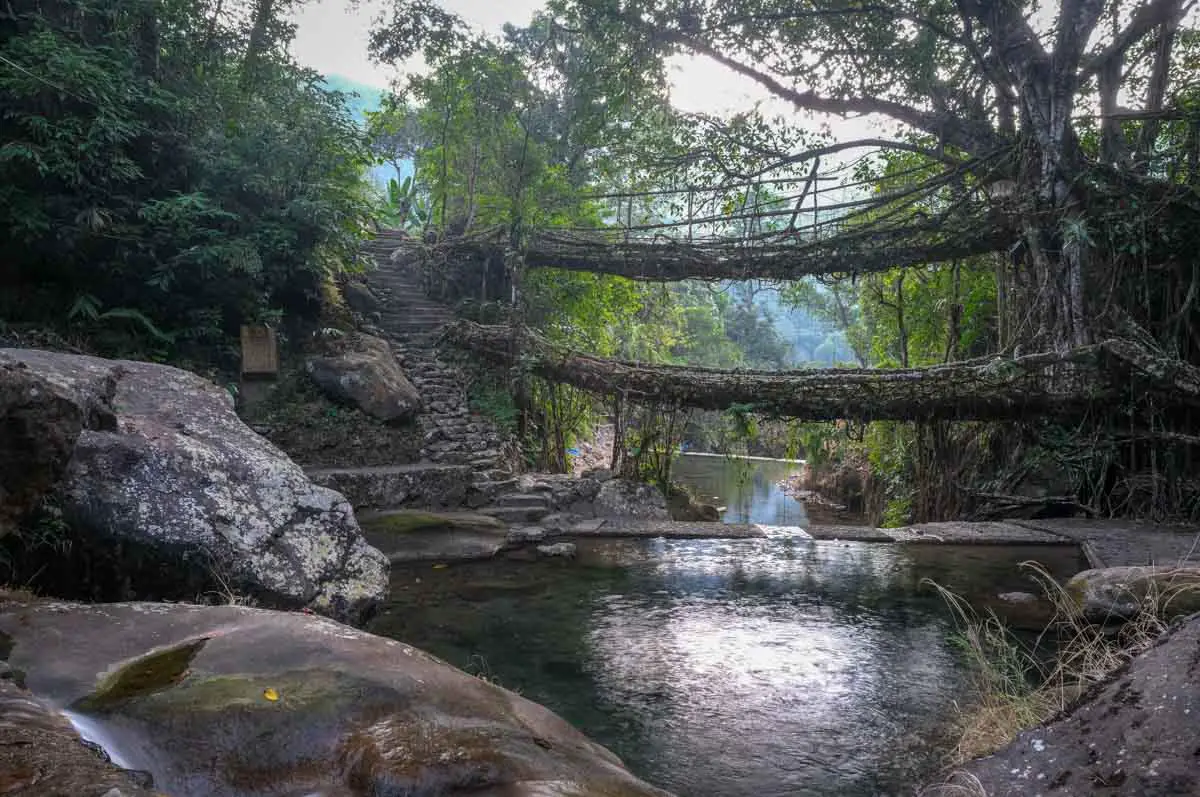 How to get to Nongriat
The simplest way is to leave from Shillong's Bara Bazaar by catching shared sumo to Cherrapunjee/Sorha for INR70. You should be able to catch another from Sorha's stand to Tyrna for INR40, but leave early enough in the day, as transport dwindles the later you arrive in Cherrapunjee. In Tyrna, you can easily walk to the beginning of the Nongriat trek, and you don't really need a guide — it's a straight, paved staircase all the way down. You may consider asking around for a porter, however, if you are not that fit or need to carry some heavy luggage.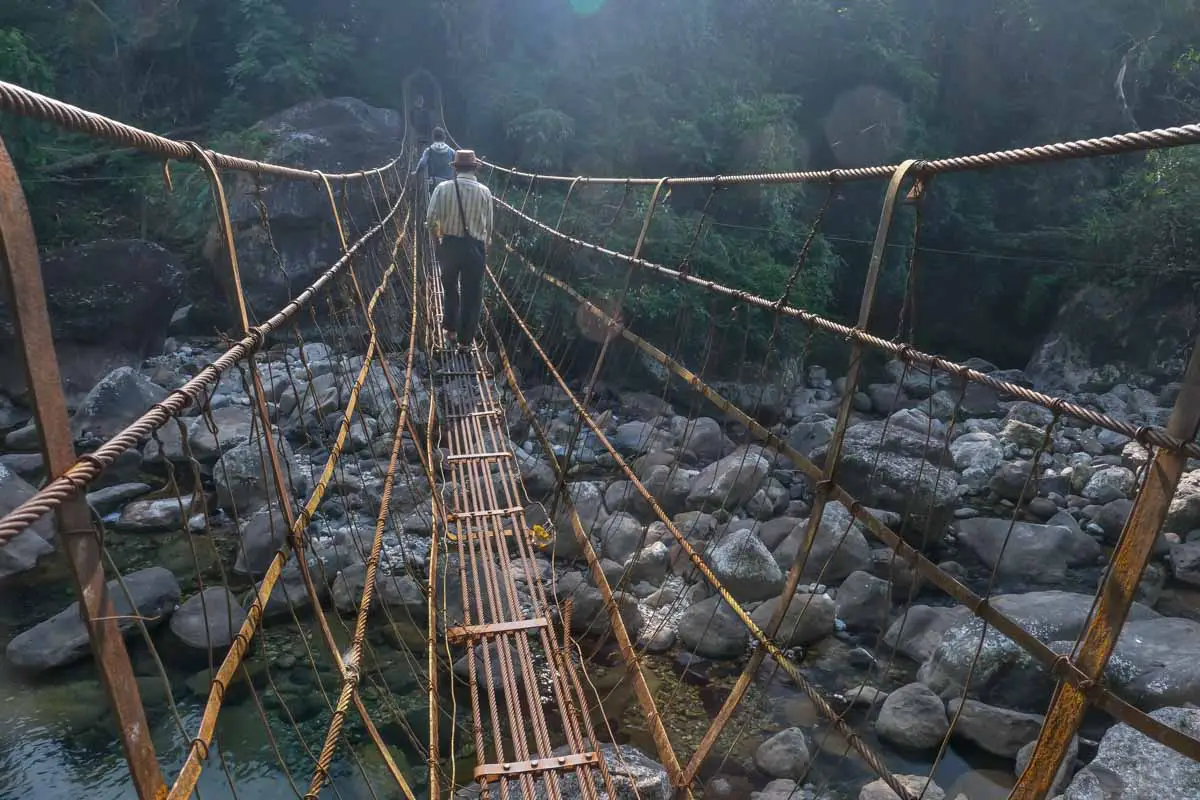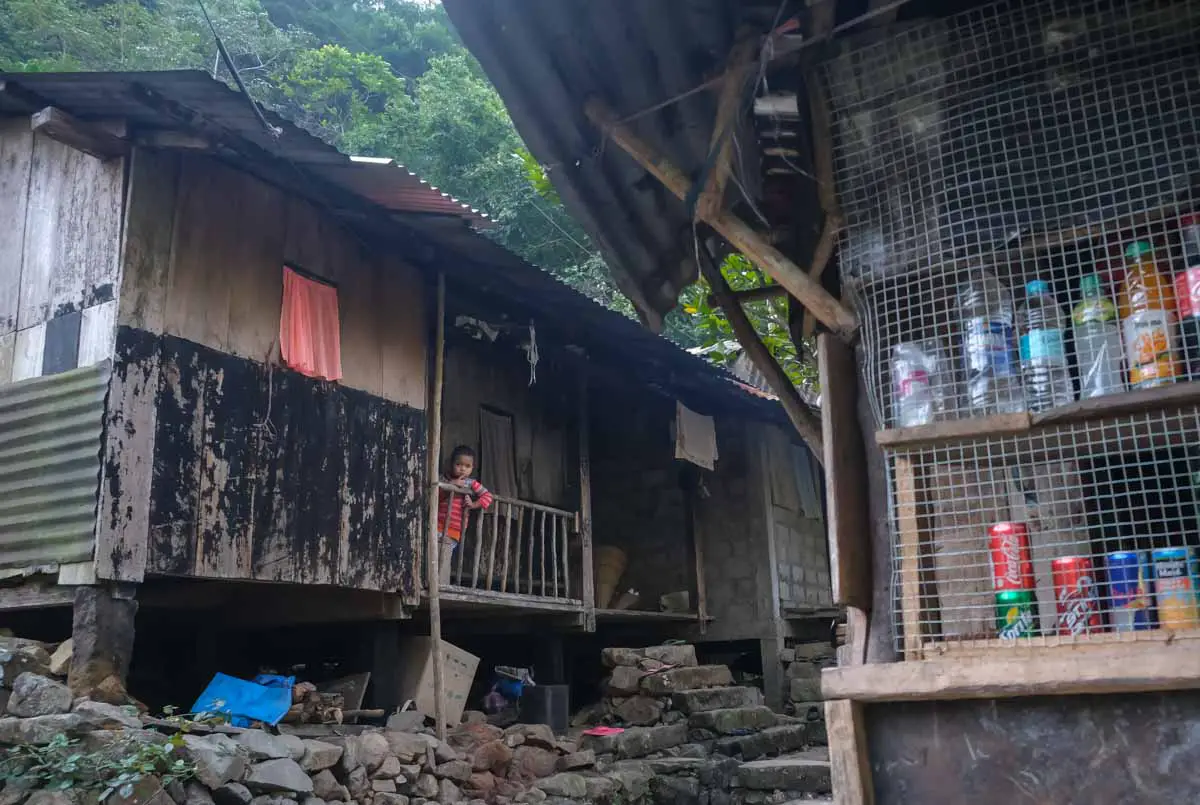 Best way to tackle the Nongriat trek
If you have a little concern for your joints, you should organize the Nongriat trek with an overnight stop in the village. That's actually the best way to visit, as Nongriat sees many day trippers during the day. But if you wait until 5 pm, when the last tourists start ascending in order to reach the top before nightfall, you'll have the place all to yourself. Going down and up again in the same day it's not recommended: for sure, Nongriat doesn't have any stellar accommodation options (see below), but they will perfectly do for a night or two. There's no need to return to Sohra in the same day.
We arrived in Tyrna, the small village at the top of the staircase, at about 4 pm, riding a scooter we had rented in Shillong. I can't recommend having your own wheels enough, as they can really help you get around Cherrapunjee and its many waterfalls and swimming holes at your own pace.
There is a simple convenience store that doubles as mini-restaurant right next to the starting point of the trek. This is where you can safely park your motorbike for INR50 per night. The restaurant can also help keep your backpack and luggage for a small fee, so that you may trek down to Nongriat light.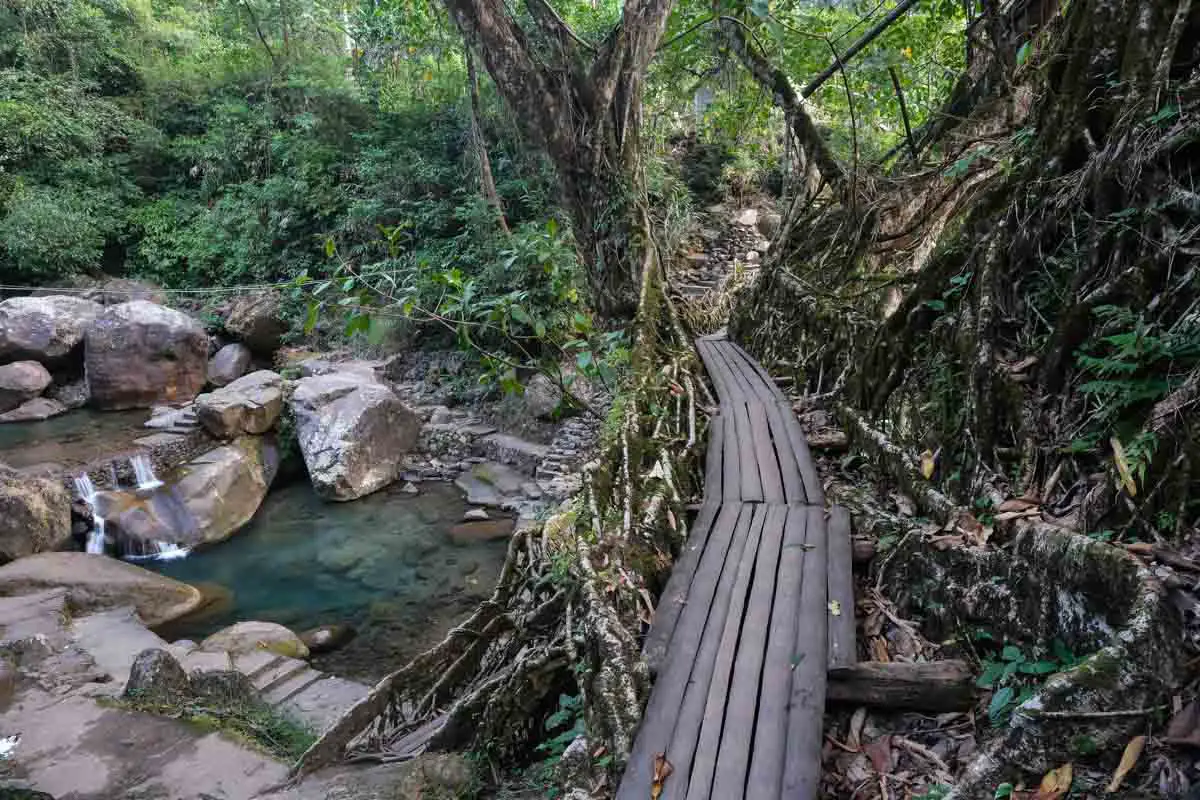 Visiting the Umshiang Double Decker Bridge at Nongriat
Nongriat village is very small, and all you have to do to find the famous living root bridge is cross the town, and climb up a set of stone stairs to the right of the main village path. The Umshiang bridge will be at the end of a short paved path, set over a stream cum swimming hole. Given the popularity of this root bridge, these days visitors are expected to pay an INR20 entry fee. Professional video cameras are charged an extra INR1000, and normal cameras only INR20.
But if you overnight and come here early enough, you won't find any tourist, nor anybody manning the ticket booth, and you'll have all the bridge to yourself. This is the best way to take pictures of Umshiang, which, otherwise, can get busy with the selfie-hungry Indian day trippers.
Visiting the Long Living Root Bridge of Nongriat
There is another living root bridge pretty much at the halfway point of the Nongriat trek, halfway down the concrete staircase. It's a 3 minutes diversion, and we recommend you visit, as this is one of the longest single root bridges found in Meghalaya. A local woman will collect INR 10 per person and INR 20 per camera, and you'll be off to see this bridge. It straddles over a large stream, and it's definitely unmissable if you have made it all the way down here.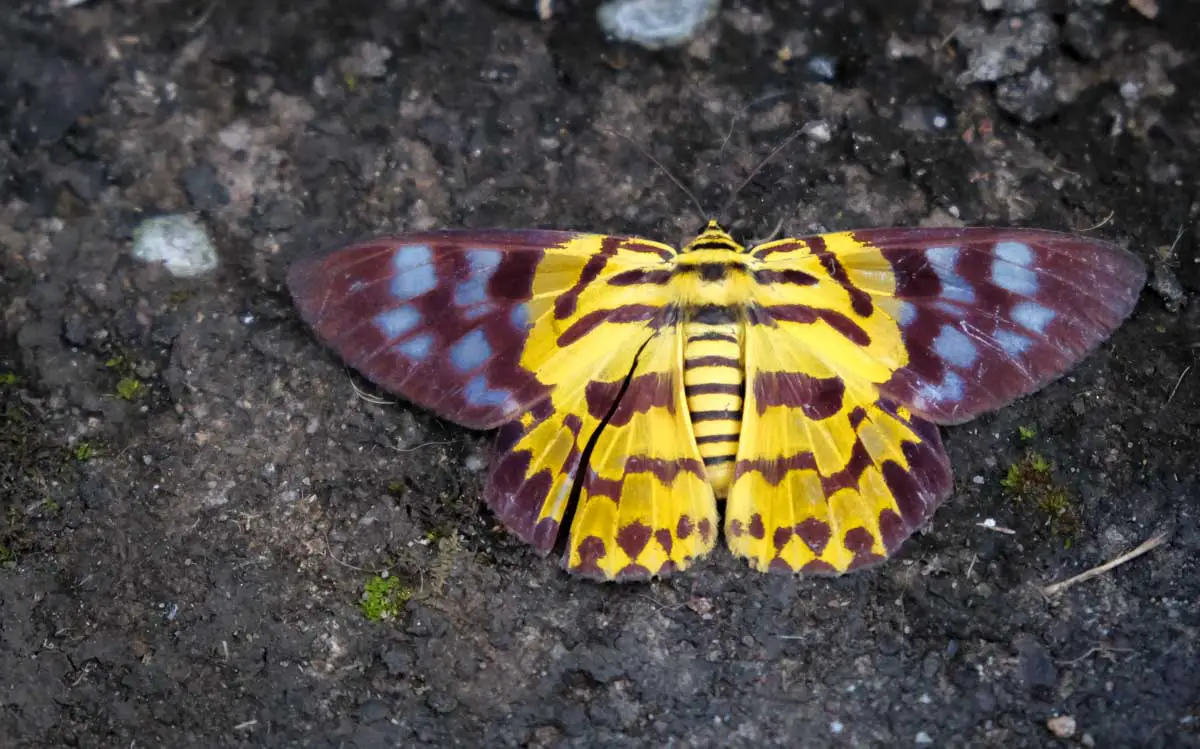 Where to Stay in Nongriat village
The most popular backpacker place is Serene Homestay, with a 6-bed dorm (INR300/pax) or a few simple private double rooms (INR800). Bathrooms are shared and the dinner — a thali served with a choice of 6 different vegetables — is INR130 extra. The room standard here is passable, but what we really didn't like was the attitude of the owners. Sure, they may have seen many passing backpackers and already hosted hundreds of them, but their ways were some of the rudest we experienced in the whole of Northeast India.
We decided not to stay here because the staff frankly seemed unhappy and bothered about us even asking for the price of a dorm, let alone if we could have a look. Not for us, sorry. But if this treatment appeals to you, you can reserve a bed by calling Tel. +919456739655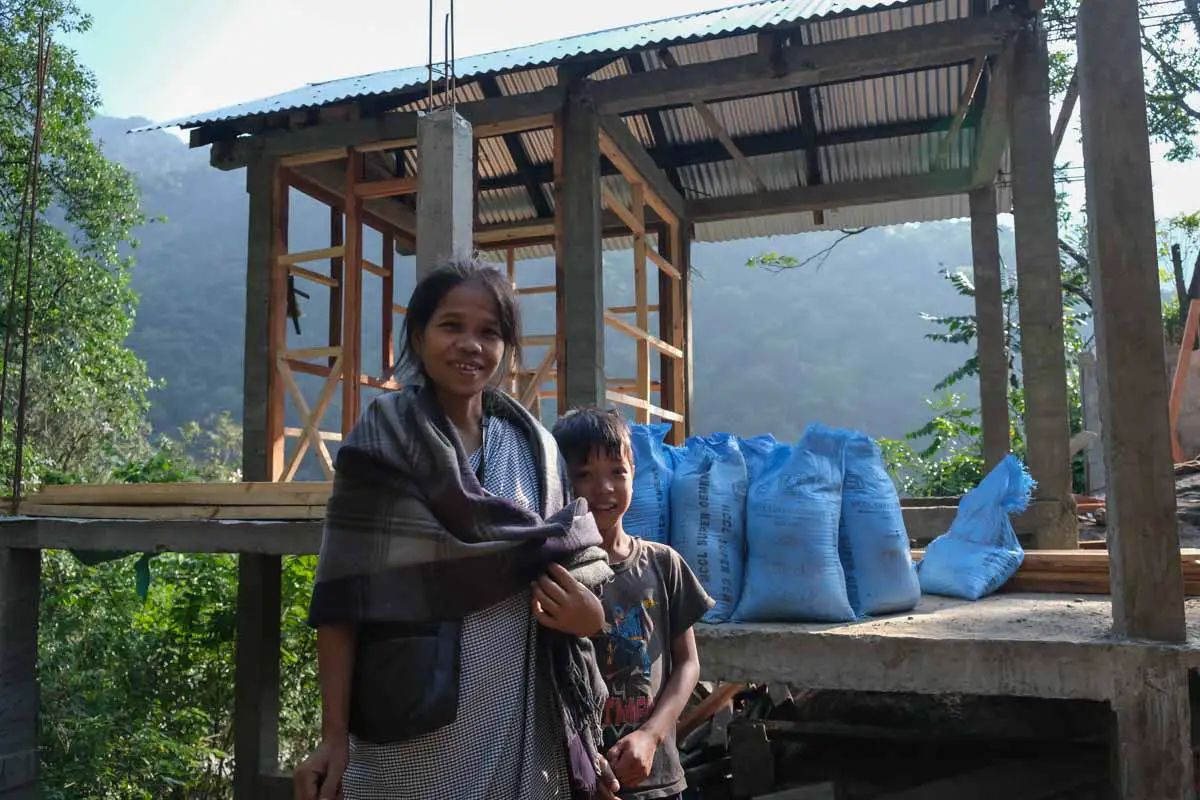 Just down from Serene Homestay's staircase is the small home of Santina, another no-frills homestay that, for INR300 per person per night, offers very basic accommodation in the family's home, and a simple meal of rice and dhal. We opted to stay here because, believe it or not, we met Santina here in Nongriat when we visited for the first time in 2012. At the time, there were no homestays in Nongriat. Santina didn't recognize us, but we did as soon as we saw her standing in front of her house, offering us a room.
"Do you remember us? We met you here 6 years ago," we told her, but of course, Santina had met way too many foreigners to remember us. Anyhow, this helped break the ice and convince us that Santina's home was the best place to stay in Nongriat. You can call Santina at Tel. +919366092281, and bear in mind that she was finishing a second guest house while we visited in November 2018. It will certainly be more suitable for travelers than her own cramped house. We hope you will choose to support her, as she has three children to take care of.
READ MORE INDIAN STORIES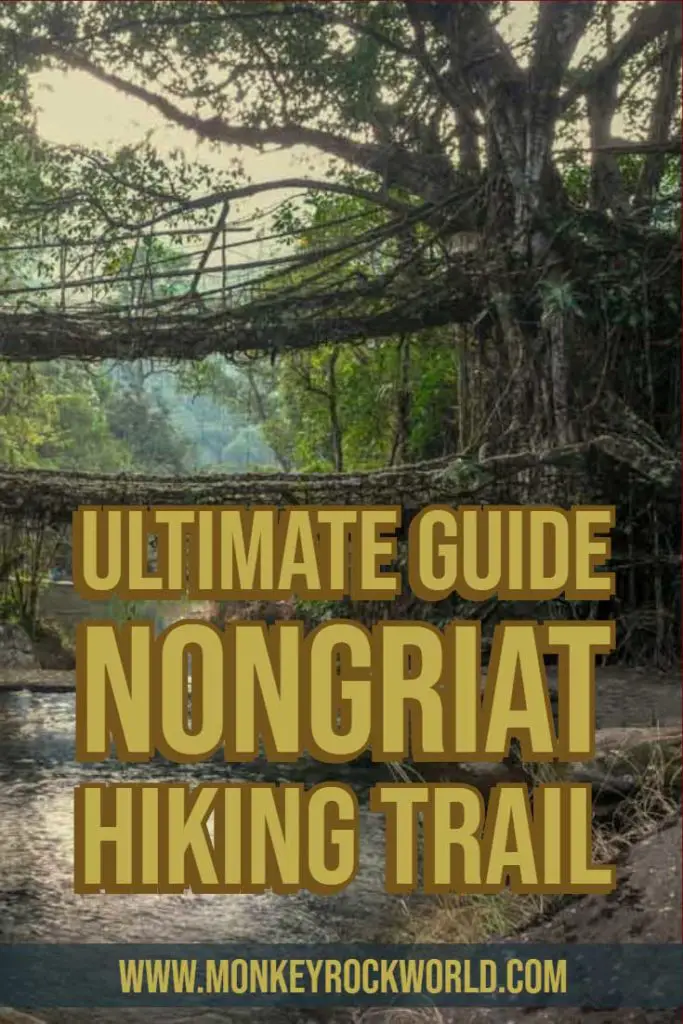 WANT MORE PRACTICAL TIPS TO TRAVEL IN INDIA AND OFFBEAT ASIA? SUBSCRIBE TO OUR MAILING LIST.
YES SIR, I WANT IN