With so many cheap airfares available in Asia these days, who would ever think of traveling by sea, trading a handful of hours for long days on a ship?
We did (well, we also spent two weeks train hopping from Siberia to Europe, or cycled for 5 days between Kuala Lumpur and Penang, if you really want to know). Reason is, we have always wanted to experience a long sea journey, especially after having read people like Tiziano Terzani, who described returning to Europe by boat from Singapore. But we didn't know where and how to do this. Was it still possible?
It turned out we were in luck, because right next door in Indonesia, the mighty PELNI ("Pelayaran Nasional Indonesia", which stands for "Indonesian National Lines") still runs freighters across the archipelago, connecting major cities like Jakarta, Surabaya, and Makassar to lesser cities and remote islands.
As travelers, however, we were quite surprised to find very scarce information on these legendary cargo ships that, like it or not, ply distances comparable to London to Baghdad every fortnight. It's hard to find an equivalent cruise line elsewhere in the world these days. You can be sure that even now, a PELNI is cruising somewhere in Indonesia, carrying a joyful and annoyed cargo of stuff and humanity with her. If you were thinking of a liveaboard cruise in Indonesia, well, we are afraid, a trip on a PELNI ferry is the opposite of that.
But again, besides some mentions on the Lonely Planet's Thorn Tree, it was hard to figure out HOW to catch a PELNI ferry. We are fluent enough in Indonesian to be able to read more than most, but in general, online information in English is pretty scarce. This article tries to give you a complete low down of what we did to get tickets on the Kapal Dobonsolo, cruising from Makassar in Sulawesi all the way to Sorong in West Papua. A 1500km trip that took 4days/3nights, and that we highly recommend to those who want a nice adventure on the world's last long-distance cruiser.
How Can I Book a PELNI Ferry Ticket?
It's pretty simple: you CAN'T. And if you are the type who must book every night's accommodation online or freak out, trust us: stop reading, because a PELNI ferry is not for you. Truth is, PELNI ferries are always unpredictably delayed, and yet they always pull into port. You must bear with that.
The first thing you need to do is browse to PELNI's official website and look at the box to the right, titled "Info Jadwal & Reservasi".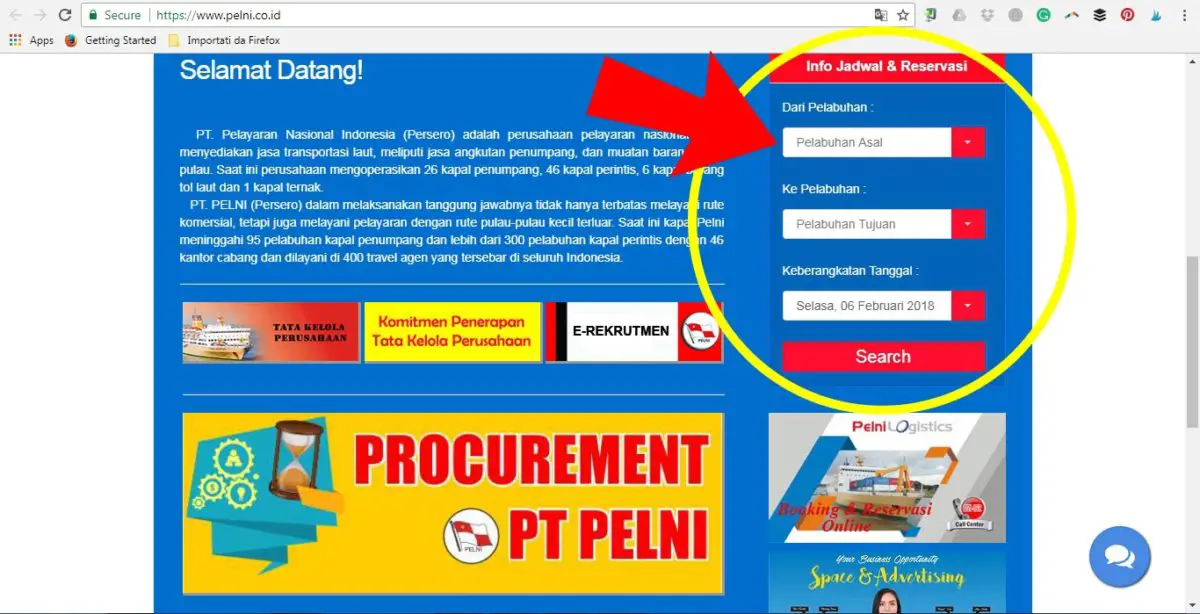 "Dari Pelabuhan" means departure port, "Ke Pelabuahan" is the destination port, and "Keberangkatan Tanggal", as you can see, is the date of departure. This is where you get creative and start checking a list of available routes and schedules. Remember that most long-distance routes are not serviced daily; yet, this site will give you a result with all the closest dates. Select one, and you will be able to see the ticket price. Note that, regardless of a number of different class choices, these days a PELNI ferry ticket is open and "Ekonomi", meaning that there's no bunk reservation, nor a chance to upgrade to a better class. There's only one price for all.
But if I can't book, why should I care about the PELNI ferry schedule?
Because when you find your preferred route and date, it is technically possible to "reserve" a ticket by registering your name on the PELNI site, and pick it up at the port of departure. But we strongly discourage that. Why?
Reason one, there's no need to book a ticket because PELNI has no quota for passengers — meaning anyone will get on the ship, provided they have a ticket. And since there's no limit to the number of passengers either, there's no limit to the number of tickets issued.
Reason two, it's easy enough to buy a ticket at the locket just a few hours prior to departure.
Reason three, the ports of major cities like Makassar where you will most likely depart from are HUGE, not easily navigable on foot, and downright impossible to navigate without knowing Indonesian. Brush it up or suck it up.
Top Ticket Booking Tip – Remember that PELNI ferry schedules are confirmed only 6 weeks before departure, so you can't plan too far in advance. But also remember that the ships tend to service the same routes on the same days of the week.
So, for example, if you wanted to leave Makassar for West Papua in two months, you should check on what weekdays that boat usually departs within the next 6 weeks. Use the "Info Jadwal & Reservasi" box to double-check, for example, if your preferred ship will depart Jakarta for Jayapura on the same day a fortnight later.
If you see a pattern on, let's say, Thursdays, you can safely assume that that route will be served on that specific weekday every couple of weeks. Check the calendar and factor at least one extra day for delays, and you'll roughly know when to expect your boat.
It works. We used the same system to calculate a departure 8 weeks ahead and managed to find the exact departure date.
What gear do I need to travel on a PELNI ferry?
Gear? 🙂 You won't need absolutely anything because the ticket includes a bed space and three meals per day. You just have to hold very dear to your ticket, as you must show it to get your tray of rice and fish — forget variety on the menu, and prepare for long queues.
Tickets are also checked at least daily about an hour after the boat has docked at any given port: doors are locked, and the PELNI ferry staff will check to find those who haven't paid for their tickets. Apparently, if caught without a ticket, a passenger goes directly in some sort of lock-up until the next port, where he'll be fined and kicked off the boat.
Going back to food, buying a few instant noodle cups, breakfast stuff, tea bags or instant coffee and a cup is a good idea — provided the hot water dispenser works. It usually does.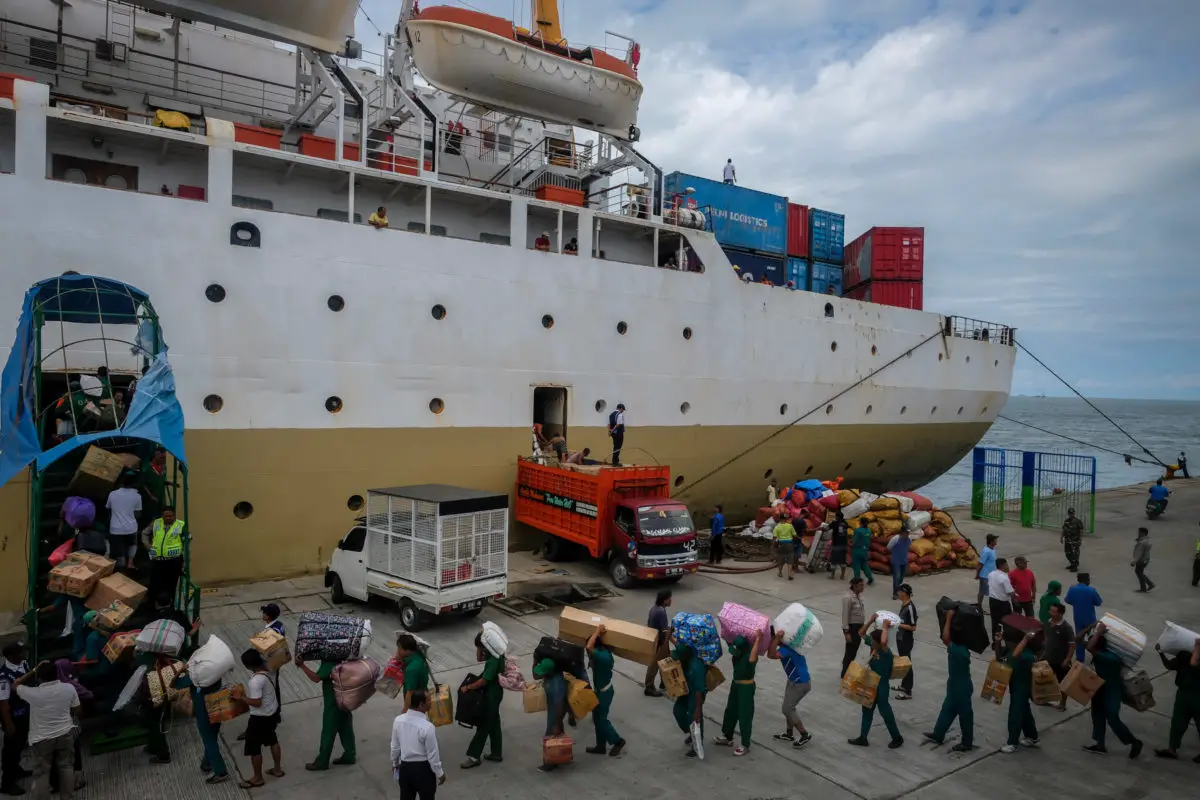 Can I get off a PELNI ferry when it stops in a port?
Yes sure. PELNI ships usually dock at a port to unload cargo and passengers, and the operation takes up to a couple of hours. You can get off and stretch your legs around the port, but don't go too far, because once the ship is gone (with all your luggage), the next will probably come at least a few days later.
How will I sleep on a PELNI ferry?
PELNI ferries used to have first class cabins, but these days have adopted a popular no reservation policy, which means, bed space is free for all. And we literally mean it.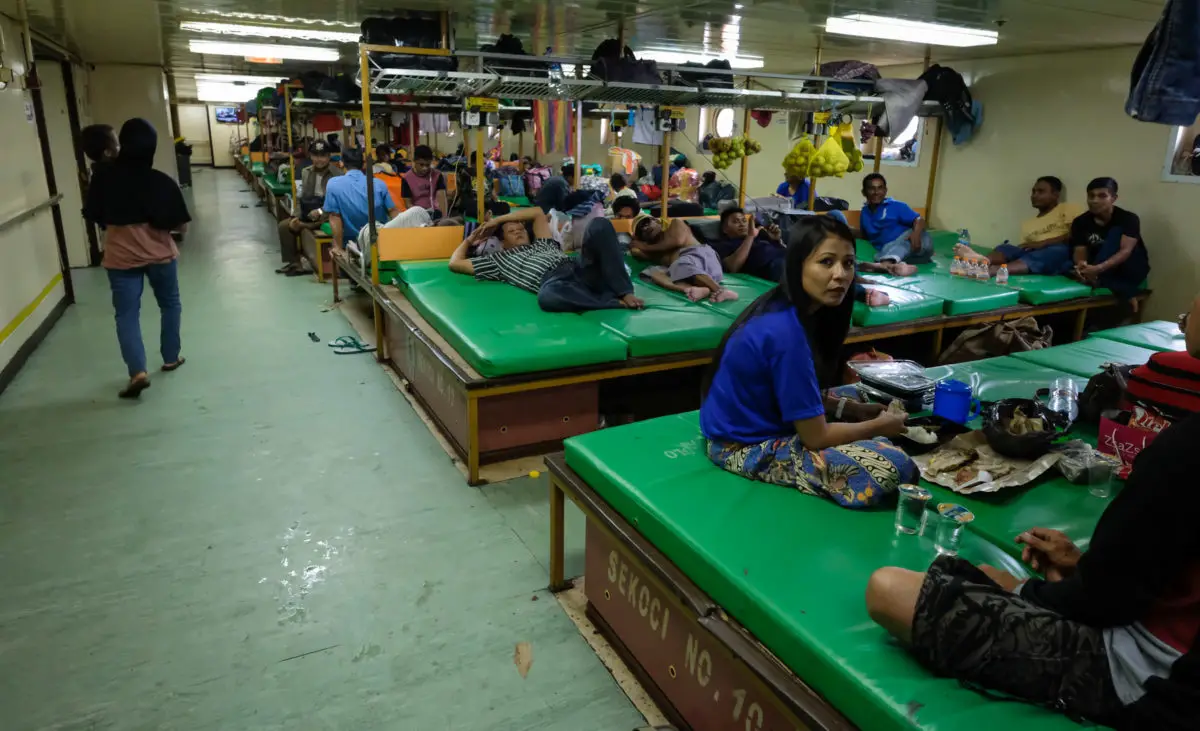 PELNI's standard of accommodation depends on its size: a huge ship like the Dobonsolo we used from Makassar to Sorong has a series of 8-people cabins placed in the middle of each deck, and then has hundreds of beds amassed in parallel rows pretty much everywhere there's space. They sleep about 10 people per row. Don't expect much privacy here, especially because the lights are never turned off.
Top Sleeping Tip – No matter what people tell you, you don't have to pay anything extra to use one of the more comfortable and private 8-bed cabins. You just need to be quick to get on board, and confidently claim your space. The same goes for the open bunks: if you don't ask (a polite "ada orang disini?" does it, and passengers are generally quite happy to help the rare bule on board), you'll risk a night on the floor. Sometimes sleeping on the upper deck is a good plan B, but you'll need your own bedding — or be bold enough to grab a mattress from the open sleeping area, and carry it upstairs.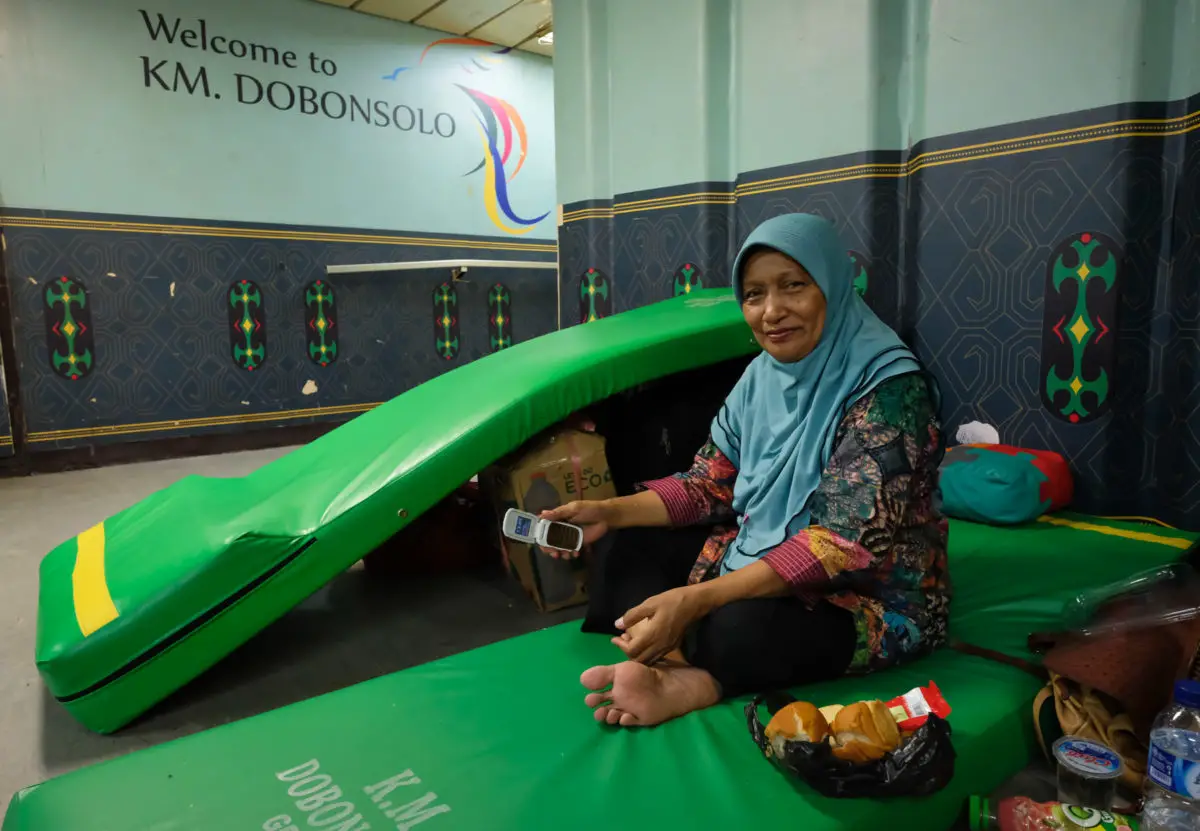 Are PELNI ships safe?
We didn't have any problems with luggage, and we were carrying folding bikes with us, but we also observed the normal security measures we apply anywhere: sleep with your money and passport on you, use the backpack with your cameras and electronics as a pillow, and stay around people you feel comfortable with. Passengers say PELNI ships are full of thieves and it's easy to believe so given the number of people on them. We had no problems, but pay attention to your pockets when you get on and off the boat, and the crowd squeezes in.
Are PELNI ferry tickets expensive?
Hell no, otherwise why so many working-class Indonesians would use these boats? To travel a distance of 1500km from Makassar to Sorong we paid INR550,000 each. That's the equivalent of USD40.50, for a 4Days/3Nights trip that included food and accommodation. As an average, consider you will pay about INR150,000/USD11 every 24 hours.
Are PELNI ships dirty?
We have a very high level of tolerance for road dirt, and consider the PELNI ferries to be OK given what it is. Pack the same amount of humanity in, let's say, India, and tell me about the toilets. PELNI have squat toilets and showers with hot water that help a lot in keeping comfortable. Make sure you carry some flip-flops for the grotty pavement, and you'll be fine.
Truth be told, the Dobonsolo was particularly full of bugs. There were kecoa (small cockroaches) crawling on every wall. They don't eat humans I'm told, but keep your food well stashed away: two plastic bags didn't save Kit's peanuts, unfortunately.
We always use sleeping sacks to lay everywhere, and having them on the PELNI made sleeping perfectly comfortable.
Are PELNI ferries on time?
Give or take anything from three to twelve hours, as life at sea is hard. Our ship was supposed to leave at 3 am in the morning, and it left at 12 pm. Luckily we had called the port, and didn't have to sleep in the waiting room. Be there ahead of time, but be prepared to get a room, in case. And it's always the case.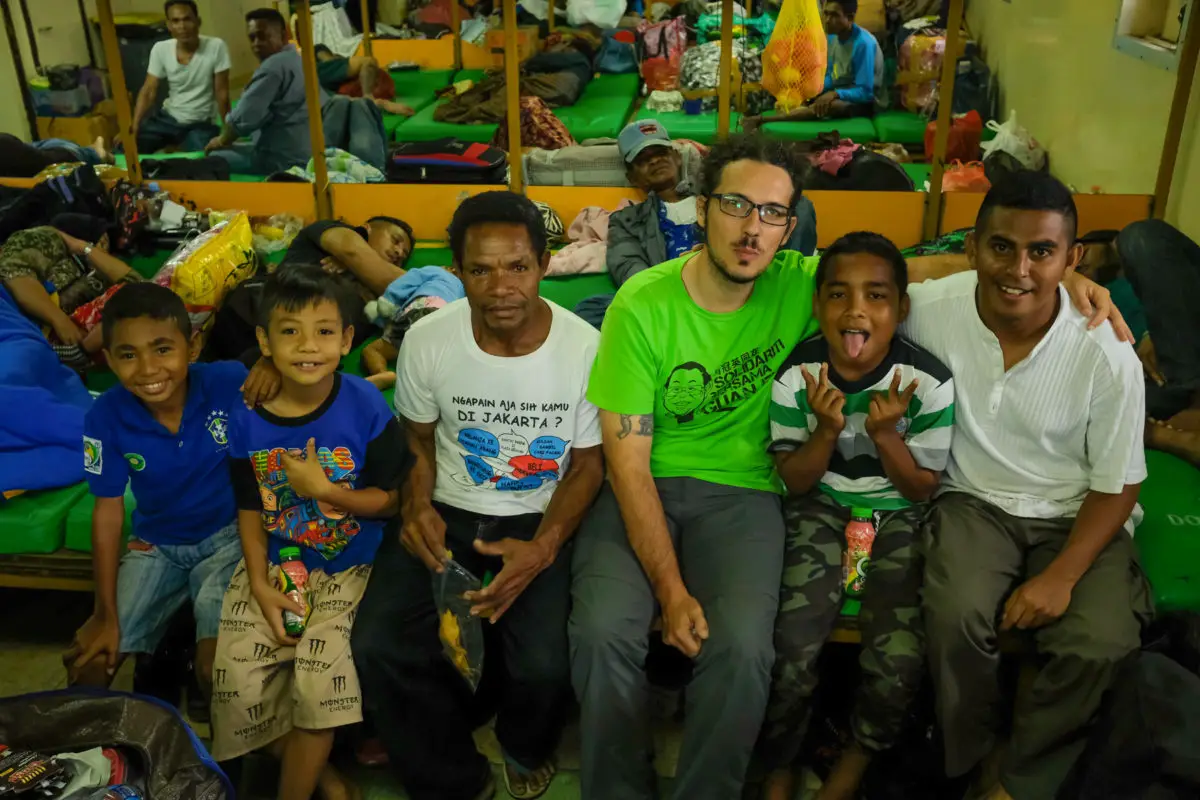 What shall I do, besides contemplating suicide, for days out at sea?
PELNI ferries have a bioskop (a small cinema) that usually costs INR15,000/USD1 and projects American blockbusters or quirky local flicks. While on board, the loudspeaker announcement of "Kehidupan Seorang Gigolo" (The Life of a Gigolo) was pretty tempting, but in the end, we decided to remain in bed. If you are a Muslim, you can go pray when it's time, as there's a dedicated room for that.
There are also occasional dangdut concerts and karaoke nights. Don't worry, you'll make some friends. And watching the sea, with flying fish, occasional dolphins, and burning sunsets will easily take up most of your daylight hours anyway.
---
So, are you ready to get on that boat? We think this is really all you need to know to embark on your first PELNI ferry adventure. If you speak some Indonesian, it will be a great chance to practice and make friends. If you don't, those who can speak English will generally approach you, and you'll still have fun. Pack some books, some good music, a sense of humour and adventure, and you'll remember this trip for a lifetime.
Did you take a PELNI ferry in the past? Please tell us about your experience and tips in the comments below.
WANT MORE UNTAMED TRAVEL TIPS? SUBSCRIBE TO OUR MAILING LIST.
JOIN US