We are surprised that, with such a bounty of wildlife, Tangkoko national park in North Sulawesi still remains such an offbeat nature reserve in Indonesia. It's one of those forest reserves, like the Tawau Hills Park in Sabah, Malaysian Borneo, that really deserves to be better known — also don't forget to read our guides to Borneo orangutan spotting tours at Bukit Piton, and the incredible Sungai Kapur river safari in Lahad Datu, Sabah.
Perched on the northernmost tip of the island of Sulawesi, Tangkoko nature reserve is a beautiful park set next to volcanic beaches, and is the home of the rare and endemic Black Crested Macaque, or Macaca Nigra.
This long-faced monkey was not only the favourite trophy of the local Minahasa warriors, who used to adorn their headdresses and clothes with these monkeys' skulls. More recently it was the protagonist of the infamous court case of the "monkey selfie" that cost David Slater, a British photographer, quite a lot of trouble.
Besides monkeys, Tangkoko national park is also home to the Tarsius, one of the world's smallest primates, the Indonesian bear cuscus, and a smorgasbord of rare birds and insects. In brief, if you love nature, not coming to Tangkoko nature reserve is a real sin. And if you go, get yourself a pair of adidas kampung.
How to reach Tangkoko Nature Reserve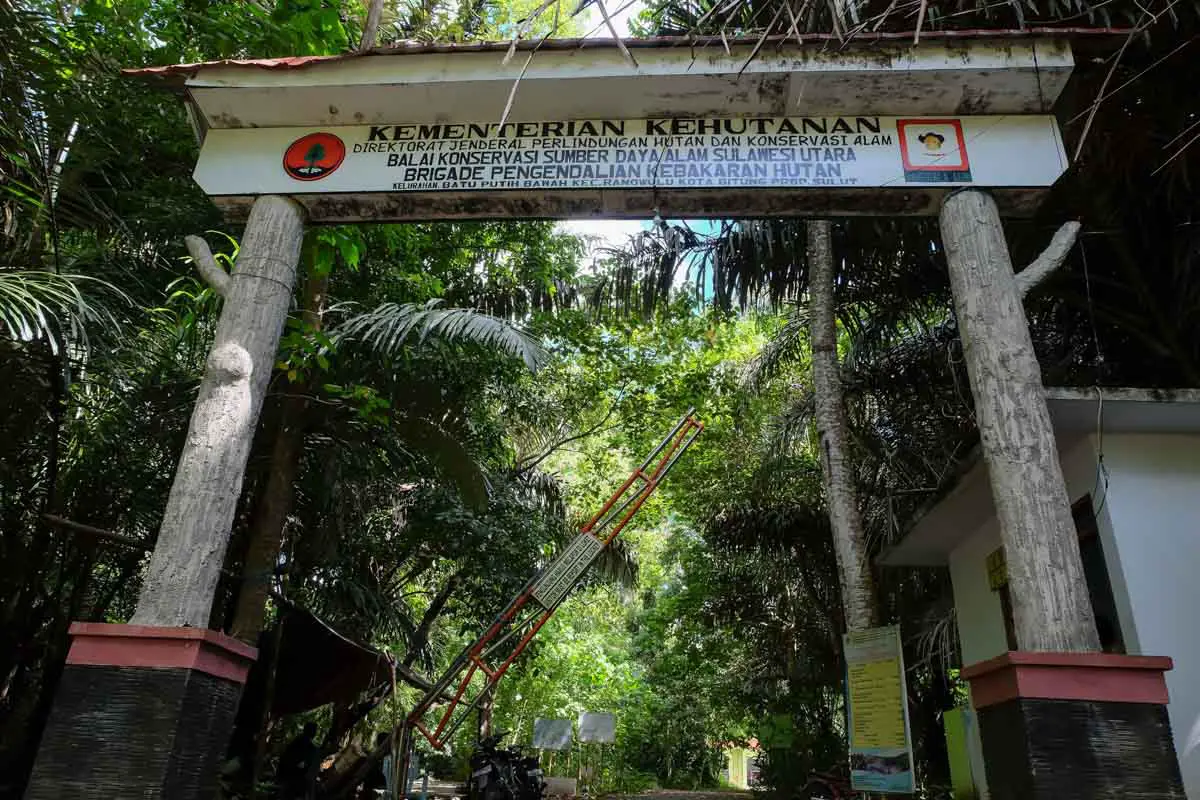 First of all, Indonesia offers a 30 days visa on arrival, but you may want a bit more of time — check our guide to getting a 60 days Indonesia visa in Bangkok.
Tangkoko national park sits north of Bitung, the port town at the end of Sulawesi. It's also in about an hour-plus drive from Manado, the main center in the region, which is criminally only known to travelers because of the now overexploited Bunaken reserve and its diving.
READ MORE – The Ultimate 2 Weeks Borneo Itinerary
You can get to Manado from the rest of Southeast Asia by flying direct from Singapore via Silk Air, or using one of the many local Indonesian flights after you have reached Makassar via Kuala Lumpur in Malaysia or Bali.
A more adventurous yet unpredictable route is getting to Bitung using one of Indonesia's mighty PELNI Ferries (check this link for a complete guide on how to buy tickets and travel on a PELNI). We have certainly done that, arriving from the island of Ternate in Northern Maluku… a long, exhausting trip.
Best way to reach Tangkoko Nature Reserve from Bitung or Manado
Tangkoko is closer to Bitung, but Manado is more lively and has more tourist accommodation, and more importantly, more people fly directly into Manado.
Public transport to Tangkoko nature reserve is unfortunately very erratic, and the best way to go — and what we did — is to rent a scooter in Manado and self-drive, for the reserve is only 59km away.
If you really want to try getting there yourself, if starting from Manado, get to the Pal 2 bus station and take a mikrolet (minivan) to Bitung (around INR 20,000), and from Bitung's bus terminal, proceed by mikrolet to Girian (INR 10,000). From here, if you are lucky, you'll be able to charter a private car to Batu Putih.
That's why we recommend renting your own set of wheels to go and maybe return on the same day — it's totally possible, and so we did ourselves.
Renting automatic scooters cost about INR 70,000 per day from any guesthouse in town, and the drive to Tangkoko is quite straightforward. You just have to follow the direction to Bitung, along a very well-paved highway, and then turn left towards the village of Batu Putih, where Tangkoko National Park is.
How to visit Tangkoko National Park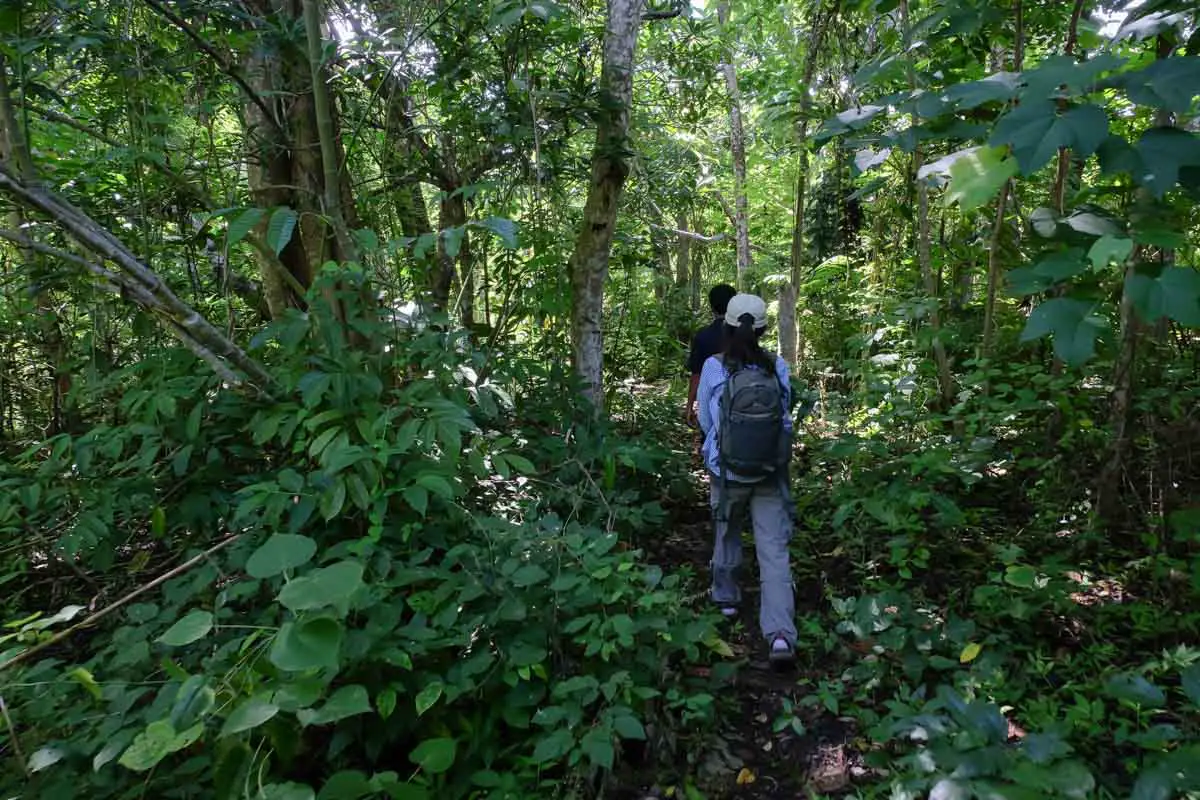 The park headquarters are set not far from the beach and surrounded by a multitude of home-stays and small guesthouses. See some recommendations on Tangkoko national park's accommodation at the end of this post.
Entry to the park costs INR 100,000, but remember that on weekends and holidays (we came on Boxing Day, not knowing about this) the fee increases to INR 150,000. It all seems very exaggerated when you discover that locals pay INR 5,000 but hey, if you don't like two-tier pricing, don't go to 80% of Asia.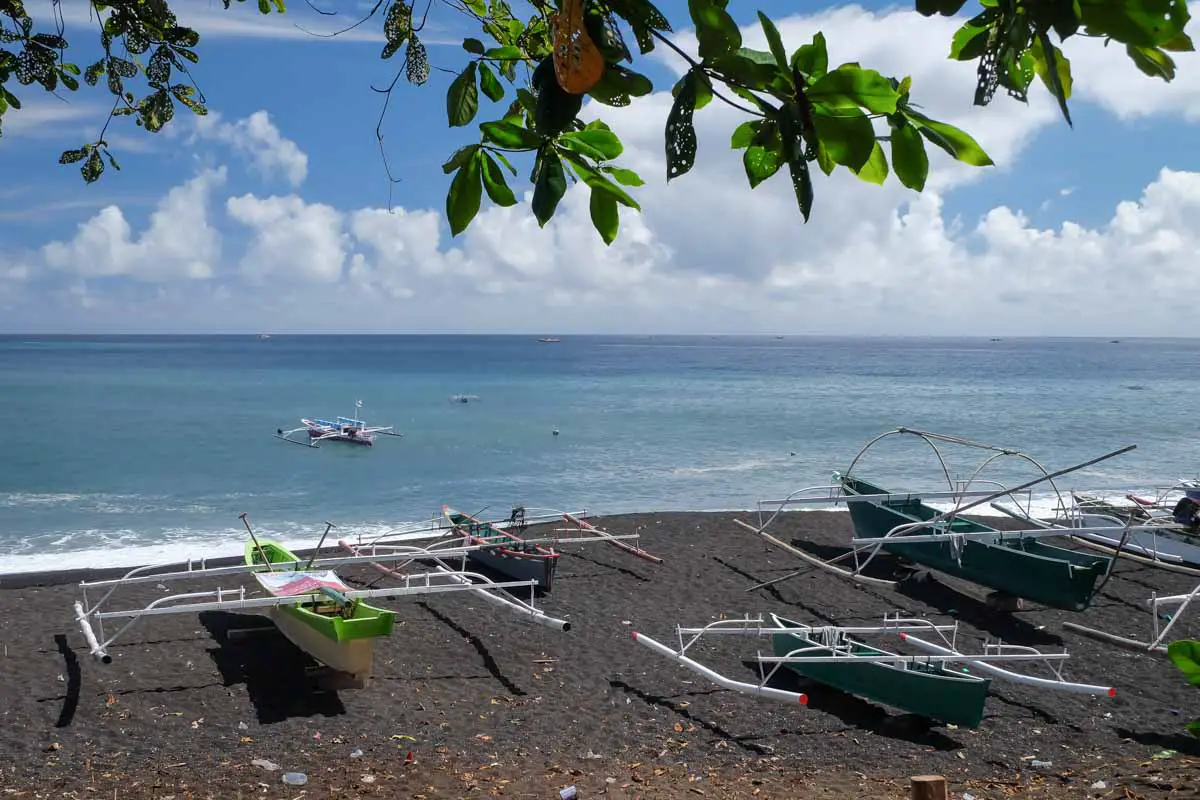 You are allowed to make your own way into the park, but it's not recommended as not only you may get lost — the park is not gigantic, but there aren't very well-marked trails — but you would most likely not be able to spot any of the incredible Tangkoko wildlife. Since there's nothing much to do in the village, every person who will approach you and speak some English will offer you their services as a guide.
Tours vary between a 5 to 6 hours full-day tour, costing about INR 300,000 per person, or a shorter 2 to 3 hours tour for INR 100,000. There's some wiggle room for haggling this down, but consider, a rushed tour with someone who's not very well paid may mean no chance of seeing anything. After all, you are in their hands.
The amazing Tangkoko wildlife
Tangkoko forest reserve has a staggering 110 mammals species, 230-odd birds and 100-plus reptiles and amphibians, not counting the insects. It's really an amazing place which would deserve a lot of exploration time.
Travelers, however, come here specifically to see Tangkoko's 3 superstars, which are:
Black Crested Macaque (Macaca Nigra)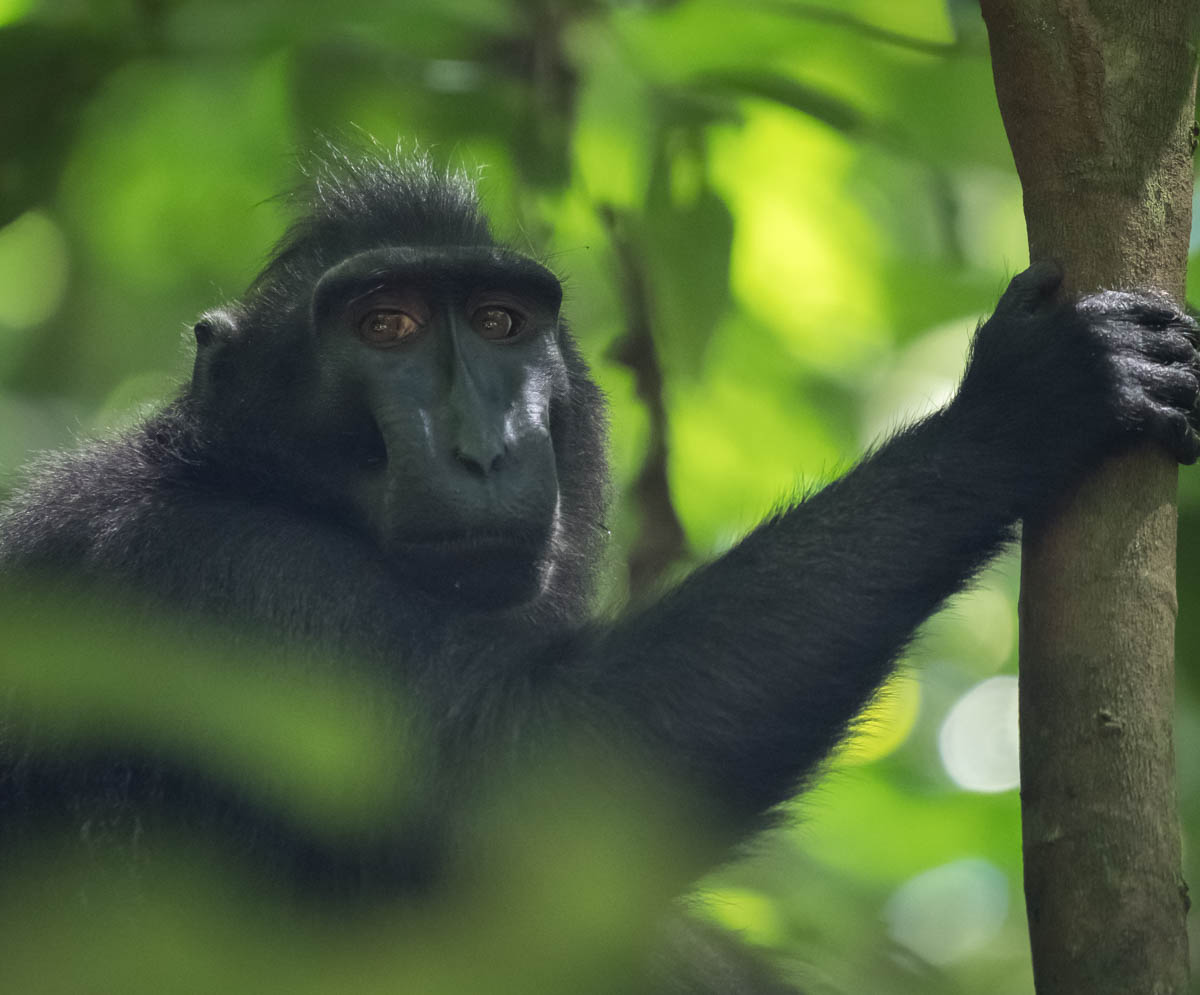 These monkeys are what people come to Tangkoko Nature Reserve for, and are endemic only to the northern part of Sulawesi. They are completely black, except for the padded callosities on their bums, which they use to sit. It's quite funny to see them walk, for it looks like they have two moon shapes on their butt.
The Black Crested Macaques roam in groups and are quite tame, but you should not get near them or try to touch them regardless how cute they look, because not only they are protected, but they also carry diseases which may be lethal to humans.
These monkeys have become famous around the world thanks to the odd story of the "monkey selfie" taken by Naruto, the macaque who found the camera that nature photographer David Slater had left in the bush. The man was sued by PETA in one of the oddest cases in travel photography in recent years.
Your guide should be able to find them for you: we had to walk for a while until we hit the edge of the park near the beach and found a group of black crested macaques looking for food. It was an amazing encounter, and we had a chance of observing them for about half an hour before our guide took us to another of the park's attraction: the Tarsius' Tree.
Spectral tarsier, or Tarsius tarsier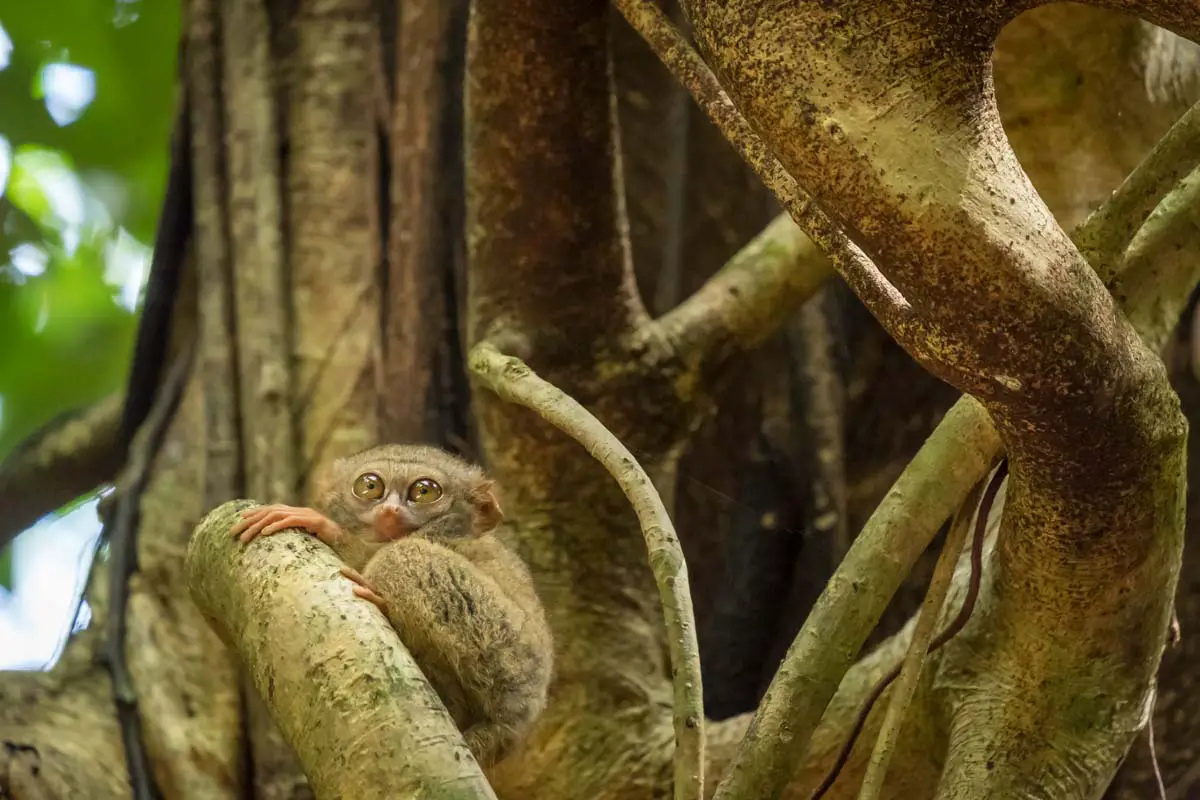 Tangkoko nature reserve is also very well known for the endemic species of spectral tarsier living here. One of the world's smallest primates, there are four endemic species in Sulawesi, scattered between the North (where Tangkoko National Park is), central Sulawesi, and the South. The spectral tarsier is a nocturnal mammal that feeds on roaches and insects, and in order to see it at its best — bouncing around trees, super-fast, jumping with an agility that is surprising for such a small creature — you must visit the park at sunset and stay overnight.
But if you come during the day, as we certainly did, your guide should be able to take you the Tarsius' Tree. Set in a clearing in the jungle, surrounded by other taller trees, is a shorter, stubbier tree where several Tarsius sleep during the day. It's relatively easy to observe them as they tend to prefer the nooks in the tree-bark, staying close to the openings to enjoy the fresh air. When you see them up close like that, they are very still, and extremely cute. Kit loves them so much we'd have one as a pet if it only was possible.
Bear Cuscus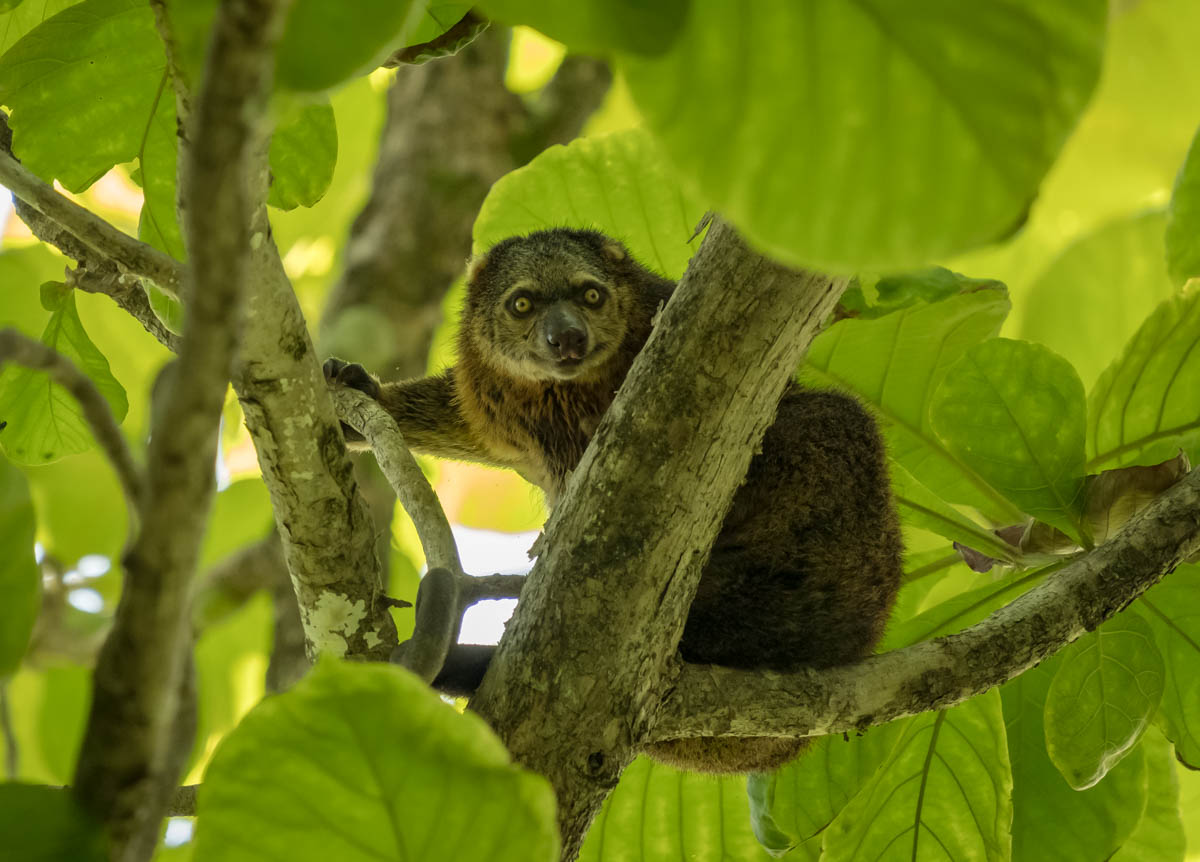 The last of Tangkoko nature reserve's superstars is the bear cuscus, an endemic Sulawesi marsupial with a prehensile tail. It lives solitary up in the thicket, and it's not very easy to spot one if you don't constantly look upwards. After having seen the black crested macaque AND the Tarsius, we were pretty happy already. But exactly on our way back to headquarters, as we were chatting amiably with our guide, he just stopped in his steps and told us to look up… and there we go, a bear cuscus was watching us from above.
We must say it's not the most beautiful of creatures: on the contrary, it looks like a mix of a small dog, a bat and a koala, all together. It is said to be an innocuous creature, but trust me, I wouldn't want to find one next to me.
Shall I visit Tangkoko National Park during the day or at sunset?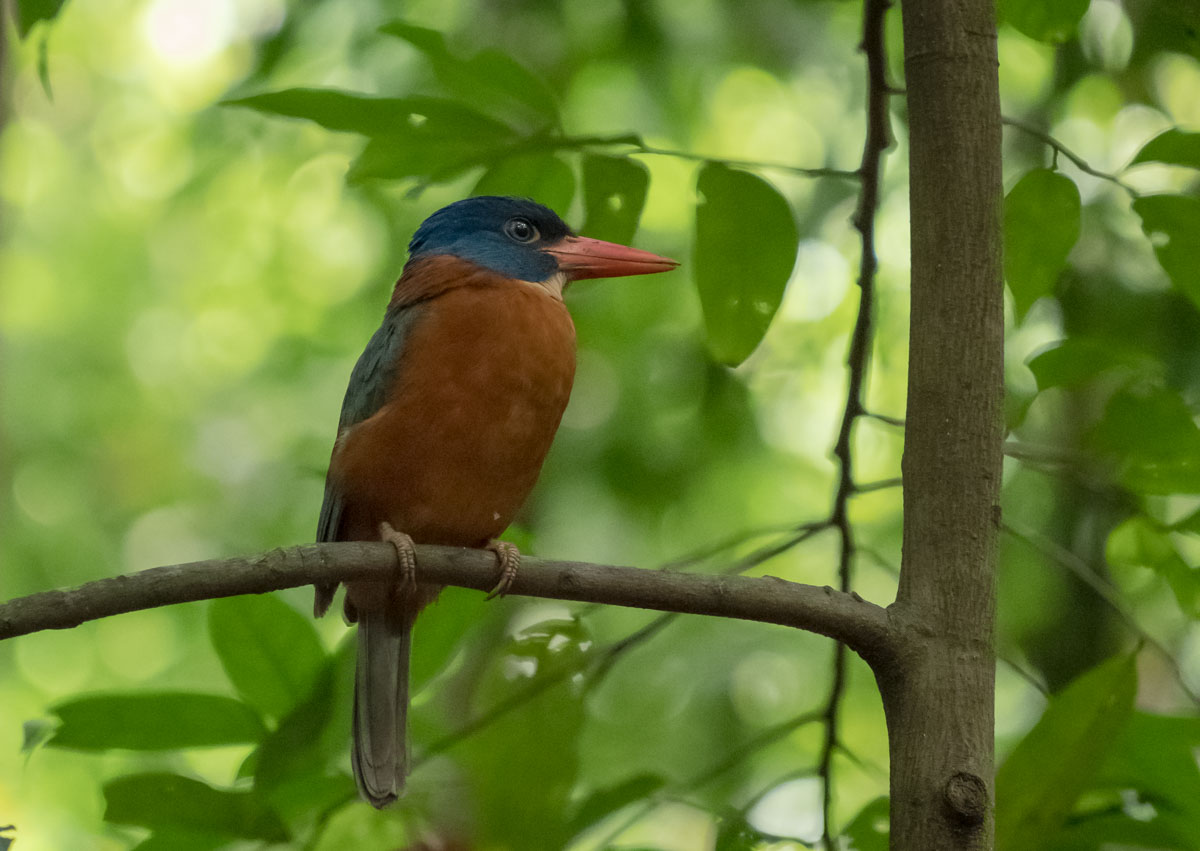 It really depends on your timing and what you want to see. If you have come mainly for the Tarsius, staying overnight in Batu Putih allows you to be at the Tarsius' Tree before sunset, when you can wait for the little cutie to wake up. Did you know that the Tarsius can turn his head 180 degrees backwards? It's quite weird to see, so don't freak out.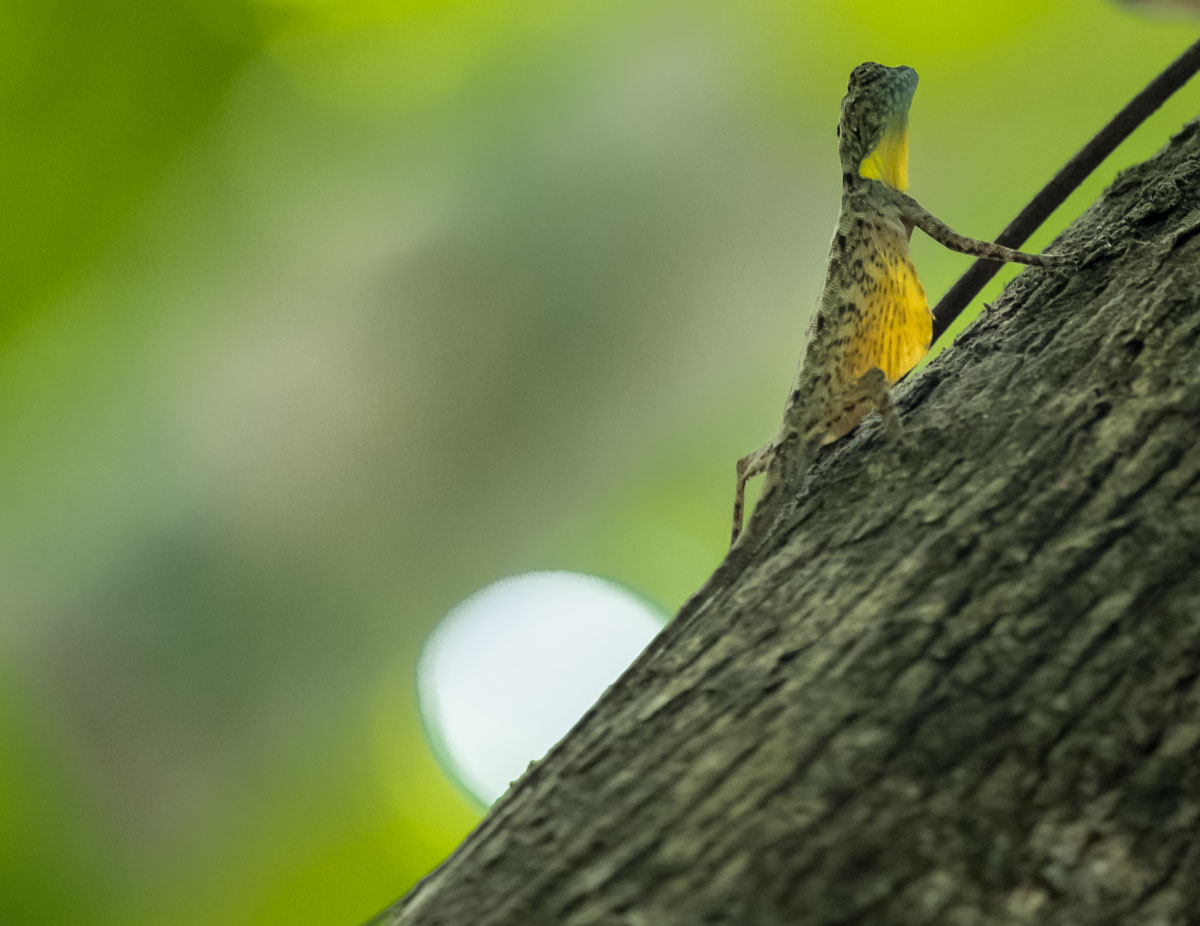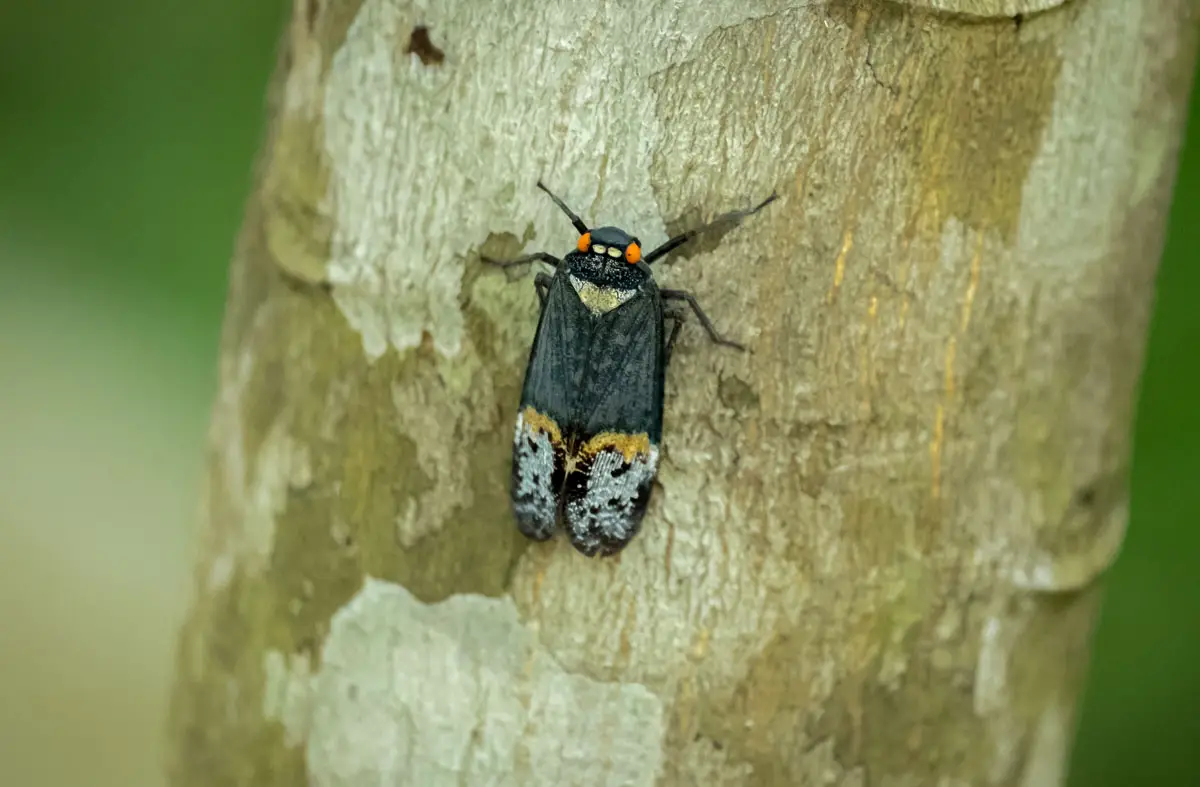 Coming at sunset, however, makes it hard to see both the black crested macaques and the bear cuscus. What you could do then is get on a long hike on the first day, and time it so that you'll catch the sunset. Stay overnight, and the next morning, if you don't mind paying the inflated entry fee again, take a shorter tour leaving at sunrise, and returning to your home-stay by breakfast time. That's the time the macaques are most active as they wake up and look for food.
Tangkoko national park accommodation
At last, where shall you stay when in Tangkoko? There are several options, but we feel to recommend these:
BUDGET
Tangkoko Hill Cottage has very nice rooms in 5 minutes walk from the national park entrance and 15 minutes from Batu Putih Beach
Tangkoko Ranger Homestay is clean and simple, and right across the park's entrance. Guide Chen speaks good English and leads very good tours in the jungle.
HIGH END
Botanica Nature Resort is a high-end property ideal for families, it's not in Batu Putih but they obviously organize tours there, so if you feel like pampering yourself a bit, this is the place to go.
Enjoy your visit to Tangkoko nature reserve!