When thinking of touring Tibet the best choice, in our opinion, is to combine the visit with an overland exploration between China and Nepal. You may know however that in 2015, the terrible Nepal earthquake damaged the former border post of Zhangmu on the Friendship Highway, making overland travel between Tibet and Nepal impossible.
Some good news: from 2019, not only getting a Tibetan Travel authorization is easier, but foreigners can cross the new Tibet Nepal border at Kyirong. At last, traveling between China and the Indian subcontinent is again a possibility for adventurous overland travellers.
But how to do that? We have crossed this border in July 2019 at the end of an overland Tibet tour with Explore Tibet, Lhasa's leading tour operator, owned by Tibetans, and employing only Tibetan guides and drivers.
We started our trip with them in Lhasa after reaching Tibet by train — read our complete guide on catching the Xining to Lhasa train to Tibet. We then proceeded to Kathmandu by land from the Tibet Nepal border. This post describes our experience crossing from Tibet into Nepal to help others do the same without any issue.
Getting to the Tibetan Border at Kyirong
For starters, you should know that for non-Chinese nationals, travelling in Tibet independently is not possible. You MUST be on an organized tour. The only way to get to Nepal from Tibet is actually to be driven to the Tibet Nepal border by your tour company of choice. Usually, tours from Lhasa to the Nepal Tibet border take around five days, including a stop at Everest Base Camp, and end in the town of Kyirong, where you will overnight, to reach the border first thing the next day. The border is in fact 25km away in the town of Rasuwaghadi, a 40-minute drive out of Kyirong. There are no hotels there, so foreigners are obviously forced to overnight in Kyirong.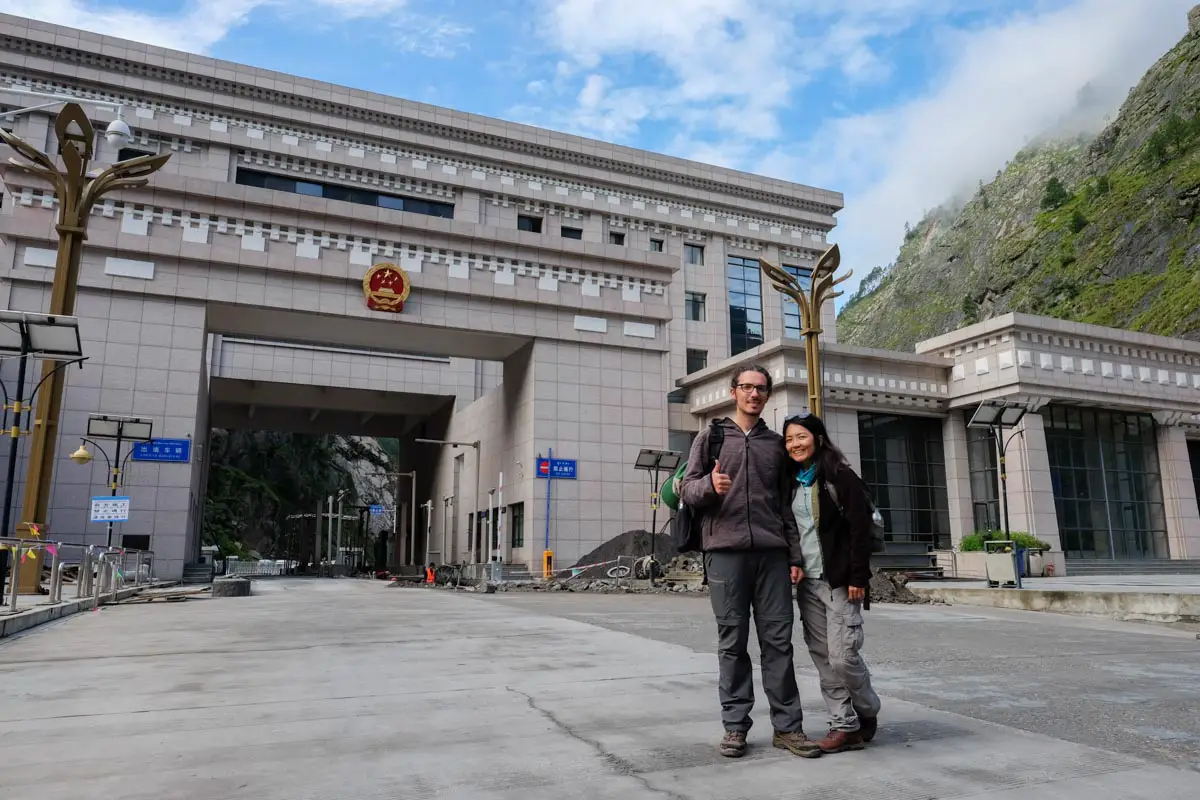 Do I need a visa to cross the Tibet Nepal border?
If you are coming from Tibet, you will already have a Chinese visa — read how we got our Chinese visa in Penang Malaysia— and your Tibet Travel permits organized by the company that's accompanying you. Don't worry about getting a Nepal visa, as it's available after crossing the China border. Read how to do it below.
If you are coming from Nepal, on the contrary, you can get a Group Tourist Visa from the Chinese Embassy in Kathmandu. It's a kind of single entry visa for visiting the Tibet Autonomous Region, it cannot be extended, and can be a pain if you plan to continue your trip into mainland China as, being a group visa, you will be allowed to leave China ONLY if all the other people on that visa are leaving with you from the same port of exit. A less than ideal situation we really not recommended. Also, if you go to Nepal armed with a regulare Chinese visa, entering the Tibet Autonomous Region will make it void. For all these reasons, we strongly advise that the preferred route is going south from China to the Indian Subcontinent, not the other way around.
Crossing from Tibet to Nepal at Kyrong: China side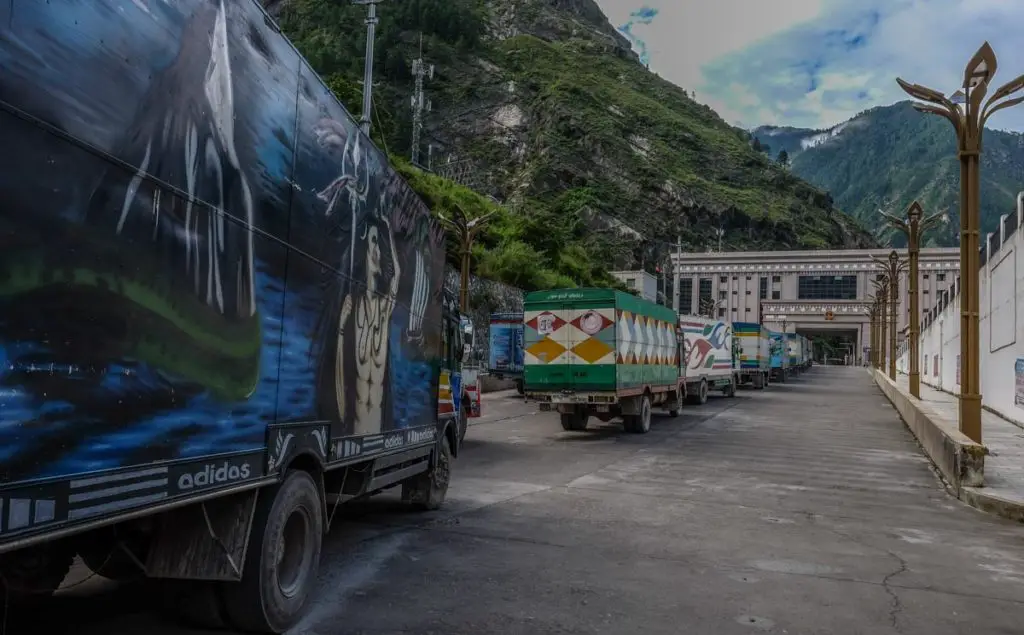 The Kyirong border opens at 10 am and closes at 5.30 pm. Remember that Nepali time is 2 hours and 15 minutes behind China time. Travelers may think that this is a sensitive border, but it really is not — just exercise common sense, don't try to bring anything silly across the border (we witnessed an Aussie being stopped because he bought Tibetan souvenir knifes and a Buddhist rosary bead, so, use common sense) and cooperate with the Chinese border guards if they ask you to inspect your luggage.
As long as you have your departure card and haven't overstayed your Chinese visa, it will be a smooth process. I was the first in line and it took me literally less than five minutes to be stamped out and allowed to leave with no questions asked.
BORDER CROSSING ADVICE: – Try to leave your hotel in Kyrong by 8 am to arrive first in line before the border gates open. This is not only great advice to avoid long queues of Nepali and Indian tour buses, but also to arrive in Nepal early enough to catch the 9.30am bus to Kathmandu.
Crossing from Tibet to Nepal at Kyrong: Nepal side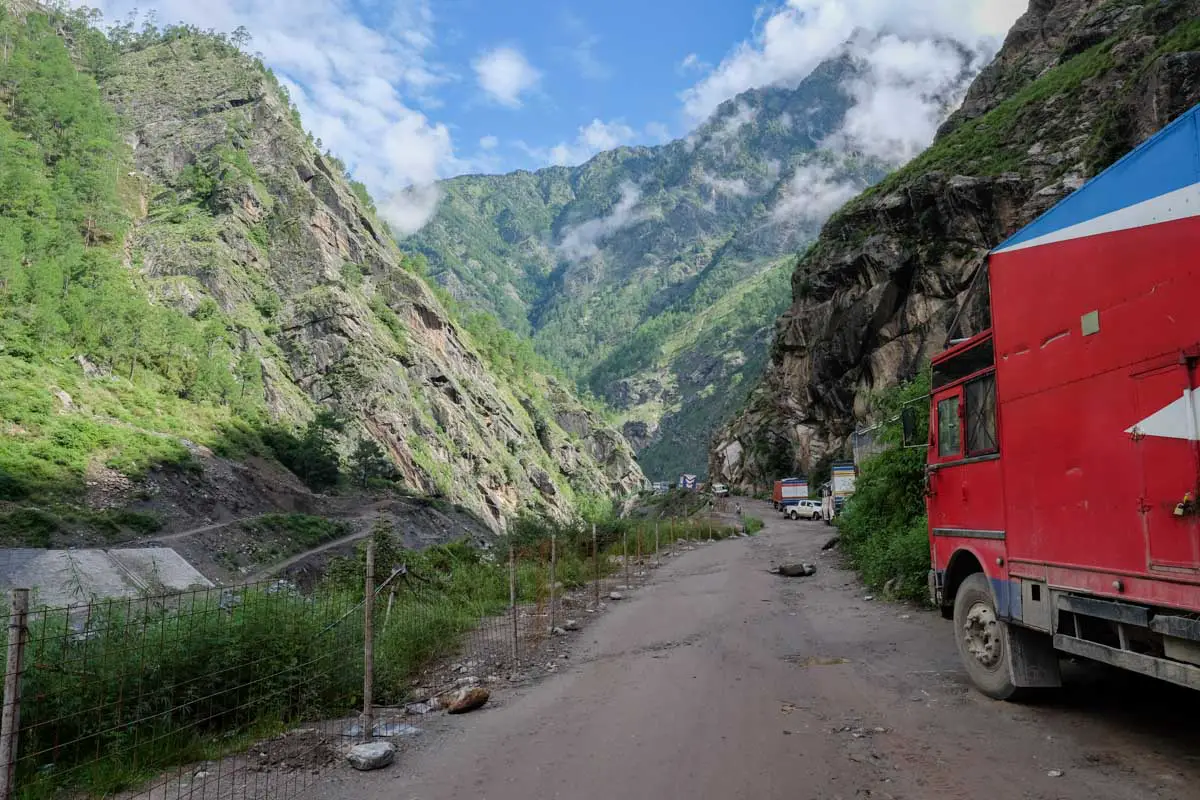 After you have crossed the Chinese immigration complex, the world kind of changes. The well-paved road becomes a mud track, beautiful mountains soar all around you, and touts will try to ask you to get on their jeeps to Kathmandu as you make your way across the Rasuwaghadi bridge.
There is one Nepali immigration check post here where you'll have to show your passport, get it registered, sign, and most likely have your bag searched. It happened to all the people in our group. Cooperate and say how Nepal is great and you'll get through in no time.
The actual Nepal immigration check post where you stamp your passport is about 2 kilometers down the road. If you don't have someone with a jeep to pick you up, you'll have to walk the distance. It's on the left side of the road, a small building, and may pass under your radar if you don't look hard enough. You can get a 15, 30 or 90 days Nepali visa that cost respectively US $30,50 or 120. Yes, there has been an increase and very few people reported about this.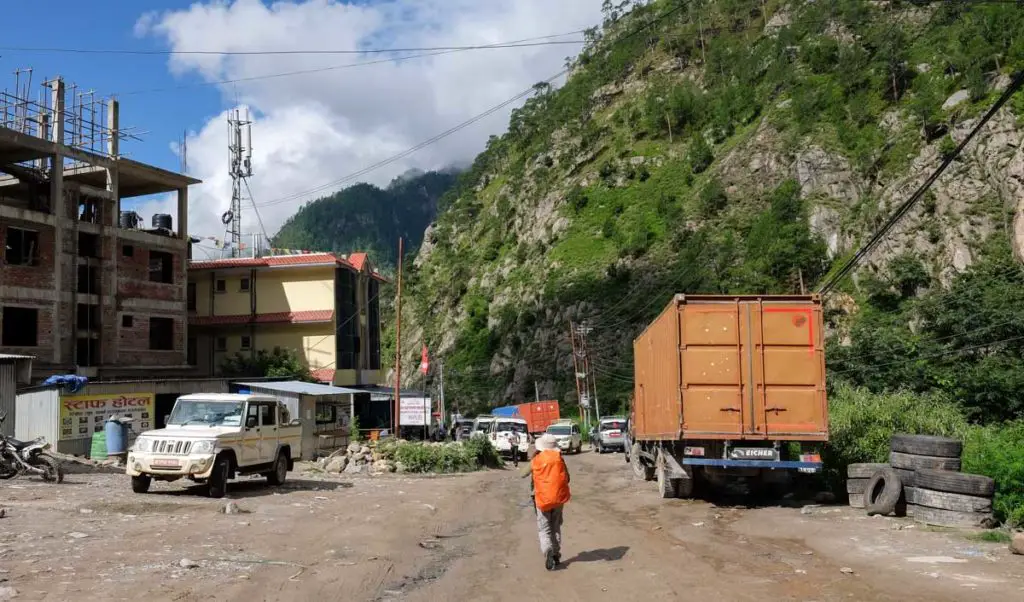 To get a Nepali visa, all you need is:
Valid passport with at least 6 months validity
US Dollars cash to pay for your visa
You won't need pictures because now the Nepali visa process is automated via a computer. You have to input your passport and visit details, and a webcam will take your picture. Have the address of a hotel/guest-house you will stay (or think of staying at) ready because it is a required field.
An immigration officer will take your passport and money — it's preferred to have crisp US Dollars ready to avoid paying more — apply your visa sticker, stamp you in, and you are good to go. Yeah, but where?
How Do I get to Kathmandu from the Tibet Nepal border at Kyrong?
Reaching Kathmandu from the Tibet Nepal border by Jeep
Kathmandu is 150km away along a very scenic road that cuts through the Langtang national park. Unfortunately, it's in a state of disrepair and gets extremely dangerous after rains and during the monsoon season. For this reason, most people on tours have a jeep transfer organized via their own agencies. Otherwise, a seat in a jeep should cost $25 per person. I have been quoted $150 to hire a whole jeep. You will still rock like a crash test dummy on drugs for 9 long hours on a horrible road, but a jeep will tackle the muddy pits in the road with more grace and ease than local transportation.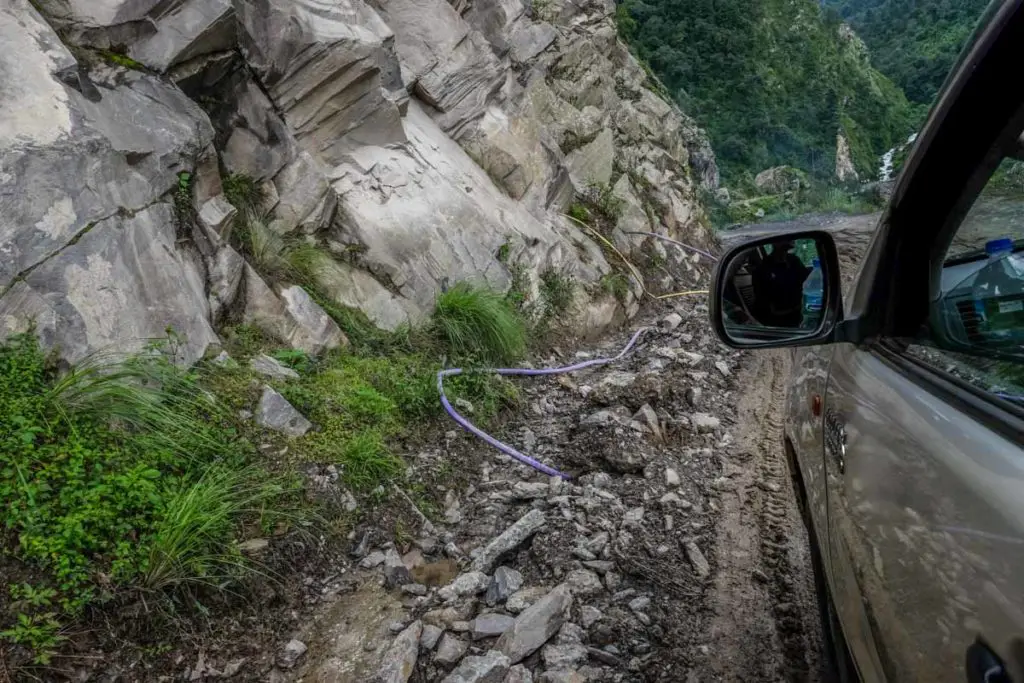 Reaching Kathmandu from the Tibet Nepal border by Bus
If you didn't organize a jeep or travel on a budget, your options are few: the local buses that leave from the first town down the road from the checkpoint at 6 am, 7 am and 9.30 am. Or you can hitchhike, regardless of the small traffic.
When coming from Kyrong, the only public transport option is the 9.30 am bus… provided you manage to skip the queues and arrive on time. It's really a very tight time slot. There is another bus leaving at around 12 pm but it only gets to the town of Trisuli — another couple of hours away from Kathmandu.
Visiting Langtang National Park from the Tibet Nepal border
Another interesting option is to catch the 12 pm bus, or even better, hitch a ride to the town of Syabubresi. It's the starting point of many beautiful hikes in the Langtang National Park. With its many guesthouses and cafes, is also a much better spot than Rasuwaghadi to rest your head after the border crossing, as you wait for the early morning Kathmandu bus the next day.
What was unclear to me though, is if it's possible to buy a Langtang trekking permit in Sayabubresi without the need of going to Kathmandu. Good luck with that, and crossing this very exotic, and yet pretty straightforward border!