Kerala may be the most visited state in India, and Kochi its most famous city. The Chinese Fishing Nets of Fort Kochi are absolutely one of the most photographed images in South India, and the town gets its fair share of tourists throughout the year (for a very different Indian experience, we recommend you visit India's Northeast, India's best Hill Stations, or the beautiful Himalayan state of Sikkim).
So, how can you visit Kochi, and do something definitely different than sightseeing with the rest of the pack? Well, you could get out and explore the lesser trawled Kochi Backwaters, for example.
Wait a minute: did I just say backwaters? Aren't those in Alleppey, the town touted as the Venice of the East, just 60km to the South of Kochi? Yes, everyone knows that.
Fewer people know, on the contrary, that starting from the village of Kannamaly, only 10km south of Kochi, you can easily find the much less visited, quieter Kochi Backwaters.
You wonder how did we know about this fabled and untouristed part of Kerala's Backwaters? Well, we recently tried a day tour with local tour company Art of Bicycle Trips, and it was a great decision. They are real Kochi insiders, and we recommend you trust them too.
This post is a review of the Kochi Backwaters countryside bike tour by Art of Bicycle Trips. You can certainly strike off on your own if you have a bicycle in India and cover a similar circuit or try the Kerala backwaters of Munroe Island, but having a guide was definitely an asset, as very few locals can speak any English in these areas. Nothing stops you from going, but we'd say, this tour is very worth taking. Here are a few reasons why.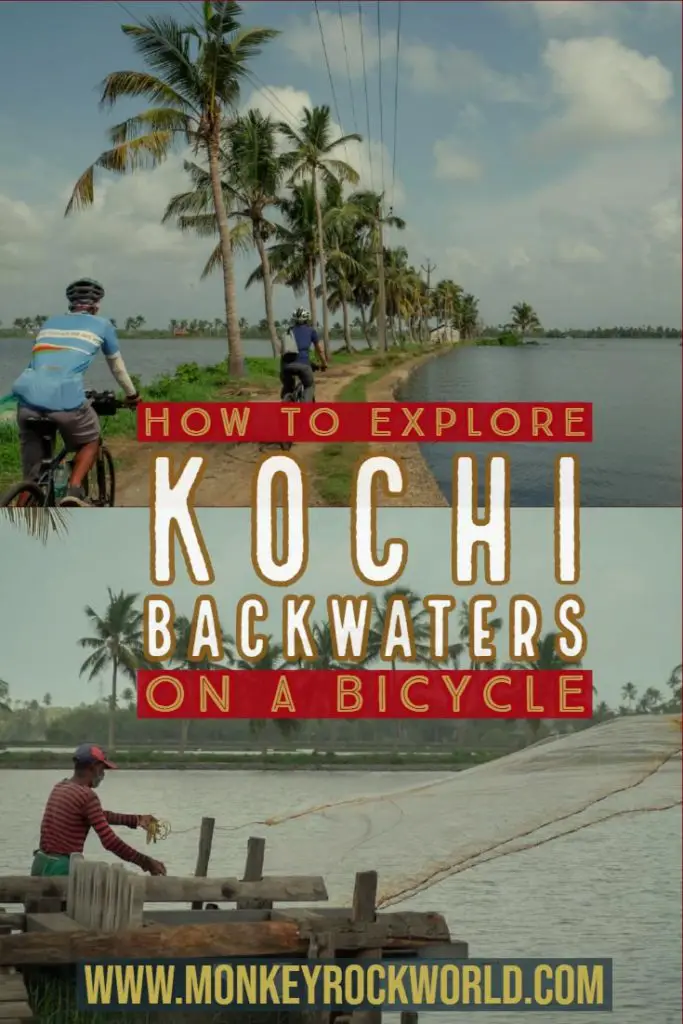 Why you Should Explore Kochi's Lesser Visited Backwaters on a Bicycle
Sightseeing in Kochi on a bicycle is just great: forget Ernakulam, which hasn't got much to see besides office buildings, and whose traffic doesn't bode well with cyclists. But Fort Kochi and Mattancherry, the old colonial parts of the city, are less trawled and ideal to cycle — the area's not huge, but like most towns in India, not too walkable either.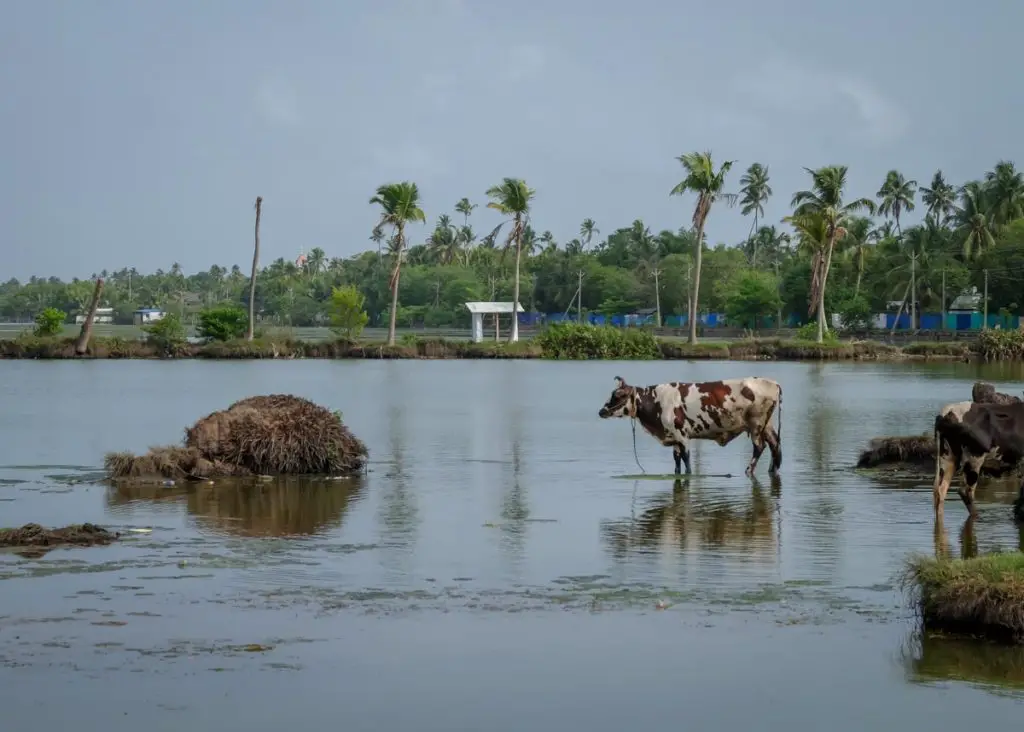 Traveling in Fort Kochi by bicycle can just make your days easier: zoom here and there faster, hop to the famous Chinese Fishing Nets and then get back in the saddle to reach all the other places to visit in Kochi, such as the Mattancherry Palace and St Francis Church, in a breeze.
But the best option is to get out of town and strike off to Kochi's countryside. Most people think that beautiful Kerala backwaters and scenery are only to be found in Alleppey, ignoring that, in reality, those same backwaters start right outside of Kochi. If you want to explore independently, buses and public transport don't easily stray off the main road, and anyhow, walking around these areas would take you too long.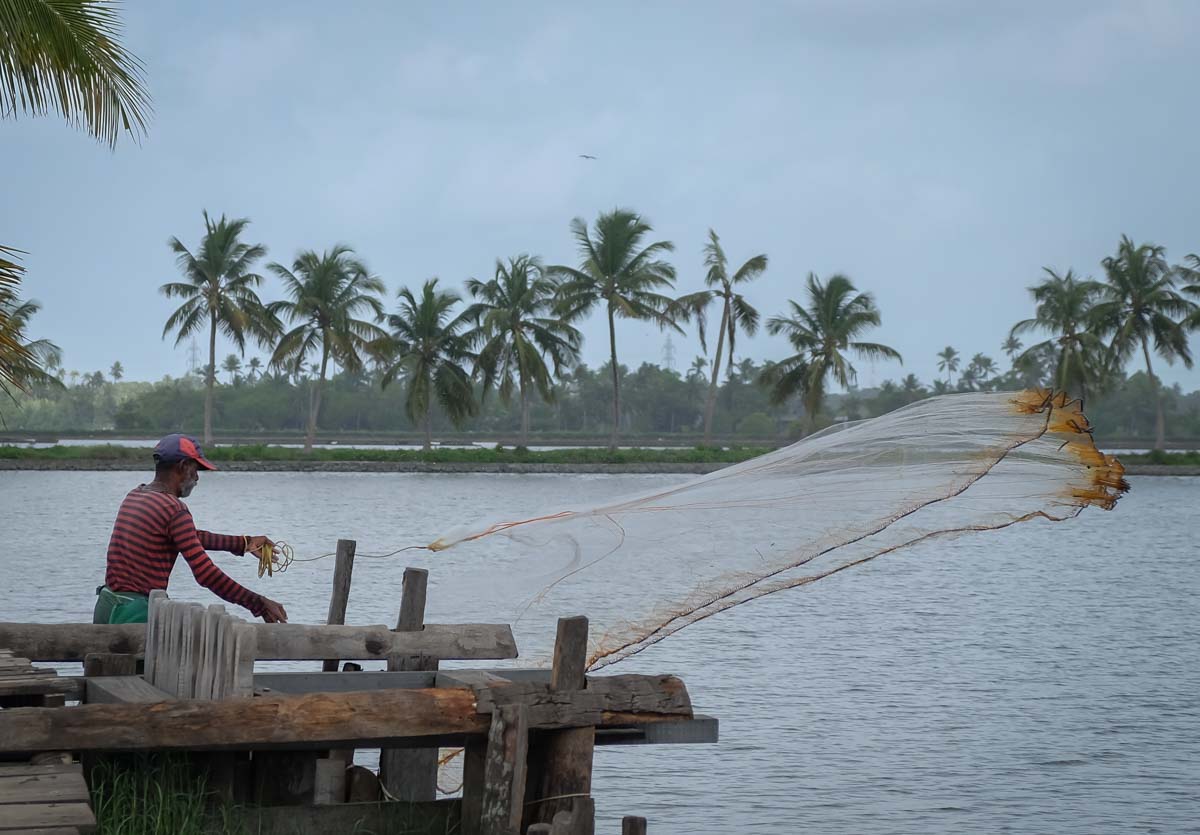 A bicycle is absolutely the best method of transport here. And if you really want to see some of Kochi's hidden area, populated by lonesome fishermen, undiscovered Chinese fishing nets, and a plethora of endemic birds, you better get yourself a knowledgeable guide.
Our Guide, Dibin
We were very happy to cycle with our guide Dibin Devassy, a native of Thrissur, the first major town north of Kochi.
As per tour itinerary, Dibin came to pick us up with his rickshaw driver from our hotel in Fort Kochi (which was the very awesome Waterfront Granary, by the way, a boutique hotel converted from an old granary, set straight on the sea. Do you need a place to stay in Kochi? Check the best prices on Hotels Combined, a hotel search engine where we always score some pretty sweet deals), and off we went to the south of the city to get to the starting point and our bicycles.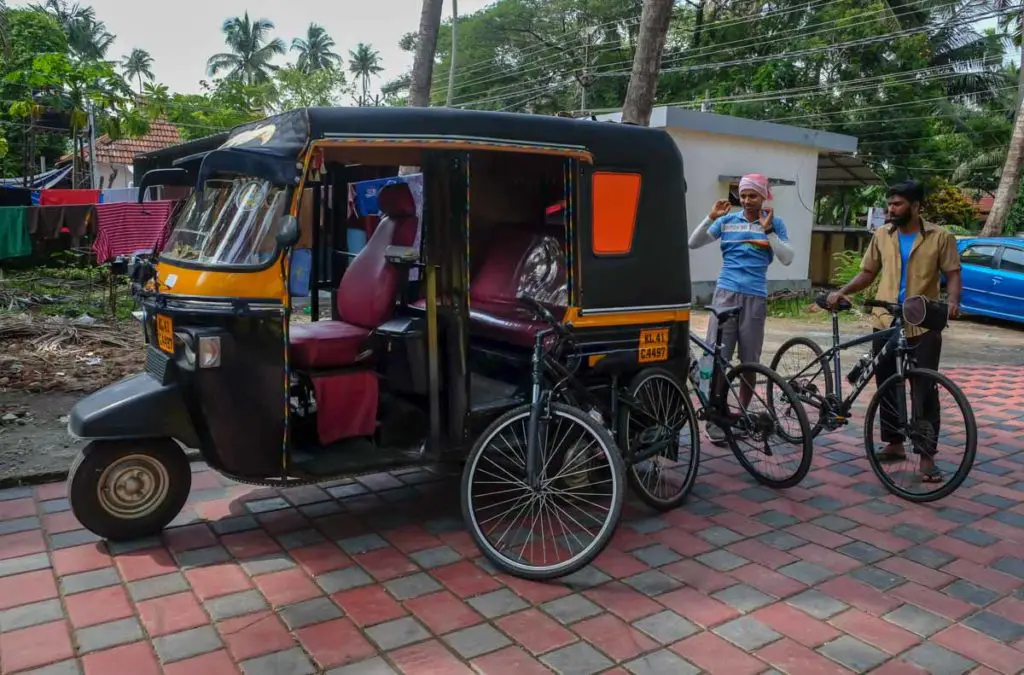 A few words about Dibin: he's friendly, knowledgeable, and a real adventurer. We spent a lot of time talking about an incredible bike trip he took from Bangalore to Leh in Ladakh, crossing India from south to north, going across some of the subcontinent's highest passes. A real cycling hero.
Dibin also knows a lot about Kochi, and this Kochi backwaters tour shows it. He conducted the visit in an extremely professional manner, explaining a lot about local life and the methods of cultivation and irrigation. Most importantly, he waited for us way too long as we needed to get our images. Thanks, Dibin, it was great to learn about Kochi backwaters with you.
What to expect from Art of Bicycle Trips' Kochi Backwaters Countryside Bike Tour
You will cycle for about three hours on flat, easy terrain, covering 25km in a rectangular loop back to the starting point. After pick up from our hotel at 2 pm and a twenty-minute transfer, Dibin offered two comfortable and well maintained Scott mountain bikes, safety helmets and water, and off we went.
As the tour starts, you'll ride briefly along Interstate 66 which, even being a major highway, has a decent shoulder and is not too scary for an Indian road. Just after a few minutes cycling, we already approached large patches of vegetation punctuated by water.
We soon swerved to the left into a field and onto a small path that went deep inside the backwaters, and it was then that we clearly understood we had made a good choice. Peace, not a car in sight, fishermen at work with their nets, and the chance to see a side of Kochi that I'm sure very few bother exploring.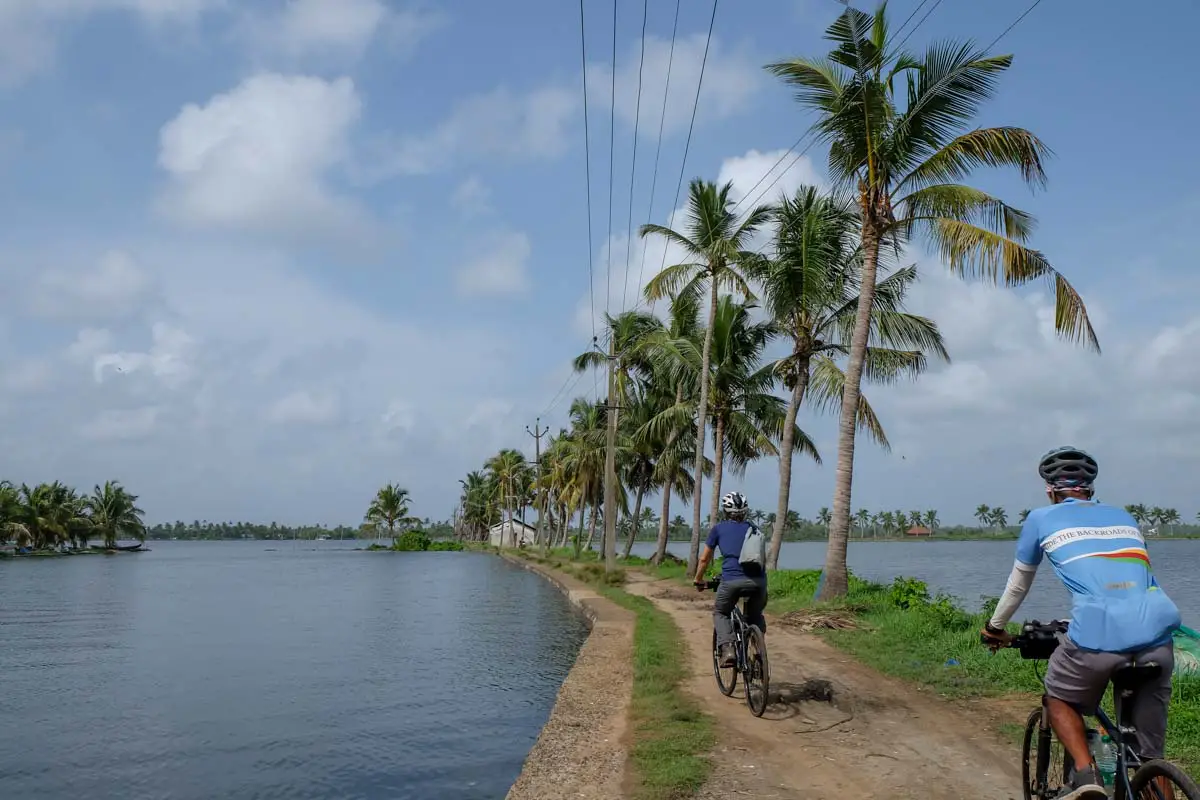 The tour continues along small paved side roads and villages, at times going off road on gravel paths. You will have to push your bike over a couple of bridges here and there, and if you are lucky, you'll be able to see water buffaloes and storks.
The final highlights are visiting the home of a traditional boat maker, and see how the longboats that ply these hidden Kochi backwaters are made. And even better, meet one of these boatmen, load the bikes into his dinghy, and float back up a very tiny channel strewn with Chinese Fishing Nets and small homes whose locals will be more surprised to see you than the other way around. Does this happen in Alleppey on a houseboat? Hell no. Maybe, just if you take a kayaking tour.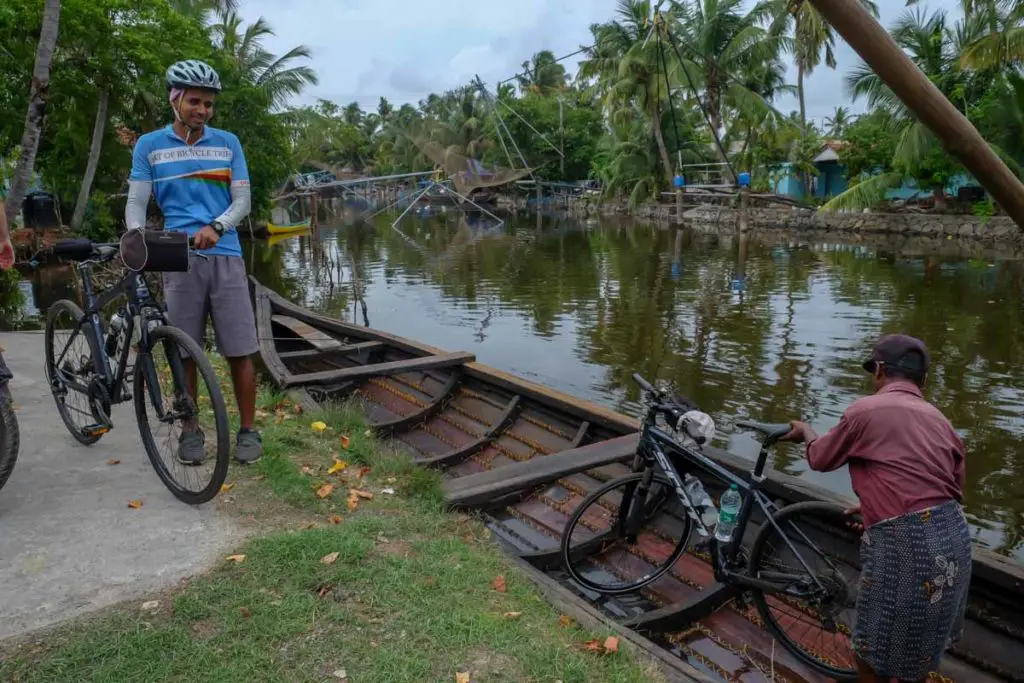 In our case, we jumped into a boat that had just been maintained with a coating of sardine oil… for sure, the whole experience really took a "local flavour" 🙂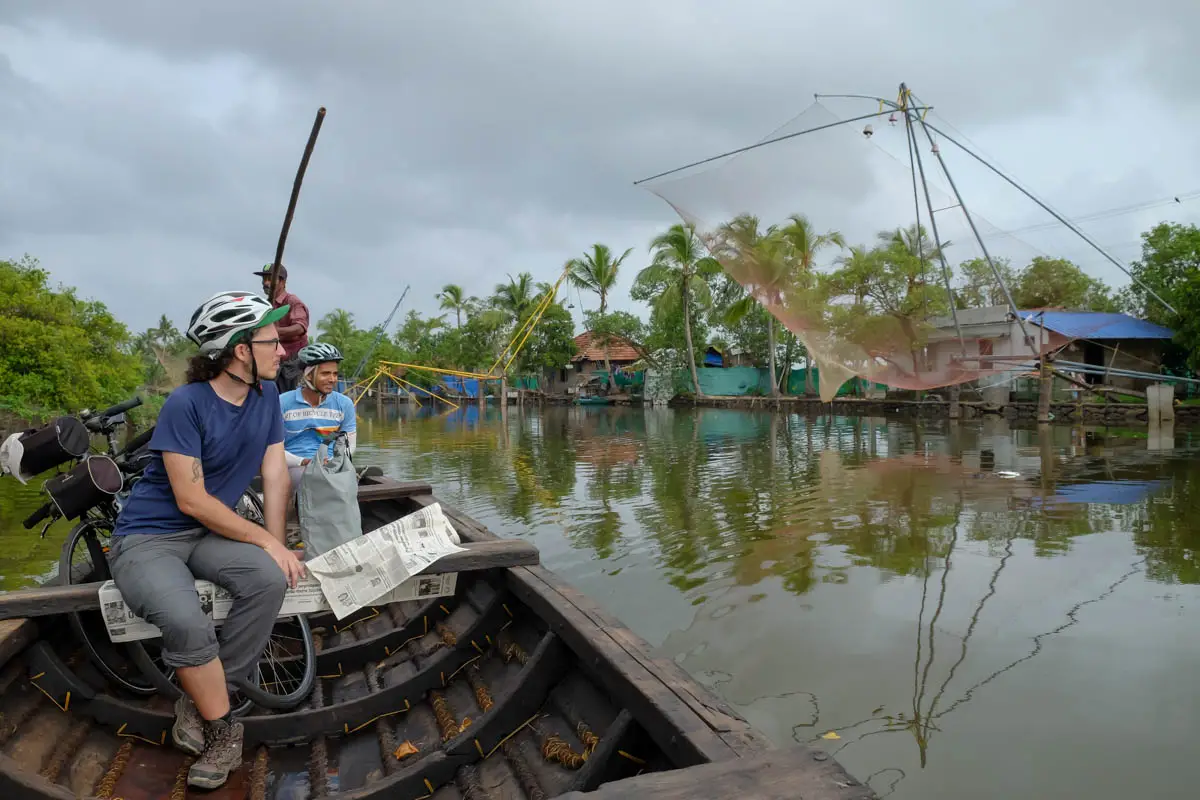 It's another 6 km from the boat landing to the starting point, and after that, Dibin will accompany you back to your hotel or St Francis Church. The best end to a perfect day out exploring Kochi's hidden backwaters.
Recommended Places to Stay in Kochi
The Francis Residence is one of the best homestays we've ever seen, period. Francis and his wife treat their guests like family, and cook awesome traditional Kerala meals — check out their cooking classes, too. The rooms upstairs have the quality of a boutique hotel, with large bathrooms and lovely balconies overlooking their leafy garden, where it's nice to chill in the evening. It's only a five minutes walk from St Francis Church, and about 10 from the popular Chinese Fishing Nets.
Check Today's Best Prices: Hotels Combined | Booking.com
---
Waterfront Granary is an interesting museum hotel with a collection of quirky antiques such as a 1920s car and a 200-year-old piano. Renovated from an ancient granary, it's one of the most atmospheric places to stay in Mattancherry. Rooms are large and decked out in old world style and yet with all the bells and whistles of modernity, including large bathrooms equipped with rain showers. The restaurant on the back of the main hall and museum serves an excellent mix of Kerala and Gujarati meals on the hotel's own pier, right next to the sea.
Check Today's Best Prices: Hotels Combined | Booking.com
Check more Kochi Hotel Deals: Hotels Combined | Booking.com
---
Blogging transparency: Art of Bicycle Trips sponsored our day tour of the Kochi Backwaters, but all the opinions expressed in this article are our own. We would not endorse any tours or companies we wouldn't use ourselves, or who don't align with our vision by not offering sustainable, eco-friendly tourism.  
Also, this post contains some affiliate links. These are products and services that we personally use and recommend. If you click on one and buy any service, we will get a small commission at no extra cost to you. Consider it a small way to say thanks, and keep Monkeyrockworld going.
---