Rainforest shrouded in the morning mist. Tick. Giant apes and monkeys hooting in century-old canopies. Double tick. A river system you can explore at your own leisure. Tick. Fantastic unspoilt beaches that treasure some of Asia's (and the world) best diving. Tick. It's all in Borneo, and it's all so easy to visit you will want to keep returning time and time again. Dig deep into our insider two weeks Borneo Itinerary.
Why I should Go to Borneo?
Borneo, the huge island set between West Malaysia and Sulawesi, is one of Southeast Asia's great natural escapes and a world-class adventure travel destination that also offers some of Malaysia's best short trips. We have been to Borneo multiple times over the past 10 years, and we always find new interesting places to visit in Borneo.
Why? We are seduced by Borneo hospitable peoples, and have made long-lasting friendships. We believe there's no other place in Southeast Asia with a similar amount of wildlife — you must go to the Danum Valley Conservation Area —, great hiking — check our ultimate guide to Tawau Hills Park— and potential for adventure.
READ MORE — Ultimate Borneo Backpacking Guide
Best time to Visit Borneo
The Dry Season in Borneo is from March to October when you'll experience less rain. It's the best time to see orangutans in the wild, but is also, of course, peak tourist season and prices can be higher.
The best time to Dive in Borneo is between April to December, with the best visibility in July and August. From March to May, whale sharks visit Borneo's waters during their migrations.
Remind that between June and September, turtles come to lay eggs at Lankayan Island.
The worst time to travel to Borneo is between December and January when the sea is choppy and there's more rain — the worst time to see animals. Whenever you go, don't forget to pack a pair of Adidas kampung, Malaysia's best (and cheapest) hiking shoes.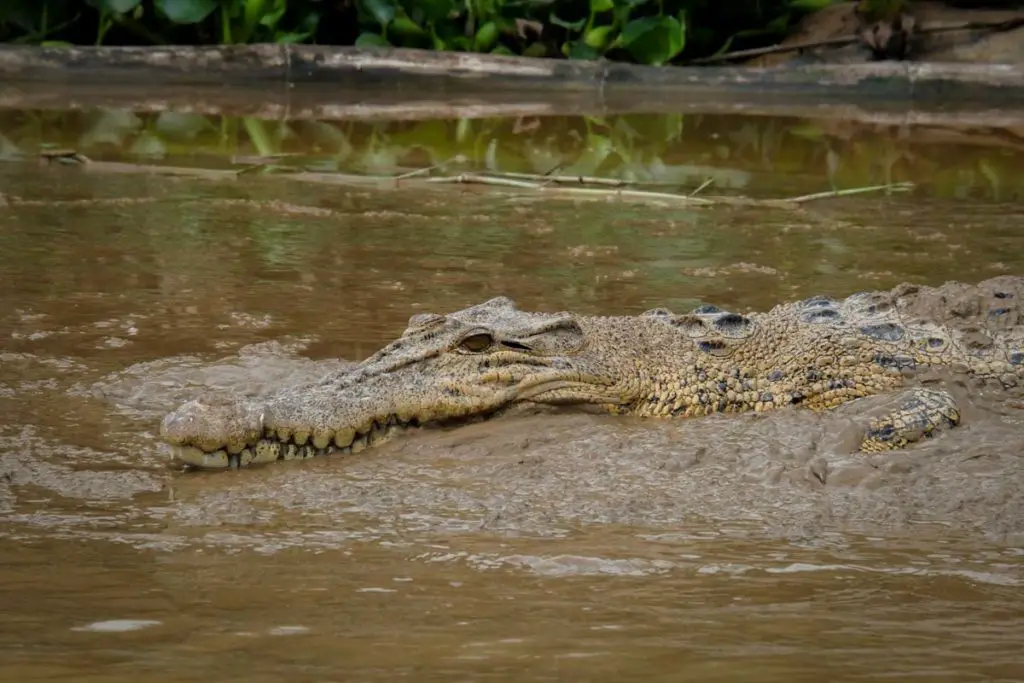 A Fantastic Itinerary For Two Weeks in Borneo
We think that two weeks in Borneo are the absolute minimum time you need to get the lay of the land and make sense of this incredible island. With two weeks, you'll limit yourself to visiting the highlights of the two Malaysian Borneo states of Sarawak and Sabah — and maybe do a quick stopover in Brunei.
Follow this Borneo two week itinerary to craft an absolutely engaging and awesome Borneo trip, but consider that an extra week will give you more time to savour the places, and of course, see much more.
Fear not because at the end of this two weeks Borneo itinerary we'll give you some extra suggestions to fill up your extra time.
Two Weeks Borneo Itinerary Map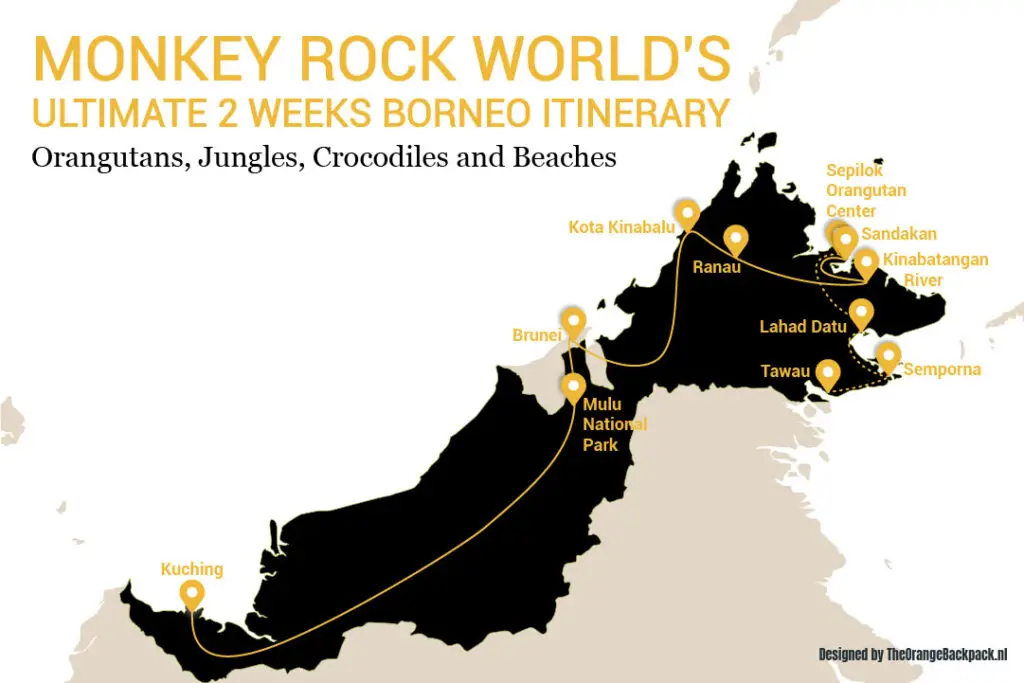 TWO WEEKS BORNEO ITINERARY AT A GLANCE:
• Spend 3 nights in Kuching (Day 1 to 3)
• Mulu National Park via Miri (Day 4 to 7)
• Brunei (Day 8 and 9)
• Kota Kinabalu (Day 9 and 10)
• Ranau, Kundasang and Mount Kinabalu Park (Day 11 to 12)
• Kinabatangan River (Day 13 to 14)
• Sandakan and Sepilok (Day 15)
Kuching (3 nights)
Kuching is Sarawak's capital and is a perfect place to start your itinerary in Borneo. Once the seat of the White Rajahs of Sarawak — a dynasty initiated by James Brooke, the British adventurer who came to Borneo and helped transform the headhunting tribes into an empire — Kuching today is an artsy river city with a sleepy yet infectious vibe.
There are cafes, music venues, tattoo parlours, historical sites, river walks, great street food, some worthy museums, and a choice of excellent accommodation. Kuching's best advantage, however, is the fact it's smack in the middle of a bunch of national parks. You may as well spend a full week here, but to the extent of this two weeks Borneo itinerary, we'll give Kuching 3 days.
Semenggoh Orangutan Sanctuary – half day trip
One of Kuching's top tourist attractions is the chance of seeing semi-wild orangutans in the rehabilitation center of Semenggoh, about a half-hour out of town. This is where you'll definitely see orangutans — the number depends on your luck, as they come twice a day for feeding.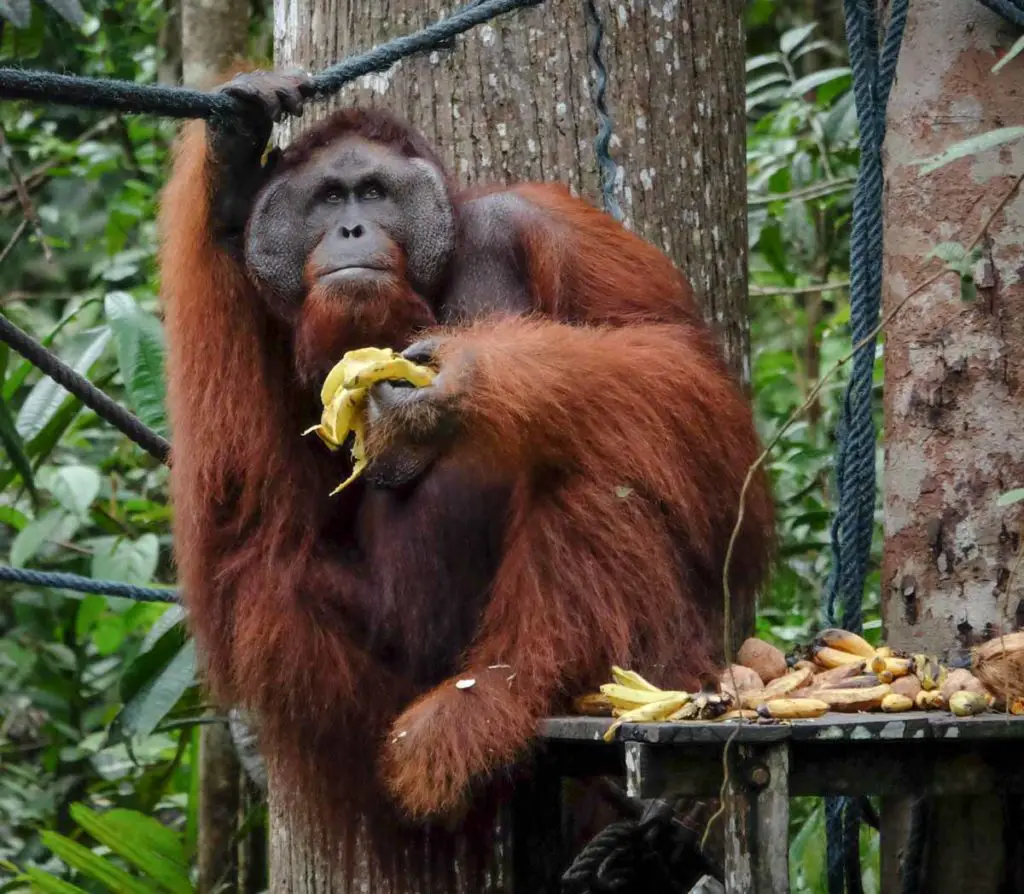 Feeding sessions start at 9 am and 3 pm, and you must time your visit with one or you won't be able to see the animals. This experience is, of course, shared with other tourists and assisted by rangers, but it's still pretty unique as you'll get to see the orangutans from pretty up close. In a real jungle, you'd be extremely lucky to spot them far up in the canopy, hidden on top of high branches.
Sarawak State Museum
Established in 1888, Borneo's oldest museum is a must-visit: the collection of taxidermies exposed here is really quirky and stunning, and includes some very rare specimens of tropical monkeys. Remember that some of these have been collected by Sir Alfred Russel Wallace himself!
The last time we visited in 2018, it seemed that the Sarawak State Museum was about to move to a new nearby building, but we can't confirm. Please ask around in town before visiting.
Bako National Park (2 Days/1 Night)
Bako National Park is a stunning tropical rain forest set on a promenade jutting into the South China Sea. If that wasn't enough convincing to visit, please learn that Bako is also the best place to see wild proboscis monkeys near Kuching city.
Visiting as a day trip is possible but really rushed: there are at least 12 different hiking circuits in this park. We recommend spending at least one night in the basic chalets at park headquarters to give yourself time to take in at least one of the longer hikes (you need a guide you can arrange at the park). Second, if you stay overnight you'll be able to take a night walk. Bring a powerful torchlight to spot the birds, insects and spiders, and you can do this on your own and free of charge. A guide, of course, has a better-trained eye.
Book in Advance
As you are pressed for time, these are some suggested guided tours that may save you the hassle of planning activities by yourself in Kuching:
• Kuching City and Sarawak River Tour
• Cycling Tour in Kuching
• Kuching Bike and Food Tour
• Kuching Chinese Heritage Tour, which includes a visit to the beautiful Hakka village of Siniawan, 40 minutes outside Kuching
Pro Tip: Unless you are interested in world music, avoid starting your trip in Kuching in July, when the Rainforest World Music Festival packs hotels and shoots the prices much higher.
Where to Stay in Kuching
Kuching has plenty of great accommodation options. We recommend one of these:
• Waterfront Kuching
• Traveller Homestay
• Le Nomade Hostel
• Ranee Boutique Suites
Check more hotels and prices in Kuching
---
Mulu National Park via Miri (Day 4 to 7)
Mulu National Park is a UNESCO World Heritage Site and a must-see eco-tourism destination, with some of the largest caves in the world. To visit, you should make your way to the city of Miri first.
Miri (Day 4)
In all honesty, with such a short time for your two weeks Borneo itinerary, Miri doesn't deserve more than the one night after you arrive by plane from Kuching. Go see Canada Hill before dinner, where you'll find Miri's Petroleum Museum. It's not the reason you are here, the sunset views are. Back in the city center, you can have a bite at one of the restaurants and food courts located around the Boulevard Shopping Complex.
When in Miri, a good place to stay is Kingwood Boutique Hotel. Not super central, but really good value. For other Miri accommodation options and prices, see here.
Visit Mulu National Park (Day 5 to 7)
After Kuching, the ideal second stop in this two weeks Borneo itinerary is the incredible caves and trekking routes of Mulu National Park. It's a UNESCO World Heritage Site, and one of the best places to visit in Borneo — and in the whole of Southeast Asia, we think.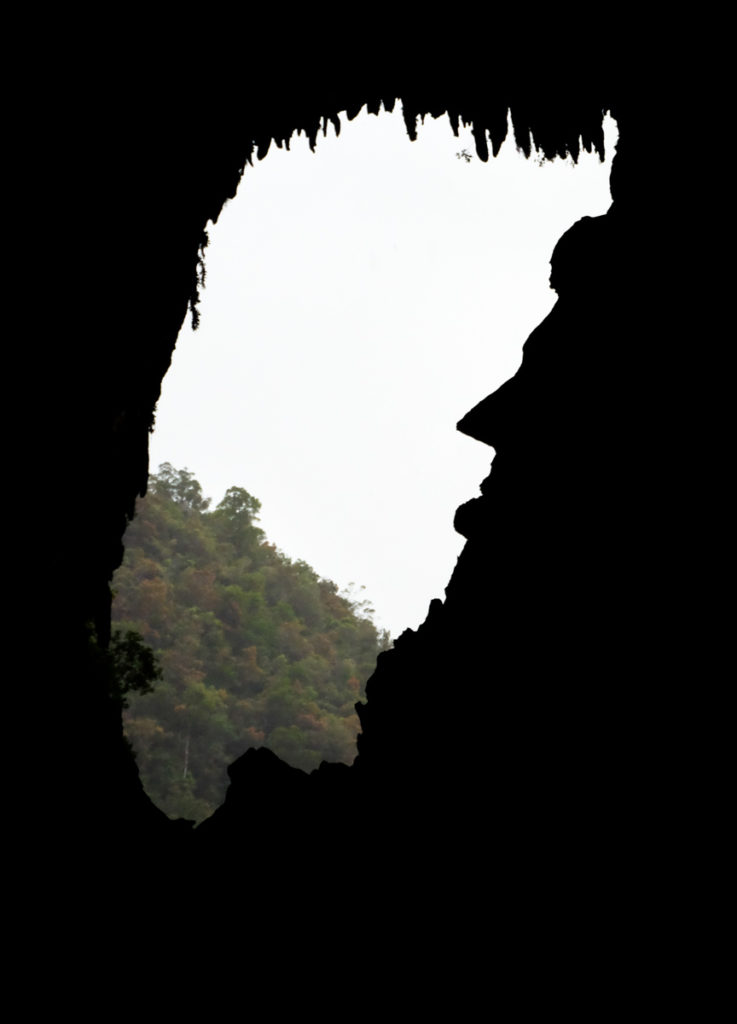 The cave system at Mulu is one of the largest in the whole world: the Deer Cave is just HUGE — 2km in length, the main chamber is 174mt-wide and 122mt-high, and it never gets smaller or shorter than 90mt. Quite impressive, isn't it?
Getting to Mulu National Park these days is practically only possible by flying — you COULD get there by land using a 4WD and following the logging tracks, but it's a long, impractical journey. Flights with MAS Wings are cheap and fun, as they use small planes.
Mulu deserves at least two nights, three or more if you want to hike to the Pinnacles. These limestone blades jut out of a mountaintop like razors, and going to see them is no walk in the park — you'll be sent down if you can't reach a designated point within the first half-hour.
Don't forget to round up your Mulu exploration with a boat trip to the Clearwater and Wind caves, and to watch the incredible bat exodus outside of the Deer Cave right before sunset.
Where to Stay in Miri and Mulu
• Shuang Ling Inn
• Tabun Homestay
• Mulu Marriott Resort
• Mulu Backpackers Homestay
• Mulu National Park
Check more accommodation options in Mulu and Miri
How to get from Kuching to Mulu National Park
The only cost-effective way to see Mulu is flying from Kuching to Miri first, spend a night there and then fly from Miri to Mulu early the next day. It's best if you book a return ticket unless you want to continue hiking from the park to Lawas — something we don't recommend if you intend following this two-weeks Borneo itinerary.
---
Brunei (Day 8 and 9)
Brunei doesn't have a good reputation, we know, but it's an absolutely interesting place to visit. It's easy enough to get on a bus from Miri to Bandar Seri Begawan, the capital of Brunei, where you should at a minimum visit the Omar Ali Saifuddien and Jame' Asr Hassanal Bolkiah Mosques, and take a walking tour of Kampung Air — it's Southeast Asia's biggest village on stilts.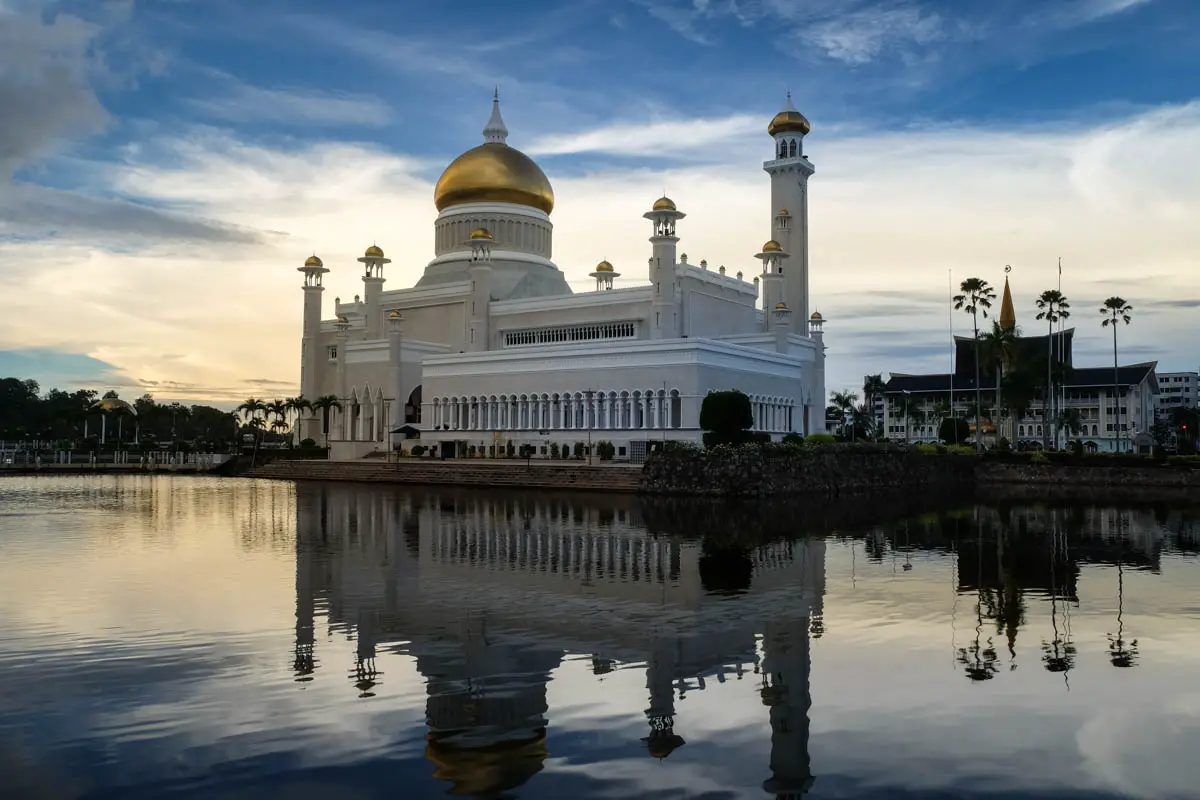 These three activities should be enough for a day trip through Brunei, provided you leave Miri early enough. If you have more time, you should add a sunset visit to The Empire Brunei Hotel, the world's first Seven Star property, built by the Sultan of Brunei. Some of past guests include President Bill Clinton and Pamela Anderson. The hotel has an ocean-facing swimming pool that's a delight to stroll around waiting to bask in one of those unforgettable neon-pink Borneo sunsets — something you'll never get bored of during your two weeks Borneo itinerary.
Brunei Side Trip: Ulu Temburong National Park
If you can add at least a day in Brunei consider taking a day trip to the Ulu Temburong National Park. Why? You can't see more pristine tropical rainforest in all of Borneo. While Malaysia and Indonesia have kept profiting from legal (and mostly illegal) logging, Brunei has always enjoyed its wealth from drilling offshore petrol — so why bother about slogging inland to cut the forest?
For this reason, the woods of Ulu Temburong are some of the most pristine and oldest in the whole world — even older than the Amazon. The park has an interesting canopy walkway and observation tower. If you won't see any wildlife, please seek the advice of a witch doctor.
Pro Tip: Brunei is a dry country — means you won't find any alcohol. Truth be told, some Bruneians may have some at home and as a foreigner, you will be sold some for a price at high-end hotels. But is it really worth the hassle? Nope.
Where to Stay in Brunei
• Qing Yun Backpacker Lodge
• Kunyit 7 Lodge
• Taman Mawar
• Bwn Bed Station is the cheapest and cleanest option, and include breakfast.
Check more hotels and prices in Brunei
How to get from Mulu to Brunei
Fly from Mulu to Miri and then catch a direct bus from Miri to Bandar Seri Begawan. International flights between Miri and Brunei don't really exist — it's too close. Catch the bus.
---
Kota Kinabalu (Day 9 and 10)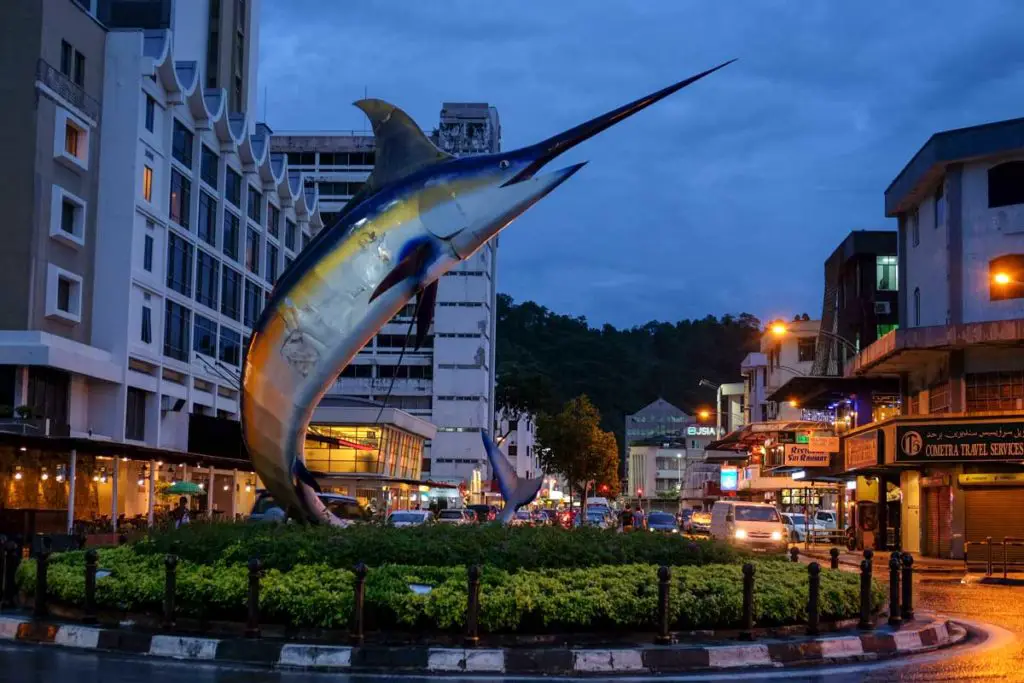 Sabah's capital Kota Kinabalu is another major gateway into Borneo, with direct flights to Hong Kong, China and the Philippines. If until now you have seen fewer tourists, be prepared to confront a very developed tourist scene offering more accommodation and food options that one actually needs. Here are some tips for visiting Kota Kinabalu.
READ MORE — 16 Sabah's Best Attractions
Kota Kinabalu's main merit is being set right in front of the five tropical islands that constitute the Tunku Abdul Rahman Marine Park — the city is literally developed between a mountain range and the sea. There are several interesting markets, among which the ones on Gaya Street are the most established: the Api-Api Night Food Market happens each Friday and Saturday from 6 pm to 2 am, while on Sunday Mornings the excellent Gaya Street market packs all sorts of stuff and trinkets, besides traditional foods.
Tunku Abdul Rahman Marine Park
Just 15 minutes by boat from Kota Kinabalu's Jesselton Pier, the park's five islands — named Gaya, Mamutik, Manukan, Sapi and Sulug — offer good snorkelling and scuba diving, plus beaches and forests. Boats run from 8.30 am to 5.30 pm. A return ticket costs 30RM, plus a 10RM fee for marine park's conservation. To avoid crowds, you can buy your boat tickets in advance on Klook.

Island-hopping is not the only fun here: dive operators such as Scuba Junkies organize diving day trips around the five islands. We don't recommend taking your open water scuba diving course here by the way — go to Mabul for that, and enjoy every single stunning underwater moment of it.
Most of the dive sites around Tunku Abdul Rahman Park are quite shallow, with gentle slopes offering clamps of healthy corals and sandy seafloor. To be frank, the visibility is not great because of the frequent downpours, but the park still makes for some of the best offshore city diving you can find in Borneo and Malaysia — nothing compared to diving at Pulau Tenggol, but alas…
After diving, you can relax and sunbathe on one of the beaches, snorkel till you drop, or try the Coral Flyer — a 235-meter-long zipline stretched between Gaya and Sapi islands. It glides between the shores reaching a maximum speed of 55km/hour and 45-meters of height above the sea. Book your tickets in advance to skip the crowds using our partner Klook.
Book in Advance?
With only a couple of days in Kota Kinabalu, booking a tour may help you save some time and shave off the dreary logistics of getting there on time.
• Consider this half-day tour of Kota Kinabalu
• Or get on this Kota Kinabalu night tour that includes a yummy seafood dinner
• If you fancy a sunset cruise with seafood dinner, look no further than this tour and get a 40% discount with Klook.
• What about getting out of the city for some kayaking? Check this tour out.
• For some serious wilderness exploration, get on this 2D/1N tour of Maragang Hill and the Crocker Range from Kota Kinabalu.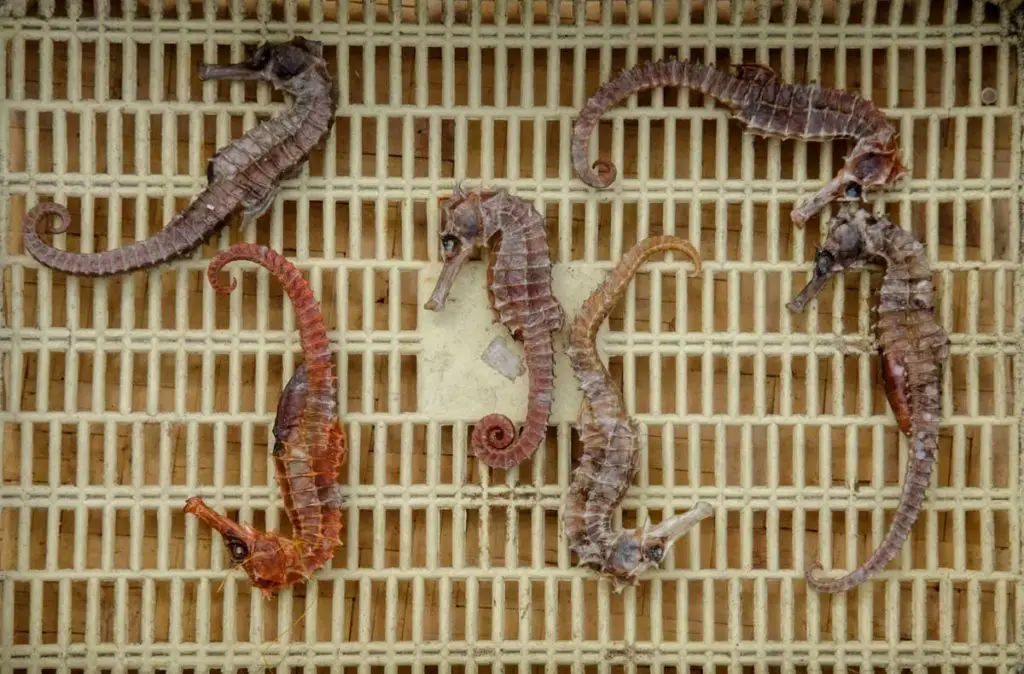 Where to Stay in Kota Kinabalu
Kota Kinabalu has a wide selection of accommodation. Check prices and options here, but these are a few of our favorite places:
How to get from Brunei to Kota Kinabalu
The easiest and fastest option for a two weeks Borneo itinerary is catching a flight between Bandar Seri Begawan and Kota Kinabalu.
PRO TIP — Consider catching this private transfer from Kota Kibalau airport to your hotel of choice to save some time and 20RM.
There are also direct buses between Brunei and Kota Kinabalu in Sabah, but be reminded that if you travel this way, besides wasting a full day on the road, your passport will also be stamped an astounding amount of times. First between Brunei and Sarawak, then upon entering Brunei again at Limbang. You will then exit Brunei into the Lawas division of Sarawak, from where you'll get stamped out and in again upon finally entering Sabah. All in all, your passport will be stamped about 8 times. That's six too many!
A much less passport-taxing method is catching a bus from BSB to Muara Beach, from where boats depart to the Sabahan island of Labuan. There are daily direct boats from Labuan to Kota Kinabalu, or you can get the shorter dingy to Menumbok, and then catch an onward bus (RM15) to Kota Kinabalu from there.
---
Ranau, Kundasang and Mount Kinabalu Park (Day 11 to 12)
At 4,100 meters, Mount Kinabalu is Sabah's and Southeast Asia's highest peak. But to be honest, the local tourism department enforces a very high price for climbing — without considering that the whole climb would shave off 3 to 4 days, including recovery time, from your two weeks itinerary in Borneo.
So save the Mount Kinabalu climb for another visit, but definitely go check out the mountain and experience a very different microclimate. Consider instead a hike at the (free of charge) Kinabalu Park, where you'll go from sweating your face off in sun-scorched Kota Kinabalu, to enjoying the fresh air and beautiful nature of Mount Kinabalu's foothills. While you are there, you should take in the sights of nearby villages of Kundasang and Ranau. Don't miss a visit to Desa Cattle Dairy Farm, a piece of Switzerland in tropical Borneo — including cows and a milk and cheese factory… a real rarity in this part of the world.
Book in Advance?
Consider smoothing out travel logistics and time by booking a tour from Kota Kinabalu.
• You can join this day tour of Kinabalu's farmland and see Desa Cattle Dairy Farm and other spots, and get back to your Kota Kinabalu hotel on the same evening.
• Or you could strike off to Mount Kinabalu Park for a nice refreshing hike, and then soak your aching muscles at the Poring Hot Springs before returning to Kota Kinabalu. Join this discounted tour on Klook. 
Where to Stay in Kundasang
See more Kudasang accommodation and check prices here.
How to get from Kota Kinabalu to Mount Kinabalu
Frequent buses between Kota Kinabalu and Sandakan (affiliate) can drop you off at the Kinabalu Park junction near Kundasang. You can walk to your accommodation from there.
Another ideal way to save time is by renting a chartered car in Kota Kinabalu and go to Mount Kinabalu with your own group of friends.
If you have the driving skills and feel like renting a scooter is enough for you that also makes for a nice little adventure.
---
Kinabatangan River (Day 13 to 14)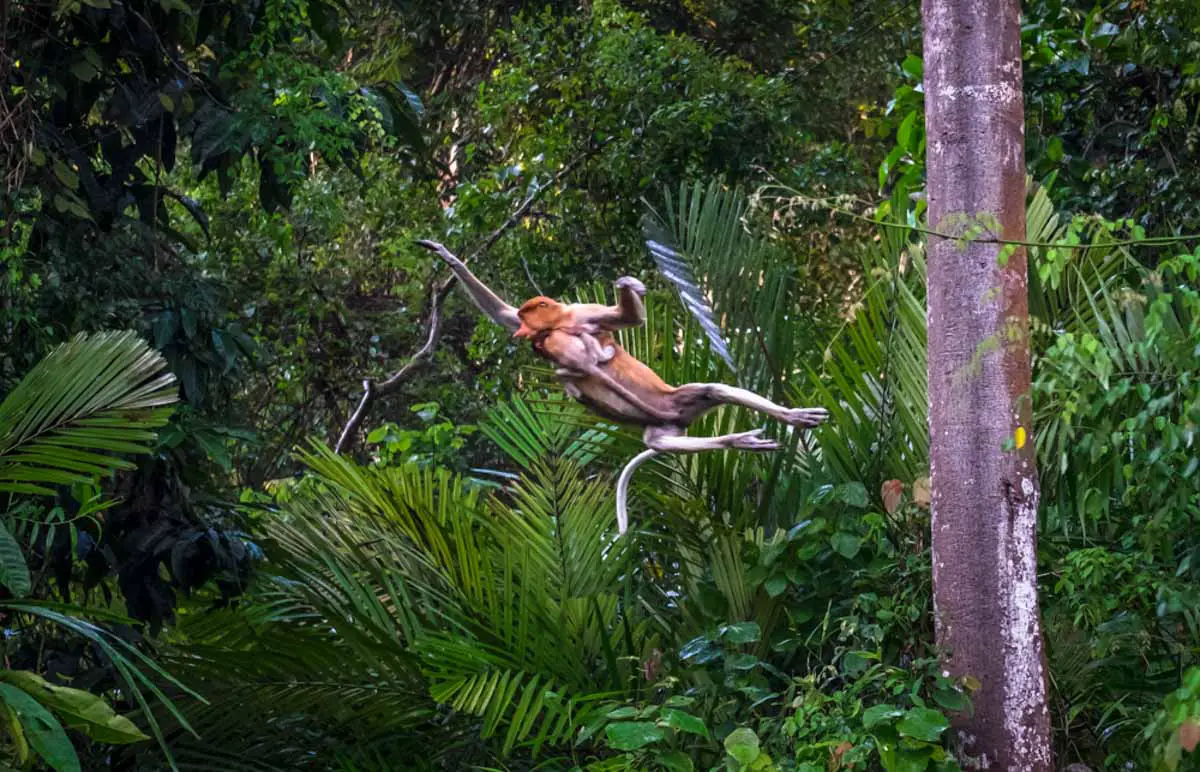 Now that you have gotten accustomed to Borneo's cities and towns, cave systems and national parks, it's time to see some wildlife… on a river.
Yes: to Borneo's native peoples, rivers have always functioned like natural highways, and the Kinabatangan, one of the longest bodies of water in Borneo, is perfect to have an adventure.
It's necessary to avail yourself of the services provided by local guesthouses and hotels, which offer private boat tours and guides. You won't be able to see Kinabatangan otherwise, so be advised — if you don't want to spend any money, don't come here and save your two days for more time in some of the other destinations we recommended in this two weeks Borneo itinerary.
Kinabatangan is famous for its rich wildlife encounters — the reasons are sad yet simple: the forest beyond the river flanks has been logged so much that there's only quite a narrow strip of jungle left. This is bad, of course. But it's good for tourists, as the animals have less space to move around and live, and for this reason, are much more visible. You'll easily see proboscis monkeys, a staggering amount of birds, giant bats and… crocodiles. The Kinabatangan River is also a great place to see wild Sabah pygmy elephants if you visit during one of their migratory seasons, which are quite unpredictable to pin down these days.
PRO-TIP: Usually, tours of Kinabatangan River ply the stretch of river around Sukau, but the more you go inland (and the more you spend on guides, of course), the more wildlife you'll be able to see.
Book in Advance?
If you are running out of time or you prefer to see the Kinabatangan River while based in Sandakan, you can consider this one-day tours:
• An 8-hours long exploration of the Kinabatangan River from Sandakan
• This tour offers a visit to Sepilok, the Sun Bear Rehabilitation Center, and tops it all off with a half-day river cruise along a stretch of Kinabatangan River.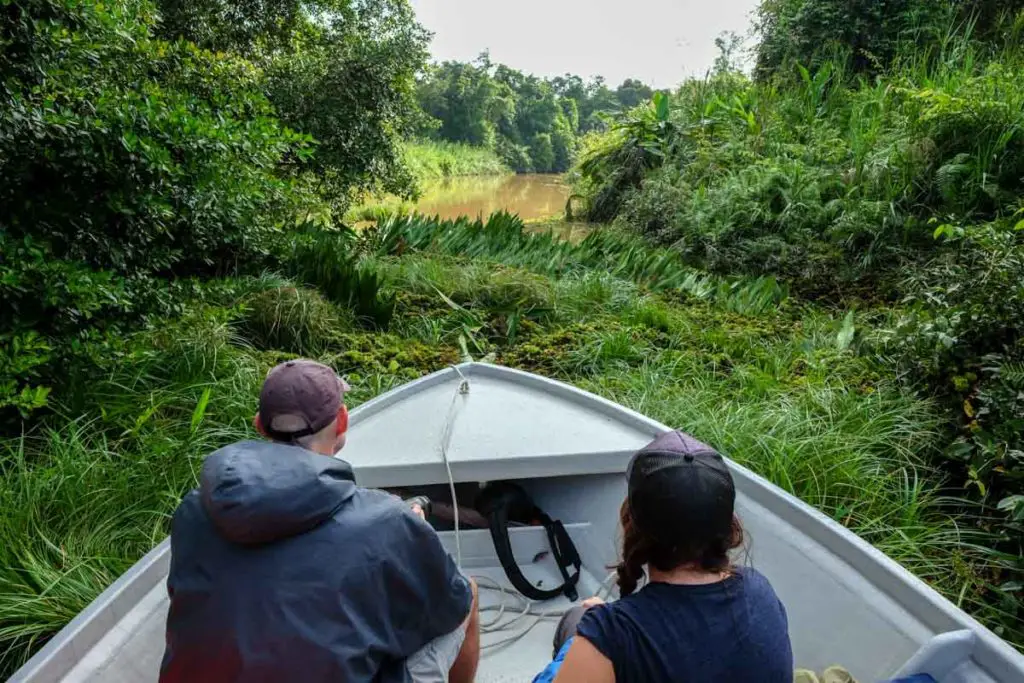 Where to Stay in Sukau
•  Sukau Backpackers B&B
•  Osman's Homestay
•  Bilit Adventure Lodge (includes all meals)
•  The Last Frontier Boutique Resort
How to get from Mount Kinabalu to Sukau
If you are in Kundasang, it's fairly easy to stand by the main highway junction and flag down passing buses towards the Sukau junction.
From there, ask your prospective accommodation in Sukau to send someone to pick you up or send a car. Remember that Grab Car and other car-hailing services are not available in this area of Sabah. Only pre-arranged taxis or the good ol' hitchhiking work — depending on your fancy. We certainly hitchhiked all the way from Kota Kinabalu to Tawau several times, but we don't expect you are up to the same challenge.
---
Sandakan and Sepilok (Day 15)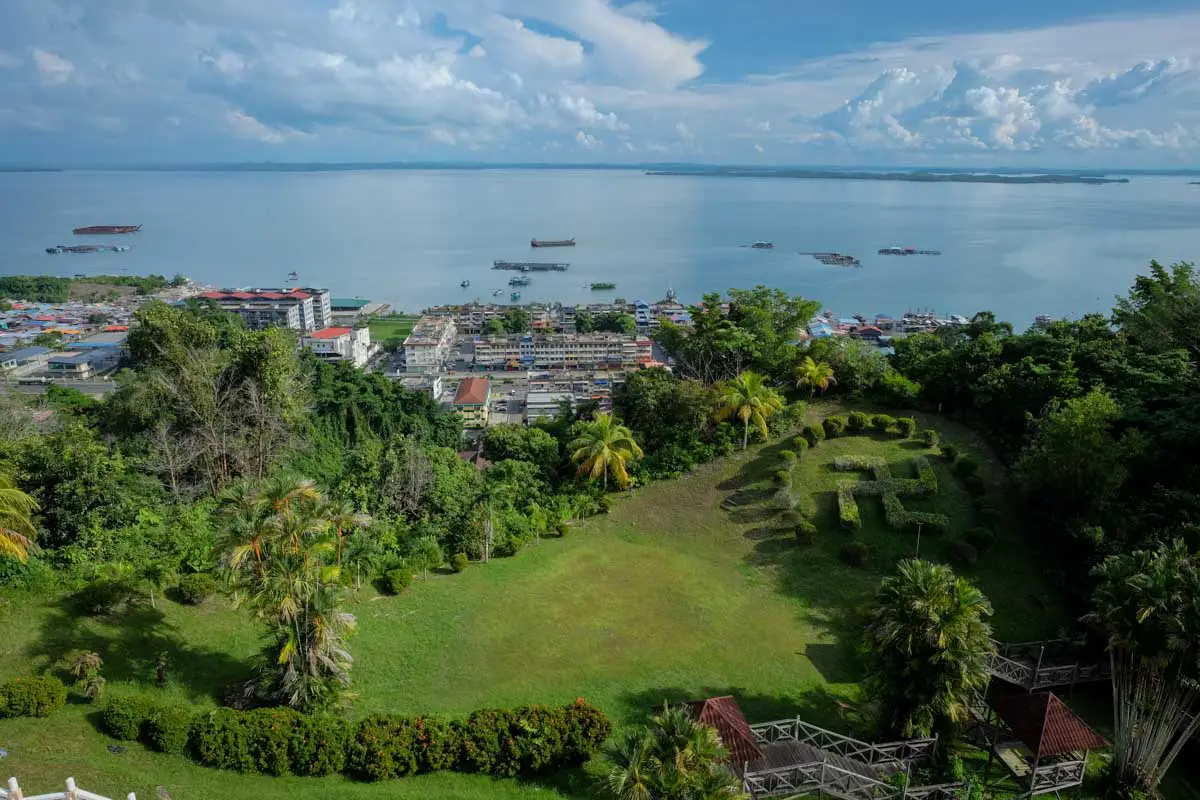 Sandakan is the last place in our two weeks Borneo itinerary — but you may even make it your first, as Sandakan is well connected by flight to Kuala Lumpur.
If you are coming from Sukau, it makes sense to stop in Sepilok first, as the orangutan and sun bear sanctuaries are located 25km away from Sandakan town along the side road that connects the Borneo highway to Sandakan and the coast.
Sepilok Orangutan Rehabilitation Center
This is one of the few sanctuaries in the world where you can see semi-wild orangutans. But if you have come from Kuching following our two weeks Borneo itinerary, you may consider skipping Sepilok as the entry ticket is more expensive than Semenggoh. To be fair, the experience at Sepilok is also more touristy.
This said, Sepilok has a better space for the baby orangutan nursery, and also an open play space where the young orangutans engage with slides and swings. By any means, visiting Sepilok is a great experience, and your money will benefit the rehabilitation process.
Borneo Sun Bear Conservation Center
Even if you skip Sepilok's orangutans, you can't skip the BSBCC which is just in front of it. Come meet the world's smallest (and cutest) bear at this sanctuary that, since its opening in 2008, has already saved 62 endangered sun bears, and rehabilitated and released 7 back into the wild.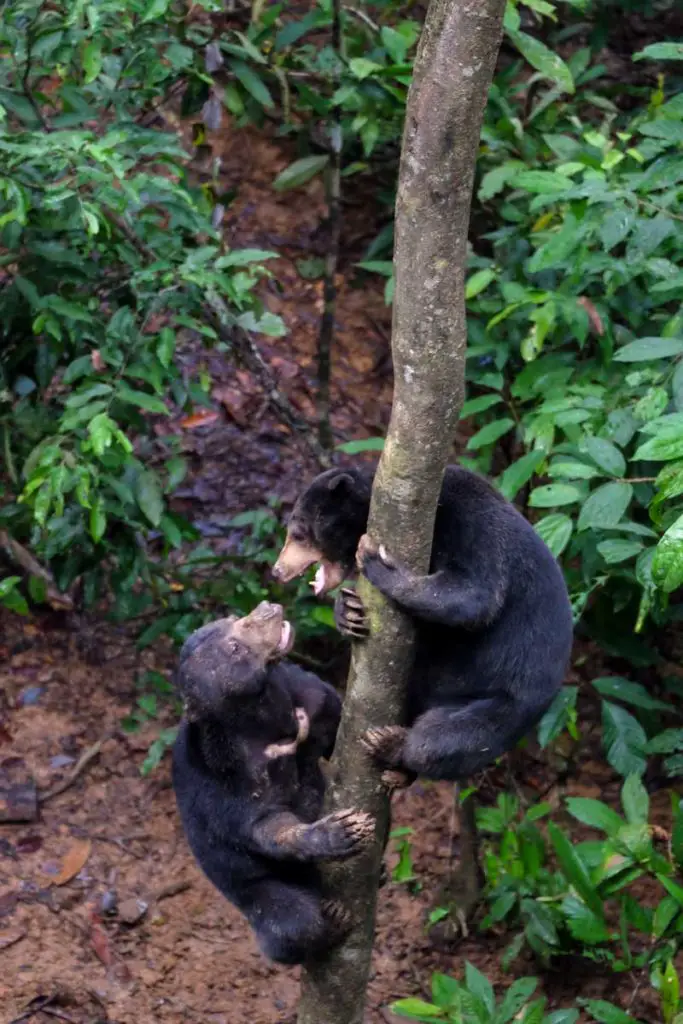 The Center itself offers a walk around the protected enclosure where the sunbears can roam freely. Watch as they climb the tropical trees in search of food and fun, and observe the peculiar moon-shaped milk-white mark they carry on their upper chest as their species' distinctive symbol.
If you fall in love with the sunbears, apply for the volunteer program run at the center by Doctor Wong Siew Tee, who was nominated a CNN Hero because of his conservation efforts.
Sandakan
Sandakan is the perfect ending point (or a great landing point, if you prefer following the other way around) to a fantastic two weeks Borneo itinerary.
Sandakan city itself is not very attractive: bombed to shreds during the Japanese occupation of Borneo in WWII, the beauty of the colonial Sandakan of yore only resists in a clasp of battered heritage buildings. The most interesting is the former residence of American author Agnes Keith, who wrote three books on Borneo here. There are also St. Michael's and All Angels Church, and a couple of impressive Chinese Temples. Puu Jih Shih Temple, situated on top of Tanah Merah hill, is a taxi ride out of the city centre but it's a fantastic place to have a whole view of the bay and see the sunset.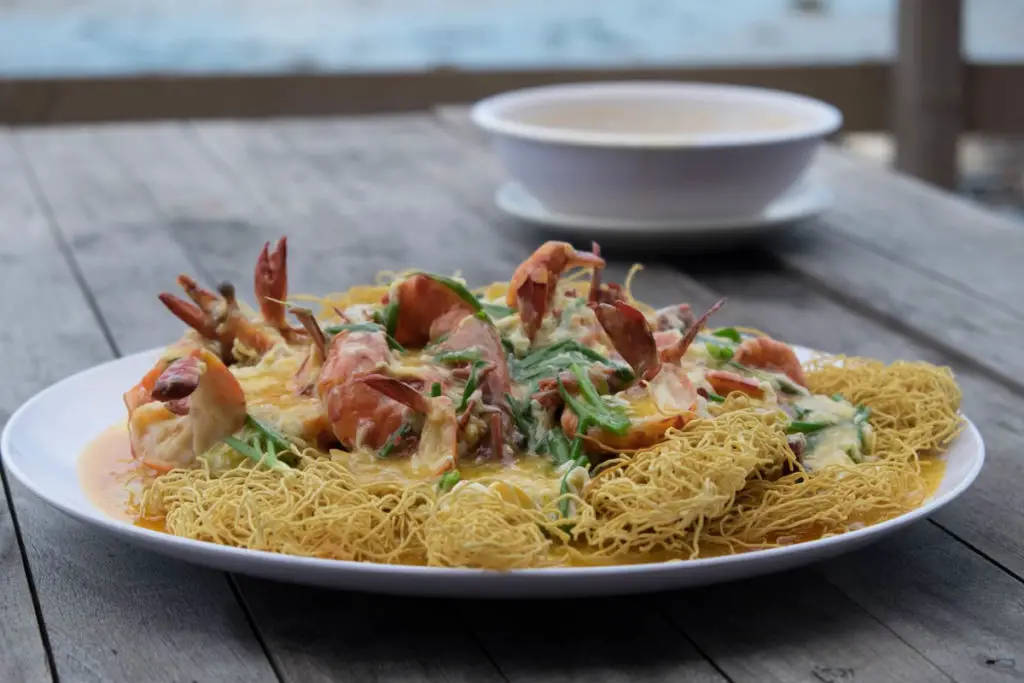 PRO TIP: One of Sandakan's top draws is food: at a minimum, with one night to spare, go to the Sim Sim stilt village at Restaurant Sim Sim 90, and order any of their famous seafood dishes. Squid and prawns are their signatures, so ask the Chinese chefs to recommend you their plate of the day, and you won't be disappointed. Don't be put off by the rustic atmosphere… you are dining on a wooden stilt verandah over the sea, after all.
For a full Sandakan food guide, check out Thani Slim's suggestions.
Where to Stay in Sepilok and Sandakan
• Paganakan Dii Tropical Retreat
• Nature Lodge Sepilok
• Sandakan Backpackers Hostel
• Four Points by Sheraton Sandakan
• NAK  Hotel
See more places to Stay in Sandakan and check prices
How to get from Sukau to Sandakan
Sukau is not far from Sandakan's Mile 32 turn off at the main highway. Any bus from Kota Kinabalu's Inanam bus station to Sandakan will stop for you.
If you want to see the orangutans first, make sure you tell your driver to stop for you at the Sepilok turnoff. The centre is about 4km down the road, and plenty of local taxis can whisk you there for a few Ringgit.
Remember that local buses also shuttle between Mile 32, the Sepilok Junction, and then proceed to Sandakan every 20 minutes or so until 7 pm.
---
Three weeks Borneo Itinerary
Now that you have spent two weeks in Borneo, we are sure you realized that it wasn't enough time. You need at least another week to go deeper and see more of the beautiful places that Malaysian Borneo has to offer.
The following are some useful suggestions to extend your two weeks Borneo itinerary to three weeks, continuing (or starting) right from Sandakan.
READ MORE — 7 Alternative Places to See in Sabah
Lahad Datu and Bukit Piton orangutan Reserve
Few people recommend visiting Lahad Datu, especially because its name still resonates with the memory of the 2013 standoff that saw marauding Southern Filipino Sulu pirates attack the coast.
We think that avoiding Lahad Datu today is a mistake: the place is quiet and offbeat, has very friendly local people, good food, and an interesting fish market. Don't forget the Bukit Piton orangutan reserve nearby, possibly the richest eco-system in Sabah to see 100% wild orangutans and pygmy elephants.
Where to Stay in Lahad Datu: without a doubt, Bike and Tours is the best option in town. Friendly, quiet, intimate, and with a nice little swimming pool to cool off those hot afternoons. Itisha and Simon are great hosts, too.
Explore the Danum Valley Conservation Area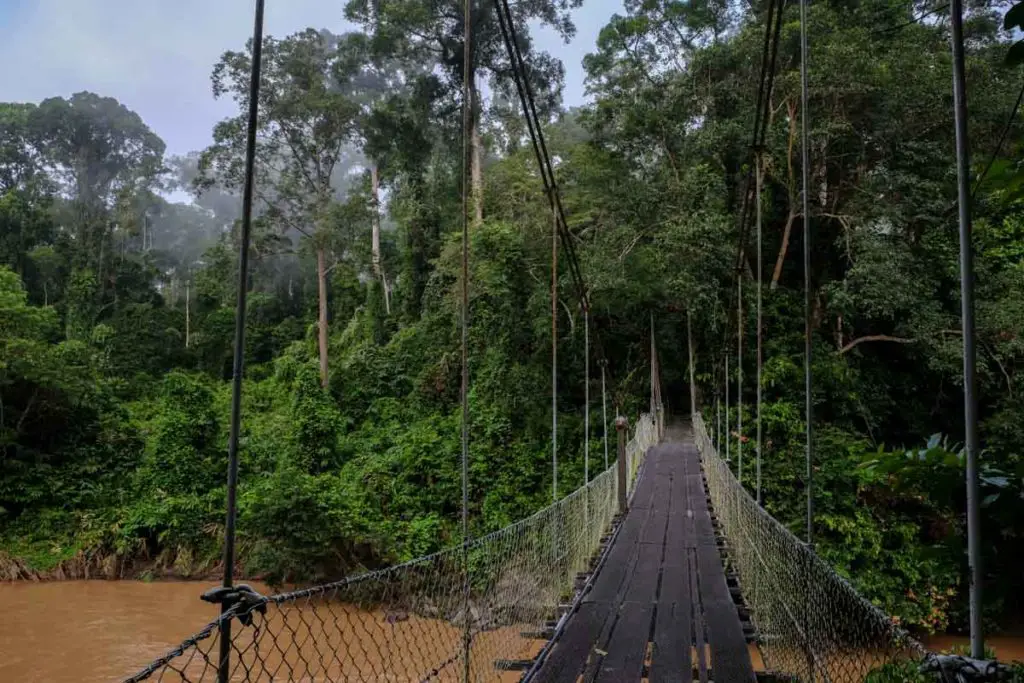 If you have made it all the way down here, you shouldn't skip the Danum Valley, a patch of primary rainforest where most of Sabah's remaining wildlife has found the perfect habitat to thrive. Monkeys, orangutans, snakes, mouse deer… with the right guide, you'll see them all.
READ MORE — Ultimate Guide to Visiting the Danum Valley
Explore Tabin Wildlife Reserve
Set on the east of Lahad Datu, Tabin Wildlife Reserve was the habitat of the Sumatran rhino. You won't be able to see them anymore, as they are extinct in Malaysia since 2019.
Regardless, Tabin is another good option to see some amazing Borneo rainforest without the crowds.
Sungai Kapur
Emerged as a proper destination only in 2018, the Sungai Kapur reserve is Kinabatangan without the crowds and a wilder feel. You can read our complete guide to the Sungai Kapur river safari and decide for yourself.
Tawau Hills Park
Sabah's southernmost city doesn't get much publicity regardless of its unspoilt, empty beaches, and one of the most rewarding hikes in the whole of Sabah. Read more about Tawau Hills Park and Mount Lucia.
Dive at Mabul and Sipadan
If you like diving, or your holiday doesn't feel complete without enjoying a fantastic beach, there are no better shores than Mabul island in the whole of Borneo. Sipadan soars nearby — this heavily protected marine park is one of the best scuba diving sites in the world. Looking for hammerhead shark galore? You've come to the right place.
---
Practical Tips to Make the Best of your Borneo Itinerary
When traveling to Borneo, a backpack is easier to carry around and lug on and off buses and boats.
Remember to pack insect repellent and fast-drying clothes you can easily wash in a hotel's sink and dry on a line — another essential thing to carry.
When hiking in Borneo, leech socks are much recommended to avoid the jungle's most nasty bite. A hiking raincoat and a decent pair of hiking boots are definitely recommended. Don't think you can scramble in the jungle in those flip-flops…
You don't really need a tent because the jungle floor is too wet and uneven to be comfortable. For Borneo camping, mosquito-net-equipped hammocks are much more practical.
How to Get to Borneo
Either side of Borneo (Sarawak or Sabah) is connected by many economic flights departing Malaysia's capital Kuala Lumpur, which in turn is one of Southeast Asia's main hubs, connected to most areas of the world by all major airlines.
You can check the best prices from Kuala Lumpur to Kuching, and from Kuala Lumpur to Kota Kinabalu or Kuala Lumpur to Sandakan.
How to Move Around Borneo
Given distances, if you only have two weeks in Borneo the best option is to book all your flights before you go. If you book ahead, flights will be very inexpensive and will get you quickly to most cities in Sarawak, Brunei and Sabah. Saving your travel time will maximize your discovery time.
Bus services are reliable and comfortable, but given they are also not so cheap, we think flights are always preferable when short on time. For example, it would take you 12 hours to go from Kota Kinabalu to Tawau by bus, while the same trip only takes an hour and a half by flight — and most often, it's cheaper than a bus ticket.
Other Useful Tips
Get a Borneo guidebook
A good guidebook can help you on the ground, and there are two good ones on Borneo:
Lonely Planet Borneo
Bradt Guide to Sarawak and Sabah
Sim card/Data plan
It's easy to get a Malaysia Tourist SIM card in any Borneo airport or major city, but consider that data connections work best in urban centers. For rural Borneo, Celcom seems to have the best coverage. Forget reception when you are in the jungle.
Please read this complete guide on how to get a tourist SIM card in Malaysia.
---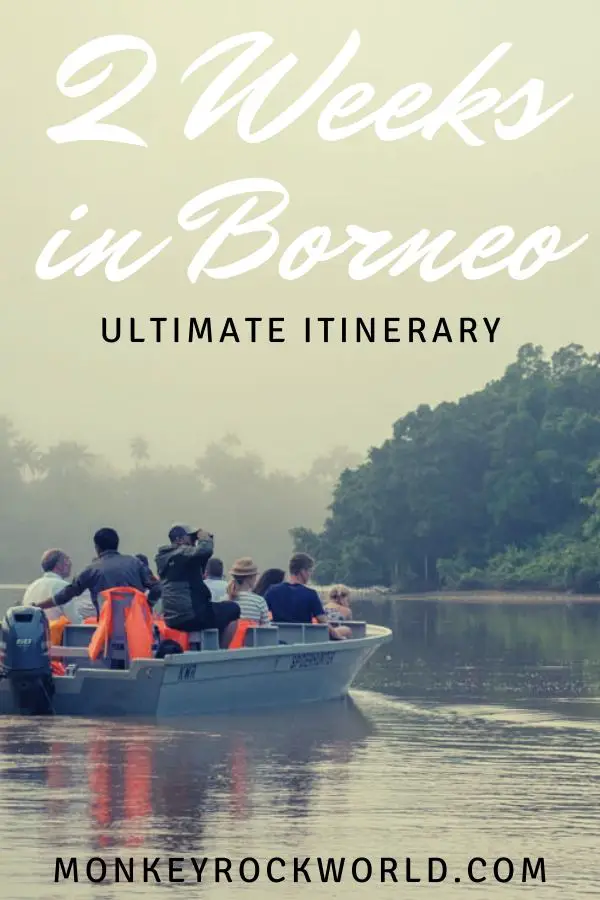 Did you enjoy our two weeks Borneo Itinerary? Are you inspired to travel more around Borneo and Malaysia?
Further Readings on Malaysia and Borneo
• Ultimate Guide to Backpacking Borneo
• Explore Bukit Piton Orangutan Sanctuary
• At Home with Pirates on a Sungai Kapur River Cruise
• Best Places to Visit in Malaysia in 3 Days
• Tawau Hills Park Hiking Guide
---
Blogging transparency: this post contains affiliate links. These are products and services that we personally use and recommend. If you click on one and buy any service, I will get a small commission at no extra cost to you. Consider it a small way to say thanks, and keep Monkeyrockworld going.
---