Good news: in the past year, the process of lodging a Pakistan visa application has become easier. Probably even too easy when compared to when we applied for a Pakistan Visa in Kuala Lumpur Malaysia.
These days you don't need to visit a Pakistani embassy anymore, and what's more important, you don't have to lodge your application while you are still in your own country or country of residence.
In a bet to restore the high numbers of tourists who used to flood to Pakistan's amazing mountains until the tragic events of 9/11, Pakistan's Minister of Interior has launched a Pakistan e visa portal that accepts applications from citizens of 179 countries.
Travelers should rejoice about this new development: it works, it's fast and easy to use. And it should allow overlanders to finally be able to get their Pakistan visas from the road. In fact, you can now enter and exit by air, land or sea at your discretion, provided you say so when lodging your Pakistan E Visa application. A list of all the possible entry points can be found here.
We have applied for a Pakistan E visa at the end of May 2019: this post details the process to help others avoid mistakes and travel to Pakistan without any issues.
How can I get a Pakistan Visa Online?
First of all, log in to Pakistan e visa portal.
You will need, at a minimum, JPEG copies of:
Your passport data page
Your photograph on a white background. Close your mouth and don't wear your spectacles.
A Letter of Invitation (LOI) OR Hotel reservation in Pakistan
If you are a resident of another country and you state this in your application (I did), you will also need:
Proof of residency in the third country. A copy of your residency visa (student, work, business, spouse etc.) will do.
First off, what's the difference between Pakistan E visa and Visa on Arrival?
Visa on Arrival (VOA) is available to 50 nationalities and is an Electronic Travel Authorization (ETA) to visit Pakistan. It is issued online in 48 hours, and you need one to enter the country. You CAN'T just fly to Pakistan if your nationality is on the list — get the VOA first.
VOA is valid for 30 days, and for some nationalities (including Malaysians) is multi-entry. It's not clear yet if it can be extended.
The Pakistan E Tourist Visa works exactly the same, with the difference that one can ask for longer stays. We applied with an LOI for 30 days, and that's what we got. But it should be possible to renew this type of visas online, using the same Pakistan E visa portal. We will update you as soon as we know.
Pakistan E Visa Fees
Prices for a Pakistan E Visa depend on nationality and are the same for both VOA and E Tourist Visa: as a ballpark, consider that most European countries pay 35$, Americans pay $60, and Malaysians only $8.18. You can check fees for all other nationalities on the official site.
Step by Step Pakistan E Visa process
1. Create an Account
First things first, you will have to LOG IN or CREATE AN ACCOUNT. This is to save your application in case you need to get back to it later. It's a useful function as the Pakistan E Visa application is quite lengthy to complete, and you may decide to not do it in one go. It took me a little over an hour to complete and submit mine for the first time.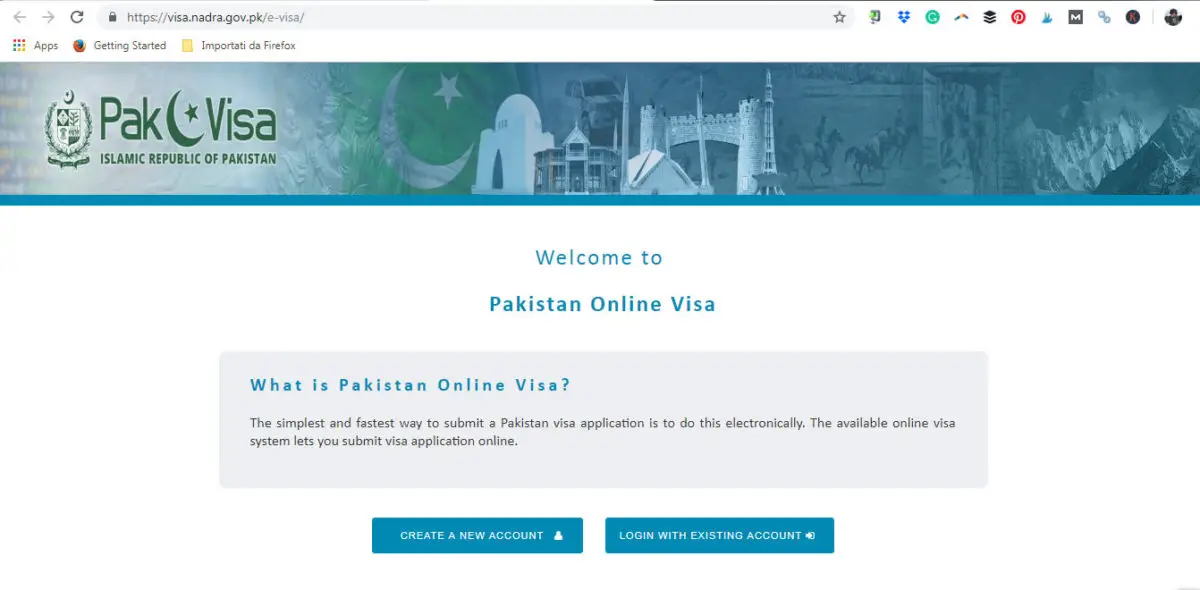 2. Verify your documents for your Pakistan E Visa Application
After you have created an account and verified it through a link and a PIN code sent to your email, you will be able to start with the Pakistan E Visa application proper. The first thing I recommend you do to avoid mistakes, rejections, and losing money (there is a no refund policy here, I'm afraid) is checking that your passport scan and LOI/Hotel bookings are in JPEG format (the portal does not accept PDF), and that your photograph size and format complies with the portal's requirements.
There is a handy tool to do exactly that in the Pakistan E Visa portal Help section: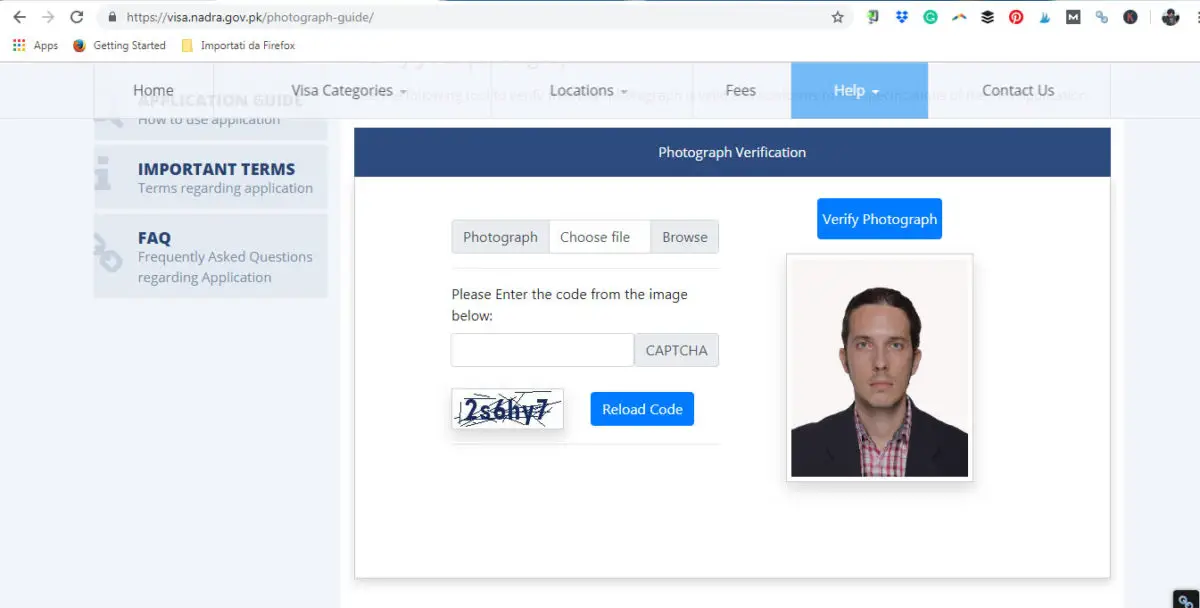 As you can see, your photo must be frontal (obvious), on a white background, and you can't smile or wear spectacles.
You can browse to the location of your photo in your computer, fill in the captcha field, and verify that your portrait meets all the requirements. We always think that safe is better than sorry.
3. Fill Up the Pakistan E Visa Online Form
This part will require more time and attention. You need to have quite a lot of information handy, as the Pakistan E Visa application, similarly to the India E Visa's, has a lot of fields involving yours and your family's background, travel history, and so on.
This information includes among others:
Your parents' names, dates of birth, and passport numbers
The details and passport numbers of any person who will travel to Pakistan with you (if any)
Details, address, citizen identification and phone number of your sponsor or friend in Pakistan (if any)
A rough itinerary, with addresses of places you will be staying at (or think of staying at)
Once you have all that stuff and are ready to start filling in the details, the first thing to input is your Visa Category, Sub-category (which is the duration you require for your visa. This can be less than 3 months, up to 6 months, and up to one year — currently, it seems like the second and third options are not possible for tourists), the Application Type (first application or visa extension), and the Visa Type (single entry or multiple entries).
The opening screen looks like this: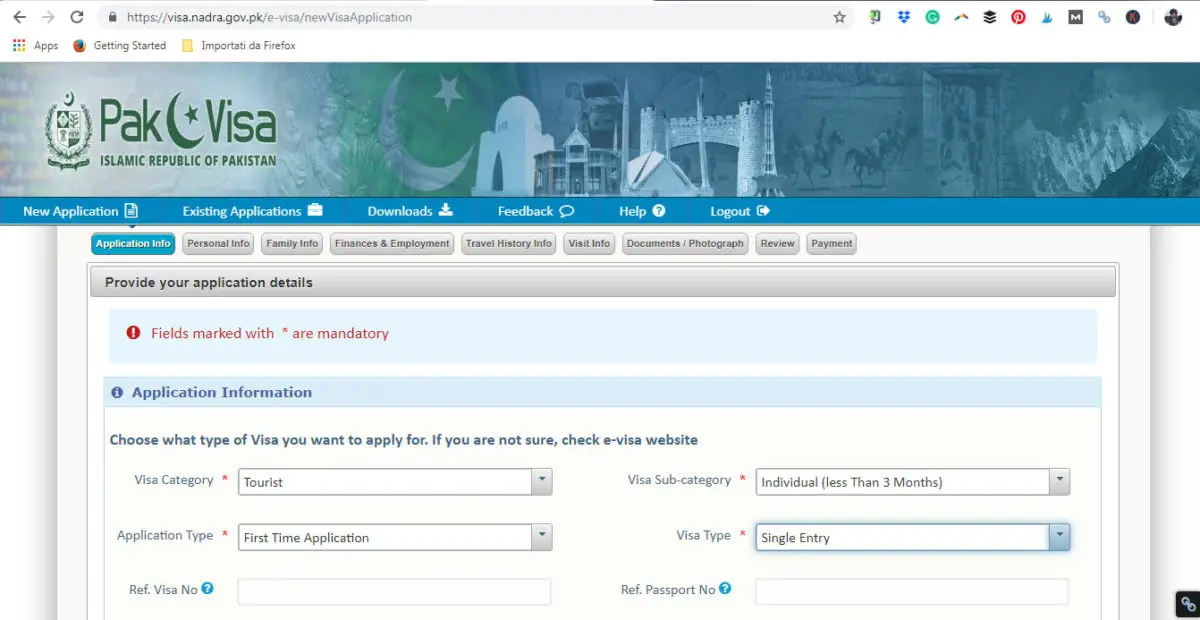 As you can see from the tabs in the image above, the application has 7 stages:
Application Info
Personal Info
Family Info
Finances & Employment (don't worry too much if you are traveling and don't have a job, as this field was actually not required)
Travel History Info from the past 3 years (put some details and dates without worrying too much. The important part here is listing if you have been to Pakistan before, and when)
Visit Info (this relates to your dates for the visit to Pakistan you are seeking)
Documents & Photograph
4. How to Submit Documents and Photographs for obtaining a Pakistan E Visa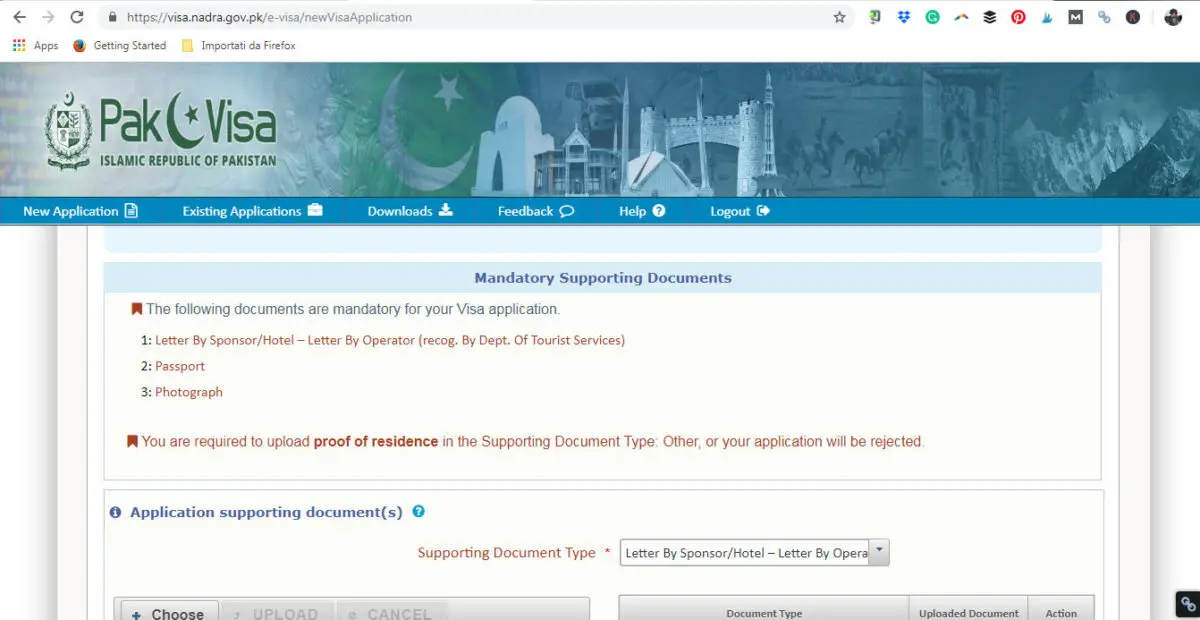 As you can see from the image, there are three mandatory items you need to have ready in JPEG format and smaller than 500kb:
Letter by Sponsor/Hotel – Letter by Operator recognised by Department of Tourism
Passport
Photograph
In my case, I applied with an LOI released by the awesome people at Karakoram Bikers, from whom I'll rent a motorbike to tour the Northern Regions.
Please understand that you don't necessarily need an LOI from a tour operator: several other cases reported in travelers' message boards and facebook Groups demonstrate that people were granted Pakistan E Visas using LOIs from kind Pakistani citizens who offered their help.
It seems you can also use Hotel bookings through the most popular websites such as Hotels Combined and Booking.com. Independent travel is possible, and we'll keep updating this section as soon as we know more about it.
You will notice from the screenshot above that, in my case, additional residency proof was required. This is because I stated I am born in Italy but now reside in Malaysia. Uploading a scan of my current Malaysian visa was enough to satisfy that requirement.
5. How to Pay for your Pakistan E Visa
After you have compiled everything, uploaded your photos and documents, and taken time to review your application, it's time to pay by credit or debit card. This is the payment screen, which is quite self-explanatory.
Visa and Mastercard are accepted.
I paid with a Malaysian Debit card and had no problem. I immediately received a confirmation email for my payment of US$ 35, and also a success screen.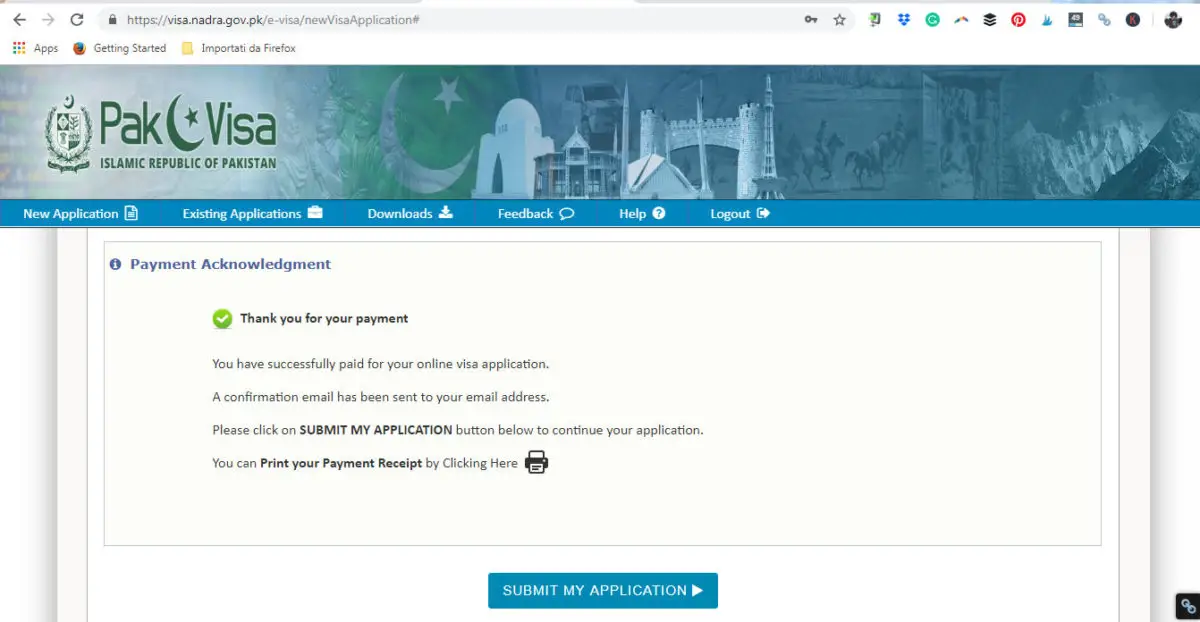 Remember, you are not finished yet: even after you have paid, if you don't Submit your Application, the visa will remain pending in the system. So make sure you complete this step: you will receive a second confirmation email granting the submission of your Pakistan E Visa application.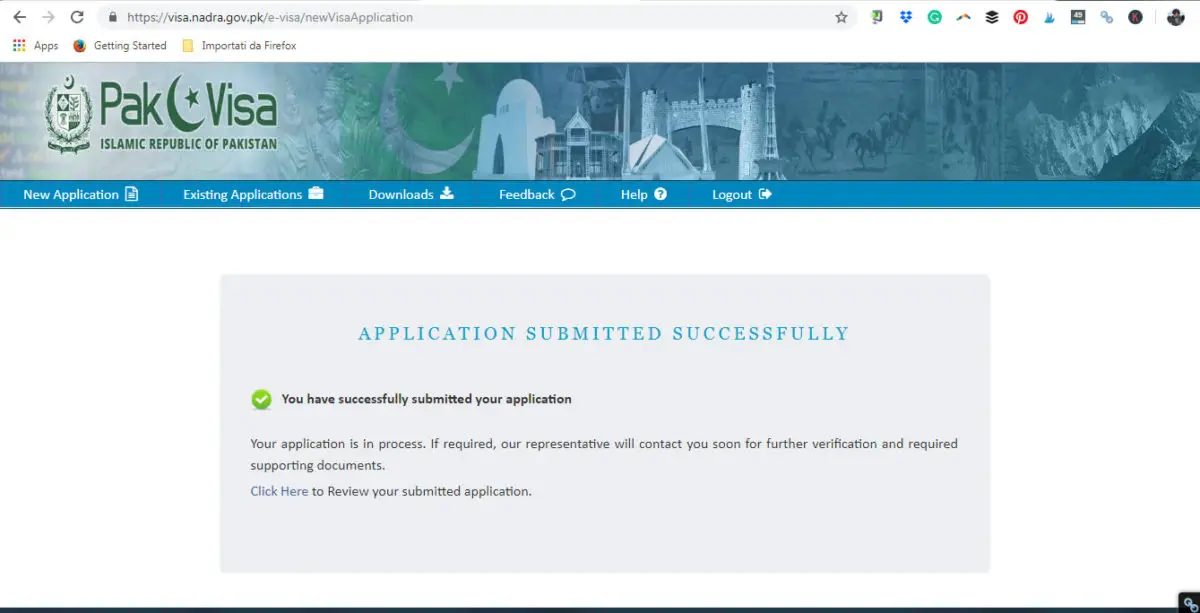 Now you can relax and wait. When you are logged in, your application status is now recorded under "Receiving" in the portal's main dashboard.
How long does it take to get a Pakistan E Visa?
The website says 5 to 7 days processing time. I was worried as in some cases, applicants may be required to visit a Pakistan High Commission of their choice to undertake an interview, and I was leaving for India only a couple weeks later. My worry came from a couple of traveler reports in a Pakistan Couchsurfing Whatsapp group, who said they  waited almost a month to receive their visa.
Well, my experience was dramatically different: I applied on a Saturday afternoon during the fasting month of Ramadan, and was granted my visa on the next Monday morning. A shocking fast turn around of less than 48 hours! Thank you, Minister of Interior Pakistan!
The validity of my visa is 70 days, starting 20 days earlier than the arrival date I mentioned in my application. Once I will enter Pakistan, I will be given 30 days as stated in my LOI. I suppose with a longer invitation, you may be able to get a longer visa. Otherwise, the recommended option is extending it in Lahore. Or online, as I explain below.
What do I have to do when my Pakistan E Visa is Granted?
You must log in the official Pakistan E Visa Portal, look under the "completed applications" tab, and download your PDF E Visa directly from the website. Print it out and travel to Pakistan by air; from China, India or Iran via land border; or by ship.
---
Can I Extend my Pakistan E Visa?
The simple answer is: Yes, you can.
But as the system is new, and few people have reported about it, there is still a bit of confusion. Here's my own experience renewing a Pakistan E Visa from inside Pakistan in August 2019.
How to Extend a Pakistan E Visa: Step by Step Guide
Ok, the process is quite straightforward but not very clearly explained on the NADRA website.
To extend your Pakistan E Visa, you need to be on the valid E Visa you have previously acquired online, and you need to be in Pakistan at the time of application. Sorry for being silly, but I must point out that if you have a paper visa, you shouldn't be allowed to extend it online, and you should visit a passport office in any of Pakistan's major cities. To extend your Pakistan E Visa online:
First of all, log in to Pakistan e visa portal.
You must lodge an application for a new E Visa, not reviewing your existing application

When applying, you must select the fields as illustrated in this screenshot: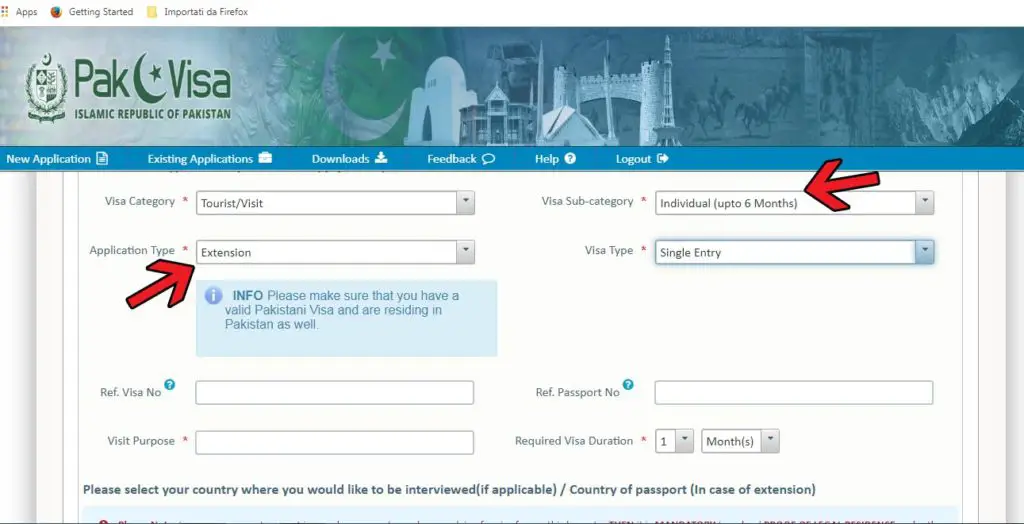 In brief:
In Visa Category, select: "Tourist/Visit"
In Application Type, select: "Extension". You will see that an infobox will pop up, asking you to make sure you have a valid Pakistani visa and are inside the country.
In Visa Sub-Category, select: "Individual (up to 6 Months)" even if you plan on staying less. This is very important, as otherwise, the system may not let you continue with the application.
In Visa Type, select: "Single Entry"
The field "Ref. Visa Number" obviously refers to the number of the current Pakistan E Visa you are on. Please insert that and continue filling up the rest of the application as you did for the first time (and I clearly explained above).
How Much Does Extending a Pakistan E Visa Cost?
The cost of a Pakistani E Visa extension is 20$, regardless of nationality and period of extension sought, payable by credit or debit card.
What Documents are Needed to Extend a Pakistan E Visa?
At a minimum, you will need:
A .jpg picture of your current Pakistan entry stamp, which has your E Visa number written in pen by the immigration officer around it.
The PDF of your original E Visa you are still on.
LOI/ Hotel Bookings supporting your continued and requested stay in Pakistan.
These files must be uploaded at the end of your application and before payment. I must say that I am not entirely sure that everyone will need a new LOI to get their extension. Probably, if you only submitted hotel bookings with your original application (like in the case of most Malaysian and Singaporean travelers) you may only need to submit more of those.
In my case, I submitted a new LOI. After less than 24 hours I was granted a new E Visa covering the period I asked for (one month). As per the first E Visa, I had to print the new E Visa grant and carry it around with me. Don't be surprised if any policemen, officials and whatnot will frown when looking at your paper — they haven't seen many yet and expect a traditional sticker visa placed inside your passport.
Exiting the County on an Extended Pakistan E Visa
I exited Pakistan by land via the Wagah Border. All I had to do was presenting a paper copy of my original E Visa, and one copy of my extension. A black and white print was enough. I exited 5 days before my extension expired, so I had no issue with overstaying such visa (remember, you can overstay a Pakistani visa up to 14 days without extra fees or issues, but even here, reported experiences are different). No questions asked, I was stamped out and on my way to India in no time.
---
Getting a Pakistan E Visa: Conclusions
I am positively impressed by the changes and the quick turnaround of my first Pakistan E Visa application. It was, all in all, quite long to fill in the forms, but given the super quick result, I can't really complain.
This new system is going to make things easier for all those who want to travel to Pakistan. Together with the change to the popular Indian e Visa (which now allows multiple entries of 90 days each for either one of five years) traveling to and from Pakistan via Amritsar, which is connected to Southeast Asia via both Air Asia and Scoot (check their useful flights to Lucknow) is going to be a breeze. Enjoy a streamlined process to get your Pakistan visa and enjoy some of the world's best mountains!!