It's time for a Borneo holiday and you decided to go on a Sabah tour. There are certainly a lot of options, including some beautiful and well-tested Sabah attractions, but if you ask us what are the best things to do in Sabah, we always prefer to stay off the beaten path.
In other words, a Sabah trip doesn't always have to be a visit to Kota Kinabalu, spending a lot of money to climb Mount Kinabalu, go on an "orangutan spotting tour" in a full-fledged rehabilitation center, or diving off Semporna's islands with hundreds of Chinese package tourists. For more tips, check this guide to visiting the Danum Valley Conservation Area, a list of Borneo best beaches, and our ultimate guide to backpacking Borneo.
There are certainly more interesting places and things to do in Sabah you should consider to make your Borneo holiday a very special one — and concentrate on spotting real wildlife — which should indeed be "wild" — and making meaningful local encounters.
READ MORE – Best Places to Visit in Malaysia in 3 Days
The following 7 suggestions are a selection of great and still lesser-known Sabah attractions we believe you should know about. We have recently been on all of these Sabah tours, and decided to write this article to share some good tips and give you some first-hand suggestions to find real highlights on your next Borneo tour… don't forget to pack your adidas kampung.
READ MORE – The Ultimate 2 Weeks Borneo Itinerary
Offbeat Things to Do in Sabah near Kota Kinabalu
1. Hiking at Kampung Sayap, the other side of Mount Kinabalu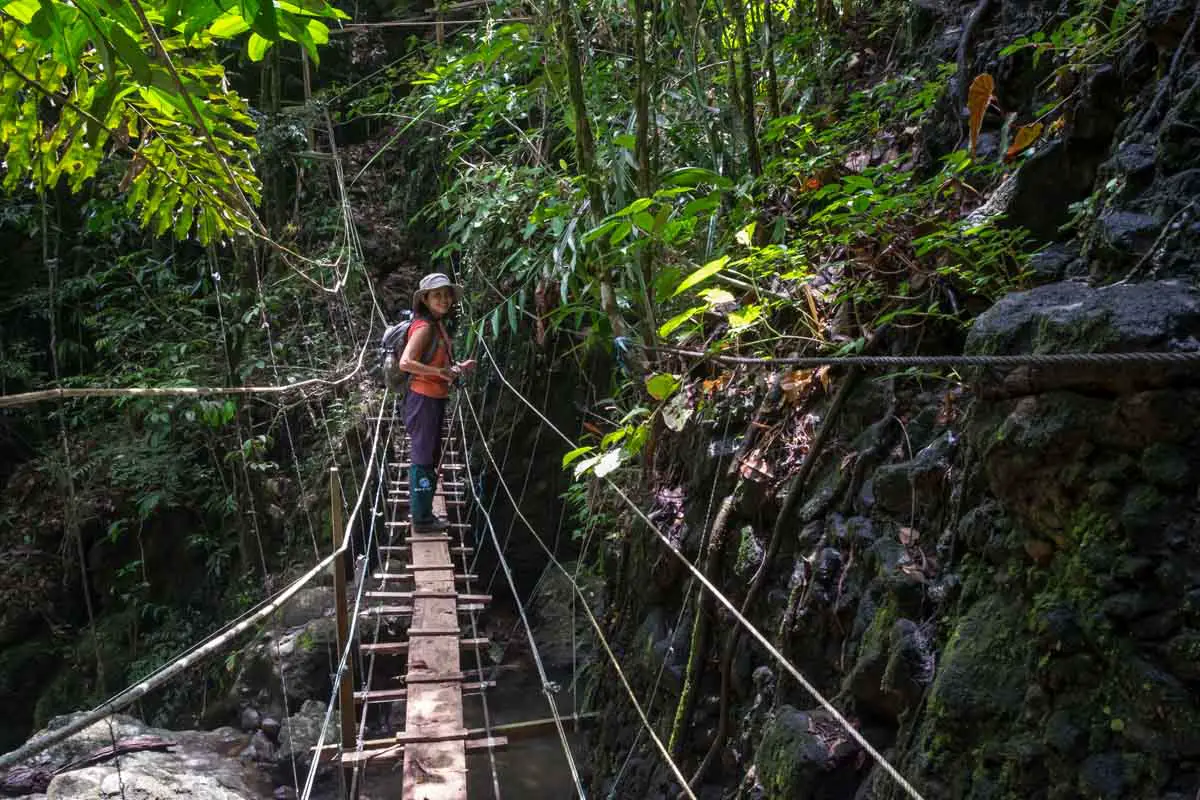 Everyone comes to Borneo and thinks that climbing Mount Kinabalu is the top thing to do in Sabah — but what if you'd literally took to the mountain from behind?
Very few visitors to Sabah know about Kampung Sayap, a delightful Dusun village set between the north side of Mount Kinabalu and Kota Belud, and only about two and a half hours drive from Kota Kinabalu. The local community has started a homestay program that revolves around the plentiful hiking opportunities around the village, and eat some of the local foods — they grow pineapples here, and you won't have sweetest than Sayap's on this side of the world.
One of Kampung Sayap highlights is the Aura Montoria Trek, a beautiful four to five hours loop that crosses rubber plantations, hidden caves, and patches of rainforest with many old, giant trees. You could also hike to the summit of Bukit Doa ("Prayer Hill"), from where the morning views over the peak of Mount Kinabalu are just stunning.
The best thing about Kampung Sayap? It will cost you only a fraction of the expensive Mount Kinabalu hike, and will give you a chance to really experience life with the locals. Anyone down for a piece of sinalau bakas, the local, juicy and yummy barbecued pork?
Since transportation to and from Kampung Sayap is quite tricky, you can book a tour with the fine folks at Sticky Rice Travel .
2. Dive and Chill at secluded Mengkabar Bay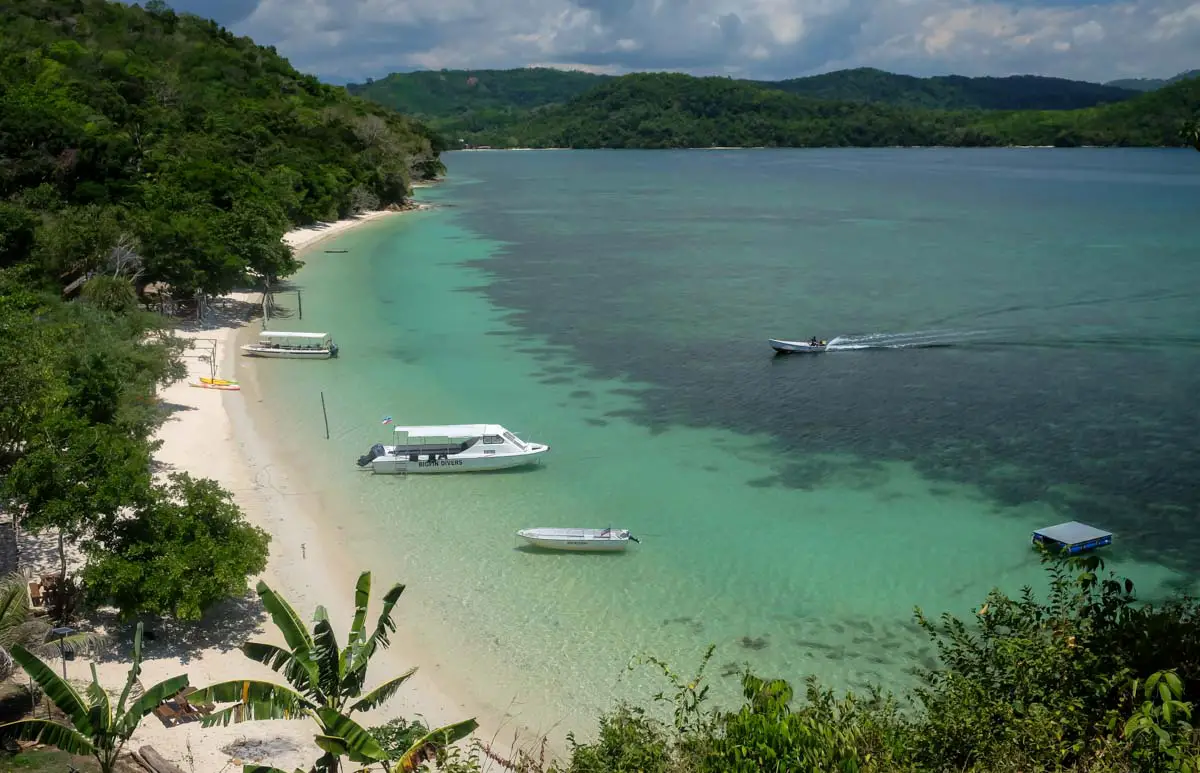 Want to experience diving in Sabah, Borneo? Oh yes. But please, avoid the gridlocked Tunku Abdul Rahman Marine Park and Pulau Gaya — yes, they are right in front of Kota Kinabalu's shoreline, but they are so crowded with Chinese and Korean tour groups you'd want to avoid diving here.
What about the beautiful islands off Semporna in the south? Mabul, Kapalai and Sipadan islands are rightly listed among the best dive sites in Malaysia, but we believe they are also over-touristed and overpriced.
Did you know that there's a new, rising spot that's just about an hour and a half from Kota Kinabalu, and yet nobody knows about? We are talking about Mengkabar Bay, a stunning piece of untamed coast about half an hour away from Kota Belud town. With 20-odd dive sites and the excellent Big Fin Divers, you are sure to find a comfortable and cozy place to stay and dive without finding the dreaded crowds. Non-divers can just chill on the beach or hike the short forest trail behind Big Fin Divers: slow lorises and Malay civets have been spotted here, so open your eyes and ears.
The future looks bright, too, as the accommodation only caters for small groups of up to 20 people, and the dive operators are resolute to maintain the place as low-key and environmentally friendly as possible.
STAY AT MENGKABAR BAY: Check BEST PRICES on Booking.com
---
A great thing to do in Sabah between Mount Kinabalu and Sandakan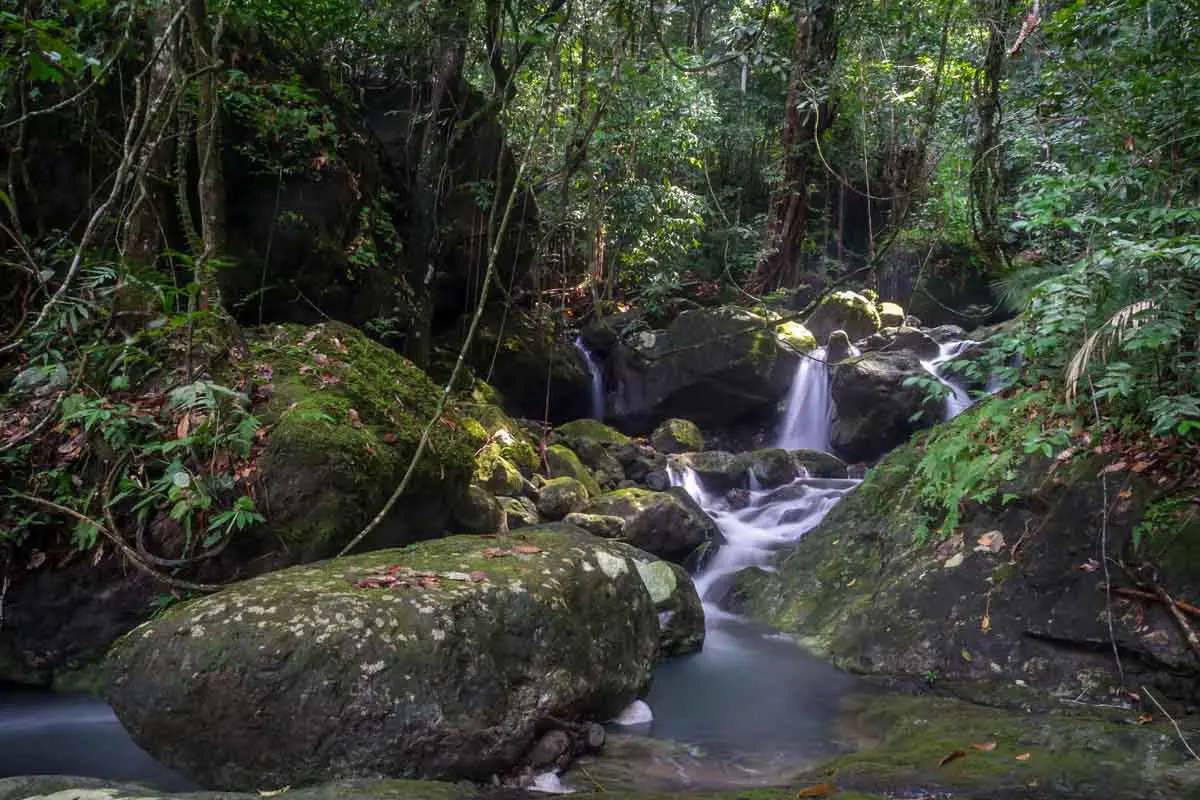 3. Experience Sabah village life with KOBEST in Telupid
Once you get tired of chasing wildlife and trekking in the rainforest, this home-stay program in the village of Kampung Bestaria near Telupid it's the next great thing to do in Sabah. It will help you unwind and understand the everyday life of authentic Sabah people.
This cooperative project is run directly by the villagers, and all tourism income goes to support their livelihoods and keeping the young in the village. Nearby Telupid Forest Reserve is a secondary rainforest that's quite hard to trek, but rewards with the pristine views of the Wasai, Kopuron, and Wasai Tunob waterfalls.
The reserve is also a good place to spot the very rare Rafflesia Tengku Adlinii, one of the smallest and rarest species of this tropical plant.
You will be guided by the young guides of the KOBEST project, and stay in the traditional homes of the villagers, sharing communal meals with them as you sit cross-legged on the living room floor, surrounded by swarms of excited kids who have rarely seen an orang putih (a "white man") before. A very recommended experience to break off your Borneo holiday in a meaningful, relaxed and very alternative way. For booking and information, you can call 01125259112 or 0142865659 or email Eddie at edchia79 at gmail (add the correct punctuation, spammers get lost!).
---
Alternative things to do in Sabah around Lahad Datu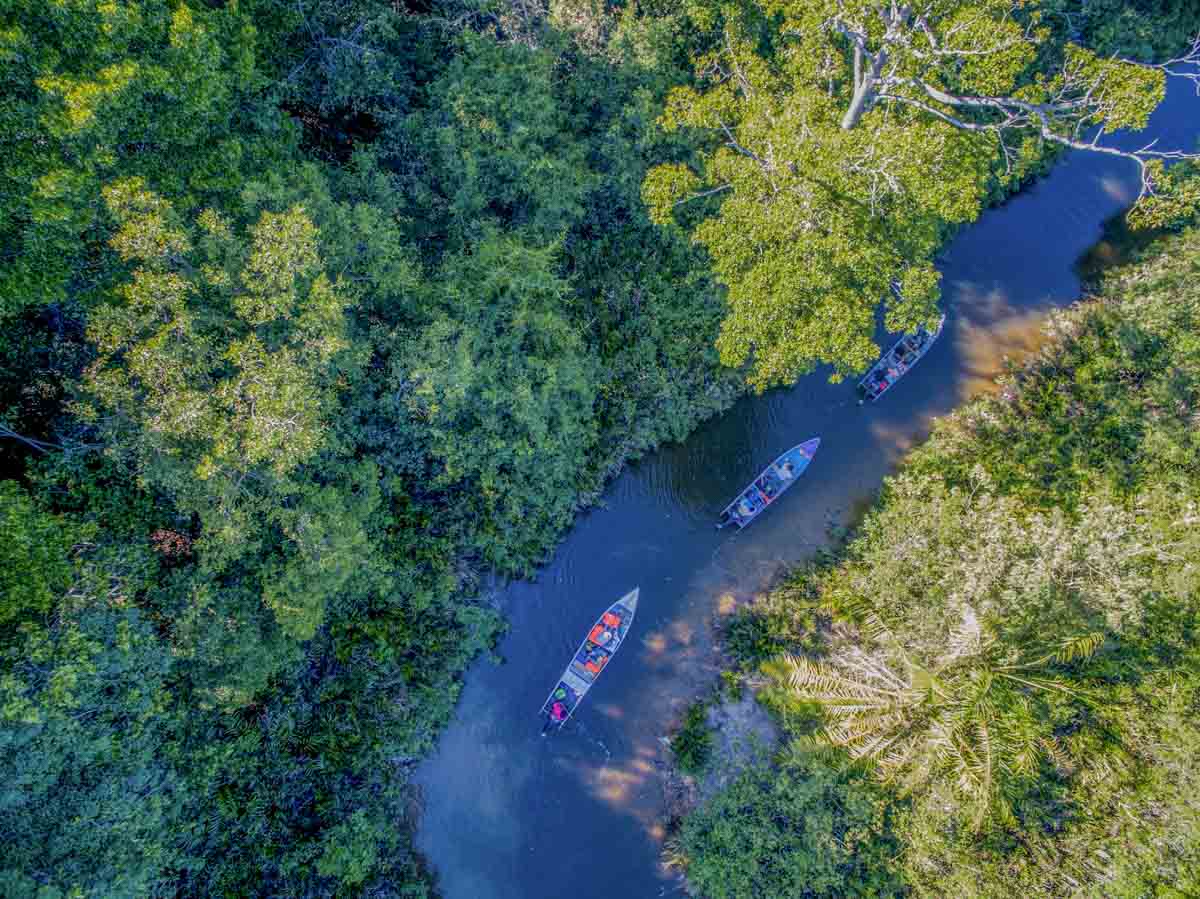 4. Sungai Kapur River Safari
The Sungai Kapur forest reserve is perched between the easternmost corner of Tabin and the Sulu Sea, and maybe the best alternative to a Borneo river trip along the beautiful, and yet quite over-touristed, Kinabatangan River.
Sungai Kapur is a pristine primary mangrove ecosystem that can only be visited by a chartered boat tour through Lahad Datu-based operator Bike and Tours. Don't think you'll be able to do it yourself, because you just can't: not only public transportation to the reserve is inexistent, but once you arrive, there's nothing much you can do here without a boat.
We have published a full article on the Sungai Kapur experience you can read to know more about all the details of this intriguing tour.
Also consider that this area was once largely off-limits because of the 2013 Lahad Datu stand-off, when militants from the nearby Bangsamoro Autonomous Region of Muslim Mindanao attacked and occupied the village of Tanduo.
Today the situation is pretty much under control, and indeed, your boatmen will be Sulu people from the nearby fishermen village of Kampung Meruap, North Borneo's last village. They'll whisk you away along the serene waterways of River Kapur, cruising up leafy side channels that have rarely seen human beings before. You'll be looking for elusive wildlife like orangutans, crocodiles, elephants and flying foxes, without other tourists around.
5. Bukit Piton Orangutan tour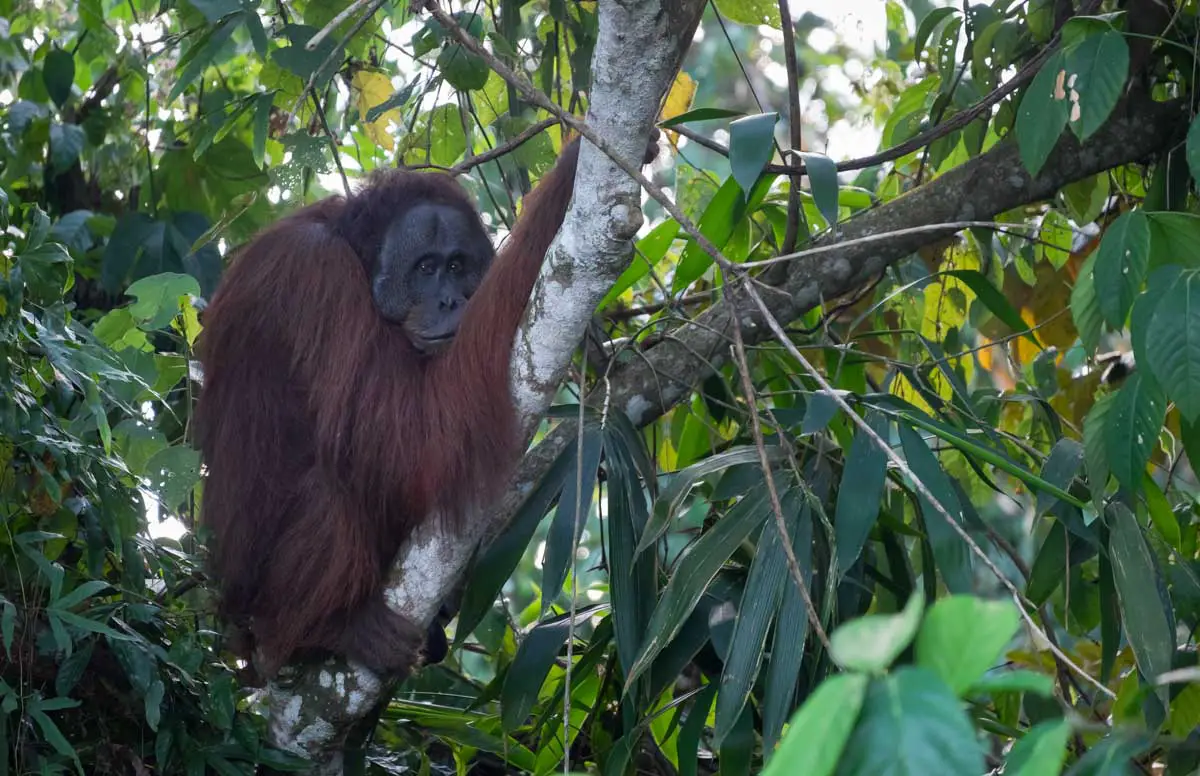 This forest reserve was once degraded because of poor logging practices, but after the intervention of the WWF Malaysia first, and Swiss NGO Brothers Cycling later, has been largely reforested. It hosts a population of 300-odd orangutans that are isolated here because Bukit Piton is surrounded by endless palm oil estates to the north, east and west, and the Segama river to the south. For this reason, it's very easy to spot orangutans in the wild here — a very different experience from the tame orangutan rehabilitation sanctuary at Sepilok near Sandakan. Don't get us wrong: Sepilok is a must, but those orangutans are not wild!
You can read our full review of the Bukit Piton orangutan tour before making your decision. Just keep in mind that not only you'll be able to see plenty of wildlife here, including slow lorises, pygmy Borneo elephants and a number of endemic bird species. You'll also contribute to making a difference, as your money will go towards Bukit Piton's reforestation project. As part of the visit, you'll be required to plant a couple of trees before your wildlife safari.
The trees are guaranteed to be nursed for a period of five years by the continuous effort of the team at Brothers Cycling.
STAY IN LAHAD DATU
We recommend the fantastic Bike and Tours Bed and Breakfast, probably the town's best option, which boasts a free form swimming pool, large and cozy private rooms, and nothing short of white-glow service — try the candle-lit dinners, and you'll thank us for the suggestion.
CHECK BEST PRICES: Booking.com| Hotels Combined
For budget travelers, central Tabin Lodge Bed and Breakfast is another perfect option straight in the center of Lahad Datu town and next to its interesting fish market.
CHECK BEST PRICES: Booking.com| Hotels Combined
---
Offbeat Things to Do in Sabah near Tawau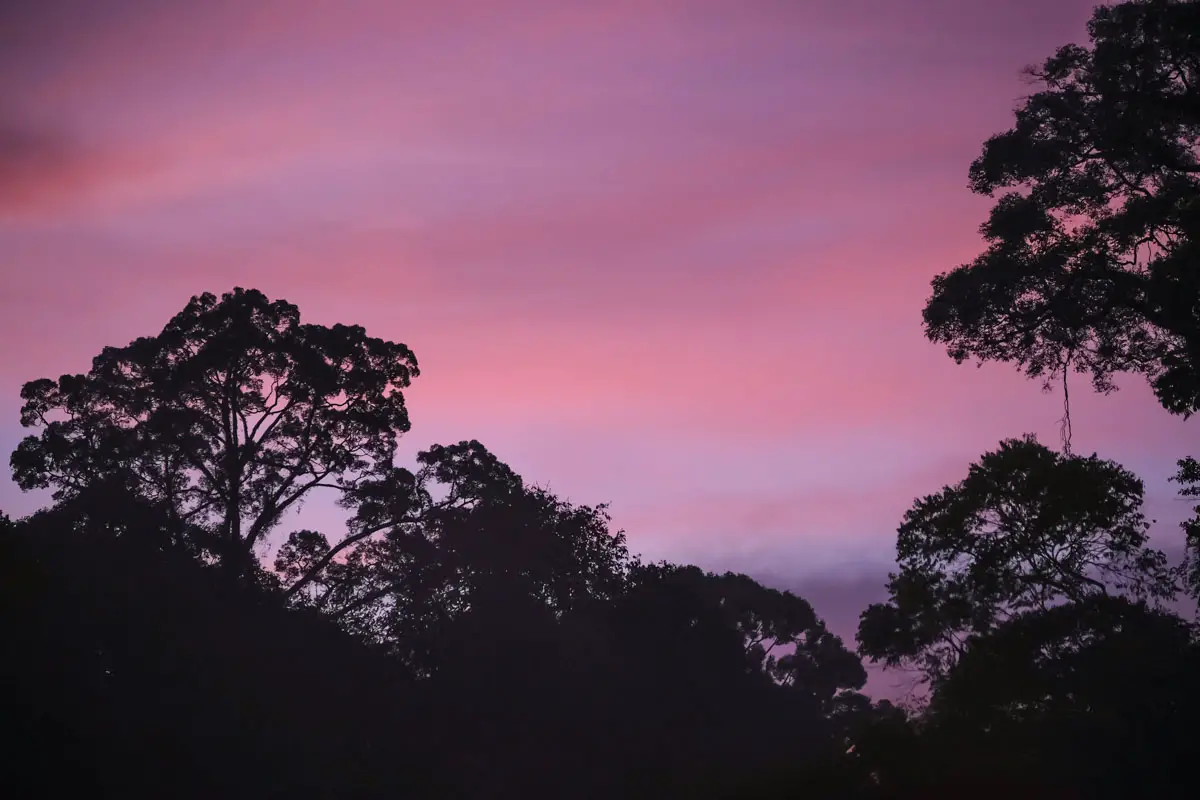 6. Hike at Tawau Hills Park
Sure, everybody goes hiking at Kinabalu Park, the Danum Valley and Tabin Forest Reserves, but you know what? Many tourists also mean having fewer animals around, and hence, fewer chances to see wildlife, regardless of having spent quite a lot for your Sabah forest trip.
Did you ever consider Tawau Hills Park, conveniently located 20km north of Tawau city, which is only a short one-hour flight from Kota Kinabalu? We think it's the best thing to do in Tawau, period.
Read all about our hike in Tawau Hills Park, where we saw wildlife, including hornbills, gibbons, harlequin frogs, deer and a lot of rare Borneo birds. One of the highlights was hiking the 10-kilometre trek to Mount Lucia, a study site for the elusive Borneo clouded leopard. Guests can stay in the middle of the rainforest in a charming wooden cottage surrounded by wild nature and in walking distance to exciting jungle hikes.
Please check best prices for your flight to Tawau on 12GoAsia, a transport provider website we often use, and which accepts all major credit cards, and offers free cancellation of your bookings if anything goes wrong last minute.
7. Support the Plant4Borneo Elephants project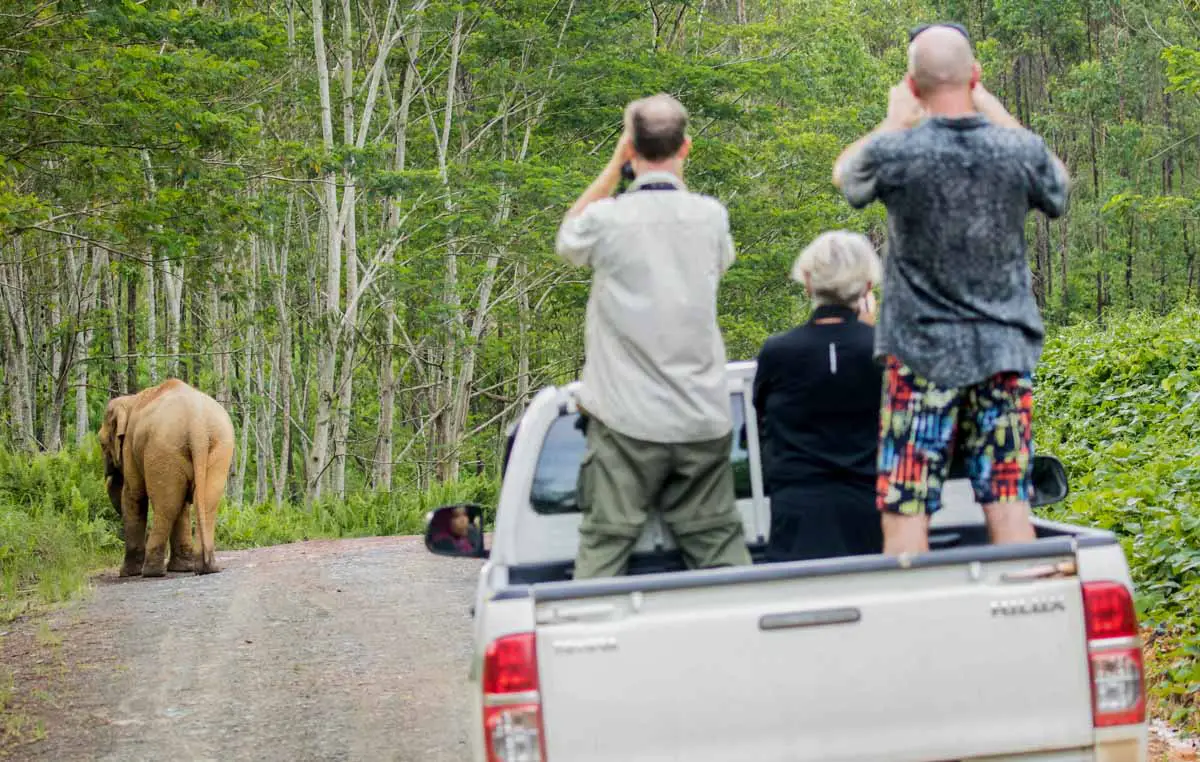 A Hike to Tawau Hills Park should be combined with a visit to the Sabah Softwoods plantation, where NGO 1StopBorneo Wildlife launched an interesting elephant conservation project.
These days and age, when deforestation and palm oil has taken over most of Sabah's former environment, wild animals are often forced to take up residence in plantations as they migrate looking for food and better places to live. This is the case of Sabah Softwoods, an enormous tropical woods estate in the western side of Tawau district.
Instead of chasing the elephants away, the plantation and the NGO have decided to use tourism to save the animals and improve their living conditions. How? By using tourism money to fund a tree nursery and replanting trees to form a wildlife corridor that will connect the plantation's grounds with the nearby Danum Valley forest reserve.
Guests are shuttled around the estate in the back of an SUV in search of elephants. There are about three herds here, some resident, and some that just pass through. The encounters are completely authentic, as there is no contact between tourists and the wild elephants, if not from a safe distance and within the vehicle.
Sightings are almost guaranteed, and not only that: the experience supports a very valid project that may as well pave the way for more Sabah plantations to consider this new eco-tourism model in the future. This is a very recommended experience you shouldn't miss when on a Sabah tour and looking for something different and more meaningful.
STAY IN TAWAU
We recommend the sleek ROOMS, probably the town's best option and a boutique hotel that will suit most budgets.
CHECK BEST PRICES: Booking.com| Hotels Combined
To spend a bit less, consider Eden Boutique Hotel, a central option with very clean and comfortable rooms for about $20 a night.
CHECK BEST PRICES: Booking.com| Hotels Combined
---
Blogging transparency: this post contains affiliate links. These are products and services that we personally use and recommend. If you click on one and buy any service, we will get a small commission at no extra cost to you. Consider it a small way to say thanks, and keep us going on the road.