Malaysia is small enough to be perfect for a short trip. From colonial cities to amazing beaches, viridian tea estates, forgotten jungles, waterfalls and luxurious getaways that cost a fraction of similar properties in Europe and the United States, Malaysia has it all. Did we mention the amazing food? If there is one country in Southeast Asia that's perfect to base yourself and take short trips, that's Malaysia.
This article lists 20 great places that are ideal for a short trip in Malaysia. Whether you are an expat couple based in Kuala Lumpur or Penang, or a long-term traveler who happen to have too much time on his hands on a layover in Kuala Lumpur, we have some perfect options to fill up two to three days in Malaysia.
Where to go in Malaysia for a short trip?
If you are based in Malaysia, or even if you are visiting as part of a trip through Southeast Asia, there are plenty of great short trips you can do either from capital Kuala Lumpur, Penang, or even Singapore — it's very easy to cross the Causeway and start your short trip in Malaysia in Johor Bahru.
READ MORE— A Perfect One day Singapore Itinerary
This is a list of 20 great short trips in Malaysia as suggested by ourselves and other travel bloggers. Use this post as inspiration for your next trip to Malaysia. Before you go, you may also want to check out this guide on how to buy a tourist SIM card in Malaysia, and our 12 suggested itineraries for visiting Malaysia in 3 days.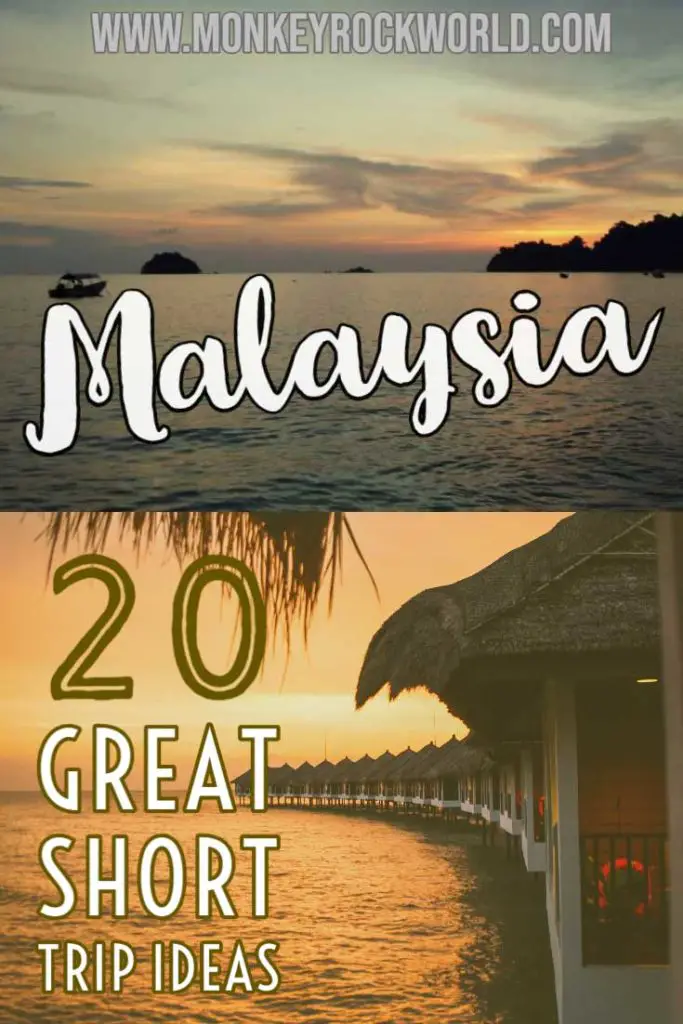 ---
Perfect City Getaways for a Short trip in Malaysia
Ipoh
By Rose Munday of Where Goes Rose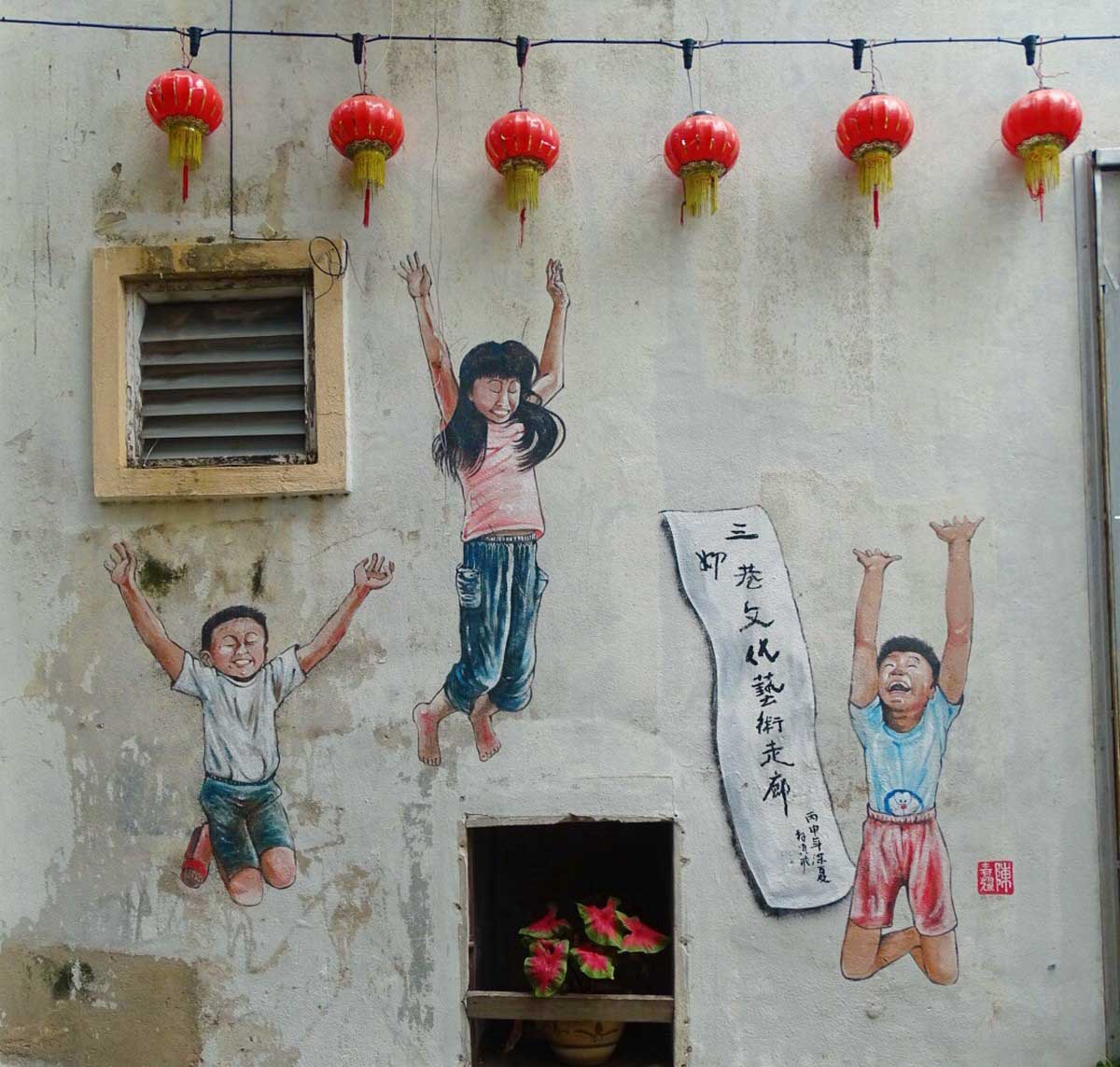 Ipoh is a real hidden gem of Malaysia, perfect for a weekend getaway. Located halfway between Kuala Lumpur and Penang, it can be reached in a few hours from either location by bus or train. But its convenient location is far from the only reason to visit.
Ipoh is a small but colourful city known for its world-class street art and street food. Things to add to your Ipoh itinerary include street art spotting in Mural Arts Lane and wandering Concubine Lane and Market Lane, both dating back to colonial rule. While these would have once been seedy locations known for brothels, they're now popular tourist streets with colourful hanging umbrellas, shops, cafes and more street art including interactive pieces you can pose with.
Sampling local food is essential for a getaway to Ipoh. From authentic Chinese restaurants to a bustling Little India, you can learn about Malaysia's diverse ethnic groups from the food – and by visiting houses of worship like Panglima Kinta Mosque and the Chinese and Indian temples.
Finally, don't miss the cave temples dotted around Ipoh. Sam Poh Tong, Kek Lok Tong, and Perak Cave Temple are known for their stunning surroundings and religious shrines nestled inside enormous limestone caves. Get a local taxi driver to bring you to all three since public transport is limited. If you still have time, use Ipoh as a jump-off point to visit Gopeng, with its quaint old town, caving, and white water rafting.
GOOD PLACES TO STAY IN IPOH:
– Sarang Paloh is a boutique hotel within walking distance of the best of Ipoh's Old Town. Check prices and book on BOOKING.COM | AGODA
– Le Maison Guesthouse fans around a private swimming pool and makes for a good boutique hotel choice. Check prices and book on BOOKING.COM | AGODA
– Bedrock Hotel has larger-than-life rooms and an interesting scholar rock theme, courteously curated by the owner, a rabid collector. Check prices and book on BOOKING.COM | AGODA
– Homey Hostel is a beautiful guesthouse filled with good vibes and all backpackers essentials, straight in the center of the Old Town. Unmissable. Check prices and book on BOOKING.COM | AGODA
---
TRY MORE FUN THINGS TO DO IN IPOH:
---
Cameron Highlands
By Melissa Douglas of High Heels and a Backpack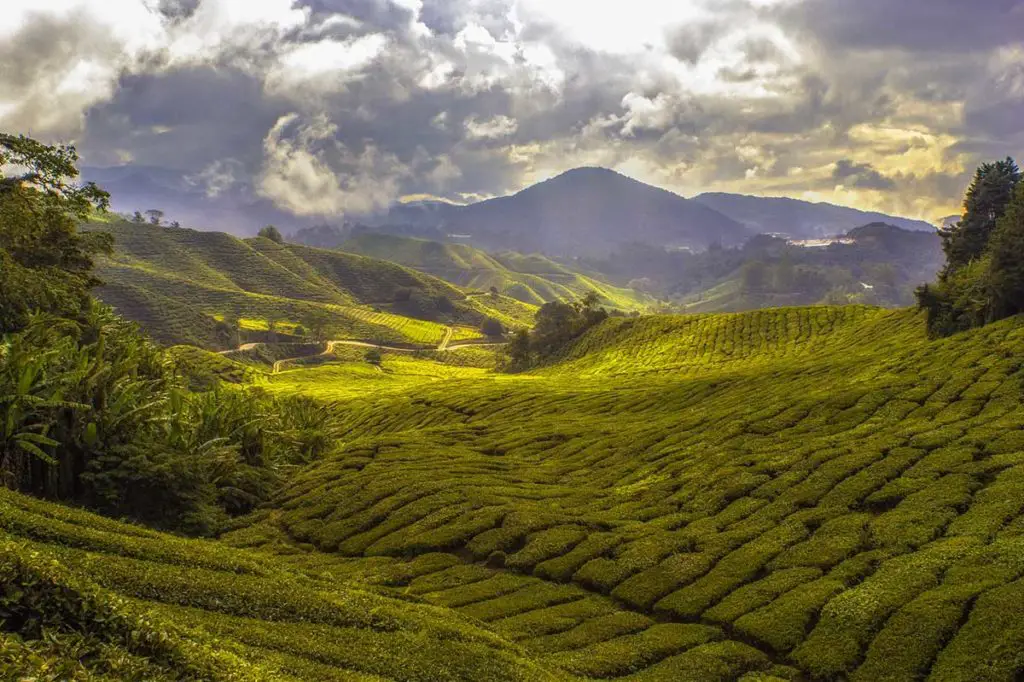 The Cameron Highlands is a great place to spend a long weekend in Malaysia – especially if you are someone who likes immersing themselves in nature. This area comprises quaint, traditional villages, dense jungles, indigenous settlements, and hilly tea plantations that extend as far as the eye can see.
The higher altitudes and mountainous location means that the Cameron Highlands boasts a much cooler climate than the majority of the Malaysian mainland. This is perfect if you want a little respite during the hot, humid summer months.
You will find plenty to keep you occupied during your time in the Highlands, regardless of your specific interest and travel style. The BOH tea plantation is one of Malaysia's largest producers and exporters of tea. The tea fields here make for an incredible photo experience. Not to mention, the tours offered by the plantation workers are fascinating.
One of the most unique attractions in the Cameron Highlands is the Mossy Forest – a woodland area where the entirety of the trees, plants, and forest floors are covered with moss. The forest is home to a rare and diverse range of insects, plants, and animals – including the carnivorous "pitcher plant" that eats frogs and small animals.
Dedicate your first day in the Highlands to exploring the tea plantations, the strawberry farms, and the farmer's markets. On Day two, don your comfiest walking shoes, venture into the depths of the mossy forest, and attempt to conquer one of the region's hiking trails.
Buses to the Cameron Highlands run regularly from Ipoh, Penang, and Kuala Lumpur. The Highlands extend over a large area and public transport within the region leaves a lot to be desired. Base yourself in Tanah Rata or Brinchang so that you are within walking distance to the area's main attractions.
GOOD PLACES TO STAY IN CAMERON HIGHLANDS:
– Gerard's Place is a cozy bed and breakfast tucked inside an apartment unit, with several mini-apartments and rooms facing a beautiful garden. Recommended. Check prices and book on BOOKING.COM | AGODA
– Father's Guesthouse is the best backpacker lodge in town, run by expert local guide Gerard and his family. Check prices and book on BOOKING.COM | AGODA
– Heritage Hotel Cameron Highlands is a Tudor-inspired boutique hotel with a vista. Check prices and book on BOOKING.COM | AGODA
– Century Pines Resort is an upmarket option with nice balconies and private parking. Check prices and book on BOOKING.COM | AGODA
---
GOT A SHORT TIME? CONSIDER JOINING ONE OF THESE CAMERON HIGHLANDS TOURS:

---
Penang
By Reshma Narasing, The Solo Globetrotter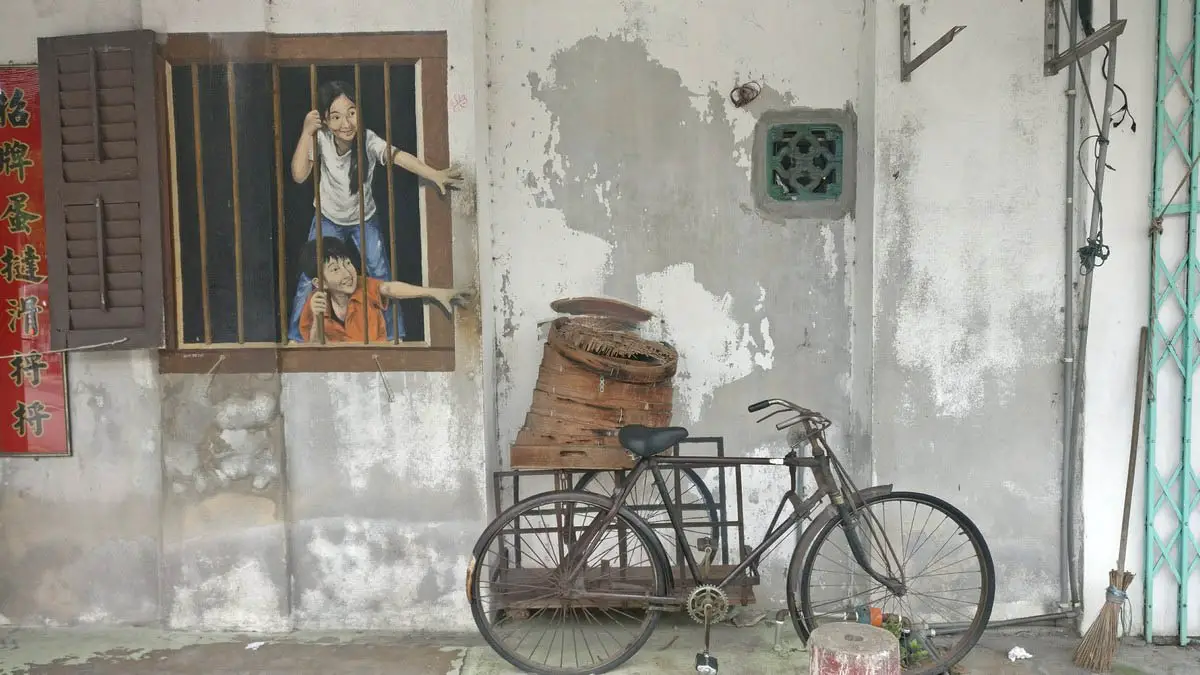 Penang, located off the northwest coast, is one of the awesome destinations in Malaysia for a short getaway, especially if you are traveling with friends or family. There are a lot of things to do in Penang: start in George Town, the capital of Penang state, a perfect place to base yourself, from where you can spend a weekend exploring around. Beautiful beaches, excellent Penang food, vibrant street art, ancient temples, amazing views of the skyline – these are a few of the things that you can enjoy over a weekend.
READ MORE – What to Do in Penang in 3 Days
Start from exploring the Colonial old town area in George Town, a UNESCO heritage site known for its traditional buildings, and incredible street art, which you can do on your own. Walking is the best way to do this, but if you don't prefer, you can hire a tricycle. Have lunch at one of the local restaurants in Little India, which is not only famous for Indian food, but there are also a few good cafes and restaurants specializing in Middle Eastern cuisine.
Next, right before sunset take a fantastic ride in the funicular train that climbs to the top of Penang hill for some of the best panoramic views of the town. Watch the illuminated city glow and then make your way back down. Alternatively, you could see it from the Rainbow Skywalk at the top of KOMTAR, Penang's highest building.
Plan a trip to Penang National Park the next day, where there are many hiking trails that you can enjoy. You will need half a day or more depending on the hiking trails you choose, or beaches like the famous Monkey Beach. You can also have a relaxing beach day at Batu Ferringhi Beach, one of the famous beaches in George Town.
READ MORE – 20 Best Beaches in Penang
Next, visit the Clan jetties, which are stilted villages over the water on George Town's east coast, and they are an essential part of Penang's heritage. Chew Jetty is the most famous, while Tan Jetty is excellent for photography.
If you have more time, you can consider exploring the mainland of Penang, Seberang Perai, where you can explore beautiful places like the azure water pools at former mining site Frog Hill, and strike on many hiking trails in Penang Mainland, like Bukit Juru, for example.
GOOD PLACES TO STAY IN PENANG:
– Angsana Teluk Bahang is among the best 5 Star Resorts in Penang, with sea-facing rooms, three swimming pools, and a secluded beach all for yourself. Check prices and book on BOOKING.COM | AGODA
– Ren I Tang is a heritage chic boutique hotel in the midst of vibrant Penang Little India. Check prices and book on BOOKING.COM | AGODA
– Mcalister Terraces is another of the many George Town boutique hotels and the only one with a specific art theme. Check prices and book on BOOKING.COM | AGODA 
– Great Shanghai Guest House is one of the best backpacker hostels in town, removed from the chaos of Love Lane, and full of charm. Check prices and book on BOOKING.COM | AGODA
---
GOT A SHORT TIME? CONSIDER JOINING ONE OF THESE TOURS IN PENANG:
---
Melaka
By Caroline Keyzor of Cktravels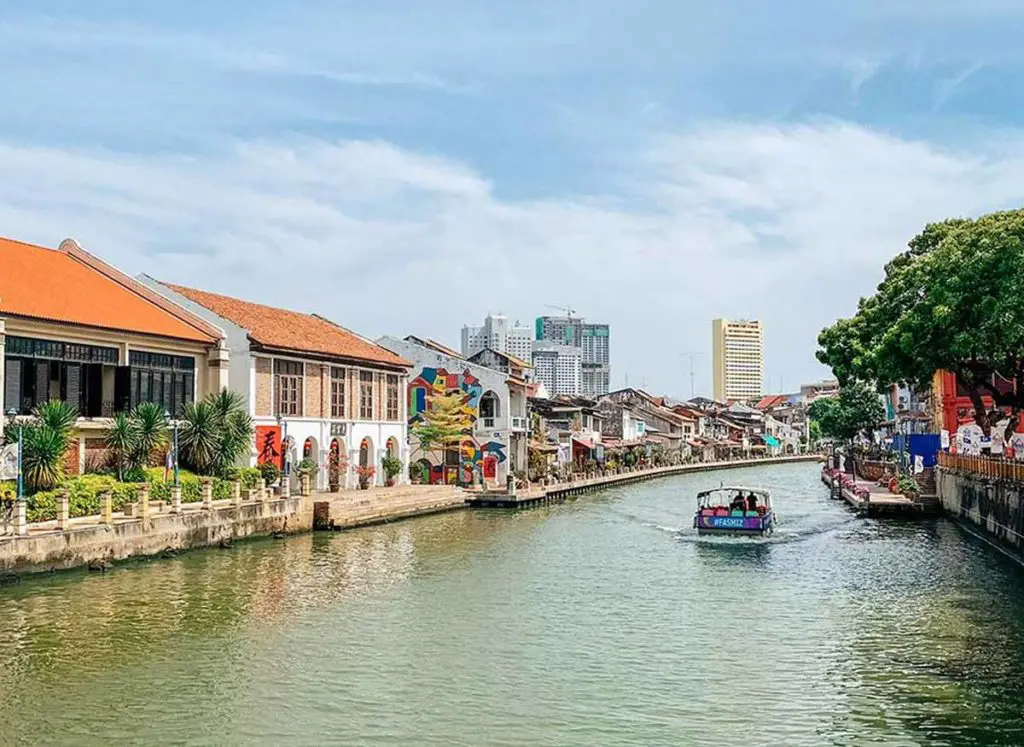 Melaka is a gorgeous riverside town that is rich in British, Dutch, and Portuguese colonial history with a UNESCO world heritage status. The town is very compact so is perfect for a short weekend getaway, and can easily be explored by foot. Melaka has something for everyone and is filled with wonderful colourful heritage buildings, ancient landmarks, and quirky street art.
There are many fun things to do in Melaka, but the main highlight is the Jonker Street Weekend Night Market – one of the best in Malaysia, which runs every Friday to Sunday. You'll find a wide variety of stalls selling souvenirs and amazing street food.
Make sure you try Nyonya Laksa – a rich and creamy coconut-based noodle soup that is a Melaka specialty and a mix of Malay and Chinese influences. Another fun thing to do is to take a scenic river cruise and view the many beautiful historical buildings and interesting sights around Melaka's old town, including Kampung Morten – one of the few remaining traditional villages in the area.
There are lots of great accommodation options for all budgets around the Jonker Street area, and if you have the cash to splash then there are some luxury hotels with swimming pools set along the banks of Melaka's River.
GOOD PLACES TO STAY IN MELAKA:
– Nancy House is a very clean and perfectly located backpacker hostel. Recommended. Check prices and book on BOOKING.COM | AGODA
– The Sterling Boutique Hotel has a fascinating heritage feel not to miss. Check prices and book on BOOKING.COM | AGODA
– Nomaps Hotel is tucked at the end of Jonker Street and is a super-clean, perfect spot to satisfy any flashpacker need. Check prices and book on BOOKING.COM | AGODA
– Yote 28 is another exceptional hostel that feels like a higher category hotel. Check prices and book on BOOKING.COM | AGODA
---
CHECK OUT MORE FUN TOURS AND FOOD IN MELAKA:
---
Taman Negara
By Elisa from World in Paris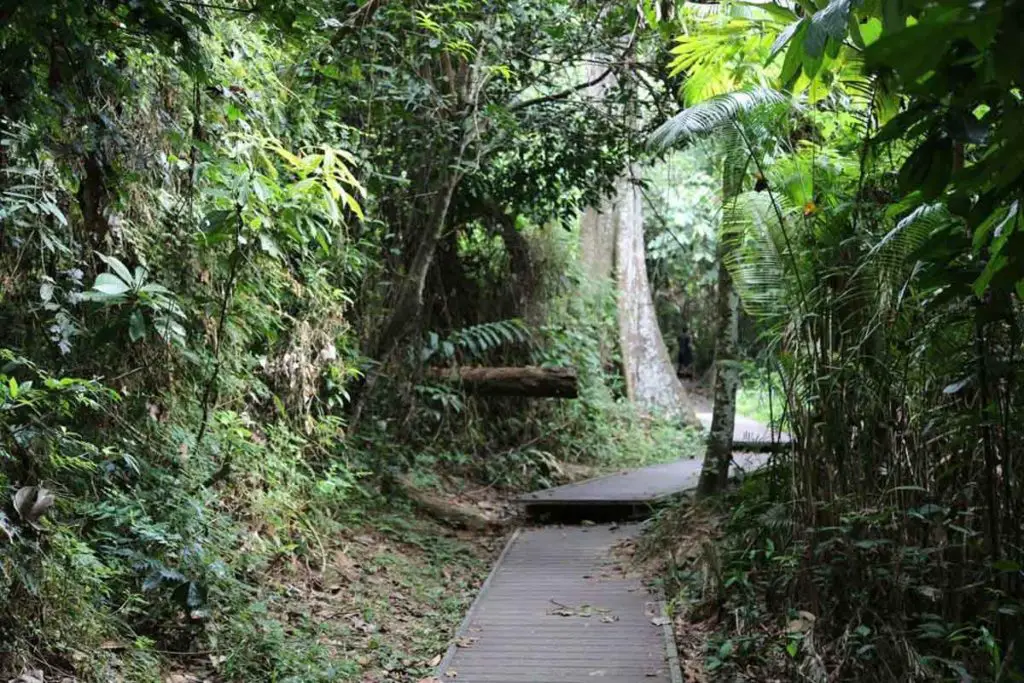 Taman Negara National Park is a fantastic idea for a weekend getaway from Kuala Lumpur. This virgin forest is perfect for nature lovers or for those who are looking for a couple of days of relaxation far from the hustle and bustle of the big city.
Taman Negara is the most primitive virgin rainforest in the world, and much older than the Amazon. According to scientists, the forest of Taman Negara could be more than 130 million years old.
This incredible ecosystem is located 3 hours drive from Kuala Lumpur in the interior of Peninsular Malaysia. The fastest way to reach Taman Negara is by private car, but you can also take buses to the small town of Jerantut and transfer to the park from there. Most accommodation in Taman Negara, however, offers transportation from Kuala Lumpur to Taman Negara, and it's often just easier to go with them.
People visit Taman Negara for its outdoor activities and hiking trails (don't forget to bring your adidas kampung). Once you arrive, get a map with the hiking trails and a list of the suggested activities organized by your hotel so you can plan your days. There are riverboat trips and many short and multi-day trails (most require a guide to be organized at the park's headquarters).
You don't have to stray far, for you can enjoy the trees and plants of this incredible forest just strolling around headquarters. Taman Negara's canopy walkway, one of the park's most popular attractions, is also near headquarters. Some hotels also propose night walks in the forest for a completely different jungle experience.
For the perfect experience in Taman Negara, I suggest booking your room at Mutian Taman Negara Resort. This is the only accommodation located in the heart of the jungle, and they have an on-site restaurant with enjoyable meals.
GOOD PLACES TO STAY IN TAMAN NEGARA:
– Mutiara Taman Negara Resort is a 5-star hotel sitting right next to park headquarters, and the only hotel located inside of the park itself. Check prices and book on BOOKING.COM | AGODA
– Rainbow Guesthouse is a solid budget option, with funky and homey rooms, and lovely owners, set in its own secluded garden away from the tourist strip. Check prices and book on BOOKING.COM | AGODA
–XCape Resort is a bit of a cookie-cutter catch-all property, catering from backpacker to flashpacker, and offering8 several categories of rooms and a swimming pool. Perk: fastest Wi-Fi in town. Check prices and book on BOOKING.COM | AGODA
– Agosto Taman Negara Hostel is the best option for those on a budget and looking for a social vibe. Check prices and book on BOOKING.COM | AGODA
---
Sekinchan
By Sean of Living Out Lau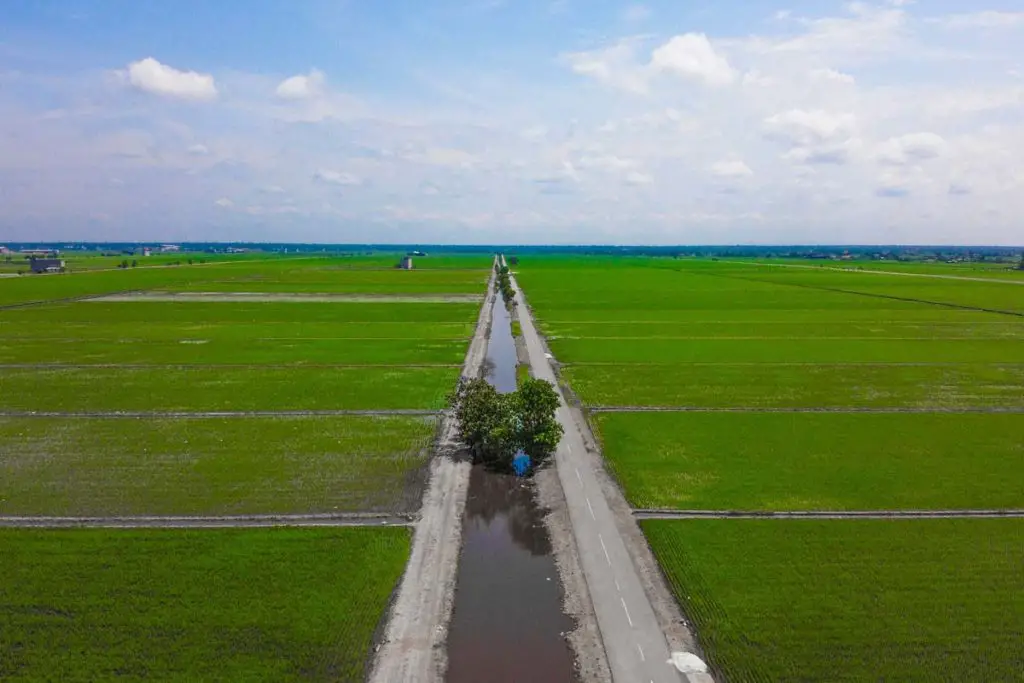 Sekinchan is one of the best-hidden gems of Malaysia, and a perfect place for a short getaway from Kuala Lumpur. Located on the western coast of the Malay Penisula, it wasn't until it was featured in the famous TVB drama "Outbound Love" that this small fishing village started to get a little bit of recognition.
Even though it's small, the best things to do in Sekinchan are visiting the outskirts of town and the lush rice paddy fields that surround the eastern perimeter of this small town.
In the proper season, the rice plants can grow as tall as an average adult person, making it a photographer's paradise. When you are done exploring the rice paddies in the day, head over to the famous Pantai Redang beach to watch the sunset. Grab a coconut, sit on the soft sand, and watch the sun dip beyond the horizon line of the Malacca Strait.
After basking in the stunning sunset, you should try one of the many seafood restaurants that make Sekinchan proud: believe me, the seafood here is incredibly fresh, and most important, absolutely affordable. Loong Hua Restaurant and Restoran Wan Lou are both family-owned restaurants that come highly recommended by locals.
Though Sekinchan is located a short 1.5-hour to 2-hour drive from Kuala Lumpur and it's very doable as a day trip, I recommend staying for a weekend. I believe that's the proper way to relax from the hustle-and-bustle of the big cities in Malaysia. To make your stay in Sekinchan more interesting, don't forget cool activities such as the Sky Mirror and the fireflies boat tour in the nearby town of Kuala Selangor. The town is 30 minutes away by car, and I promise you that these attractions in Kuala Selangor are totally worth the short ride!
GOOD PLACES TO STAY IN SEKINCHAN
– The One Boutique Hotel is a cozy and trusted option in the center of town. Check prices and book on BOOKING.COM | AGODA
– Sekinchan Seaview Homestay is a perfectly cozy apartment with a bar and a terrace with views of the coast. Check prices and book on BOOKING.COM | AGODA
---
LEGOLAND in Johor Bahru
By Ariana from World of Travels with Kids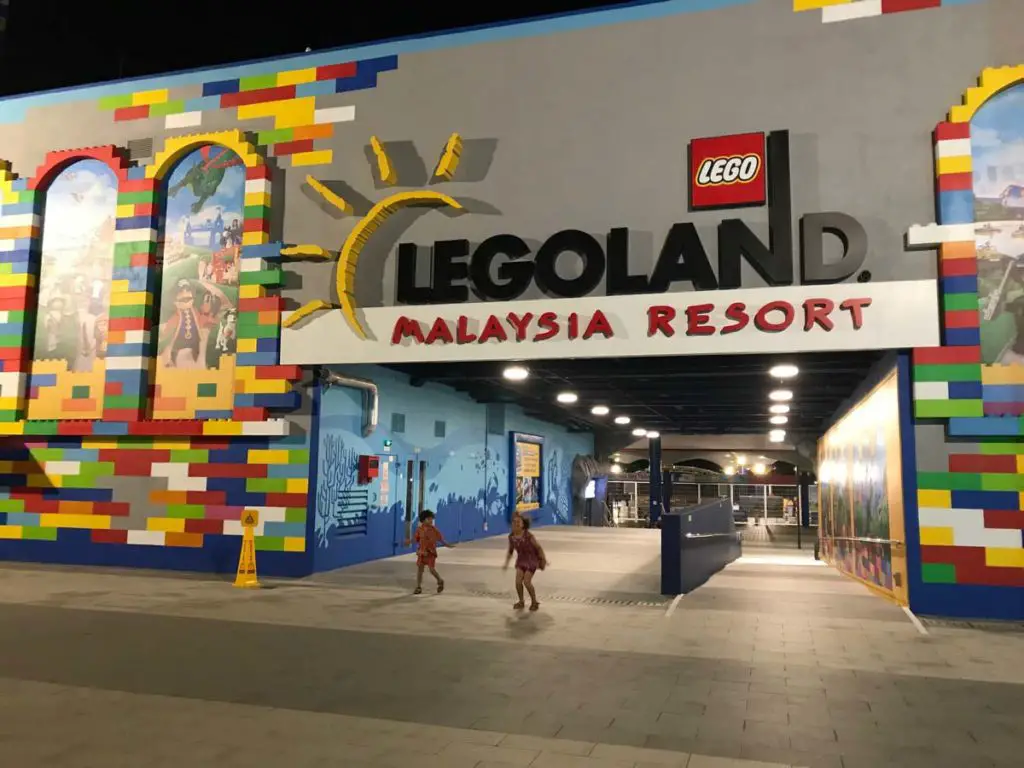 If you are a family looking for a great short getaway in Malaysia then you can't skip a visit to Legoland Malaysia, located in Johor Bahru, just over the border from Singapore.
WANT TO SAVE SOME MONEY ON YOUR LEGOLAND ENTRY TICKETS?
We are sure that shaving off RM30 per person it's pretty good for any family of four or more.
How?
Click here to buy your discounted tickets
via KLOOK, a travel agent service we use often when we travel in Malaysia.
Depending on where you travel from, aim to be at the gates of Legoland Malaysia Hotel at 10am. You will find there is plenty to do with all kinds of Lego awesome as you go from amazing roller coasters to LEGO activities themed in the different LEGO worlds, like Ninjago, Tehnic and Lego City. All up there are 70 rides catering from toddlers through to teens, as well as activities sure to appeal to adults, like Miniland.
For many families, the purpose of visiting Malaysia from Singapore is quite simply to visit Legoland, and if that is the case, we recommend staying at the superb Legoland Resort and visit Legoland for two days, as well as LEGOLAND Malaysia Water Park.
For those that want to make the most out of a visit to Johor Bahru, you could stay 3 nights or more, as its much cheaper than Singapore, and there is a lot of good food, cheap accommodation and also shopping malls galore!
And… if you haven't exhausted yourself enough at Legoland there is also the Angry Birds theme Park, as well as the Thomas Town and Hello Kitty World in Puteri Harbour.
If you have some extra time, there are also some very interesting cultural places to visit in Johor Bahru, like Sultan Abu Bakar Mosque. However, there is only so much you can fit into a weekend, so sometimes you have to prioritise, and this Malaysia weekend getaway is all about family time and making your kid's dreams come true!
HAVE MORE TIME? CHECK OUT THESE FUN THINGS TO DO IN JOHOR BAHRU:
---
Perfect Spots for a Short Malaysia Beach Holiday
Perhentian Islands
By Campbell and Alya of Stingy Nomads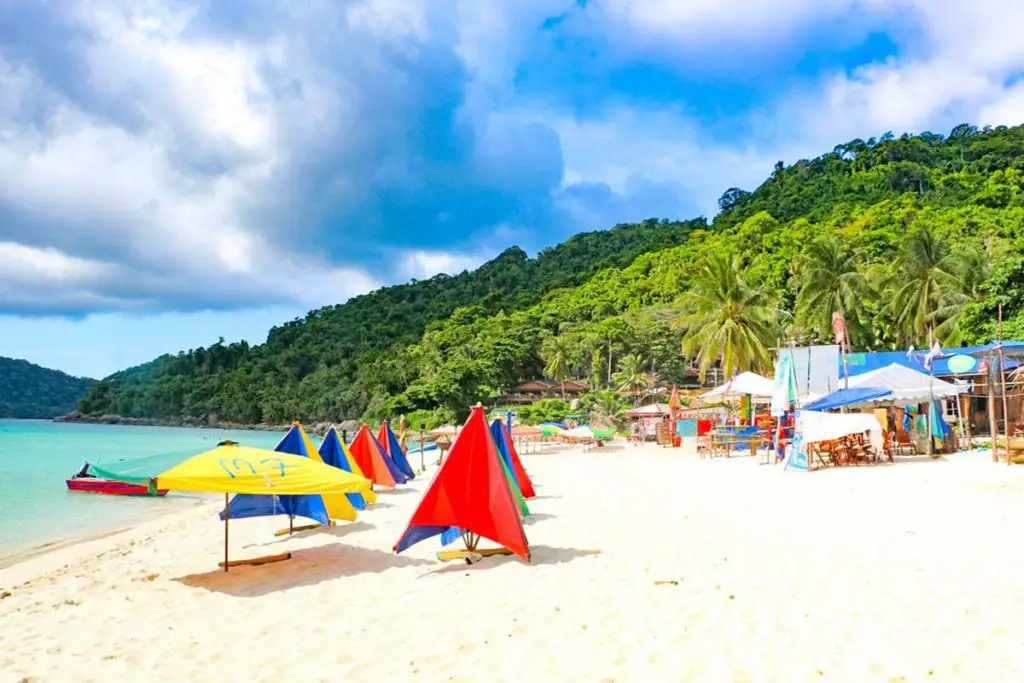 The Perhentian Islands are two beautiful little islands, Perhentian Kecil and Perhentian Besar, situated about 20 km off the coast of North-East Malaysia, very close to Thailand. Not far from the mainland with perfect white beaches and crystal clear water these paradise islands are perfect for a weekend getaway offering excellent scuba diving, snorkeling from the beach, and nice hiking trails.
Both islands are great, but we enjoyed more staying at the more lively Perhentian Kecil. From Kuala Besut you should take a speedboat to Perhentian Kecil. There are fantastic guesthouses and resorts to stay around Petani Beach and Long Beach. If you take a morning boat you will arrive early enough to enjoy the first day.
Spend the first day on the beautiful Longbeach, walk to Coral Bay beach on the jungle path and have lunch in one of the restaurants. Walk back for sunset and drinks on Long Beach.
The diving here is great with warm, clear water, beautiful corals and marine life. Go scuba diving around the Perhentian Islands on the second day. If you are not qualified, do a try dive which is a nice introduction and takes half a day.
Qualified divers will enjoy Tokong Laut, a fantastic dive site rich in marine life and the largely intact Sugar wreck, a sunken freighter lying in 20m of water. Follow your dive by some hiking on the trails through the beautiful jungle connecting resorts and villages on the island.
On the third and final day, I would recommend renting snorkeling gear and a kayak and paddle between Long Beach and Coral Bay, stopping to snorkel. There are reef sharks, barracudas and plenty of beautiful corals and fish to see. Take the afternoon speedboat back to Kuala Besut. The best time to visit the Perhentian islands is the dry season, from March to September.
GOOD PLACES TO STAY IN PULAU PERHENTIAN:
– Mimpi Perhentian is the swankiest 4-star resort on Long Beach. Check prices and book on BOOKING.COM | AGODA
– The Barat Perhentian is another solid resort-like spot. Check prices and book on BOOKING.COM | AGODA
– Rainforest Camping Perhentian Island is exactly what it is: bare-bone beach essential life. Not for everybody, but overlooking a beautiful bay. Check prices and book on BOOKING.COM | AGODA
---
Port Dickson
By James from The Travel Scribes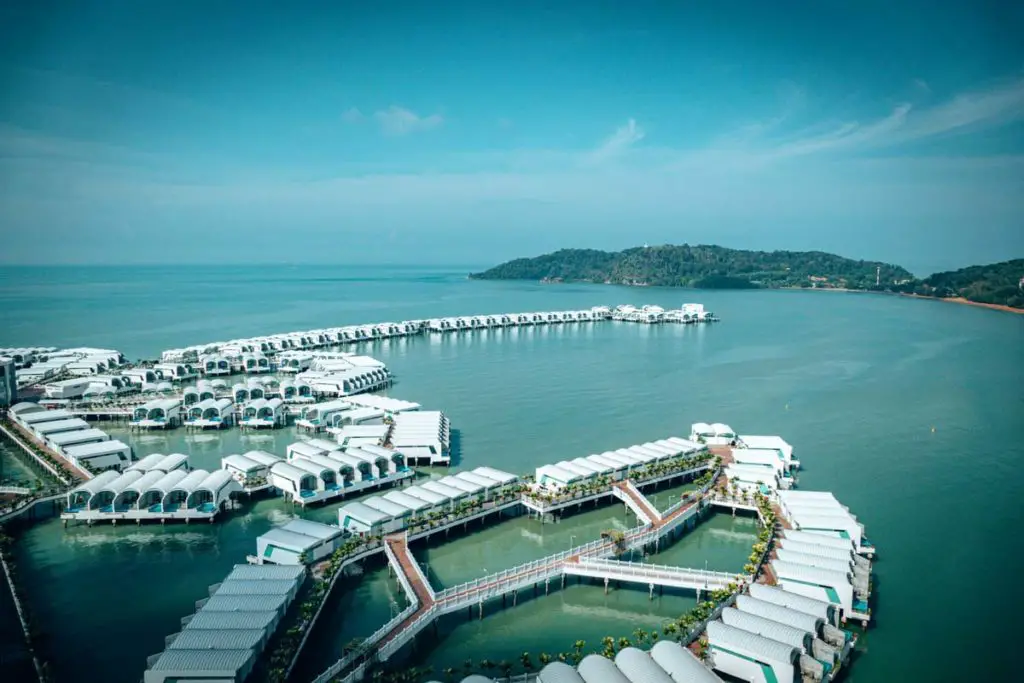 When you're looking for a weekend break in Malaysia, Port Dickson might not be at the top of your list. But ask the Kuala Lumpur locals and they'll tell you that just 90 minutes out of the capital is a gem of a town, packed with things to do.
This budget-friendly holiday destination is jammed full of high-end resorts, plus attractions at every turn. Spend your day exploring Tanjuan Tuan (Cape Rachado) Nature Reserve, with over 80 hectares of forest, beaches and even a soaring lighthouse built by the Portuguese back in the 16th century. The reserve also boasts the best beach in the area, the Blue Lagoon, aptly named for its beautiful blue water and of course soft sands to relax on for the rest of the day.
An old army outpost, you should spend your second day meandering around the Army Museum before taking in a few cultural attractions, like a stop at the Wan Loong Temple or the Lukut Museum. And, if you're got kids in tow, then head to the Ostrich Show Farm to pet those feathered friends or take a slew of fun photographs at one of the many 3D art galleries and 'upside-down houses' dotted around the main city centre.
And, if you're not sure where to stay while there, definitely shell out for one of the overwater villas at Lexis Hibiscus Port Dickson. This exquisite resort is not just shaped like the national flower, the hibiscus, but boasts two Guinness World Records for most swimming pools (643) and most overwater villas (522) in the world. The resort is great for families too, with a free shuttle service, it's own water park, archery and even fun e-bikes for hire.
---
Sepang's Overwater Bungalows
By Stephanie of History Fan Girl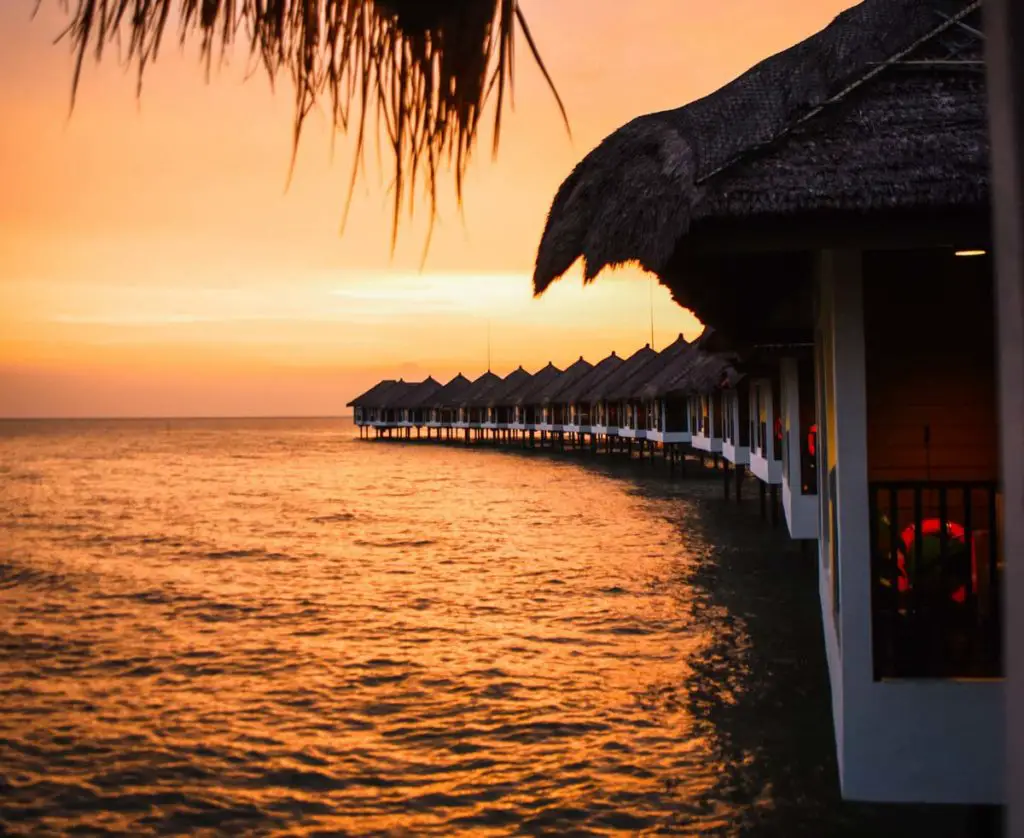 If you want a gorgeous, relaxing weekend in Malaysia, head to Sepang. You'll find a fabulous resort with some of the most economical overwater bungalows in Southeast Asia. Here you can enjoy luxury without breaking the bank.
Sepang is located on Peninsular Malaysia's western coast, about halfway between Singapore and Kuala Lumpur.
To enjoy your weekend in Sepang, start by checking into the Avani Sepang Goldcoast Resort. This is a great place for couples since the resort is extremely romantic, but it also has great options for activities for kids.
If you only have two days, I would suggest spending one full day enjoying the resort, from the beach to the pool to the spa. You can start with a morning massage, enjoy your afternoon on the beach, relax in the pool before dinner, and enjoy your evening meal while taking in a vibrant sunset.
If you have a full second day, you can either explore Sepang or take the free shuttle to Kuala Lumpur to enjoy the capital. If you want to see Sepang, you can see the beautiful nearby mosque or have the hotel arrange a mangrove river cruise. Alternatively, you can spend more time at the resort, indulging in yoga and watersports at the beach. The resort has a schedule of activities that rotates throughout the year that you can indulge in.
EXPLORE MORE PLACES IN SELANGOR:
---
Langkawi
By Sonakshi and Mainak of Places in Pixel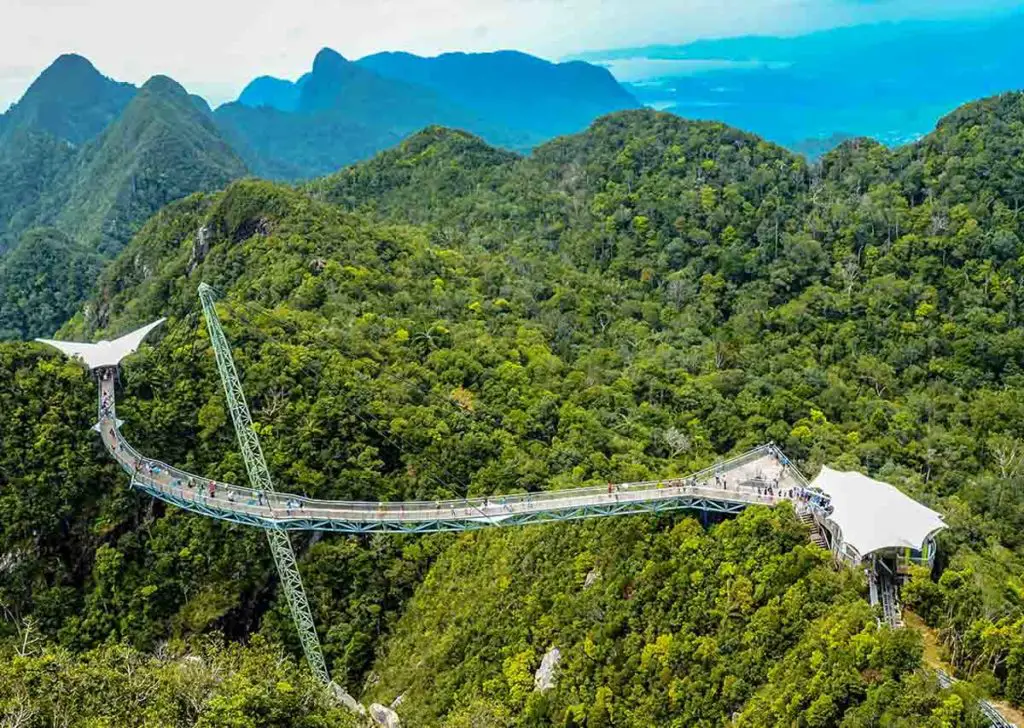 Langkawi is not just an island, it's actually an archipelago of 99 beautiful and serene islands floating in the Andaman Sea. Located on the western coast of the Malaysian mainland, Langkawi is surrounded by turquoise sea with pristine beaches.
Langkawi can be reached by 2 ways – by air and by land from Penang. The more exciting way is to take a short flight from KL; especially because landing at the Langkawi airport itself is a spectacular experience on its own (make sure to take a window seat!)
While in Langkawi, start off your 1st day by visiting the Sky Bridge. No trip to Langkawi is complete without visiting the famous Sky Bridge and its thrilling cable-car ride. The view from the top is simply breathtaking. And in the evening, take a gastronomic ride at the night markets.
On your second day, you can try out an island hopping tour, shopping at the dutyfree stores of Langkawi, relaxing on one of the beautiful beaches — such as Pantai Cenang, Pantai Tengah, Pantai Kok, Black sand beach and more — check out the Galeria Perdana, visit the Langkawi Wildlife Park & Bird Paradise, Hike to Durian Pernangin waterfalls and top it off with a visit to the famous Eagle square.
For those who have a fascination with ecotourism, the Langkawi Mangrove tour is highly recommended. If you combine all these activities, you can make Langkawi a perfect getaway spot for long-weekends (3 days).
GOOD PLACES TO STAY IN LANGKAWI:
– Cloud9 Holiday Cottage has beautiful rooms set around a private swimming pool with a backdrop of quaint paddy fields, a perfect budget option catering to the flashpacker crowd. Check prices and book on BOOKING.COM | AGODA
– The Datai is one place that, if you can splurge, is worth all your money. Check prices and book on BOOKING.COM | AGODA
– Temak Villa has its own swimming pool and is tucked away from the chaos of Pantai Cenang. Check prices and book on BOOKING.COM | AGODA
– Bed Attitude Cenang is a perfect backpacker hostel right in the action of Cenang, with awesome facilities and an industrial-chic vibe to boot. Check prices and book on BOOKING.COM | AGODA
---
TRY MORE GREAT THINGS TO DO IN LANGKAWI:
---
Pangkor island
By Debjani Lahiri of The Vagabong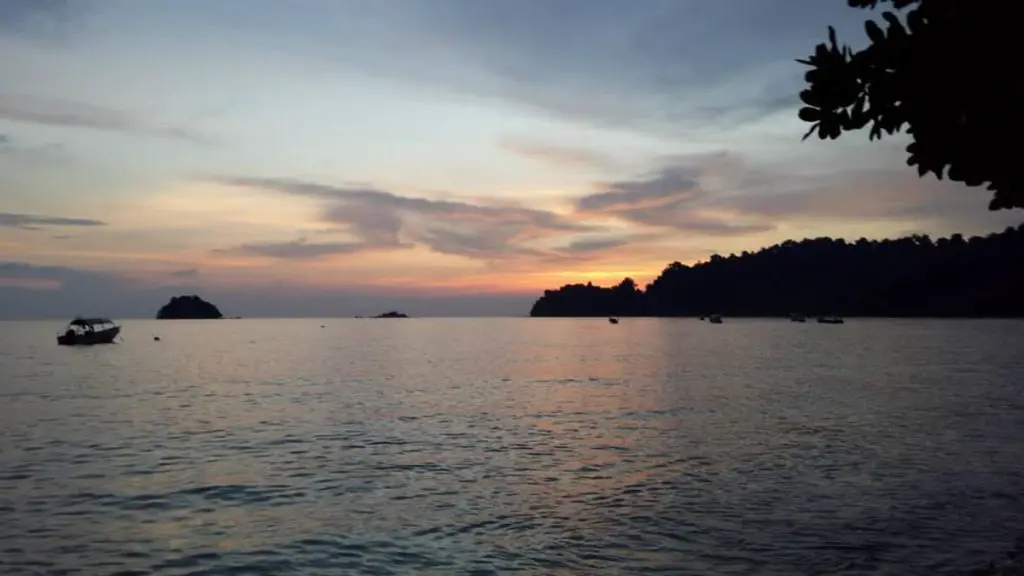 Pangkor island is one of the best short getaways in Malaysia. It is about 4 hours drive from Kuala Lumpur and about 3 hours drive from Penang.
Pulau Pangkor is less visited by tourists even though it has a lot to offer. There are many lonely beaches like Coral Bay, a Dutch colonial fort with a rock inscribed with an ancient sign of the Dutch East India Company, and is home to a staggering amount of hornbill birds — you can feed them every day at 6 pm at Sunset View Chalet.
The colorful alleys of the two Chinese villages, Sungai Pinang Kecil and Besar, with street markets and boat-making workshops, will leave you amazed for sure. Pangkor Island also has a famously revered Taoist Temple, Foo Ling Kong, which is visited by many devotees and has a mini replica of the Great Wall of China.
Once, you are done with the cultural sightseeing, you'll be spoilt for choices of great water sport activities on any one of Pangkor's different beaches. Snorkeling is also highly recommended, as the waters are azure blue, and you may see marine life. For sure, the beaches often reflect with blue plankton at night.
Pulau Sembilan, translating to "Nine Islands", is a mini-archipelago to the south of Pangkor island. These uninhabited and protected islands — ask locally before you go, as they often close for restoration and conservation — host some of Malaysia's best diving and snorkeling. Diving is best between the months of November to March.
READ MORE — Diving in Pulau Tenggol, Malaysia's Secret Island
The hilly areas of Pangkor will also give you scope to climb the hill that soars in the midst of the island and get a panoramic view of the island — not forgetting a chance to get on an ATV and quad-ride all around the forested interior until the northern bays.
GOOD PLACES TO STAY IN PULAU PANGKOR
– Pangkor Laut Resort is situated on its private island and is the highest starred resort on Pangkor. Check prices and book on BOOKING.COM | AGODA
– Nipah Guesthouse is a solid choice with cute A-frame huts set around a swimming pool. Check prices and book on BOOKING.COM | AGODA
– Joe Fisherman Inn has two stories of nice rooms facing a cozy swimming pool. Check prices and book on BOOKING.COM | AGODA
---
Marang and Pulau Kapas
By Sasha of Mog and Dog Travels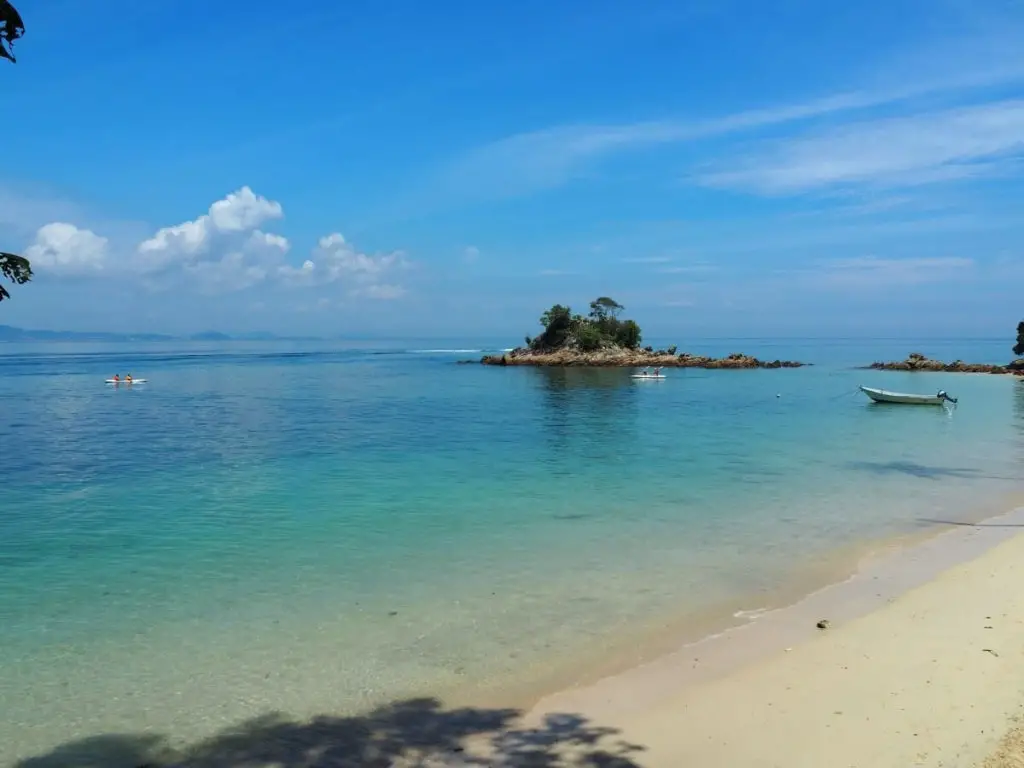 If you are looking to exchange the hustle and bustle of big city Kuala Lumpur life for a beautiful beach or island at the weekend, then look no further than the small fishing village of Marang in Terengganu.
Malaysians are passionate foodies, so it makes sense to dedicate your first day to a food crawl, starting with an early breakfast from one of the many street-side stalls around Marang. Terengganu is famous for its Thai influenced cuisine and the abundance of rice dishes: try the nasi minyak, where multicoloured rice is cooked with ghee and five different spices and usually served with chicken curry; or nasi kerabu – rice steamed with coconut milk, dyed blue and served with salad, fish or chicken curry and an array of condiments. Make sure you also pick up a bamboo stick of satar, a fish snack made from pounded fish, shallots, ginger, and grated coconut and barbecued in a banana leaf.
In the early afternoon, stop by the often deserted Kelulut beach to soak up some rays and to feast on the popular sotong goreng (squid fritters) that are covered in a mouthwatering light crispy batter and sold by many of the beach stalls. In the evening, head to one of the numerous restaurants serving a variety of Malaysian seafood dishes.
On the second day, take a 10-minute ferry ride from Marang jetty to Pulau Kapas. Spend the day snorkeling, kayaking or diving around the island's crystal clear waters or simply just lazing on the white sand beach. You can also walk through the jungle via a stairway to the northernmost point of the island. Whilst there are a couple of cafes and restaurants on the island, it is better to pick up some snacks, fruit, and water before you take the ferry.
---
Tioman Island
By Sharon of Dive Into Malaysia
Tioman Island is the perfect destination for a short trip away in Malaysia for nature lovers who wants a real escape.
Located off the coast of the southern part of Peninsular Malaysia, this is particularly a good choice for people coming from Singapore with ferries to Tioman leaving from Mersing which is a couple of hours drive from Singapore. Once at Mersing, it's easy to take a 1.5–2 hour ferry (depending on exactly where the final destination is on Tioman) to the island.
The island itself is beautiful. It has a gorgeous coastline and a mountainous interior. There are not many roads and it's all about exploring by sea or on your own two feet. I recommend staying at Berjaya Tioman which is connected by road to a few places which makes exploring much easier. For other suggestions on where to stay in Tioman, read this guide here.
With two days to explore, spend the first day exploring your surroundings. Enjoy your closest beach and take a boat tour to some great diving and snorkeling spots like Coral Island. This is easy to organize on arrival.
On day two, head to a different part of the island and take a hike. Some good options are to head to Juara Beach if staying elsewhere on the island. There is also a turtle sanctuary here. If staying in Juara, head across on the jungle road to Tekek on the opposite side and take a walk to ABC Beach visiting the Marine Park Information Centre on the way.
GOOD PLACES TO STAY IN PULAU TIOMAN
– Japamala Resort is the five-star property you need to forget about it all. Check prices and book on AGODA
– Tioman Cabana B & B has beach-front accommodation in ABC Beach, close to the action. Check prices and book on BOOKING.COM | AGODA
– Tioman Dive Resort is the comfy place to go for those interested in exploring the island's depths. Check prices and book on BOOKING.COM | AGODA
---
TRY MORE FUN THINGS TO DO IN TIOMAN:
---
Sibu Island, Johor
By Nuraini of Teja On the Horizon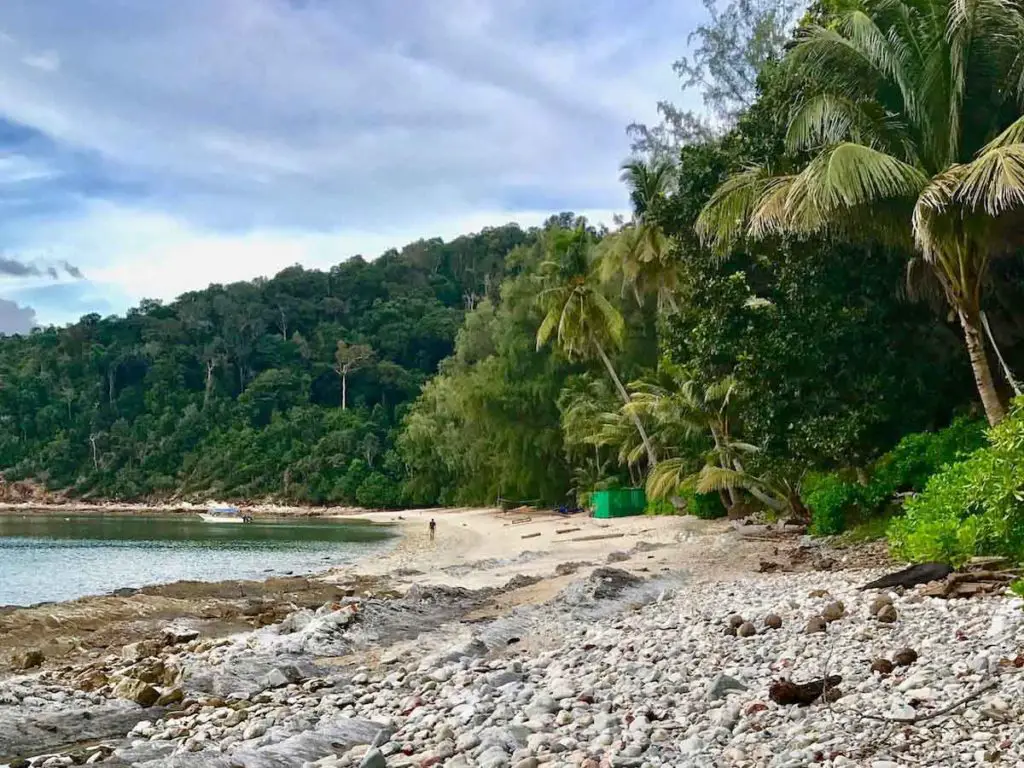 If you're looking for an East Coast island that's more laidback compared to the tourist magnets of Perhentian or Redang, there's Sibu Island. It's best reached by driving to Tanjung Leman jetty in Mersing, where ferries depart to Sibu Island up to 4 times a day (morning, midday, evening, nightfall). The ferry times will vary slightly depending on the tide. It takes about half an hour, give or take, to reach the island.
If you get the midday boat, do a short hike in the afternoon to the mangrove shore on the west coast where there's an extremely photogenic bleached pink old jetty. If you feel up to it, you can also hike around the whole island to appreciate the variety of its shoreline, which is pretty unique for an island so small.
Go scuba diving on the second day if visibility is good, or go snorkelling at nearby Kukus and Lima Besar islands. In the afternoon, continue enjoying the beach or go kayaking.
You have the last chance to try a different dive site or hike to a different part of the island on your final day, before taking the boat back to Mersing.
Stay at Twin Beach Resort to take advantage of Sibu Island's iconic double beach section. If, on the other hand, you're looking for a couples getaway, go for the romantic Rimba Resort at the northern part of the island.
---
Short Getaways in Malaysian Borneo
Flying between Kuala Lumpur or Penang and Malaysian Borneo is so cheap and easy that you should consider taking a short trip to this amazing side of Malaysia, where nature and wildlife abound, and an exotic heritage of headhunters and the foreign adventurers who tamed them constantly palpable. Did we mention Borneo's best beaches? Here are some of the best short getaways in Sarawak and Sabah.
READ MORE — 16 Unmissable Attractions in Sabah
Kinabatangan River
By Sylvia of Wapiti Travel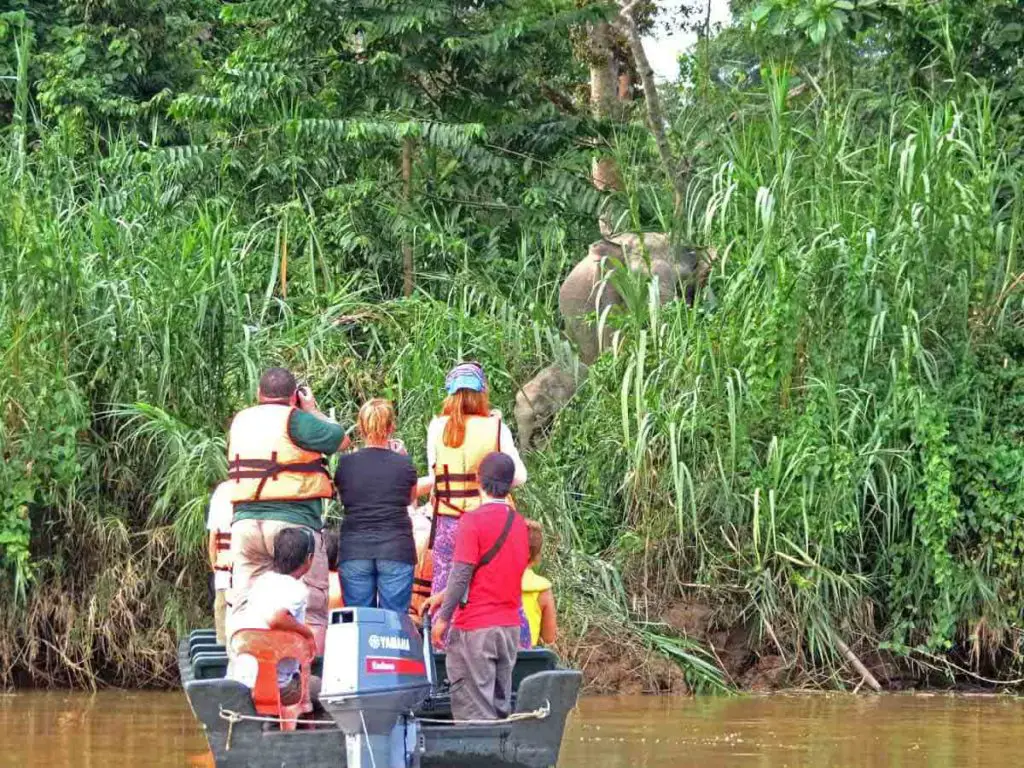 The Kinabatangan River is located in the Malaysian part of Borneo. The river forms an area with tropical lowland rainforest vegetation and unique ecosystems, it's the lifeline of the namesake Wildlife sanctuary and Malaysia's prime location to see elephants, orangutans, macaques, crocodiles and snakes. There's also an abundance of colorful birds.
READ MORE — How to Spend 2 Perfect Weeks in Borneo
Dotted alongside the river are several lodges that offer 2 or 3-day all-inclusive packages. Except the name the packages in no-way resemble what is offered to sunseekers in beach resorts. Adventure plays the main roll and the meals are extra, but still delicious.
A typical day in the Kinabatangan jungle has an early start. Around 5 or 6 o'clock you will eat a small snack before you board a boat for your morning safari. Approximately 2 hours later you will be back, just in time for breakfast.
The rest of the day you're free to explore the area, relax and enjoy the restful sounds of nature. In the evening you do a second Kinabatangan river cruise around 4 pm and dinner will be waiting when you get back to your lodge.
Each cruise will be different and they will never stop to surprise. If you're short on time you can opt for a 2-day package but true nature lovers will leave with a heavy heart even after 3 days.
GOOD PLACES TO STAY IN SANDAKAN AND THE KINABATANGAN RIVER
– S'Kan Styles Hotel has boutiquey rooms right along the main promenade and in walking distance to the local wet market. Check prices and book on BOOKING.COM | AGODA
– Harbourside Backpackers is situated on the waterfront and offers simple yet clean and sturdy beds in the center of town. Check prices and book on BOOKING.COM | AGODA
– The Last Frontier Boutique Resort in Bilit is one fancy way to experience life on the Kinabatangan River. Check prices and book on BOOKING.COM | AGODA
– Bilit Adventure Lodge is another solid, established, and very pretty high-end guesthouse organizing river trips. Check prices and book on BOOKING.COM | AGODA
---
EXPLORE MORE OF SANDAKAN AND KINABATANGAN:
---
Kota Kinabalu
By Knycx Journeying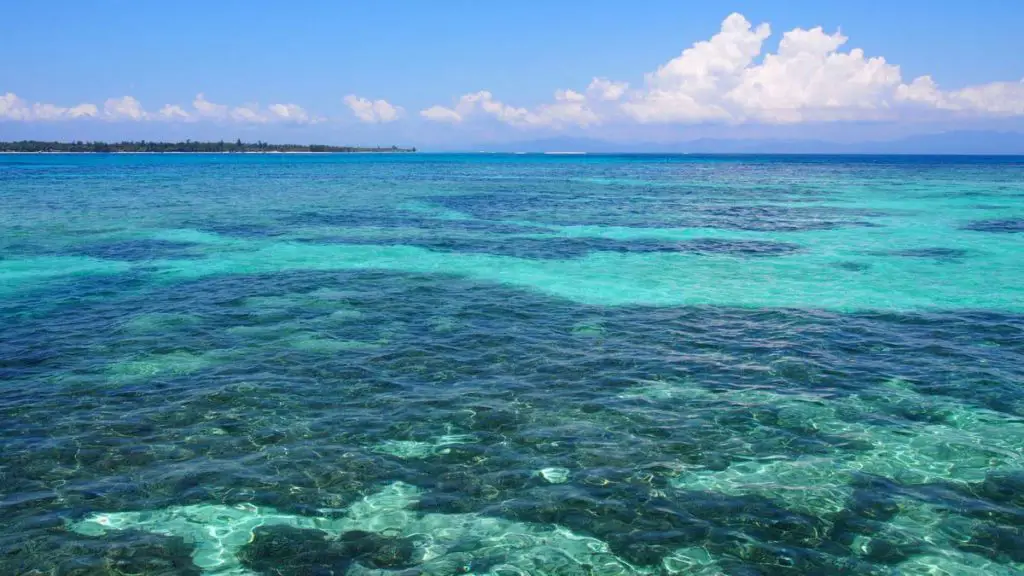 Located on the northeastern side of Sabah, Kota Kinabalu is a popular Malaysian destination among both local and international travelers. Whether you like to swim, surf or hike, Kota Kinabalu's natural treasures are among some of the best in Southeast Asia.
For a short getaway in Malaysia, you should start enjoying a day on the beach (maybe Tanjung Aru) and then explore Kota Kinabalu city proper in the evening.
Dedicate your second day to exploring the five offshore islands of Tunku Abdul Rahman Marine Park. Go to the Jesselton Point Ferry Terminal, in walking distance from Gaya Street, and take a boat to Sapi Island. You can sign up for one or two activities of your choice among sea walking, banana boat riding, scuba diving, parasailing or jet skiing. Don't forget to experience the thrill of flying across the ocean on the Coral Flyer – the second longest island zipline in the world, perched between Sapi and Gaya islands.
BUY DISCOUNTED CORAL FLYER TICKETS HERE
After lunch, take another boat and hop to Manukan Island, the second biggest in the marine park. Soak into the clear water, sunbathe, and go snorkeling for the rest of the afternoon. Once you return to Kota Kinabalu city, you can enjoy a refreshing drink at the KK City Waterfront while looking at one of Borneo's stunning violet-tinged sunset. At night, and especially if it's a weekend, venture to Gaya Street for some delicious Malaysian cuisine at the Api Api Street Food Market. That's where you'll be able to taste some fiery laksa, char siew, seafood, and Borneo bak kut teh.
READ MORE – Backpacking Borneo Ultimate Guide
GOOD PLACES TO STAY IN KOTA KINABALU
– Mercure Hotel is a solid 5-star option in the center of town. Check prices and book on BOOKING.COM | AGODA
– Borneo Backpackers is a long-running, trusted option in the center of town. Check prices and book on BOOKING.COM | AGODA
– Faloe Hostel is a social and very clean hostel that gets raving reviews from travelers. Check prices and book on BOOKING.COM | AGODA
– Lazy Cat Home is a homey and comfy apartment along Gaya Street, close to anything vibrant in Kota Kinabalu. Check prices and book on BOOKING.COM | AGODA
---
CHECK OUT MORE COOL SABAH ACTIVITIES FROM KOTA KINABALU:
---
Kuching
By Marya Sutimi of The Beau Traveler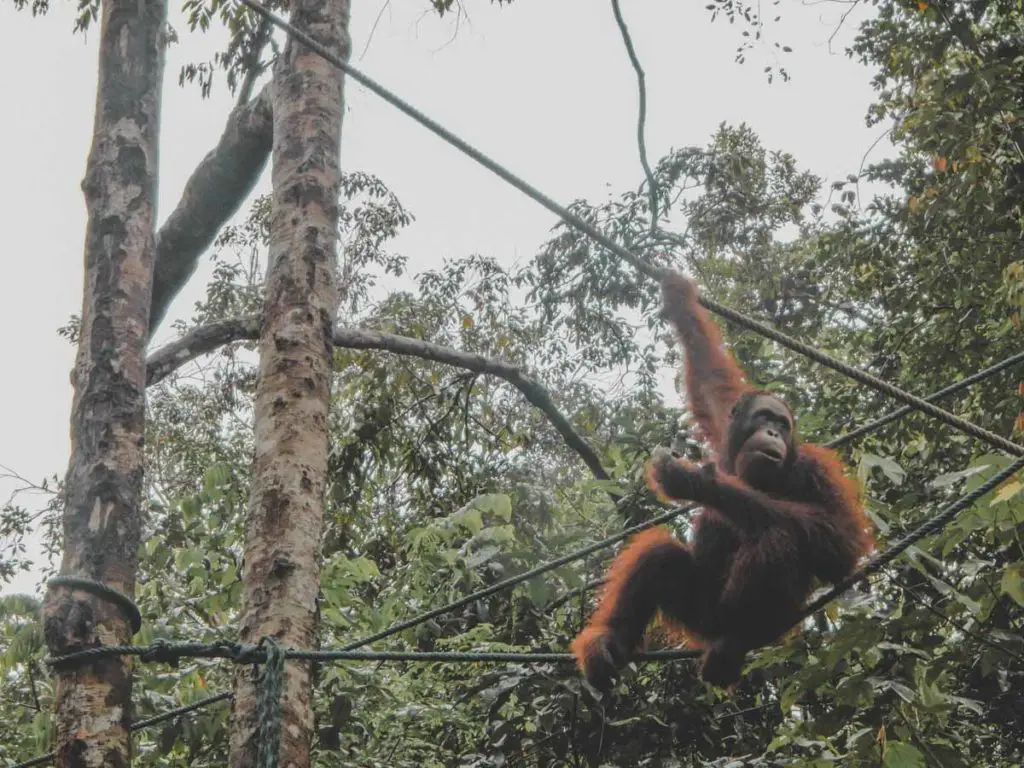 Kuching, the capital city of Sarawak, has so many reasons why it's a great place for a short getaway in Malaysia. Apart from having a few daily direct flights from Kuala Lumpur and Penang, Kuching has also become a favorite destination for Indonesian people living around the Indonesia-Malaysia border in West Borneo.
There are many theories about why the city is called Kuching, with one of them coming from the Malaysian word for cat "kucing". For that reason, some local Malaysians in Kuching self-proclaimed the city as the "cat town" and you can find various cat statues around the city. In addition to that, there's also a cat museum situated in their North City Hall.
If you're planning to go to Kuching, it is highly recommended for you to find accommodation nearby the Kuching Waterfront. Not only is it easy to get around the city from the area, but it's also a hub for Malaysian culture in Sarawak. You can easily visit some museums in the area, such as the Chinese History Museum, Sarawak Museum, and Sarawak Textile Museum — not forgetting the Old Courthouse of the Brookes, the White Rajahs of Sarawak, whose legacy can now be appreciated across the Sarawak River at Fort Margherita. The Brooke Foundation runs a very interesting collection of historical artifacts, old maps, and memorabilia that explains Kuching, and Sarawak's, ties with this dynasty of British rulers.
By night, don't miss the night bazaar around the Waterfront, where you can also enjoy various local dishes. Their signature Sarawak laksa is super delicious, while some people would also recommend other local dishes like kolo mee or kueh chap.
If seeing orangutans in their natural habitat is also on your bucket list of things to do in Borneo, Semenggoh Nature Reserve is only around 30 minutes by car from town.
GOOD PLACES TO STAY IN KUCHING
– The Waterfront Hotel is the most central, swankiest local hotel overlooking the Old Courthouse. Check prices and book on BOOKING.COM | AGODA
– The Marian Boutique Lodging House is a mix between luxe boutique hotel and heritage mansion. Check prices and book on BOOKING.COM | AGODA
– Hornbill's Nest Kuching is a perfectly located, clean hostel that comes highly recommended. Check prices and book on BOOKING.COM | AGODA
– Woodpecker Lodge is a solid guesthouse option with great facilities and straight in the center of town. Check prices and book on BOOKING.COM | AGODA
---
OUT MORE COOL ACTIVITIES FROM KUCHING:
---
Gunung Mulu
By Oksana and Max from Drink Tea & Travel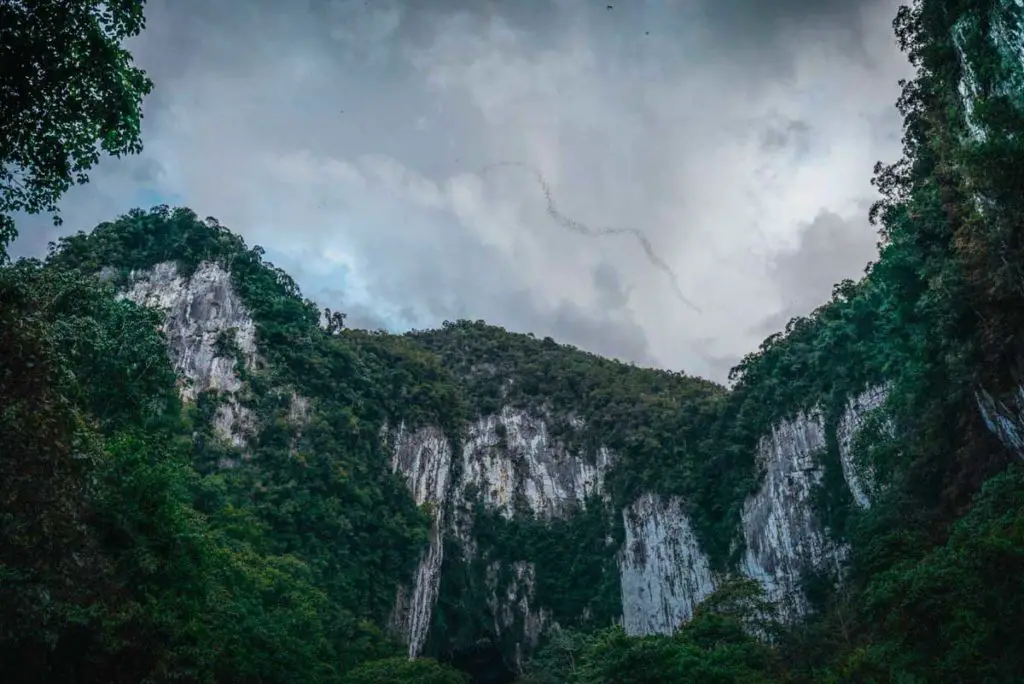 Gunung Mulu National Park is tucked away on the island of Borneo, and a great place to visit for a long weekend. It is one of the biggest protected rainforest areas in this part of Malaysia and known for its extensive underground cave network, unique mountain peaks, and daily bat exodus. The entire area is a UNESCO World Heritage Site and is one of the most spectacular natural parks that we've seen in all of Asia.
Spend a day or two exploring the park's impressive cave system which is the longest in the world by surface area. Lang Cave, Deer Cave, Clearwater Cave, Wind Cave, and Lady Cave are among the most famous. Inside you'll find interesting rock formations and underground rivers.
One of the highlights of our trip was watching the bat exodus at Deer Cave. Every day between 5–7 pm thousands of bats leave the cave in giant numbers in search of food.
There are some great hikes in the area ranging from day hikes to multi-day treks. The Headhunters trail is an overnight hike through the rainforest and out of the Mulu area on an ancient tribal walking trail. It is an extension of the more famous hike to the Pinnacles, some eerie, blade-like rock formations on top of a mountain, a hard slog that takes 2 days to complete.
If you only have a few days in Mulu you'll have to choose between visiting the cave systems or embarking on the Pinnacles hike. Both are really worthy activities on a short getaway to Malaysian Borneo.
GOOD PLACES TO STAY IN MULU
– Mulu Marriot Resort is the best option in the park, with beautiful cottages and a perfect atmosphere. Check prices and book on BOOKING.COM | AGODA
– Mulu Village is a homestay set outside the park, with a nice veranda and grassy surroundings. Check prices and book on BOOKING.COM | AGODA
– AA Homestay is another cheaper option for those who can't shell out to stay within the park headquarters. Check prices and book on BOOKING.COM | AGODA
---
The Danum Valley Conservation Area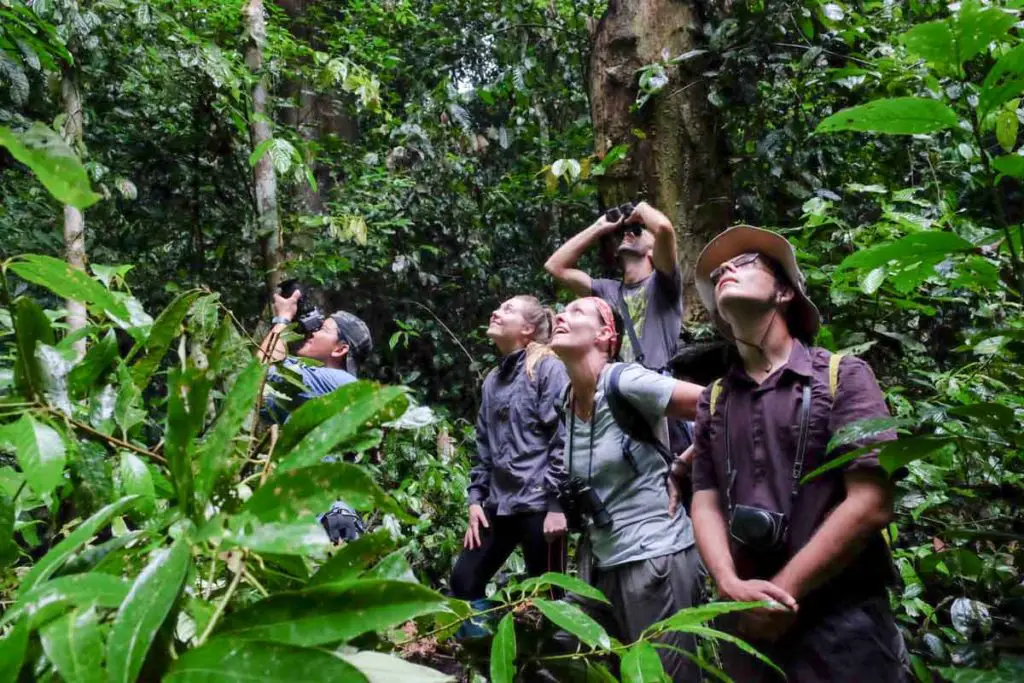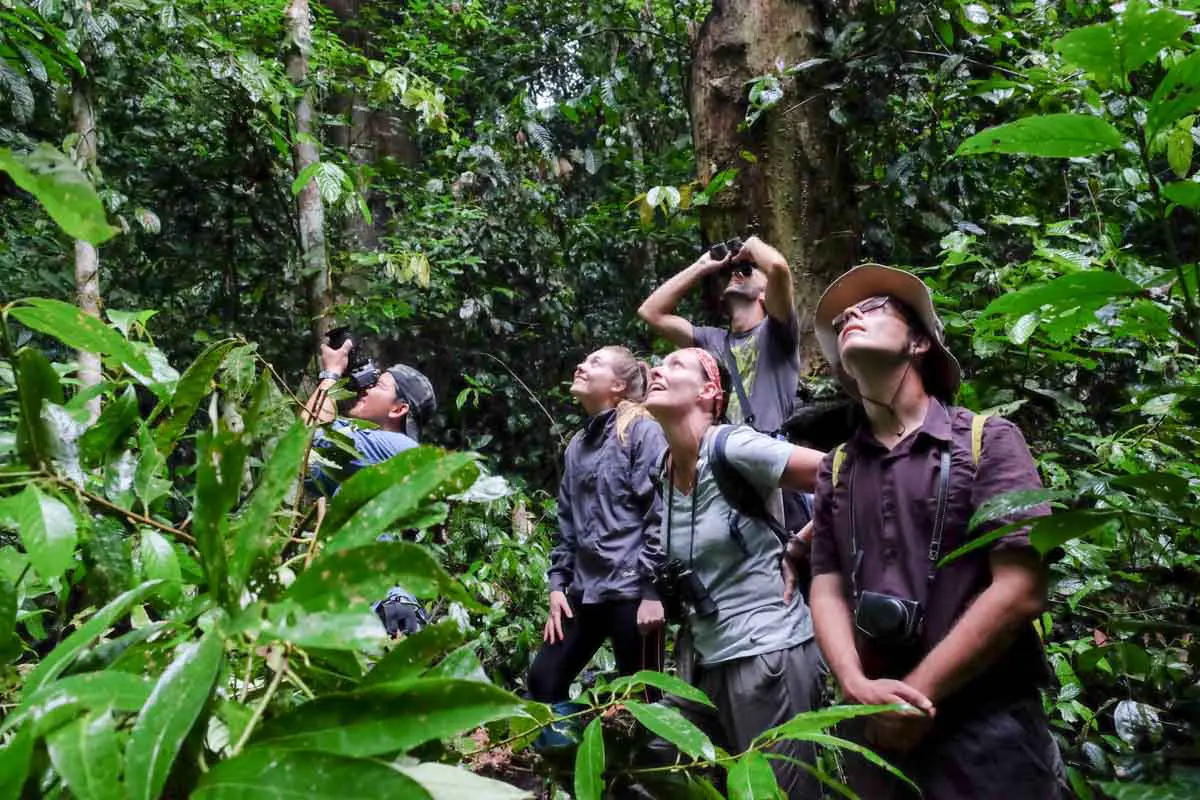 If you are interested in seeing what one of the world's oldest rainforests look like, the Danum Valley Conservation Area is unmissable. Pretty much untouched and for years only reserved to scientists, this forest reserve lays in the center of Sabah, and makes for a perfect short trip. A weekend is enough: you can fly to Lahad Datu from Kota Kinabalu, and then arrange transport to the reserve.
The main activities here are trekking, wildlife spotting, and basically staying in touch with nature. The Danum Valley is a great place to see wild orangutans, leopard cats — you have to be lucky, but it's possible — and many other smaller mammals like the endemic Borneo mouse deer, thousands of species of frogs and insects, and the commonly found Malay civet — they come to look for food near the park's field center at night.
At last, the Segama River runs along the edge of the jungle, and it's a relaxing place to take a dip when the temperature gets too hot. Since coming to the Danum Valley is not very straightforward without a tour, it makes sense to shop around and get a good deal that includes guides and accommodation. Sticky Rice Travel, a Kota Kinabalu-based company, is one of the most trustworthy tour operators here.
---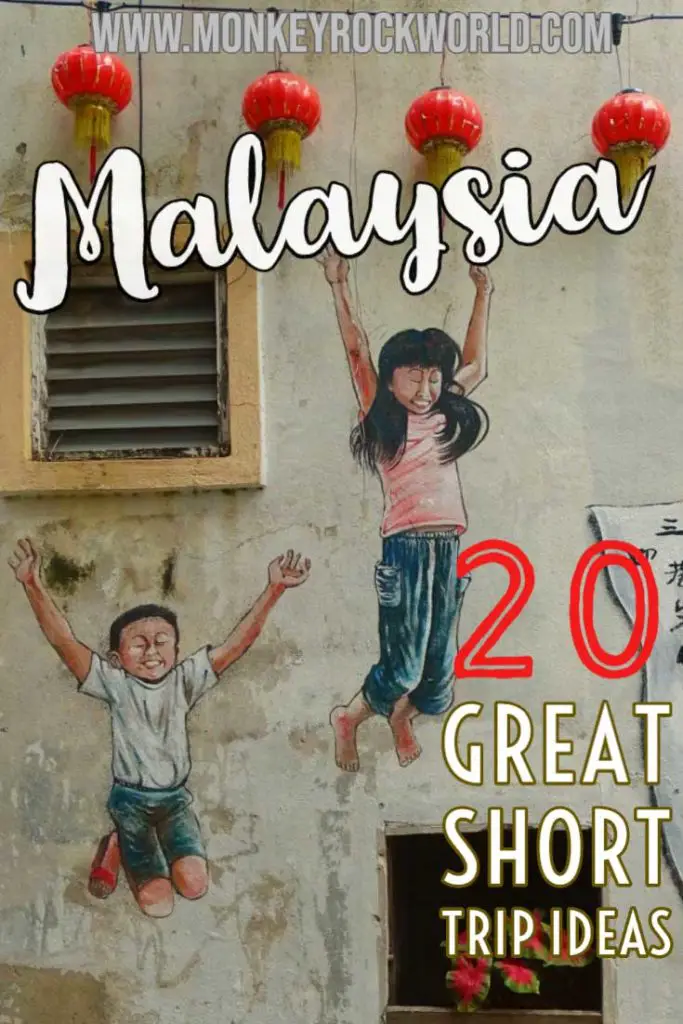 Further Readings on Malaysia and Borneo
Cycling Guide from Kuala Lumpur to Penang
Explore Bukit Piton Orangutan Sanctuary
At Home with Pirates on a Sungai Kapur River Cruise
Best Places to Visit in Malaysia in 3 Days
Tawau Hills Park Hiking Guide