What are the best activities in Tawau? Well, for sure, hiking in the Borneo rainforest: Tawau Hills Park is Sabah's southernmost forest reserve, situated about 20km north of Tawau town, a place you should not miss on any Borneo itinerary. It's still an offbeat destination that few travelers visit beyond Sabah's main attractions — likewise, you should check our guides to a Borneo orangutan spotting tour at Bukit Piton and the amazing Sungai Kapur river safari in Lahad Datu. Don't forget our suggestions for 7 best alternative tours in Sabah that avoid the tourist hordes, and this list of some well-known and really offbeat greatest Borneo beaches.
In truth, Tawau itself is not a big draw, and travelers use it mostly as a transport hub for its convenient airport, the closest to the beautiful island off Semporna. Connected directly to Kuala Lumpur and Kota Kinabalu, Tawau Airport is the collection point for most tourists heading to the islands around Semporna, more or less an hour away.
READ MORE GREAT MALAYSIA GUIDES 
The Ultimate Backpacking Borneo Guide 
How to visit Tangkoko National Park in Sulawesi
How to get a 60 Days Indonesian Visa
20 Great Ideas for a Short Trip in Malaysia
Things to Do in Tawau: What about visiting Tawau Hills Park?
As mentioned, Tawau is not as popular as other Malaysian destinations, both in Sabah, or the Peninsula (check our guides on diving in Pulau Tenggol and cycling from Kuala Lumpur to Penang), and at first, most visitors don't think there are many things to do Tawau. It's a real pity though because Tawau Hills National Park is great: easily accessible, with a rich amount of wildlife, including dozens of species of Bornean frogs and insects, many different hornbills — we saw them fly right above the football field at the park's headquarters — civet cats, gibbons, the rare red leaf monkeys, and the elusive clouded leopard.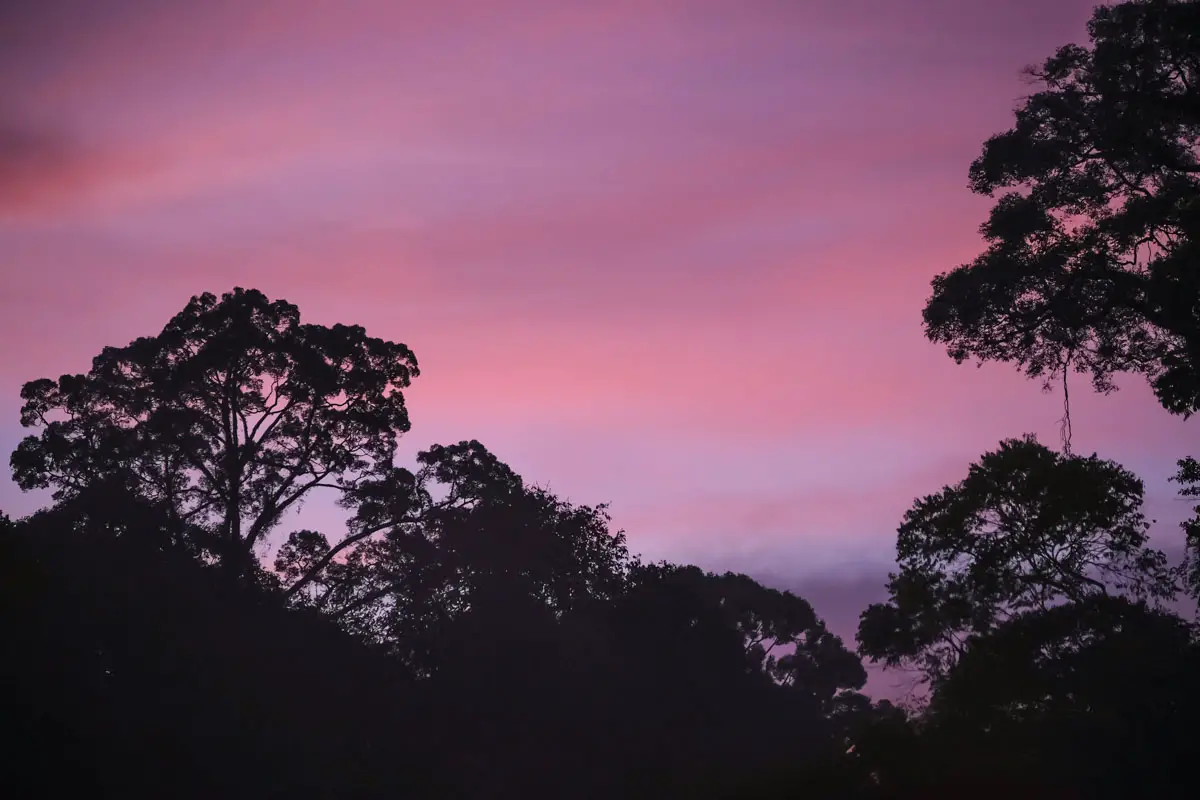 Of course, as with any wildlife, there's no guaranteed chance to see anything here. But the lack of visitors, coupled with the natural beauty of this large reserve that encompasses three peaks, Mount Lucia, Mount Magdalena and Mount Maria, makes Tawau Hills National Park a real must-visit destination in southern Sabah.
READ MORE – Best Places to Visit in Malaysia in 3 Days
What is the Best way to reach Tawau Hills National Park?
The cheapest and quickest way is to fly in because buses from Kota Kinabalu are a long trip (about 12 hours) that costs more than the one hour flight.
Check the best prices on direct flights from Kota Kinabalu to Tawau Airport or from Kuala Lumpur on 12GoAsia, an online ticket seller that accepts most international credit cards.
Otherwise, if you are in Semporna/Mabul for the excellent diving off Sabah's southeastern islands, you may want to catch a bus to Tawau.
As of late, there is also a road connecting Tawau to Keningau via Sapulot.
You will have to organize transport from Tawau's airport or bus station to the park's headquarters. We recommend using Grab Car to save money because taxis can be overpriced if you don't know any Bahasa Malaysia to negotiate a good rate.
If you want to trek at Tawau stress-free, we suggest contacting Kota Kinabalu-based adventure tour company Sticky Rice Travel, who can organize this trip including transport, guides, food and accommodation.
READ MORE – Explore the Danum Valley Conservation Area
How to visit Tawau Hills National Park
It's possible to visit the park independently, but you'll be limited to the few easy and short trails surrounding the headquarters, plus one short 1.5km hike to a hot spring. To be honest, this can be enough for most visitors, as the headquarters, which have open grounds at the fringe of the forest, are the best spot to see animals, and especially hornbills, moving in and out. Don't forget to pack a pair of adidas kampung, Malaysia's best (and cheapest) hiking shoes.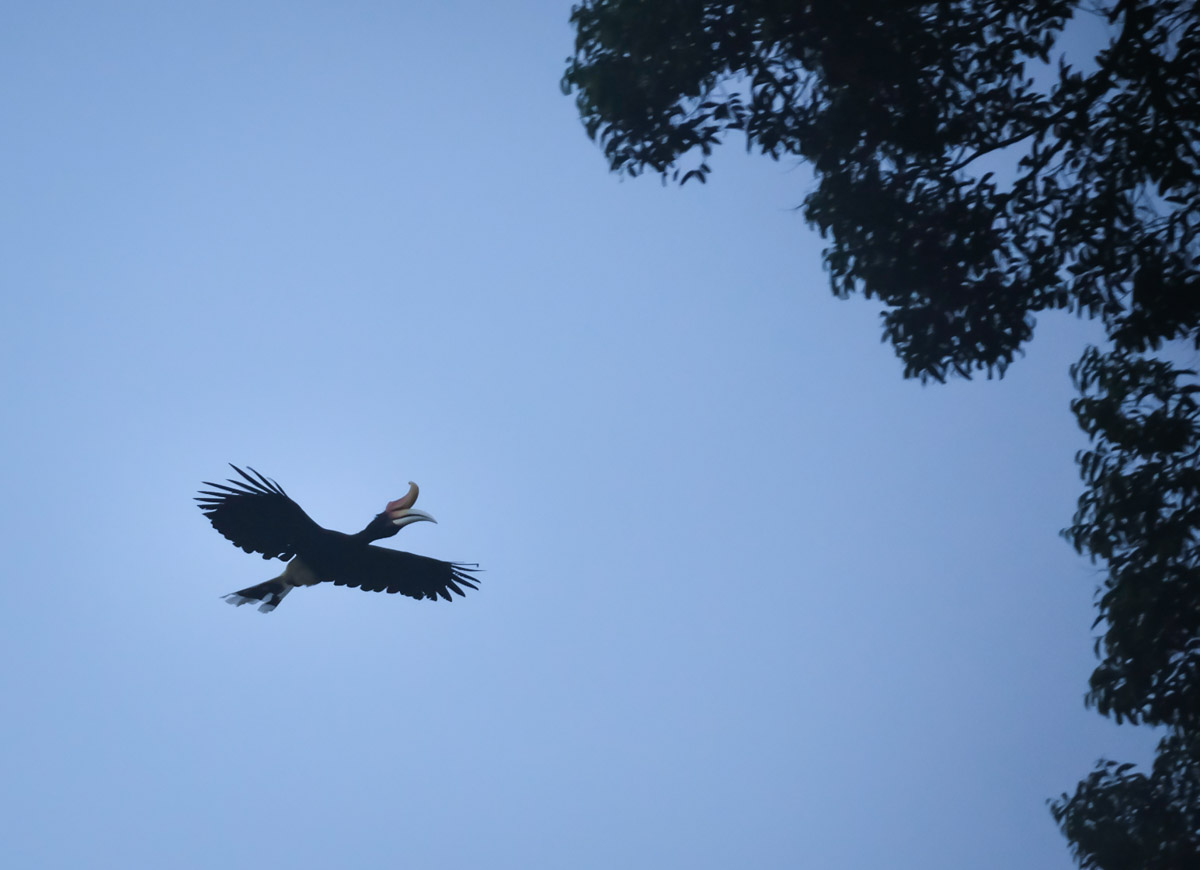 But if you want to see much more and strike off the beautiful 10km-long hike to Mount Lucia, where you can stay in comfortable and clean accommodation in a wooden chalet overlooking misty canopies, you'll need to organize a local guide, pay a trekking fee (only RM10 for foreigners and RM3 for Malaysians), and hire an accompanying park ranger.
READ MORE – Ultimate Guide to the Danum Valley Conservation Area
In order to avoid disappointment, we recommend contacting Shavez Cheema of 1StopBorneoWildlife, a keen conservationist and nature photographer with extensive experience of Tawau Hills Park, who has worked here on various projects for the past few years. Shavez can organize four days/three nights tours of the park, with one night at headquarters and two at the rest house on top of Gunung Lucia, an amazing place perched on a forested ridge in walking distance to the mountain's only helipad landing. Shavez will guide you on the 5 hours hike to the summit, and show you plenty of local fauna and flora. He has a solid knowledge of Borneo birds, frogs and insects, and his well-trained eye will spot things you won't be able to see by yourself in this thick jungle.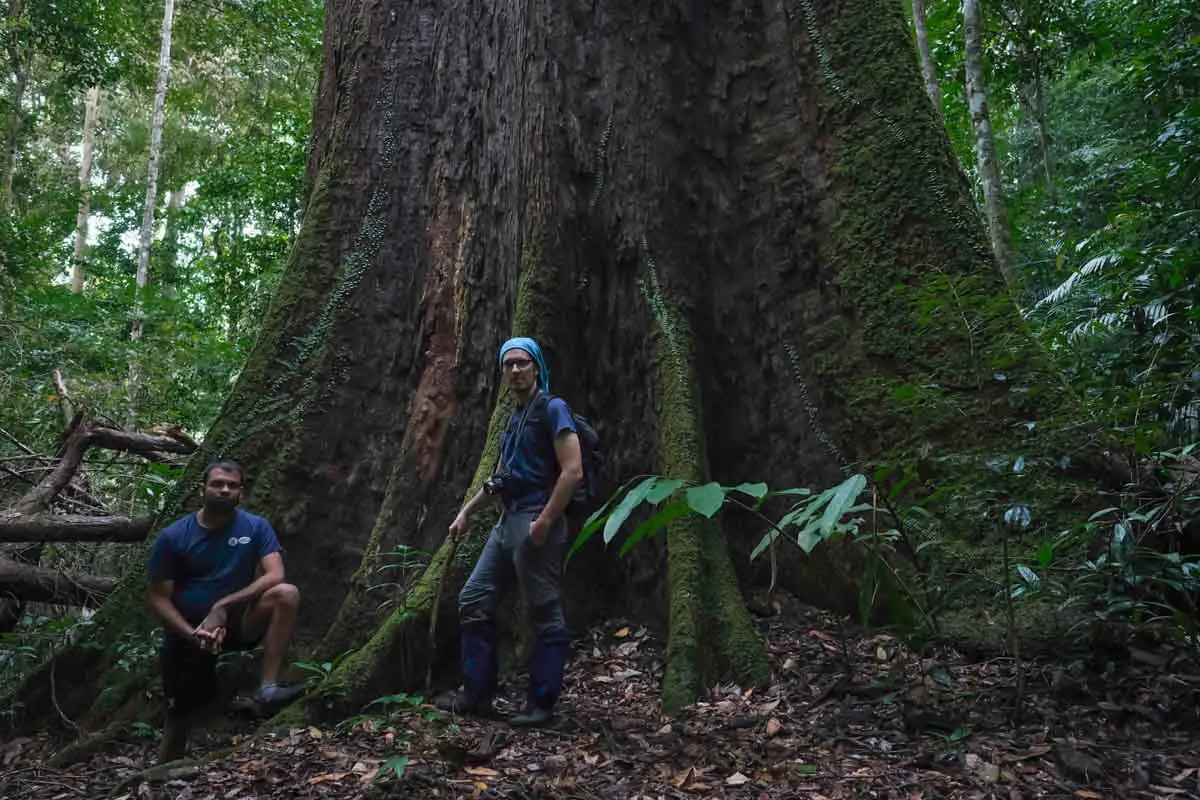 The best part is, your monetary contribution will be used to support Shavez's several conservation efforts, which include Plant4BorneoElephants, a reforestation project of a tree corridor between the upper edge of Tawau Hills Park and its northern neighbour, the more famous Danum Valley Forest Reserve.
Things to Do at Tawau Hills National Park
Tawau Hills national park has two main and very interesting things to do: staying at headquarters, and hiking to Mount Lucia. The beauty of visiting these places is set out in the early morning and evening to walk and look for wildlife.
How to explore Tawau Hills National Park Headquarters
As anticipated above, the park has a series of trails, suspended bridges and water ponds just in a few minutes walk from the entrance. On weekends, this area sees many locals who come to enjoy nature, take a cooling dip in the river, and make barbecues. Compared to most other Malaysian parks, especially those in Peninsular Malaysia, Tawau Hills Park is surprisingly clean and well-run, and you won't find piles of abandoned plastic and rubbish like elsewhere in Malaysia.
Can I see wildlife at Tawau Hills Park headquarters?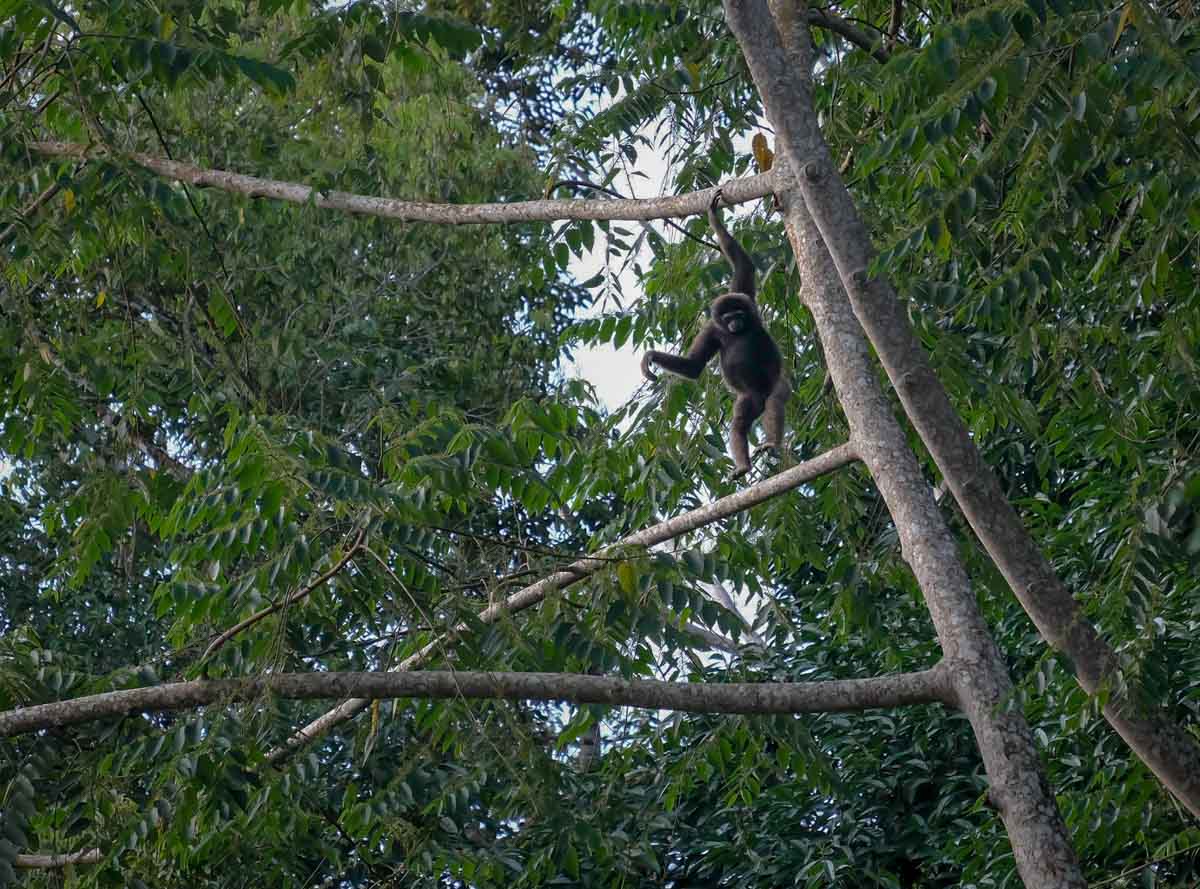 Being developed around a football field that offers an open view of the thicket all around, the headquarters of Tawau Hills National Park offers big chances to see wildlife. For starters, as soon as we had deposited our bags in the room, we returned to the football field where we saw black Borneo Gibbons swing in the canopy, and a couple of Rhinoceros Hornbills glide from the high canopies across the empty space provided by the football field.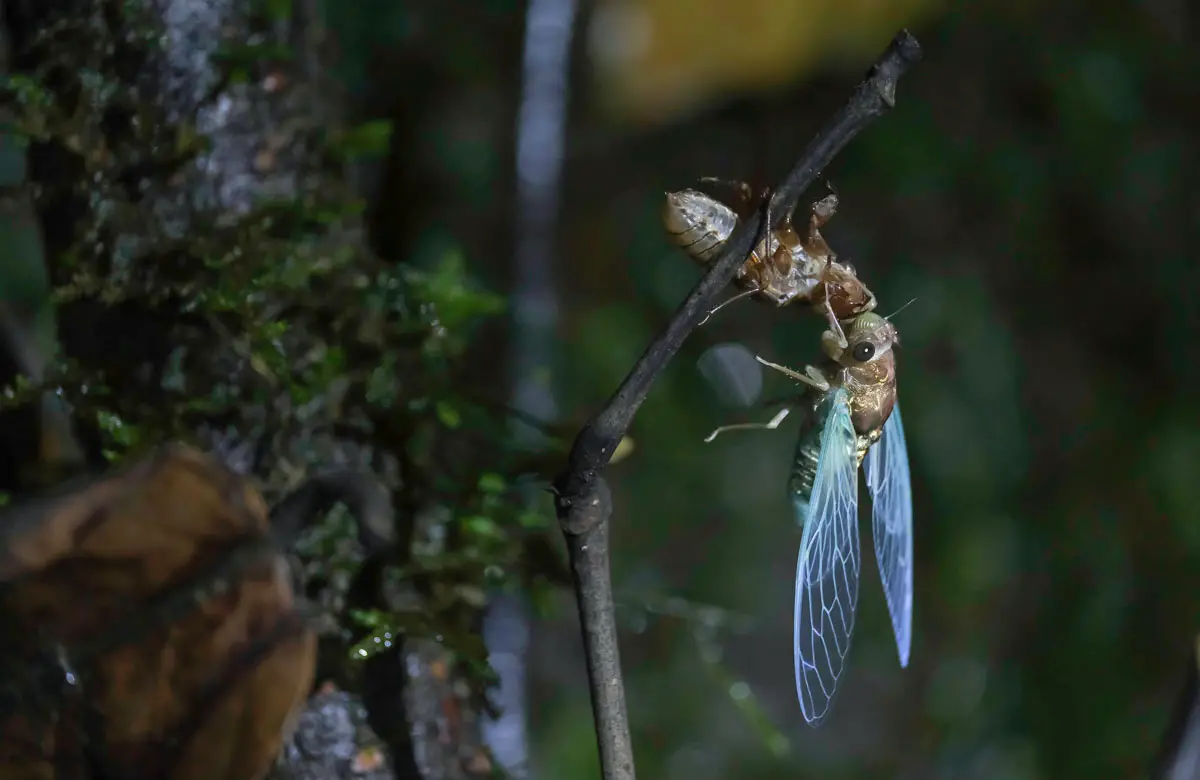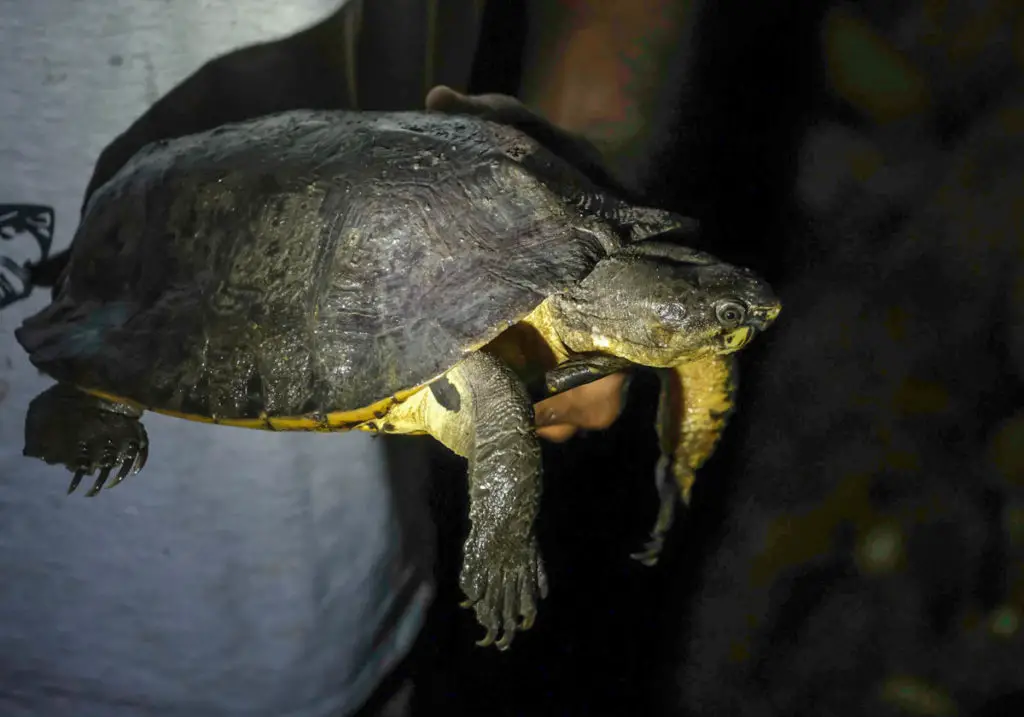 We stayed here on our first night and had a very interesting night walk with Shavez. Within minutes, we spotted Harlequin Flying Frogs, giant spiders, a huge toad the size of a small chicken (really), and not one, but TWO flying lemurs eating bark from a tall tree. The next morning, as we sat having our breakfast near the park's entrance, we could spot a couple of giant hornbills flying in and out of their nest.
The male was looking around for food to bring to his female mate — did you know that hornbills are among the most faithful animals ever, and once they found a companion, they stick with them for life? Well, we were lucky enough to see the behaviours of one such couple.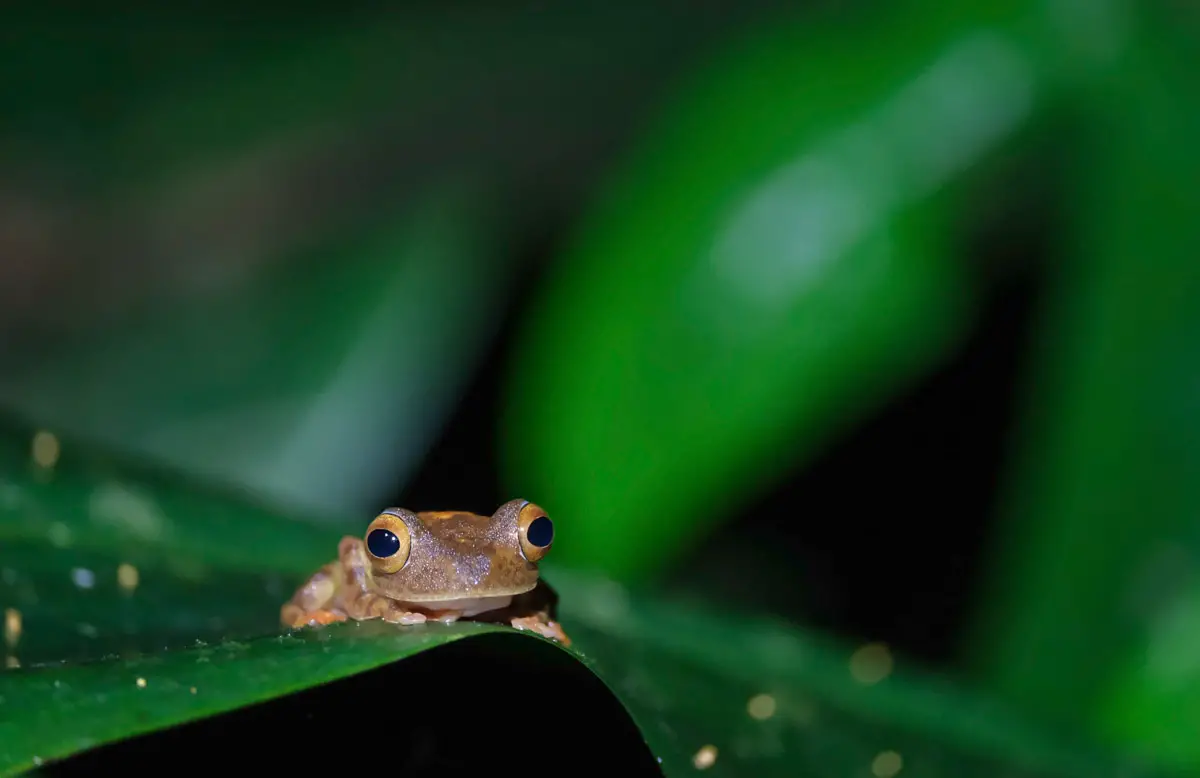 Hiking to Mount Lucia at Tawau Hills National Park
Tawau Hills National Park consists of 279.72 km² of lowland dipterocarp rainforest, surrounded by oil palm and cacao plantations, and three hills between 1000 and 1300 meters of height. 1100-metre-high Mount Lucia is a popular hiking spot, especially given the possibility of staying near the top at a rustic, yet well-manned chalet where the local rangers patrol the area for potential poachers.
The hike starts at Tawau Hills Park headquarters, and it's a long (about 5 hours) yet not too strenuous walk. The path starts climbing after the junction where you can turn right onto a suspended rope bridge that continues to a waterfall; keep straight and proceed uphill for about two kilometers. This is the trek's most difficult part, and we believe it only requires a moderate level of fitness.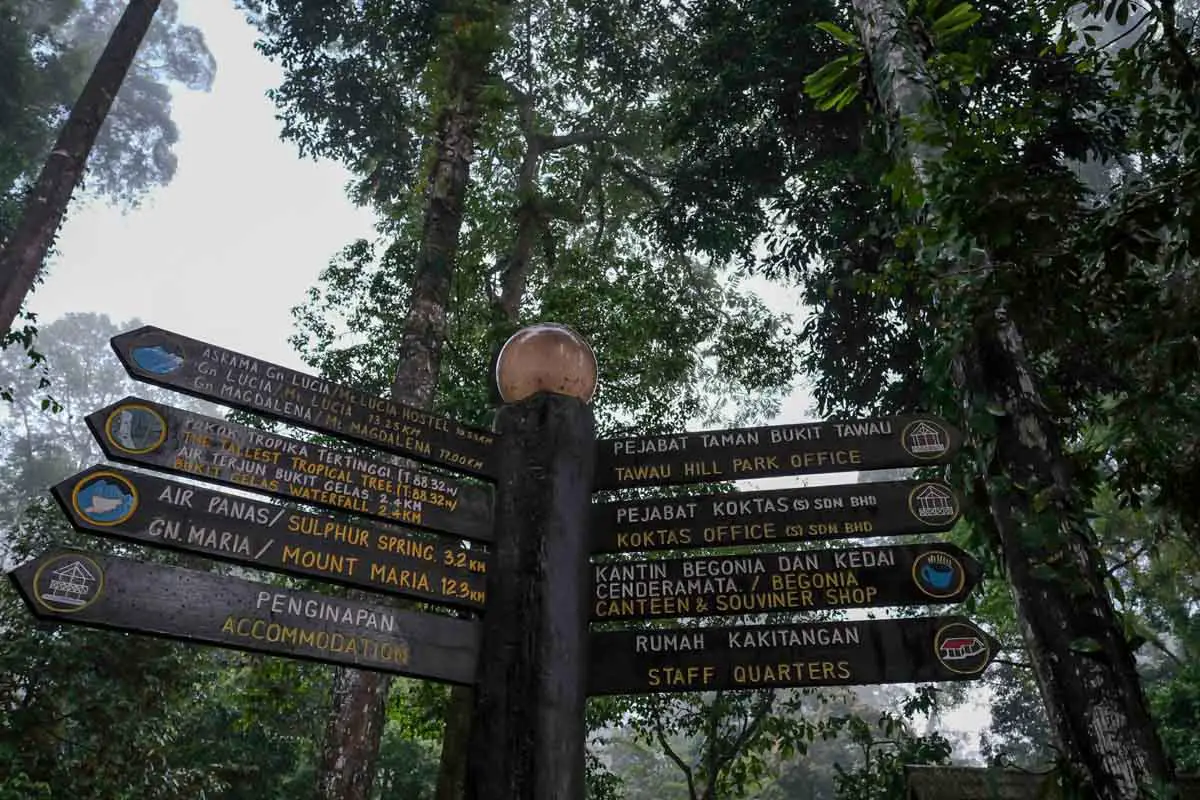 After the climb, roughly 3km into the trek, the path evens out following a ridge that goes deep through dense primary forest. The trees here are majestic: old and tall, with large, sturdy trunks and shiny bark, surrounded by other smaller trees that just wait for their time to bloom into full scale and power.
The Mount Lucia trail is always wide and well marked; along the way, we encountered at least three camera traps on the main path. They are used for research purposes, to capture images of the bigger mammals that inhabit this forest, and in particular, to track the movements of the endemic population of clouded leopards. Shavez confirmed that Tawau Hills Park is one of the prime spots in Sabah dedicated to the research of this endangered cat and that several leopards were spotted here in the past few years.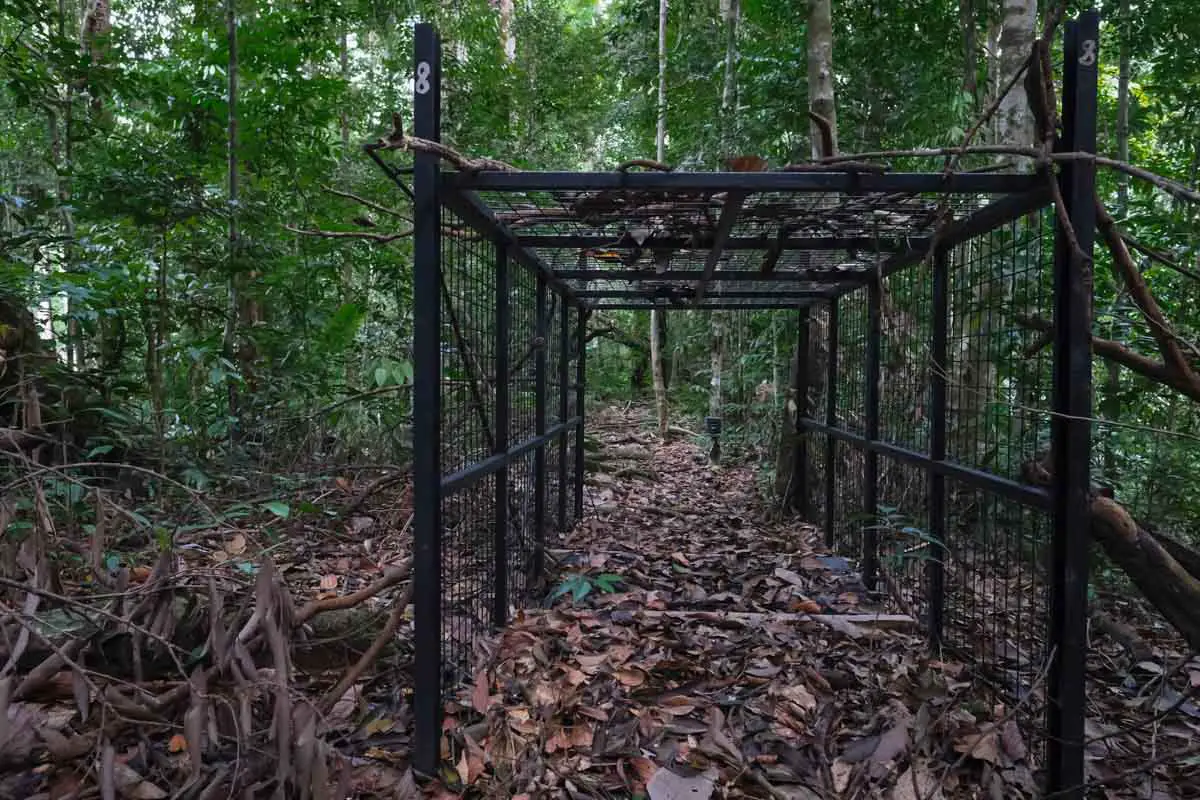 Essential items to bring on a hike to Tawau Hills National Park
Headlamp — this is essential for night walks and get around the upper station's camp at night, where electricity is limited. Also, it can be useful as a supplementary flash for photographing frogs, spiders, snakes and other small animals at night.
Rain poncho — downpours can occur and ruin your experience, making yourself and your expensive photography gear dripping wet in seconds — I almost lost my laptop as I didn't have a rain poncho. Remember to bring one along with you on the hike.
Leech socks — Tawau Hills National Park is a healthy tropical rainforest filled with wildlife and, therefore, aggressive leeches hungry for your blood. We have familiarity with these little bastards, but as we overlooked carrying some leech socks, we were bitten many, many times. If you don't want to bleed for hours, your best bet is buying a good pair of leech socks: they are made of simple yet sturdy cotton, and you should wear them over your hiking pants for best cover.
Camera with telelens for wildlife photography — with such high opportunities for wildlife encounters, you'd better come to Tawau Hills Park with a good quality camera equipped with a long enough lens to capture any fleeting and far animal movement. We use Fujifilm gear, specifically XT–3, XE–3 and XT–1 cameras. We use Fujifilm's 16mm and 35mm prime lenses, and 55–200mm for zoom photography. We understand it's not the longest, but it's pretty versatile and not bulky for traveling. But dedicated wildlife photographers should consider packing a 300mm lens, which gives closer zooms and better results.
Where to stay at Tawau Hills National Park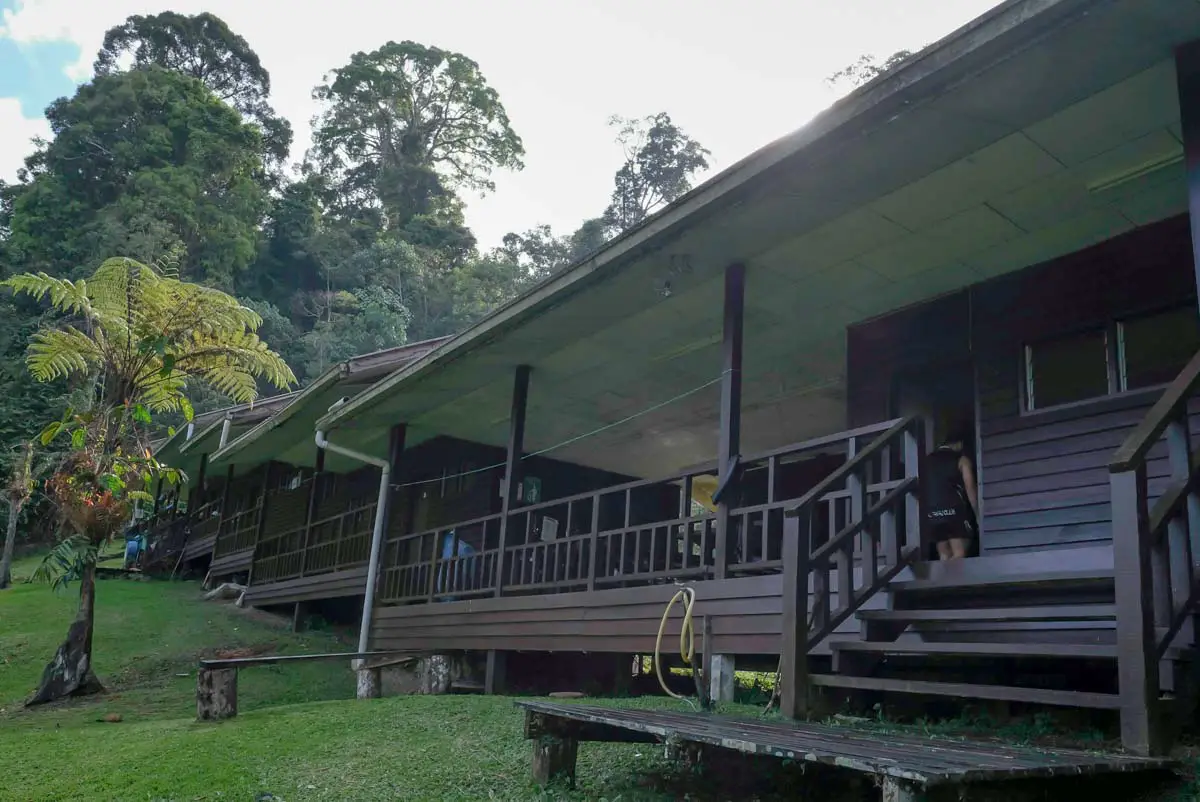 As mentioned before, Tawau Hills National Park's headquarters have very decent accommodation in wooden chalets with fan or a/c. They are set in a clearing next to the jungle, and in walking distance to walking paths where we managed to see plenty of wildlife — frogs, spiders, a freshwater turtle, and even two flying lemurs feeding on the same tree. The rooms are better booked in advance through the park's headquarters.
We can say the same of the accommodation at Mount Lucia: the wooden chalet has a series of 4-bunks dorm rooms, simple yet serviceable shared bathrooms, and a nice veranda equipped with gas stoves and tables for communal eating and hanging out. It's also a great spot to observe the canopy — we spotted gibbons and hornbills as soon as we arrived.
To stay here, you will need a guide, and there will be a couple of rangers on call to help with any unexpected problem. Malay Civet cats and long bearded Borneo wild pigs often come around here at night looking for food — just sit quiet on the veranda, and you may catch a few sightings.