Think of backpacking Borneo, and the usual images of steamy tropical jungles, murky rivers to negotiate tip-toeing on your adidas kampung, beautiful and ancient forests (read about the majestic Danum Valley Conservation Area, our hiking experience at Tawau Hills Park and the Sungai Kapur Borneo River Safari), untamed Borneo beaches, and wild adventures will come to mind. For many, a trip to Borneo means looking for wildlife, and, in particular, orangutans: these majestic apes can indeed only be spotted in the wild in Borneo or the island of Sumatra in Indonesia.
But what is the perfect Borneo orangutan tour? How to make sure that you can actually spot some, in the wild, without the need to visit an orangutan sanctuary in Borneo, and getting that real experience of an authentic orangutan encounter, without visiting any Orangutan sanctuary in Borneo? How to see orangutans even when you only have a short trip in Malaysia?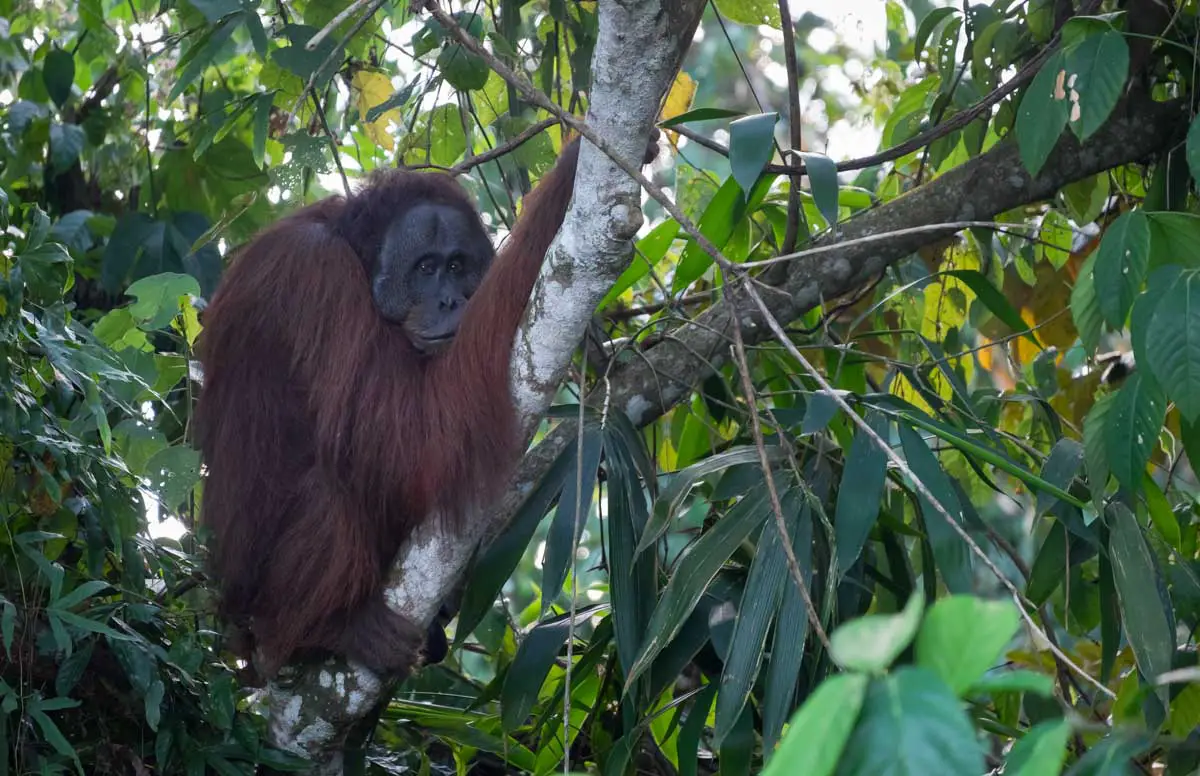 We prefer watching orangutans in Malaysia: in the past, we visited the famous Gunung Leuser National Park near Bukit Lawang in North Sumatra. Don't get me wrong, for it was an amazing experience that got us to to see the orangutans very up close — maybe even too much, as one grabbed Kit's leg and didn't want to let go for a good while! Risky stuff, we do at times… But at Bukit Lawang, we also believe that the interaction between park rangers and apes was a bit too… close.
READ MORE – How to Get a 60 Days Indonesian Visa in Bangkok
How to travel by PELNI Ferry in Indonesia
In April 2019 we have found another cool place that's perfect for a Borneo orangutan tour: Bukit Piton, a forest reserve near Lahad Datu in southeastern Sabah, Malaysian Borneo. Here you can join an organized safari with one-night accommodation in the forest. It's an exciting orangutan spotting tour: you will sit at the back of a pick-up truck, exploring this area populated by a large number of wild orangutans.
At night, you will sleep in a basic yet charming wooden forest chalet, experiencing one of the best places to stay in Borneo to see orangutans without the crowds of Sabah's Sepilok orangutan rehabilitation center.
READ MORE – The Ultimate 2 Weeks Borneo Itinerary
Bukit Piton: Background of a perfect Borneo orangutan tour
Bukit Piton was once called the Northern Ulu Segama Forest Reserve and has been degraded because of poor logging practices. It was a site project for WWF Malaysia which focused on protecting the 300-odd population of orangutans that live here in almost complete seclusion. Indeed, the apes are confined in this area because of the huge palm oil plantations stretching to the north and the east of the reserve, and the Segama river that cuts access to the area to the south.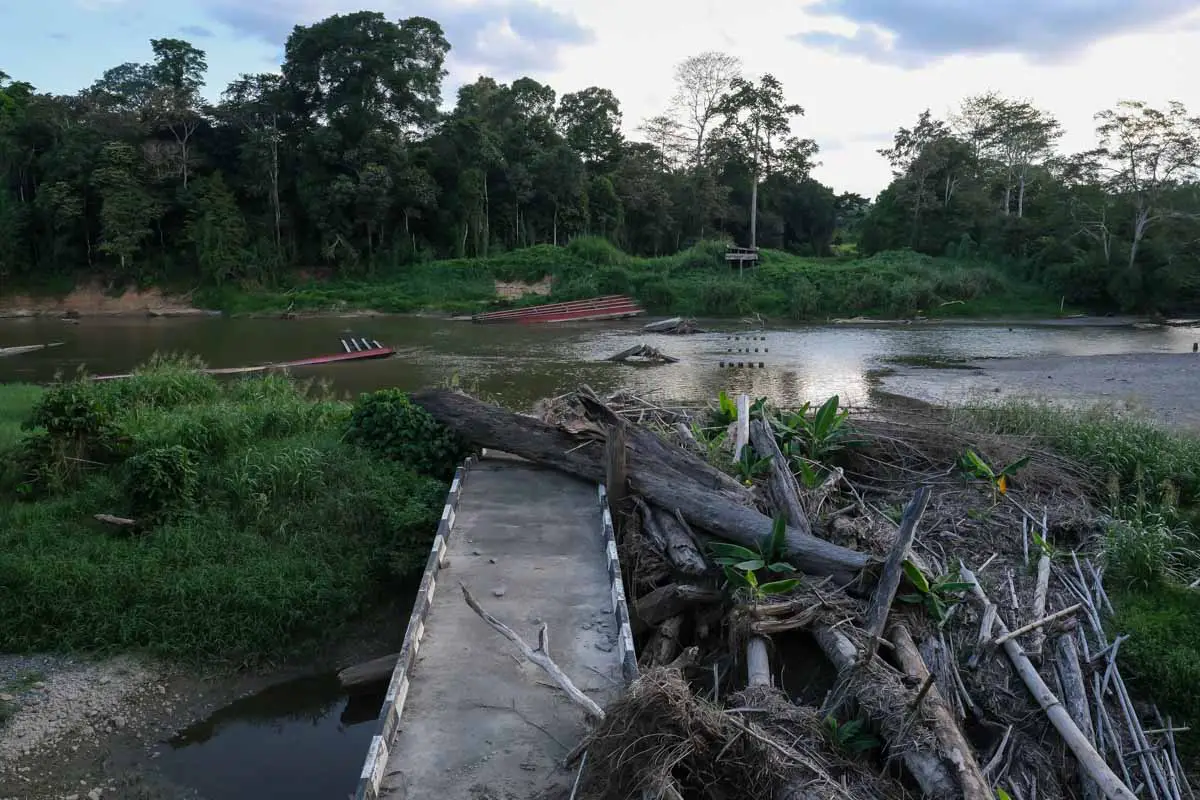 At current, Lahad Datu's tour company Bike and Tours, through its non-profitable arm Brothers Cycling from Switzerland, works with Kontraktor Malaysia for an ongoing joint project to revive Bukit Piton thanks to eco-tourism and tree planting for reforestation.
Simon of Bike and Tours and his brother Philipp Werren gained some funds during their incredible cycling tour from Switzerland to South Africa in 2010. With the donations they received, they wanted to channel it to humanitarian and conservation projects. Since Simon is most of the time in Borneo, he thought of contributing towards a project that he could monitor directly, making sure that the funds are being placed for good use. Hence, the tree planting project at Bukit Piton, a collaborative effort between Bike and Tours and Kontraktor Malaysia.
Their tree planting approach is focused on a small scale, but with the assurance that each tree gets a 5 years maintenance in order to grow successfully. This concept is preferred rather than going all out to plant on a large plot of land and not having enough funds to maintain the trees to grow well from the hindrance of weeds and creepers. The cost of the Bukit Piton Borneo orangutan tour supports the reforestation project and the livelihoods of the workers that patrol the rustic yet charming accommodation in the middle of Bukit Piton forest reserve.
READ MORE – Best Places to See in Sabah
Please note that, as the site is accessed through an active palm oil estate, it's not possible for unauthorized, independent travelers to come here by themselves. Contact Bikes and Tours, or you'll be in for disappointment and may face a hard time finding transportation to the forest reserve.
The Bukit Piton Experience: what to expect from your Borneo orangutan tour in Lahad Datu
The perk of Bukit Piton is that it has quite a number of wildlife. Of course, the area is vast, and there is no guarantee to see any: it is recommended to visit during the rainy or fruiting season when the orangutans come out of the jungle looking for food and are most active. On those times, it's not at all uncommon to come to Bukit Piton and see more than five wild orangutans in a single trip.
You can go on a day trip to Bukit Piton, but it's recommended to stay overnight and do a night safari — after many years hoping, we finally managed to see a slow loris here!
We left Lahad Datu's most recommended boutique bed and breakfast, Bike and Tours, by 1 pm, and drove for about an hour on the highway that goes North in the direction of Sukau and Sandakan. There's a turnoff to Bukit Piton, and from there, it's another 30 minutes drive on a gravel-paved logging road that skirts palm oil estates. We met with another family, our trip mates for the night, near the beginning of the Bukit Piton Forest Reserve, where the reforestation project actually starts.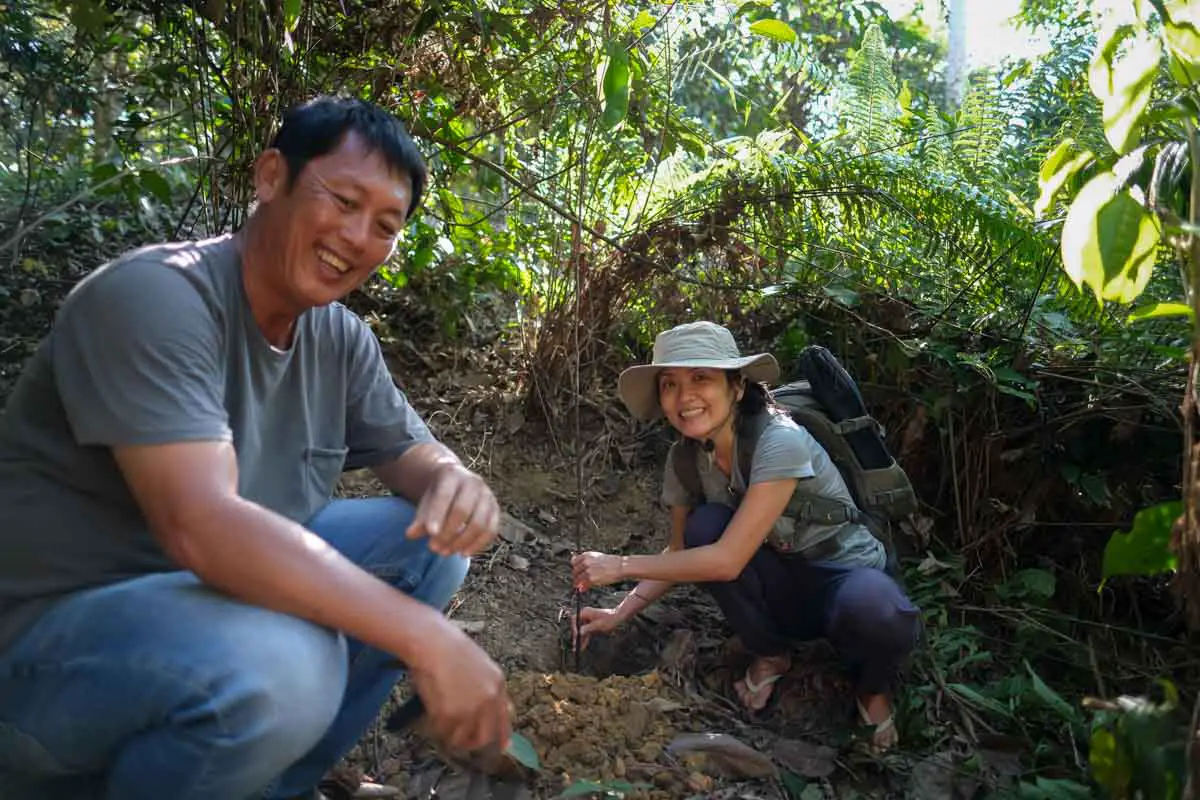 Each participant will have to plant two trees as part of this tour: it's usually a quick and easy job, since the staff help digging the holes for you. This is probably done to maximize safari time, but anyhow, it's still an interesting and touching experience. The trees that are planted at Bukit Piton through the Brothers Cycling project are monitored for 5 years as part of the ongoing reforestation project of the reserve, which has already greatly improved the living conditions and environment of Bukit Piton's orangutans.
What to Do on a Bukit Piton Orangutan spotting tour
After planting our trees, we jumped on the back of the pickup and started driving slowly towards the jungle accommodation. It's a beautiful drive across a large swathe of forest that extends on both sides of the road: the canopy is not too thick, and some trees are extremely tall, most peppered with old orangutan nests — did you know that orangutans make their own bed every night in a different spot?
Thanks to our well-trained local guides, we managed to spot one sleeping orangutan that, luckily for us, was resting on a low branch very close to the road. It was an amazing encounter: of course, we pity the poor thing as we woke him up from its slumber by approaching with the car, but we managed to get a perfect sighting in less than 5 meters away. The orangutan was an alpha male — you can recognize them as the sides of their faces swell out like a halo, giving the male orangutan a somewhat fiercer appearance. After a good five minutes of mad shutter flickering, we left the orangutan to his business and proceeded further until the former, now collapsed, bridge over the Segama River that connected Bukit Piton to the popular Danum Valley Forest Reserve to the west.
What other wildlife can you see at Bukit Piton?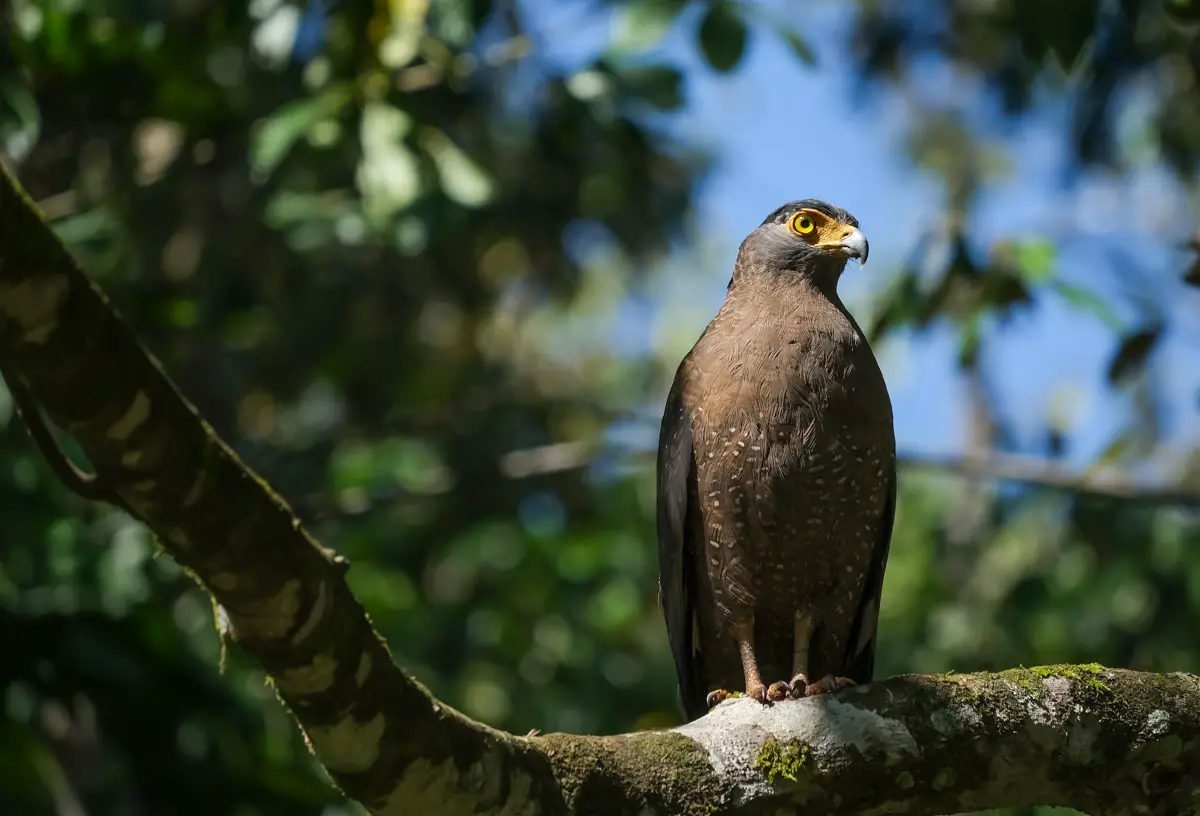 As we mentioned, Bukit Piton is a great place for Borneo wildlife spotting: there is an incredible number of birds, and we saw eagles, howls and other smaller birds I cannot list here as I am no expert.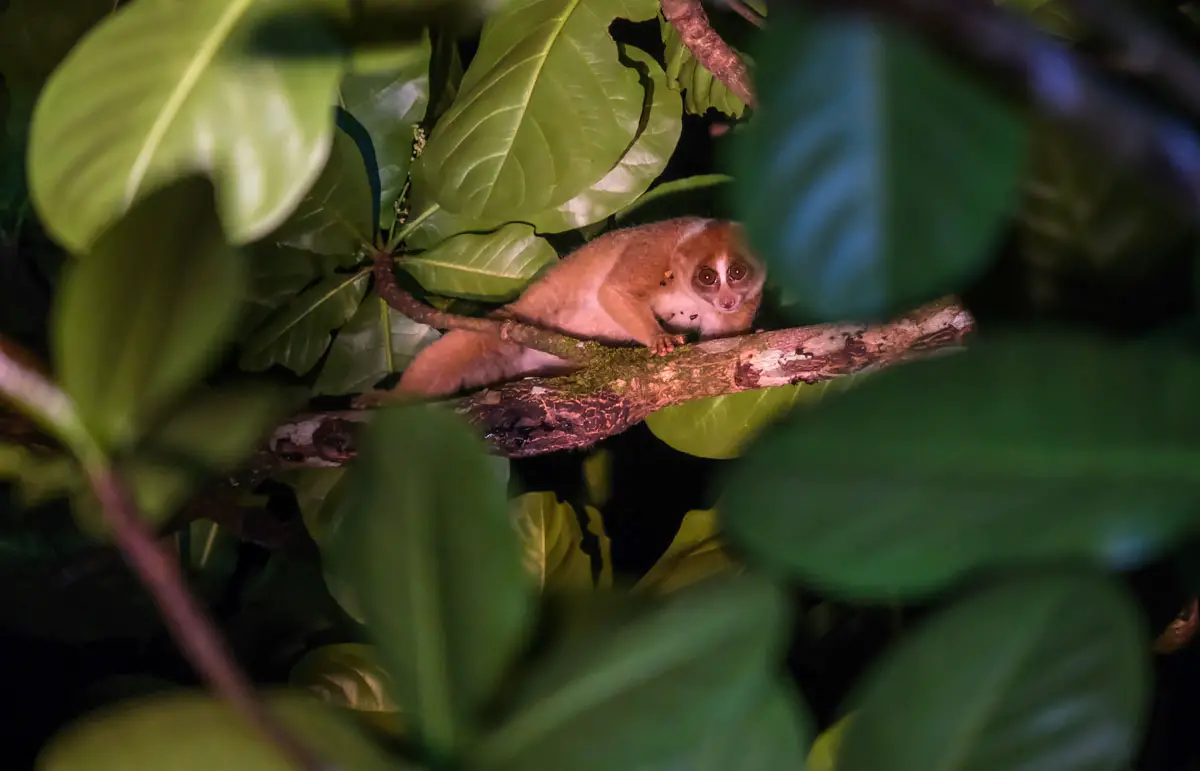 The best sightings, however, were during the night safari: we left after our dinner, driving back from the jungle lodge towards Bukit Piton Forest Reserve entrance. Beside the huge amount of birds we saw resting on the tree branches, we managed, to our delight, to catch a sighting of the slow loris, a rare Malaysian primate. It's very cutesy to look at, with big eyes that remind of a tarsier, but be careful: the slow loris is also the only poisonous monkey in the world. It's quite hard to get in close proximity to one, but if you get that lucky, we recommend you keep your distance.
Another definite highlight was when we sighted a wild elephant. It was night, and the animal was grazing in the tall grass at the side of the road, grey and still like a giant rock. It was only thanks to our guides powerful torchlights that we could see one.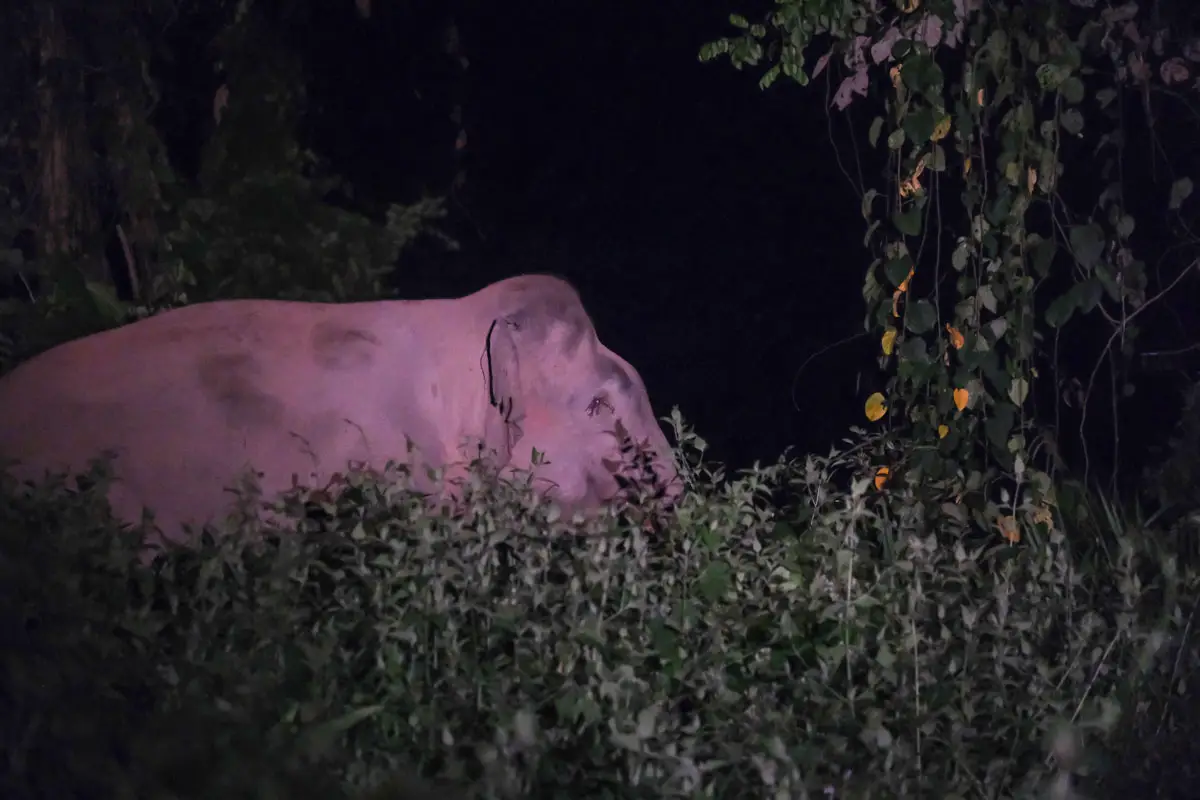 Bukit Piton Borneo orangutan tour: Conclusion
If you want to have a comfortable and yet adventurous orangutan and wildlife tour that beats the crowds (you surely won't find many here), Bukit Piton is the perfect, off-the-beaten-track location to consider.
The Bukit Piton tours organized by the Bike and Tours team are run by experienced, well-trained staff, and will offer a unique chance to venture into a less-known forest reserve in Malaysian Borneo.
READ MORE – Best Places to Visit in Malaysia in 3 Days
Bird watchers should particularly consider joining a tour of Bukit Piton for the wealth of birds that live here. Also, Bukit Piton's wild orangutans can be spotted much closer than at nearby Kinabatangan River, where they tend to stay up in the canopy. We really enjoyed this tour, and we recommend you try it if you are in Lahad Datu, or before/after your visit to Danum Valley and/or Tabin Forest Reserve.
---
Blogging Transparency: Bike and Tours initiated and recommended our visit to Bukit Piton, but the opinions expressed in this article are solely our own. In other words, we would never recommend a tour we wouldn't pay for ourselves to our readers. Trust our travel advice: we have been around, and know our stuff.
---