You know what? The problem with traveling to Sabah and backpacking Borneo is that people always stick to the same well-oiled Sabah attractions without taking time to explore some of the best alternative tours in Sabah. For example, the southeastern corner of Sabah, has a lot of great places to see, like the orangutan reserve at Bukit Piton and Tawau Hills Park. Don't forget the Danum Valley Conservation Area, in two hours drive from Lahad Datu, a very popular and yet super adventurous place. And when it comes to Borneo river cruises, Lahad Datu town also offers a less crowded option to the Kinabatangan River, Sabah's longest waterway and the cheapest location for river cruises in Sabah.
READ MORE – The Ultimate 2 Weeks Borneo Itinerary
This article will focus on a new river safari boat ride we found in Lahad Datu: it's the Sungai Kapur river cruise offered by the collaborative effort of local tour companies Bike and Tours and Tabin Lodge, and is a very interesting alternative to both Kinabatangan Sabah river cruises, and the rainforest exploration at nearby Danum Valley and Tabin wildlife reserves.
Sungai Kapur in Lahad Datu: what is it?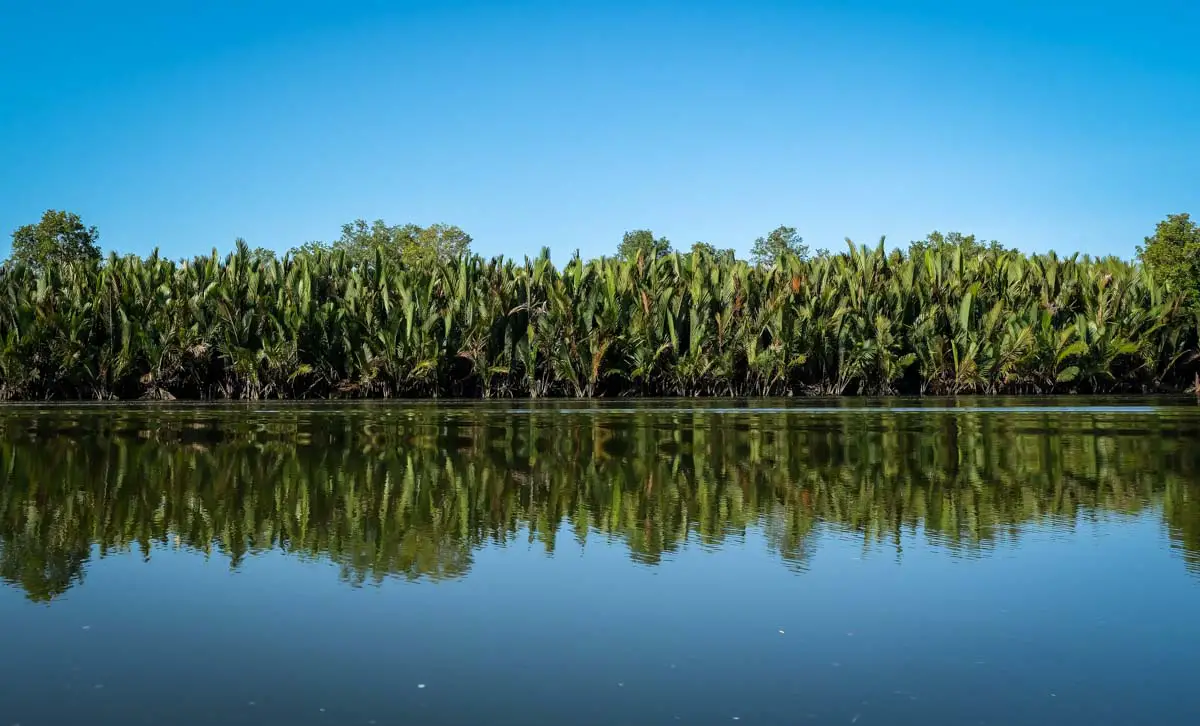 Sungai Kapur is a mostly inhabited wetland perched at the north-easternmost part of Tabin Wildlife Reserve, the last haven of one last Malaysian Rhinoceros. This area is covered with ancient primary mangrove forest and undiscovered jungles and is one last buffer zone between Sabah's eastern rainforests and the Sulu Sea. This beautiful coast is also the infamous area that saw the violent attack of marauding pirates from the nearby Sultanate of Sulu in 2013.
READ MORE – Best Places to Visit in Malaysia in 3 Days
To give a bit of history and background, this part of Sabah's southeastern coast once belonged to the territorial claims of the Sultanate of Sulu, an Islamic-separatist area centered on the nearby islands of Tawi Tawi and Jolo. The situation after the 2013 attacks on Lahad Datu's coast has been pretty stable, even more after the passing of the former Sultan of Sulu in the year 2016. To be fully transparent, occasional attacks on Malaysian fishermen who stray far off into international waters still happen, but the security situation is largely under control. In fact, to further strengthen security and halt incursions, Malaysia's marine police is heavily patrolling the area after the formation of the ESSCOM (Eastern Sabah Security Command), a high-security area covering 1,400km of Sabah's east coast from Kudat to Tawau.
Is it safe to visit Lahad Datu and Sungai Kapur?
Well, the answer is YES: visiting Lahad Datu is safe, and visiting Sungai Kapur, which you can't do by yourself, but only with the expert local knowledge of the team at Bike and Tour and Tabin Lodge, is likewise safe. Why? Because the boatmen and the inhabitants of Kampung Meruap, the coast's only rickety village, are Malay-Sulus themselves who know the area like the back of their hands. The team at Bike and Tours and Tabin Lodge also work closely with the forestry and marine police division prior to conducting the tours.
Actually, a visit to this place may completely change your idea on this very particular maritime border zone.
Speaking of Lahad Datu, I have personally visited at least three times, and the only true danger I faced was to be overwhelmed by the local hospitality and be choked as I gorged on the delicious local food. Contrary to the general travel advice, please visit Lahad Datu: its "bad name" makes it still relatively off-beat and quite interesting, albeit frankly sedated. Don't expect a backpacker scene or a wild nightlife here, or you'll be disappointed, like elsewhere in Malaysian Borneo.
How Sungai Kapur is different from the Kinabatangan River?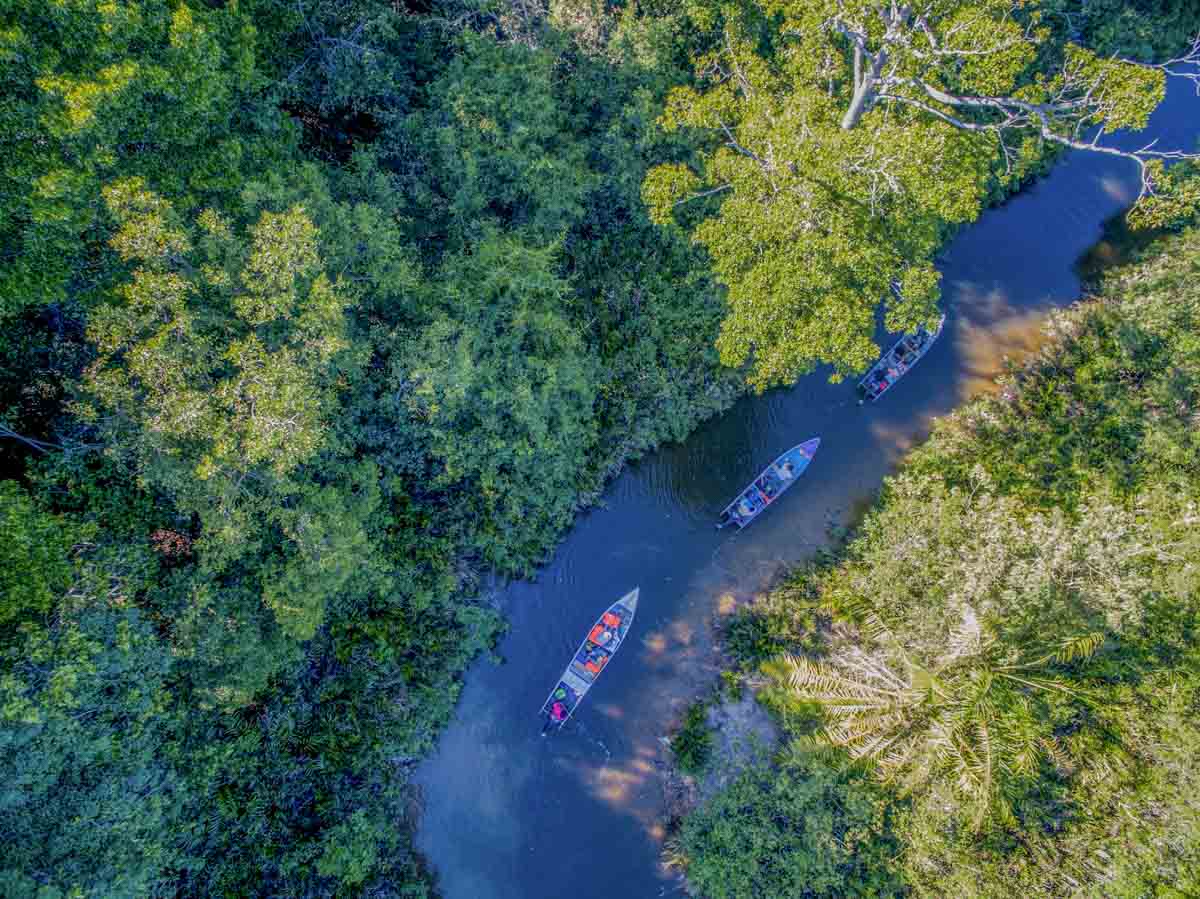 So, why you should consider a Borneo river safari at Sungai Kapur instead of following the general travel advice and going to the most famous and backpacker-friendly Kinabatangan River? Well, because Sungai Kapur offers a very interesting human element, has less trawled waterways, including a maze of very small side rivers where the tiny boats can float as they look for endemic wildlife. And, speaking of the wildlife: Sungai Kapur is still mostly covered by primary rainforest, and fringed by a very healthy coastal mangrove eco-system. On the contrary, in Kinabatangan, the forest corridor is reduced to a mere 20-meter-wide channel that's obviously more dense with animals (it's the only place they can stay, indeed). At Sungai Kapur, the wildlife sightings may be rarer, but also much more authentic, as the animals here have much more room to roam around.
On top of the above, Sungai Kapur offers a chance to explore coastal parts of Sabah and the Sulu Sea that you won't be able to access and see otherwise. There's good jungle trekking, which is something you can't really do around the Kinabatangan River. And again, visiting Sungai Kapur is a perfect chance to learn about the life of the local people of Sulu ethnic origin who have resided in this part of Malaysian Borneo for a few generations now, and overcome your stereotypical fears.
Sungai Kapur River safari boat ride: what to expect
Expect to spend the best part of three days on the water and under the sun, experiencing a real patch of Borneo river wilderness. You will definitely see some wildlife, which ranges from a plethora of bird species, crocodiles, wild elephants — you must be lucky to see one —, orangutans, and many different species of crabs, some of which have amazing colours.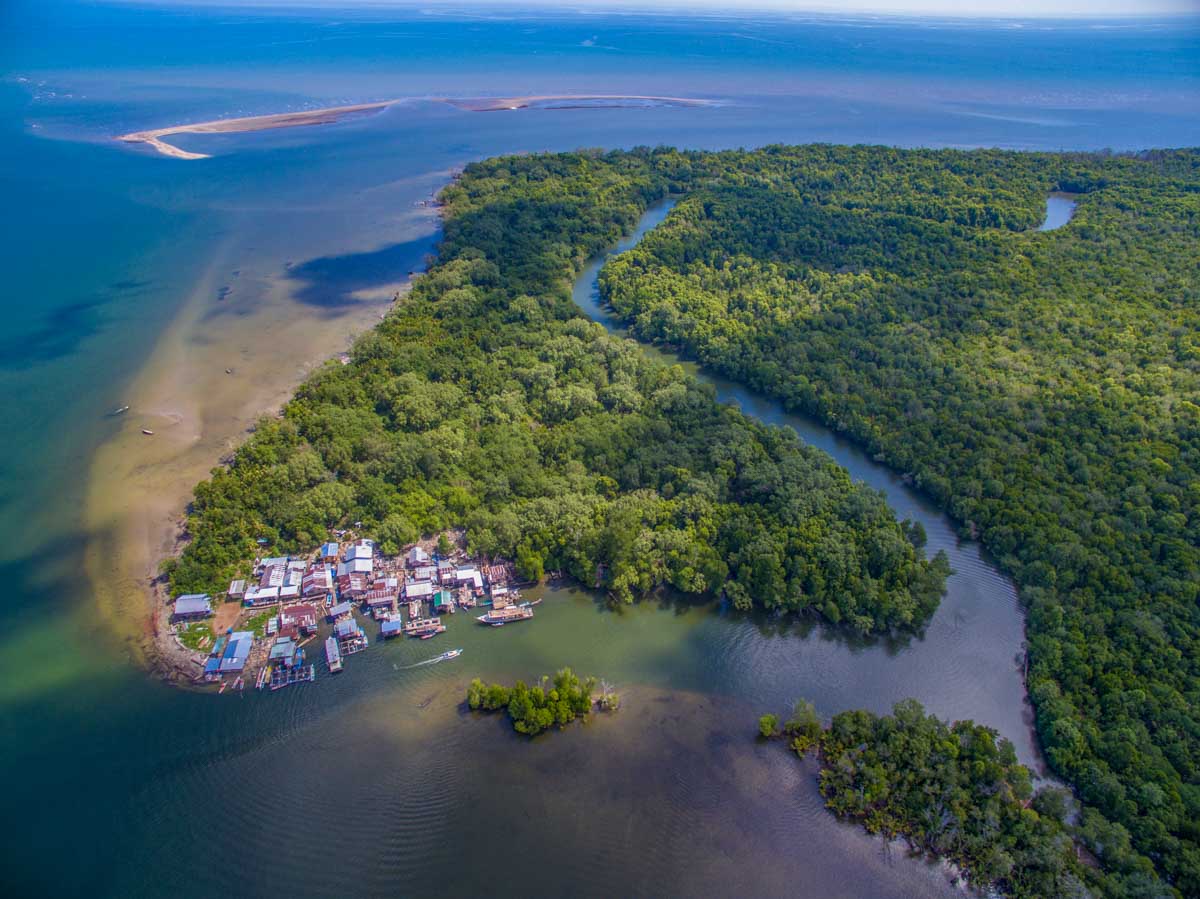 Also, during the visits to Kampung Meruap, east Sabah's last village perched on the fleeting maritime border between Malaysia and the Sulu islands, you will get to see how people live in this remote part of the world. And if you are a foodie, remember that the seafood you'll have here may as well be the best and freshest you'll have in your whole life. No kidding. Just bring your adidas kampung in case you'll step off the boat and onto some muddy jungle trail.
Sungai Kapur River Safari itinerary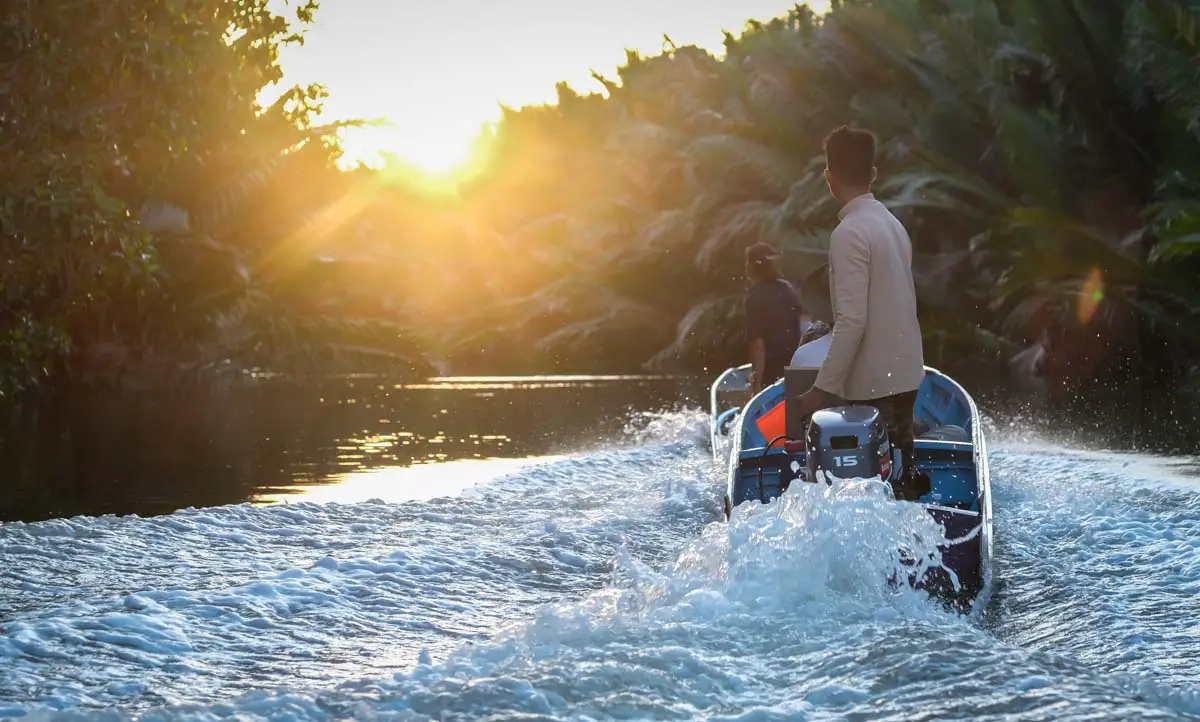 The Sungai Kapur River safari boat ride organized by Bike and Tours and Tabin Lodge stretches over three days and two nights, departing and returning to Lahad Datu town. This tour includes all land and boat transportation, meals and snacks, night safari activities and of course accommodation in a simple yet comfortable resthouse on the edge of the forest reserve.
The tour is conceived with luxury in mind and is executed pretty well, given the scarce resources available on the ground. Here's a breakdown of our experience:
Sungai Kapur River Tour Day One
You'll leave Lahad Datu's best boutique pad, the Bike and Tours bed & breakfast (book your stay and check prices here) around 9.30 am for the two-hour drive to Sungai Kapur forest reserve. The goal is to reach the forest resthouse and drop luggage and materials by 12.30 pm and then proceed at the end of the road to the Lasun jetty by 1 pm. The boatmen from Kampung Meruap will be waiting there to begin the river exploration.
For the whole first day, the program is simple: meandering slowly along the main Sungai Kapur river, with a few side trips up the smaller side waterways, to try catch sightings of the different animals. After a couple of hours on the boat, we stopped and disembarked to have a feel for the local rainforest all around us. The idea was to try to walk around in the hope of catching a wild elephant sighting, as our guides said at this time of the day they commonly roam around looking for food. It was an exciting walk: we proceeded in single file across a pretty clear jungle terrain, bending below the branches that obstructed the way. Regardless of hearing sounds that our guides associated with those that elephants do while eating, we were out of luck and didn't see any.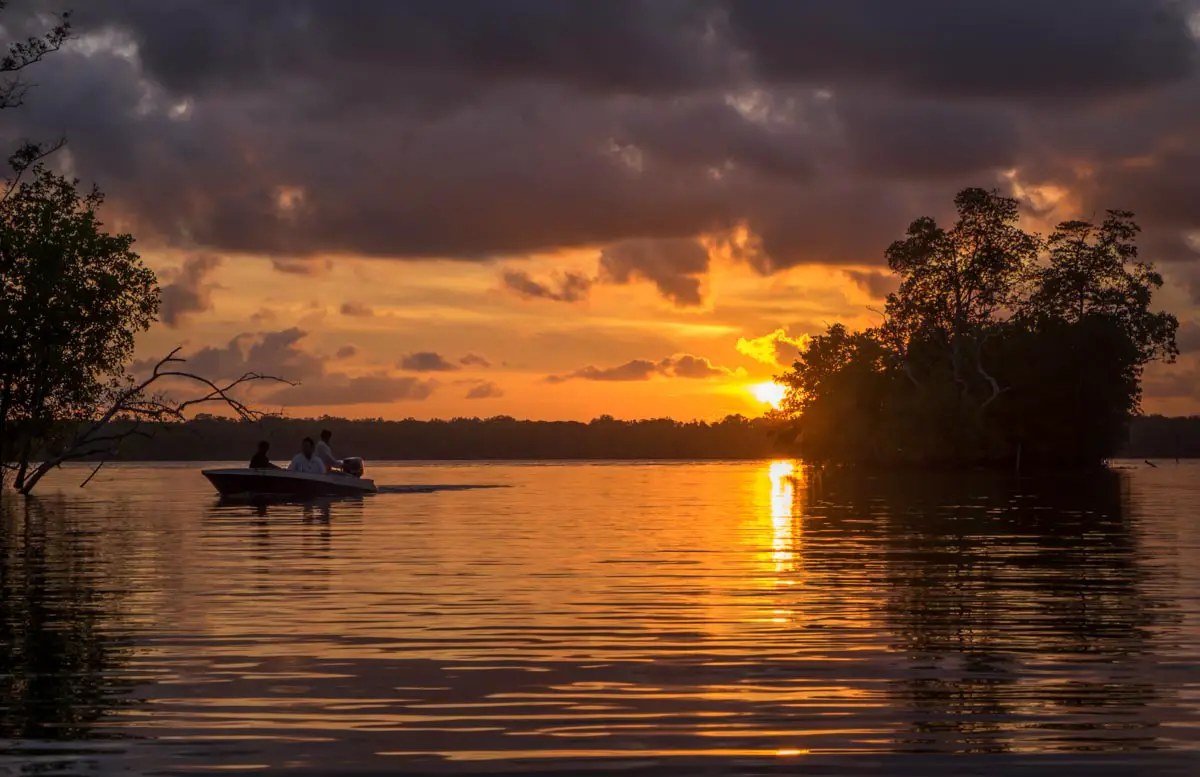 The last part of the first day is possibly the most scenic, as the boats leave the main wetland and venture out in the Sulu Sea, looping back to Kampung Meruap, where guests will experience a grandiose local and super fresh seafood dinner. This patch of Sulu Sea, so close to the mainland, has a few sandbanks that one can explore during the evening's low tides. It's a great experience to stand there, in the middle of nowhere, between unending water and sky, and watch a glorious Borneo sunset paint the horizon purple.
Kampung Meruap is a small stilted community perched on the edge of eastern Sabah: inhabited by a mix of Malay and Sulu people who don't care much about knowing to which country they belong, it's a very down-to-earth, simple village.
The headman, a Malay man called Pak Haji, is a very interesting character with a unique history: 40-odd years before, he moved here with his wife to clean up his act, as he was a gambler and a womanizer in the town of Lahad Datu. They lived here, building up a home and living resources, all alone in this wilderness for four long years. More people started coming once the voice had spread that that place in the middle of nowhere was safe and that Pak Haji was a well-respected and wise headman.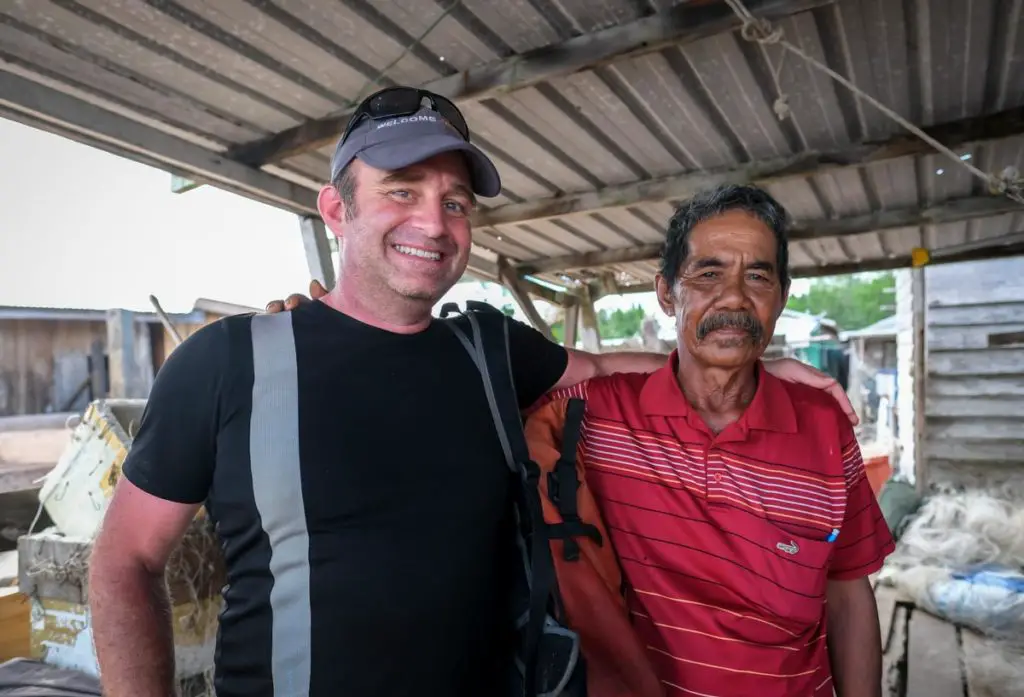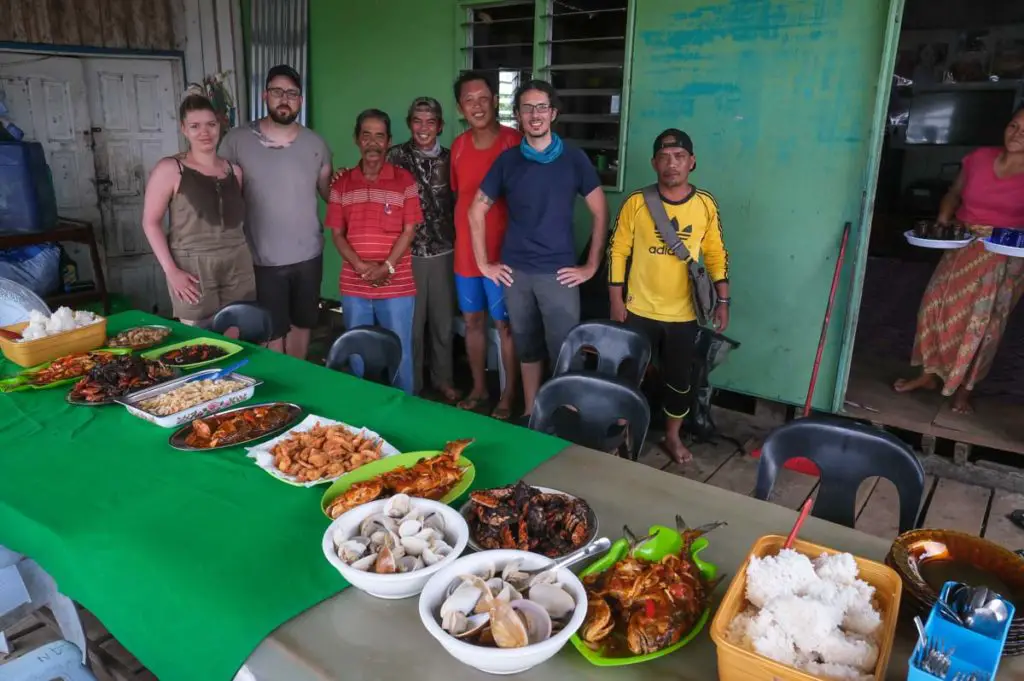 He will prepare a seafood feast for his guests: giant groupers, clam soup, fried fish, delicious giant shrimps… the dinner on our first night at Sungai Kapur was something I will always remember.
You'll spend the night back at the forest rest house, preparing for a harsh 4.30 am wake up call the next day…
Sungai Kapur River Tour Day Two
…that's totally worth by the way because by 6 am, you'll be floating in the middle of Sungai Kapur river, watching the sun rise above the waters as you sip your hot coffee and have your breakfast directly in the boat.
The best thing we did on the second morning was steering the boats into a tiny waterway were one of our Sulu boatmen and guides claimed we may be able to see some flying foxes, the giant Borneo bats. Soon enough we were floating in a tiny water channel, with a feast of huge bats flying over our heads as they woke up from their slumber. This was one of the most amazing wildlife sightings of the whole trip.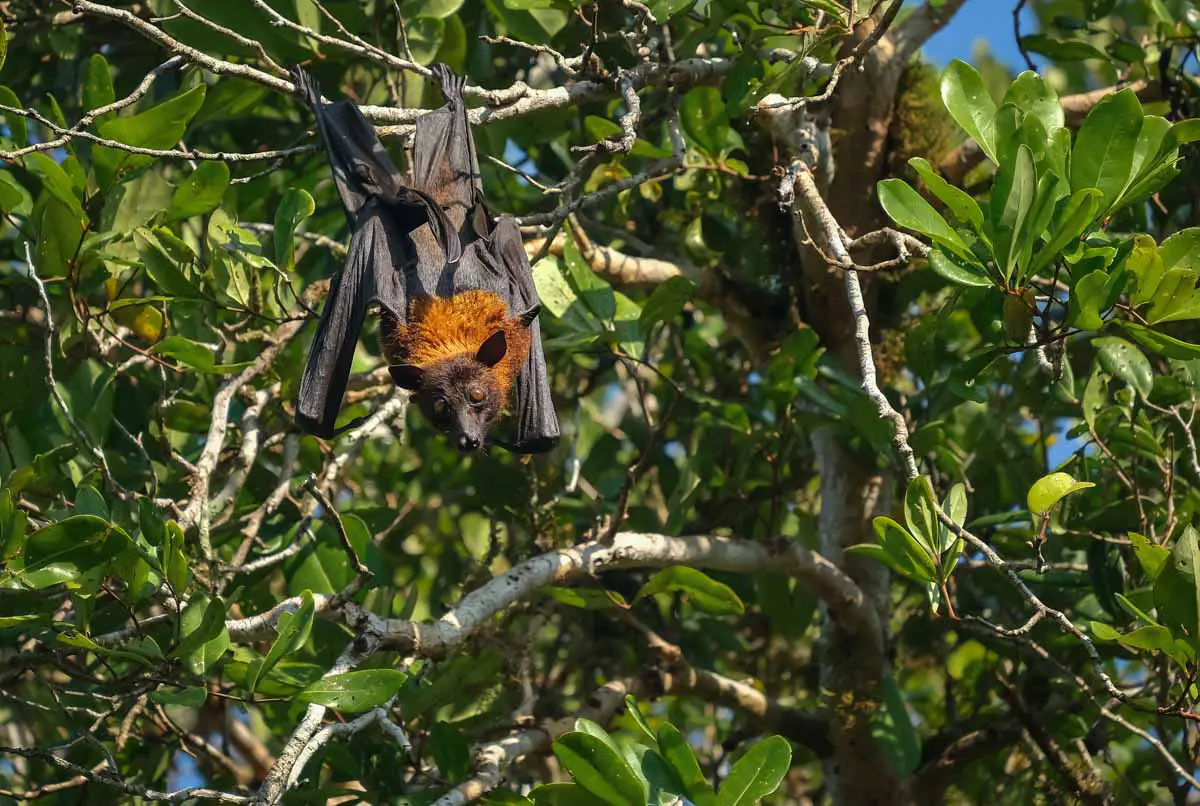 On the second day, lunch and dinner are served back at the resthouse by Simon, Bike & Tours head honcho, who is also a chef. For lunch, we had an exquisite nasi goreng with chicken, lotus root and snap pea, and then managed to get a bit of shut-eye before heading back out on the waters for another four hours before returning to the resthouse for dinner.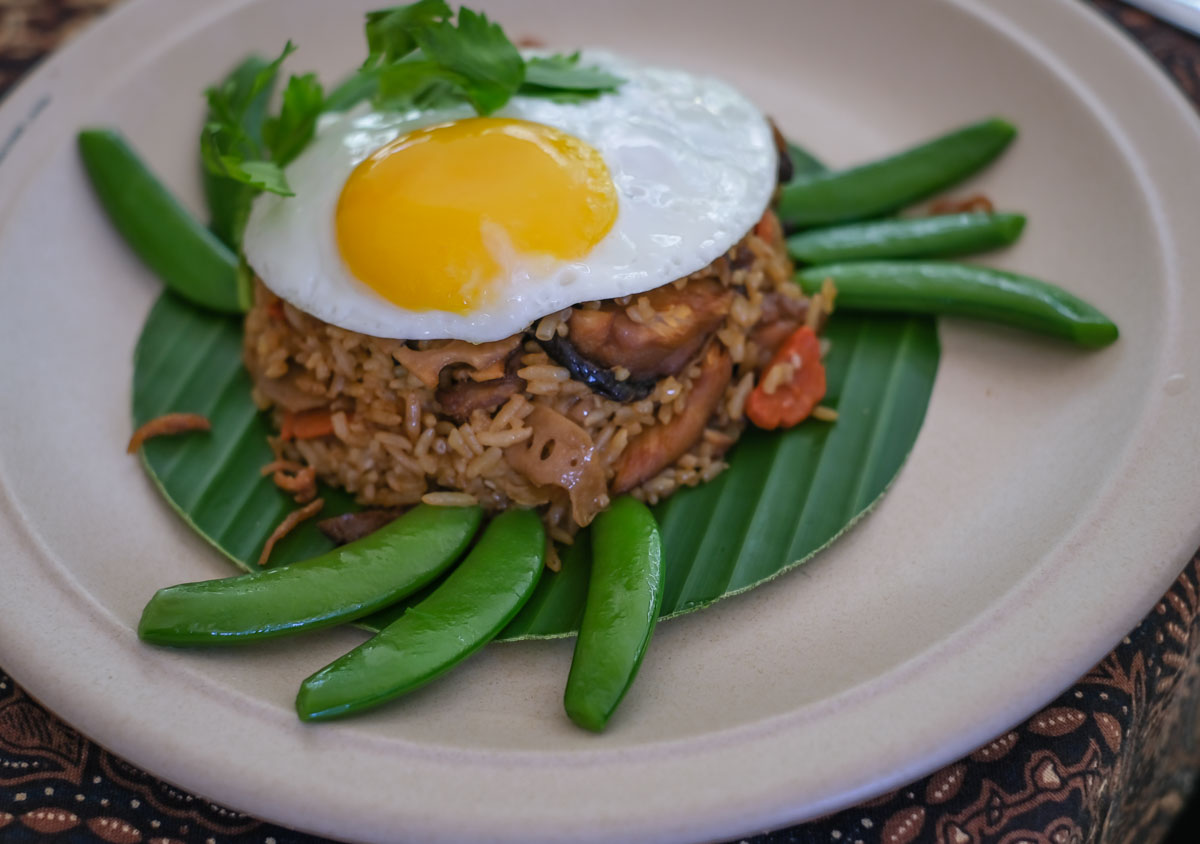 The second day is certainly exhausting, but after dinner, you shouldn't skip going on the night safari in the nearby palm oil plantation. What is there to see in a plantation, you may think? Well, wild cats love palm oil's clean and wide environment, as they can snare their rat breakfast more easily. And in fact, in minutes we caught a sighting of our first-ever leopard cat! Unfortunately, it was too fast to take a decent photograph, but trust us, it was amazing to see. We also saw a couple of owls, many sleeping, colourful kingfishers, and many night birds before we headed back to camp for a much deserved night of rest.
Sungai Kapur River Tour Day Three
On the third day, the tour includes one last river exploration before another scrumptious seafood feast at Kampung Meruap. This morning, after browsing the mangroves and observing a lot of tiny, colorful crabs scoot in an out of the water, we finally managed to see a couple of mid-sized crocodiles resting in the low mangroves.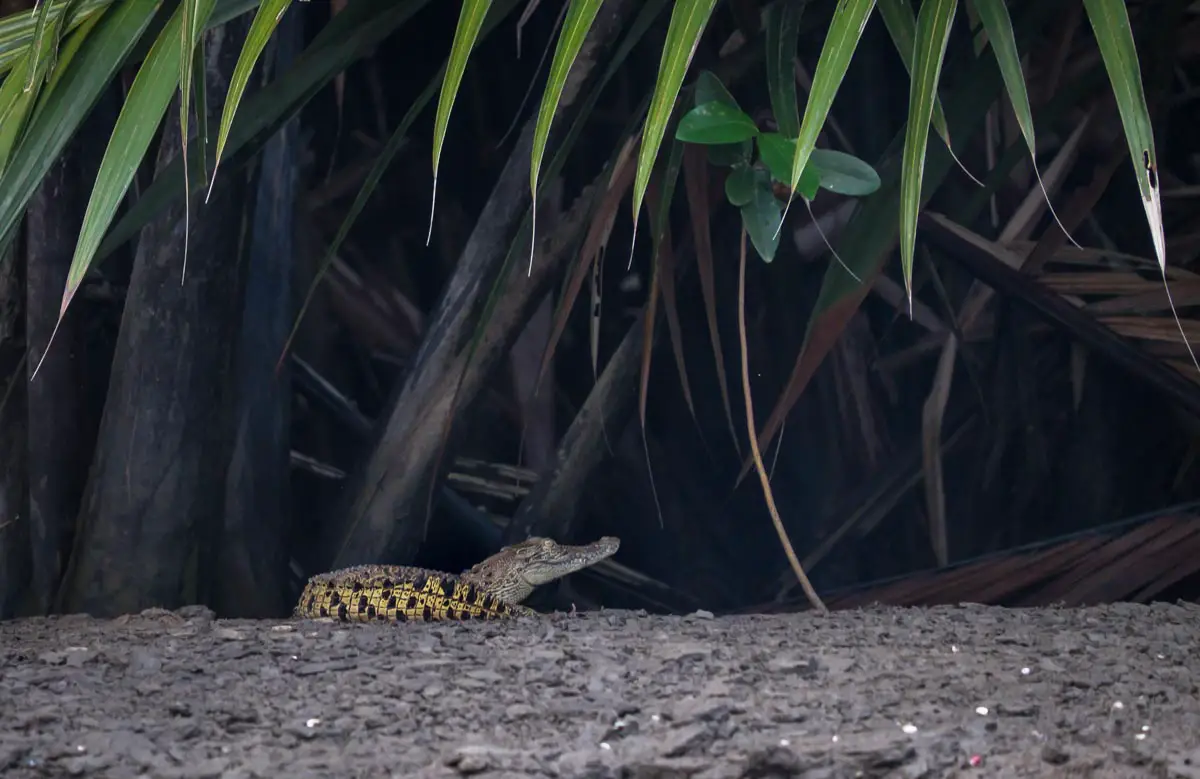 The last morning ended with a long pit-stop at Pantai Belanak, a long stretch of coast backed by jungle and inhabited by many long-faced Borneo wild pigs. This is also where the Sulu fishermen of Kampung Meruap come seasonally to scout for fish and prawns. It's possible to swim here, or you can take a long walk along the beach, collecting some very interesting big shells.
At noon, we returned to Kampung Meruap to have another seafood feast and hang out a bit more with Pak Haji. At the moment, the village is in dire need of help learning English and getting the local up to speed with their new side-income provided by eco-tourism. Somebody who could come over and volunteer to teach English to the fishermen and children would be very welcome. If you re interested, you should contact Simon Werren to discuss this opportunity further.
The tour concluded with one last stop at the forest resthouse to freshen up and collect all our luggage, and then a final 2-hour drive back to Lahad Datu, and one extra night accommodation at Bike & Tours' excellent bed and breakfast. Their special dinner sets (RM70; price based on minimum 2 person
) are well worth the price and offer a variety of local flavors served in their luxe, candle-lit alfresco patio. One perfect way to celebrate your return to civilization.
How to Reach Sungai Kapur River safari boat ride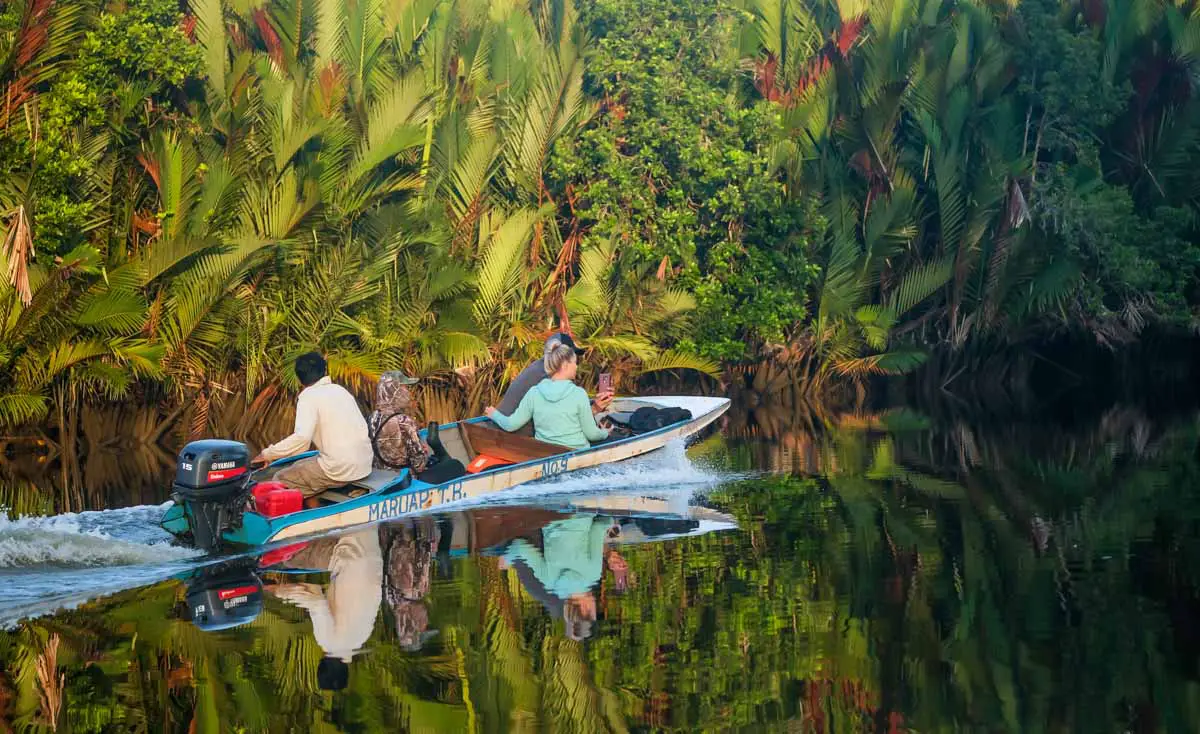 The road from Lahad Datu proceeds towards the village of Tungku and then swerves up north towards the Sungai Kapur Forest Reserve itself. It may be possible to reach the access road by a mix of local minivans and hitchhiking but to be honest, arriving here without a boat tour planned is completely pointless as you won't be able to see anything beyond the jetty. For the whole experience, your best chance is to get on Bike and Tours and Tabin Lodge program directly from Lahad Datu, relax and enjoy the experience.
Sungai Kapur River safari boat ride: the verdict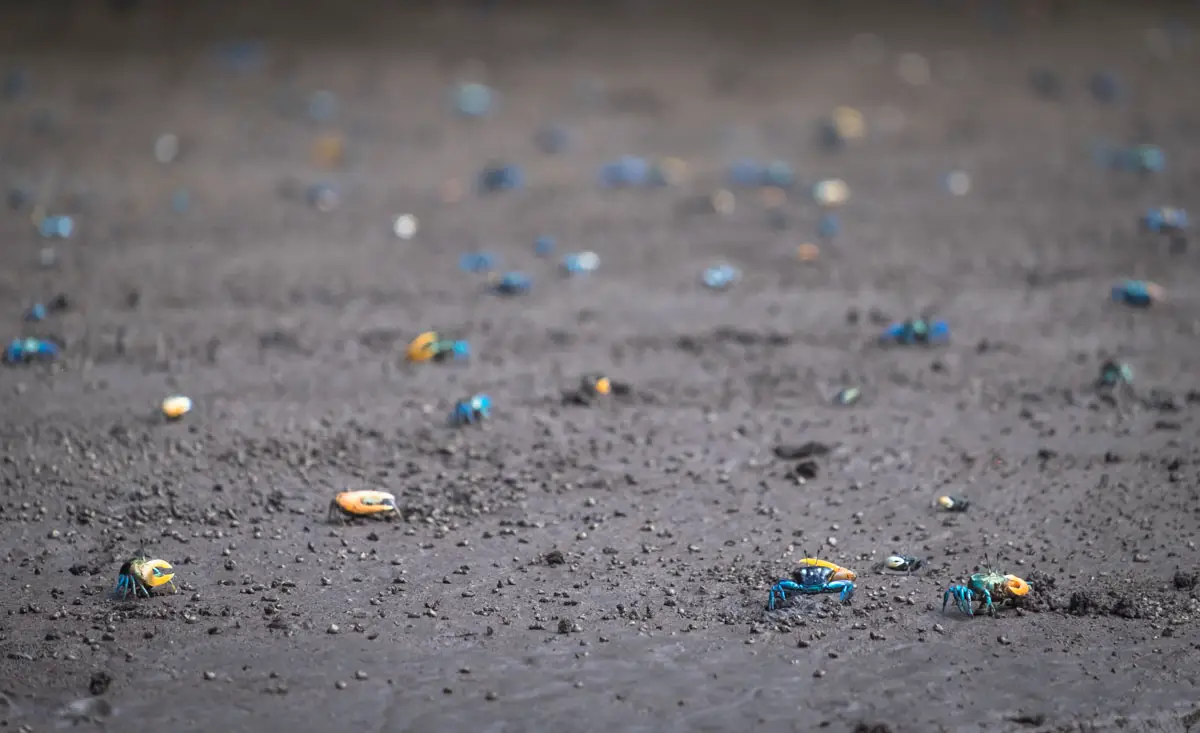 The Sungai Kapur River safari boat tour offered by Bike and Tours and Tabin Lodge is a pretty interesting and offbeat Sabah nature experience that will take you to an area that, thus far, sees only a trickle of visitors. It's a chance to truly experience a side of remote Borneo that few travelers get to see, and for this reason, it's well worth spending for. If you don't have the budget, you can opt for a Kinabatangan River cruise, but the experience is dramatically different: at Kinabatangan, the short boat cruises may get you to see more wildlife, but the feeling will be a bit like going to a floating zoo.
Sungai Kapur, on the contrary, is a full-on immersion in a forgotten water world and its people, and a bit of an adventure, too, packaged with great hospitality and service in mind, and something that will make a difference in the lives of the community you will encounter. Make the right choice, if you can.
---
Blogging Transparency: Bike and Tours and Tabin Lodge recommended and sponsored our visit to Sungai Kapur, but the opinions expressed in this article are solely our own. In other words, we would never recommend a tour we wouldn't pay for ourselves to our readers. Trust our travel advice: we have been around, and know our stuff.
---
WANT MORE PRACTICAL TIPS TO TRAVEL IN BORNEO AND OFFBEAT ASIA? SUBSCRIBE TO OUR MAILING LIST.
YES SIR, I WANT IN!