You hear conceited hooting up in the canopy, look up, and only catch a shadow swinging from a branch, far high above. What is it? It keeps moving as fast as it has appeared, and soon it's gone behind a clump of fluttering leaves, leaving an empty wall of impenetrable thicket looming all around you. Was it a gibbon, a red dusky leaf monkey, or maybe one of those elusive Borneo orangutans you came all the way here to the Danum Valley Conservation Area for?
Be prepared, because anything is possible at the Danum Valley, one of Sabah's best attractions — and arguably one of Malaysian Borneo's best and last remaining patches of virgin primary rainforest, and a great short getaway in Malaysia.
READ MORE — 12 Amazing Places to See in Malaysia in 3 Days
In 2016, thirty of the world's tallest trees were discovered in the Danum Valley. The highest measures 100,8 meters, and it's in walking distance from the Danum Valley Field Centre, where all the action starts.
Truth be told, if you love nature, visiting the Danum Valley should be on every Borneo Itinerary because you'll ever be able to see as much wildlife only in very few other places all-around Borneo (which, by the way, also has some great Borneo beaches). Danum Valley is also where you will experience the tropical jungles of Southeast Asia in a less disturbed natural environment. As they can be muddy trails, don't forget to bring a pair of adidas kampung.
READ MORE — 7 Alternative Places to Visit in Sabah to Rock your Borneo Trip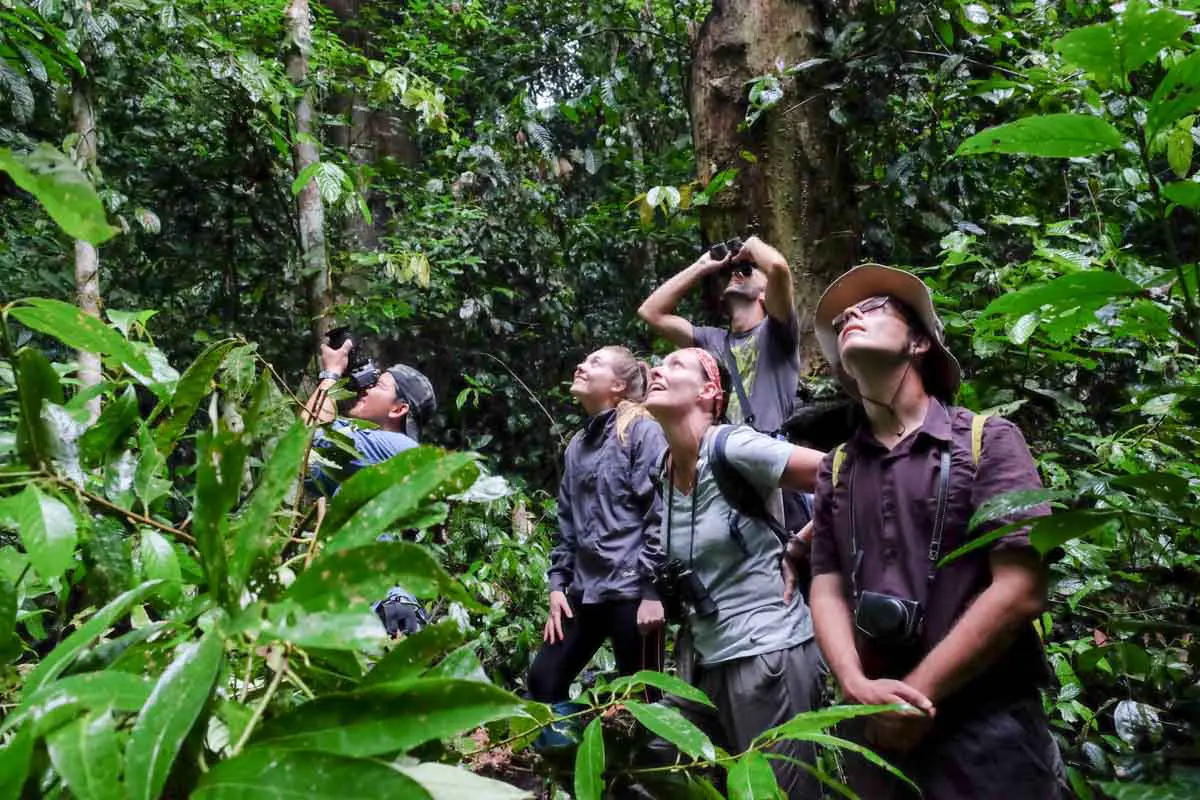 In this post you will learn:
What you Can do at the Danum Valley Field Centre
How to Get to the Danum Valley Field Centre
Where you can stay at the Danum Valley Field Centre
---
What to Do at the Danum Valley Field Centre
This guide, probably the best resource on visiting the Danum Valley you can find online, aims at describing all one can see and do at the Danum Valley Field Centre. You can come independently, but given the small price difference, we recommend using a tour company, and can definitely vouch for Sticky Rice Travel, a top Sabah operator based in Kota Kinabalu.
READ MORE — Ultimate Guide to Backpacking Borneo
Mid-Afternoon Walk at the Danum Valley Field Centre
If you are on a budget, you'll most likely stay at the Danum Valley Field Centre. This cluster of wooden and concrete buildings is very close to the rainforest: you just have to cross a suspended bridge, and, as Guns'n'Roses would put it, welcome to the jungle.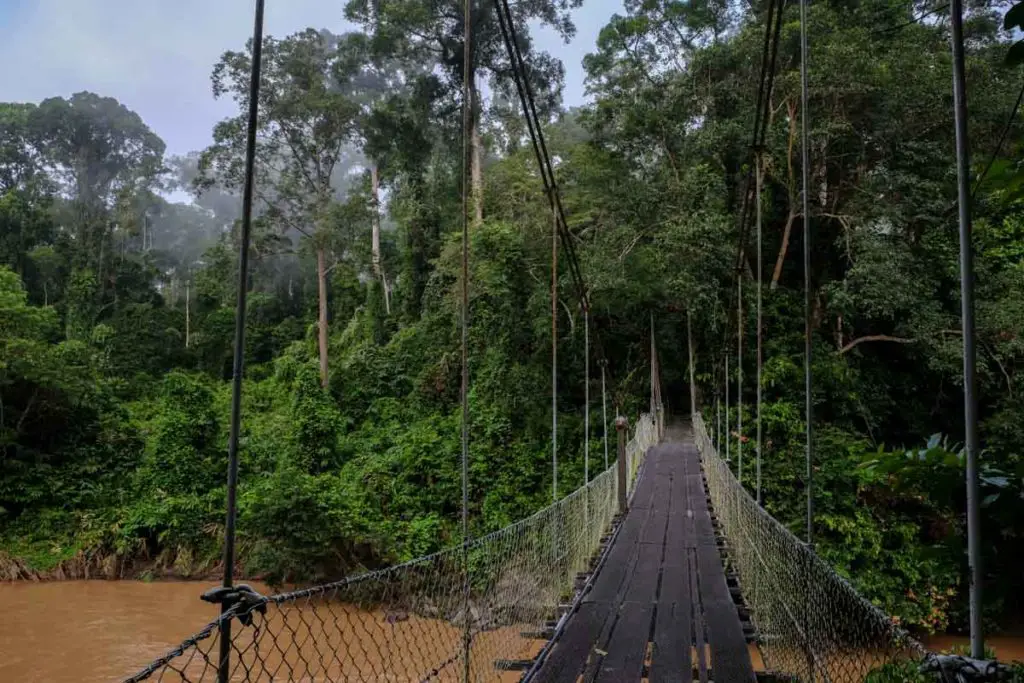 That's exactly why your Danum Valley's guides will immediately offer you to take a mid-afternoon walk right after you have settled into your accommodation. Don't say no: it's a perfect way to have a taste of the rainforest in full daylight.
True enough, the wildlife is less active in the afternoon. But this shouldn't be a deterrent, as you'll still be able to enjoy your walk as you get adjusted to this new tropical environment. We also believe that seeing the trees in the light of day is an unmissable Borneo experience. But it doesn't have to be the only one… read on.
Take a Night Walk in Danum Valley's Jungle
Night walks are a quintessential part of the Danum valley experience, and one you don't want to miss.
After dinner, your guides will first take you for a walk in the open space surrounding the Danum Valley Field Centre. You don't have to rush into the jungle, because it's here, where the vegetation is thinner, that you can wait for roaming deer and, if you are lucky, exemplars of the Malay civet. They often come close to the Danum Valley Field Centre looking for food.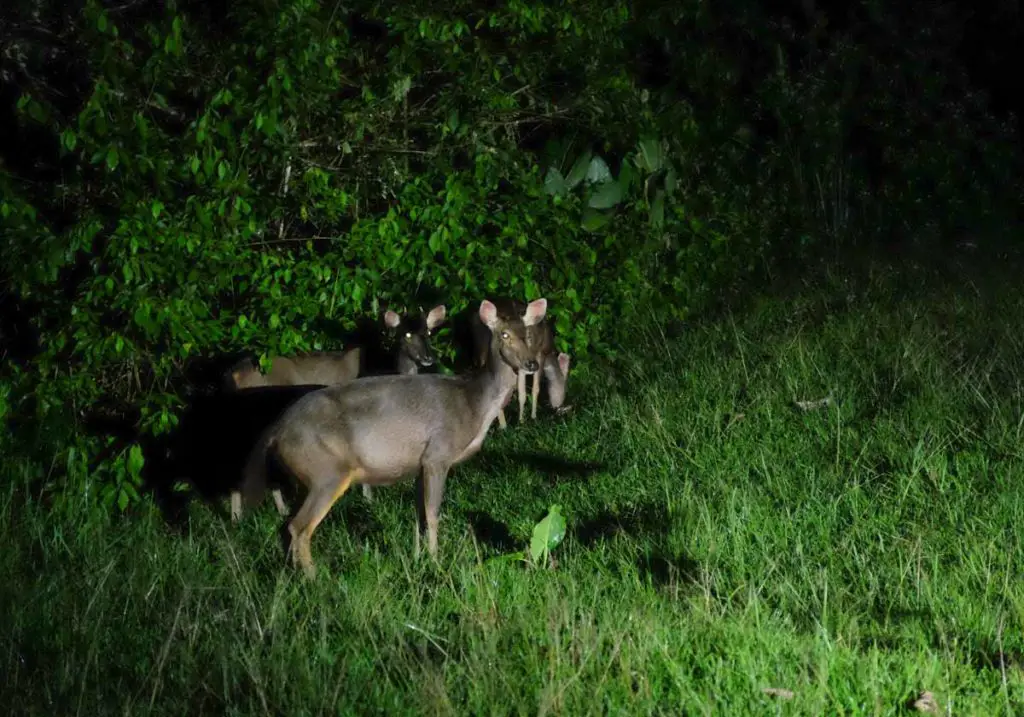 Going into the jungle at night is amazing, too. Night walks are a perfect time to come into contact with the hundreds of species of frogs, snakes and spiders, and also find many birds asleep on the lowest tree branches. Your guide will shower them with light (they can't see it) as you take pictures.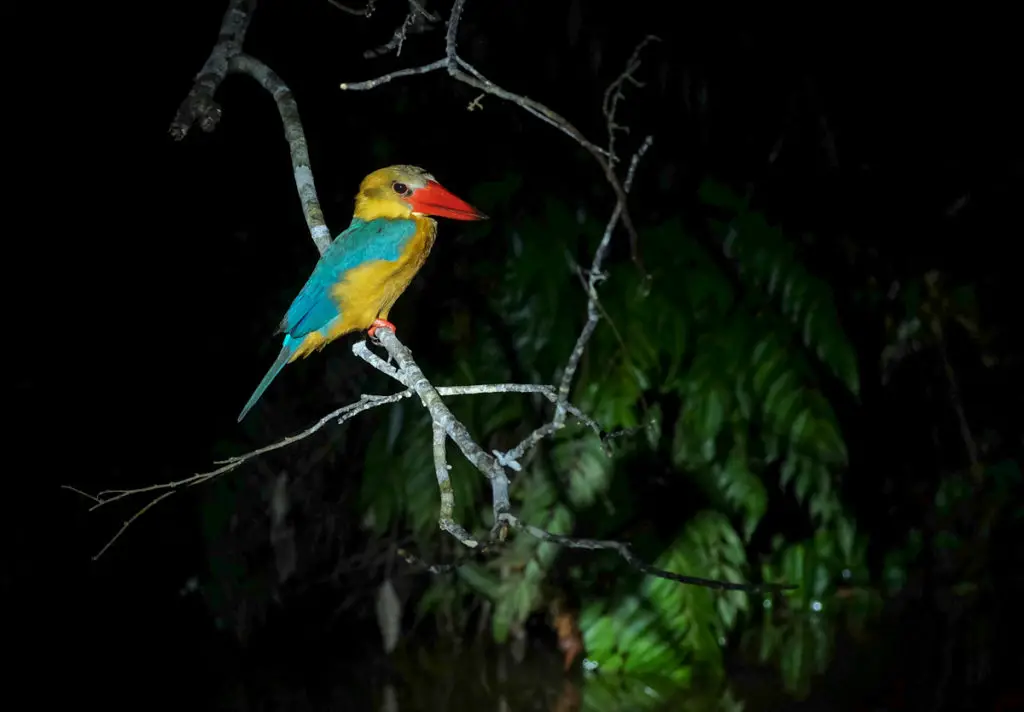 Early Morning Trek
On most Danum Valley Conservation Area tours, on the second day, you'll wake up early at 6 am to meet your guide and start your morning trek.
For us, the early morning Danum walk was absolutely the best part of our trip. To start things off, our guide came to greet us holding a live python in his hands (!!!). He told us that he had just found it in the toilet as he went to freshen up in the morning, and picked it up to release it into Danum Valley's jungle.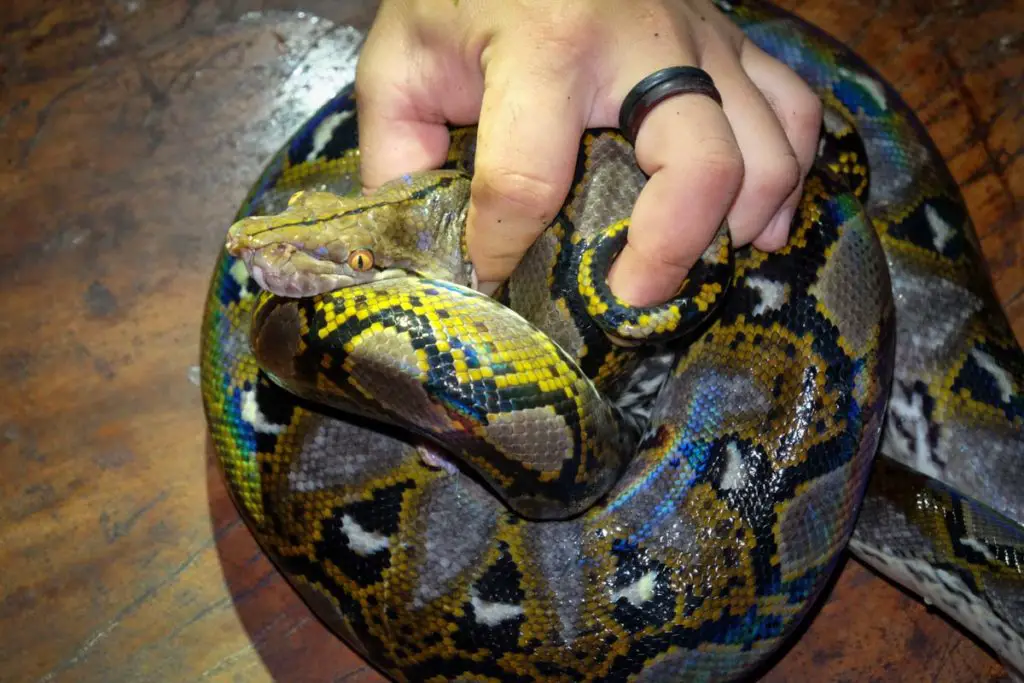 And that's how we started our excellent hike: putting the (not so little) critter back onto a tree-trunk, before scouring the forest for "bigger things". Yes, you must know that the highest chance to see orangutans in the Danum Valley is in the early morning. After walking around for almost an hour, we reached pretty deep into the jungle, and that's when our guide helped us find and spot a rare exemplar of an alpha male orangutan. Pretty much when the sun rose, we got nearer and nearer to the animal, coming almost to the bottom of the high tree it was perched upon. It was an encounter we'll never forget.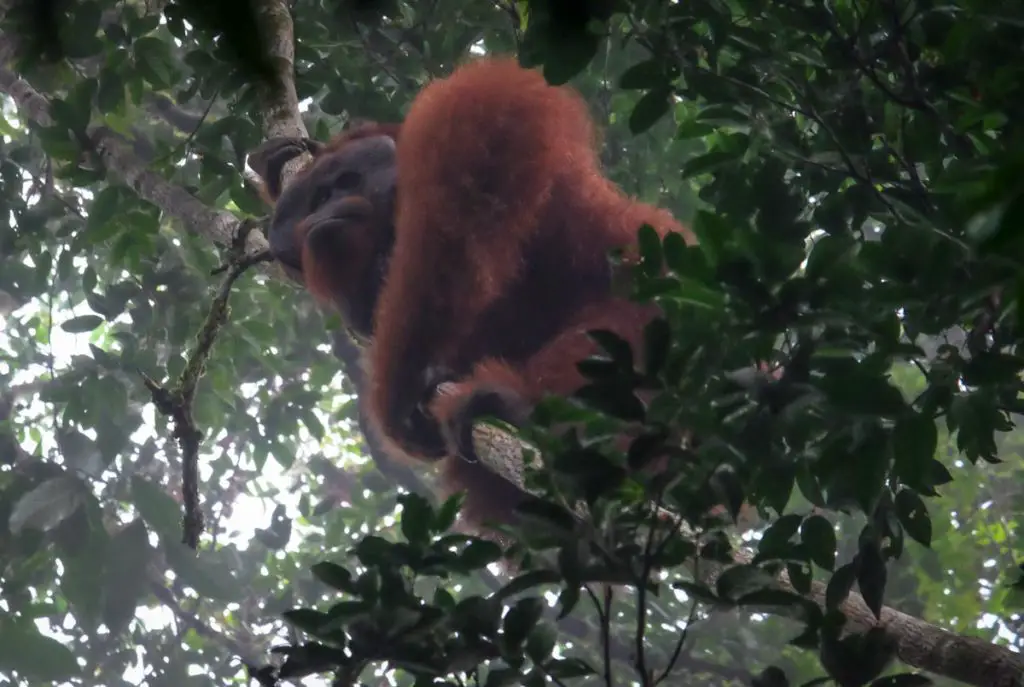 Take a Dip at the Ulu Segama River
The Ulu Segama River flows right in front of the Danum Valley Field Centre, and you are more than welcome to go down to the river bend to take a refreshing dip. You don't have to be worried because there are no wild animals that could harm you here. Yes, unlike the Kinabatangan River, there are no crocodiles here.
Trek to Danum Valley's Ancient Burial Sites
There are at least three ancient burial sites in walking distance from the Danum Valley Field Centre. If your guide offers you to visit, don't refuse. The walk is mostly outside of the jungle and will give you a chance to observe how the local vegetation and rocks look like when they are not completely enveloped by vines and tropical vegetation.
The walk first goes along the Ulu Segama river and then dips deeper into the forest along a clear pathway that will bring you to the graves. Be respectful around this sacred ancestral cemetery.
Take a 4×4 Night Safari
This is an optional activity that is usually not included in most tours. The night safaris don't actually enter into the Danum Valley Conservation Area, but only explore its immediate surroundings where vehicles are allowed to drive. These tours are fun to take, and you may get lucky seeing a leopard cat or two. But we believe that the night walks are far superior in both the sheer number of critters you'll certainly see and also the chilling atmosphere of walking into a living, dark jungle on your own legs.
How to Get to the Danum Valley
The Danum Valley Conservation Area is located in the southern half of Sabah, about two hours drive from the town of Lahad Datu, which is located between the cities of Sandakan and Tawau. It takes about 3 and half hours to drive from Sandakan to Lahad Datu, and it's a further 2 hours to Tawau. You can reach either of these two main hubs by a quick flight from Kota Kinabalu.
Flying to Lahad Datu
Several MAS Wings flights connect Kota Kinabalu to Lahad Datu in about one hour.
The best thing to do is leaving from Kota Kinabalu early in the morning, so that you'll reach the Danum Valley Conservation Area by lunch-time. On clear days, flying this route will offer you amazing views of Mount Kinabalu's peak shrouded in clouds to the West.
Overland to Lahad Datu
You can certainly take a bus and travel overland to Lahad Datu from anywhere in Sabah, but don't think it will be much cheaper than catching a flight — it can actually be quite the opposite. From Kota Kinabalu, you get southbound buses at the Inanam Bus Terminal, located about 25 minutes out of the city centre.
Getting to the Danum Valley Field Center
The Danum Valley Field Center is tucked up a side road that juts out of the main highway between Sandakan and Tawau. If you don't have your own wheels, you'll have to organize your own transportation from Lahad Datu — that's why we recommended going with a tour operator to save time. It takes about an hour to reach the Danum Valley Field Centre from the highway turn-off. You'll drive across secondary forest into a world that will become increasingly humid and primitive — and spot a pygmy elephant or two if you are lucky enough.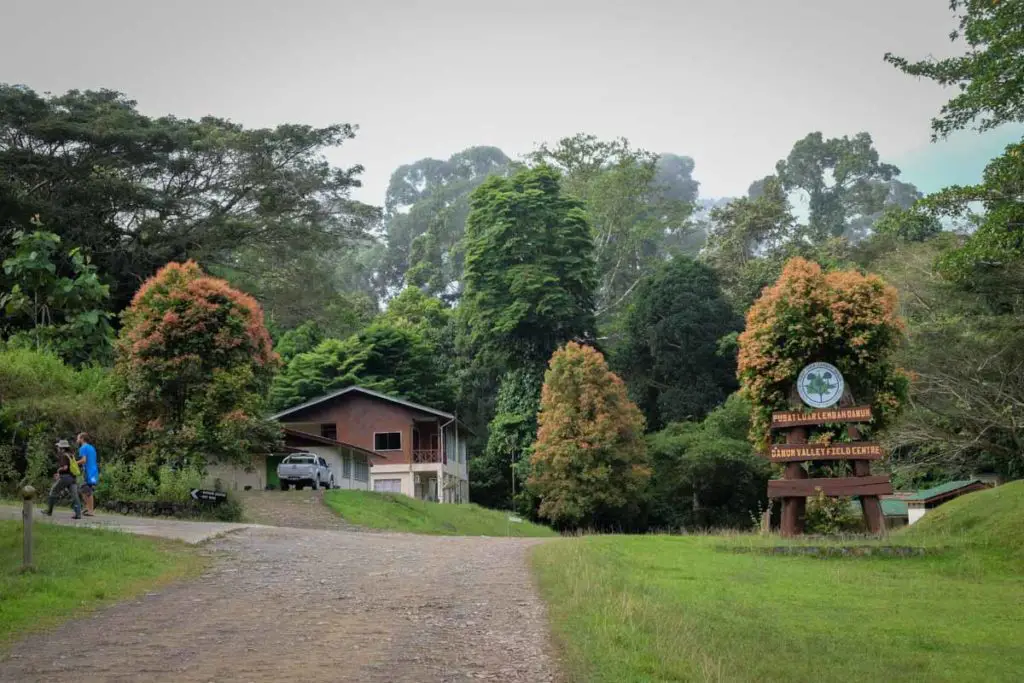 Where to Stay in the Danum Valley
The Danum Valley Conservation Area has more than its fair share of available accommodation to suit all budgets and tastes.
Stay at Borneo Rainforest Lodge
This 5-Star-Resort is not close to Danum Valley Field Centre but set in its own private space. It's a beautiful mix of ultra-chic and natural, well-choreographed with the use of dark wood floor tiles and large open spaces. There's a spa on-site, and the resort actively participates in orangutan conservation.
It's not cheap, but if you want to try that once in a lifetime Borneo experience, there's no better place to stay in the Danum Valley Conservation Area.
Danum Valley Field Center Chalet
These are the most luxurious accommodations in Danum Valley Field Centre, which, remember well, was built for visiting researchers, so tourist comfort was never a priority. You can choose the chalets if you are concerned with privacy, want full air conditioning, and a slightly better place to stay. Mind well that this is absolutely not luxurious, though.
Danum Valley Field Center Rest House
The Rest House is located next to the common restaurant, so yes, it's convenient and very central — but also sees more movement throughout the day and the evening. Rooms are very adequate and similar to the chalet, but only have fans.
Danum Valley Field Center Dormitory
This is the cheapest option at the Danum Valley Field Centre. Divided into two separated halls for males and females, each room here has two bunk beds accommodating four people, and there are curtains to separate visitors from the corridor. Shared toilets — adequately clean — are set at the end of the second hall. The dormitory's only drawback is that's located 10–15 minutes walk from the restaurant, so you better bring all you need for your day trips with you in a backpack.
Further Readings on Malaysia and Borneo
• Ultimate Guide to Backpacking Borneo
• Explore Bukit Piton Orangutan Sanctuary
• At Home with Pirates on a Sungai Kapur River Cruise
• Best Places to Visit in Malaysia in 3 Days
• Tawau Hills Park Hiking Guide