Think of Borneo and images of orangutans, thick jungles, and murky brown rivers filled with crocodiles come to mind. But have you ever thought that Borneo is Asia's biggest, and the world's third-biggest island? If you still have time after following our 2 weeks Borneo itinerary  and ticking off some of Sabah's best attractions, consider heading to some great Borneo beaches worth exploring
READ MORE — Ultimate Borneo Backpacking Guide
Of course there are. This article will point you towards 11 of the best Borneo beaches you shouldn't miss in Sarawak, Brunei, Sabah, and Kalimantan.
Some of these beaches offer large, unexplored reefs to engage in some of Borneo's best diving, and others are just perfect to lay on the sand and wait for a giant turtle to scramble by as it looks for a safe place to lay eggs. Please enjoy the show, but never touch them.
READ MORE — Danum Valley Conservation Area Guide
Best Borneo Beaches in Sarawak
Teluk Pandan Kecil Beach – Bako National Park – Sarawak
By Martina & Jürgen of PlacesofJuma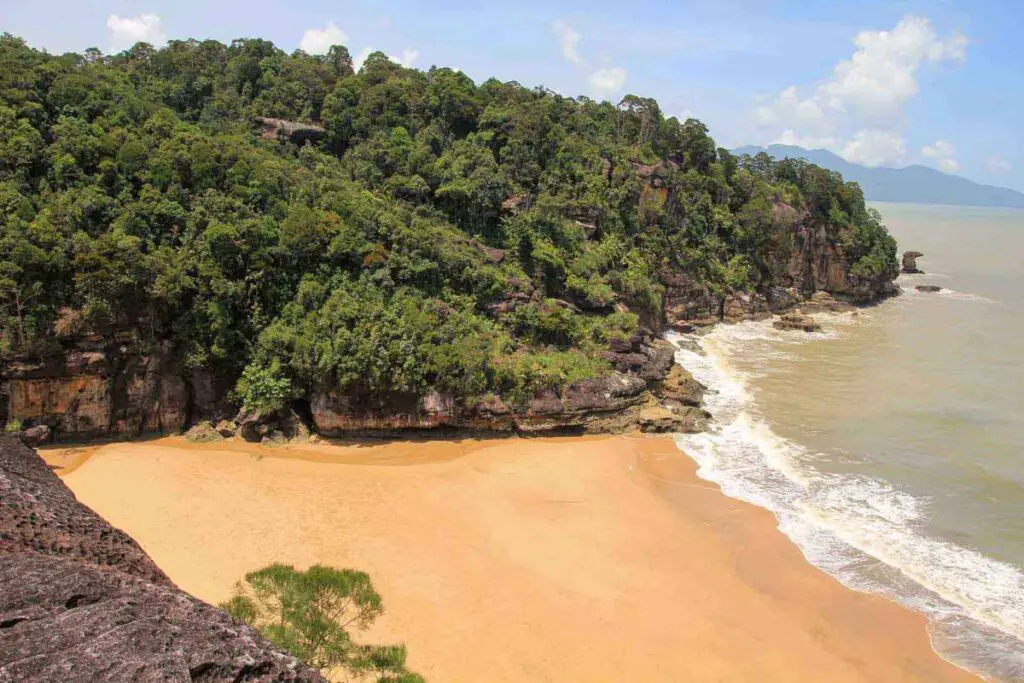 One of the best beaches to visit in Borneo is the incredibly beautiful bay of Teluk Pandan Kecil Beach in Bako National Park, Sarawak. It's a breathtakingly beautiful bay with a sand beach, impressive sandstone cliffs and limestones. Such as the Sea Stack – an interesting rock formation that looks like a cobra head.
But not only the Teluk Pandan Kecil Beach is worth a visit. Exploring Bako National Park you will enjoy amazing natural beauty, with lots of other natural beaches and interesting wildlife. The most famous animals to see here are Borneo's quintessential big-nosed monkeys – the Proboscis Monkeys.
Getting to Bako is easy from Kuching. Take public bus nr.1 from the main market. Arriving at the Bako Jetty get yourself a boat ticket to the park entrance. The beach can be reached after a 1 ½ hour hike from the NP headquarter, or taking a boat tour.
For making the most of it you should definitely stay at Bako National Park for at least one, or even better, two nights. Bako National Park offers various accommodation options: hostel with multiple beds, private bungalows and a campsite. It's always best if you book your favorite place to stay in advance.
You can even think of visiting Bako and then stay for a day or two at nearby Santubong, whose Damai beach perfectly complements the national park, and has plenty of good value and even luxury accommodation available. Click here to see prices and accommodation options.
Tanjung Datu National Park
Located in Sarawak's Kuching division on the westernmost tip of West Borneo, Tanjung Datu is a 14 square kilometer national park set beyond fantastic, long, unspoiled beaches. The waters are clear and support a wide range of marine life and corals close to the shore — a perfect place to put on a snorkeling mask and enjoying the underwater scenery.
Telok Labuan Gading, the park's main beach, and other smaller coves like Tanjung Antu Laut, are strewn with large boulders and backed by impenetrable forest. They are beautiful at sunset when the sun sheds deep purple rays all over the horizon.
The beauty of Tanjung Datu is the fact that the beach meets the rainforest here, and you can both explore some of Borneo's enticing jungle, and relax on a very unspoiled beach where, from April to September, Green and Olive Ridley turtles come to lay their eggs.
There's no more excuse not to visit, because since January 2019 the new road from Sematan to Telok Melano, the main jump-off to the park, connects it to the main road system to Kuching.
If you want to stay at Tanjung Datu, beyond camping at the park headquarters, one of the best options is finding a homestay at Telok Melano.
Best Borneo Beaches and Islands in Sabah
Tanjung Aru in Kota Kinabalu
By Jodie Dewberry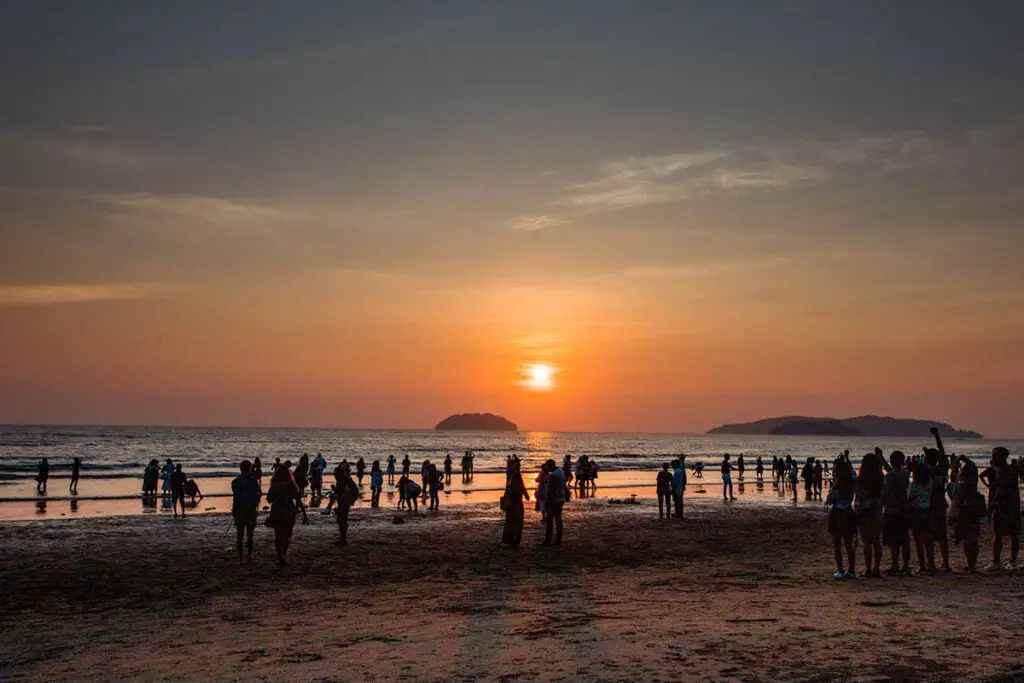 No trip to Kota Kinabalu would be complete without visiting the city's most famous beach: Tanjung Aru. Normally, a destination's most popular spots are the ones to avoid, but Tanjung Aru is unmissable. Although Tanjung Aru is a great place to spend a day of diving or sunbathing, it's in the evening that it truly comes to life. The beach's sunset is one of the best in the world and draws a large crowd of both tourists and locals every day.
Head to Tanjung Aru around 1–2 hours before sunset to make the most of your trip. While the sunset is the main event, you'll also be able to enjoy trying local street food from the market that sits just off the beach. There are usually also a handful of local musicians adding to the atmosphere, with some of them playing traditional music. Wherever there's music, there's usually also a crowd dancing and watching.
Make sure you leave enough time to wander around and soak up the atmosphere around Tanjung Aru beach before heading to the beach itself. Try some new foods and grab a coconut or cocktail to take down to the sand for sunset. On the beach, you'll find locals dancing, playing games and taking photos.
Do you already have a place to stay in Kota Kinabalu? Click here for a list of prices and great accommodation options.
Lankayan Turtle Island
By Ivan of Mindthetravel Blog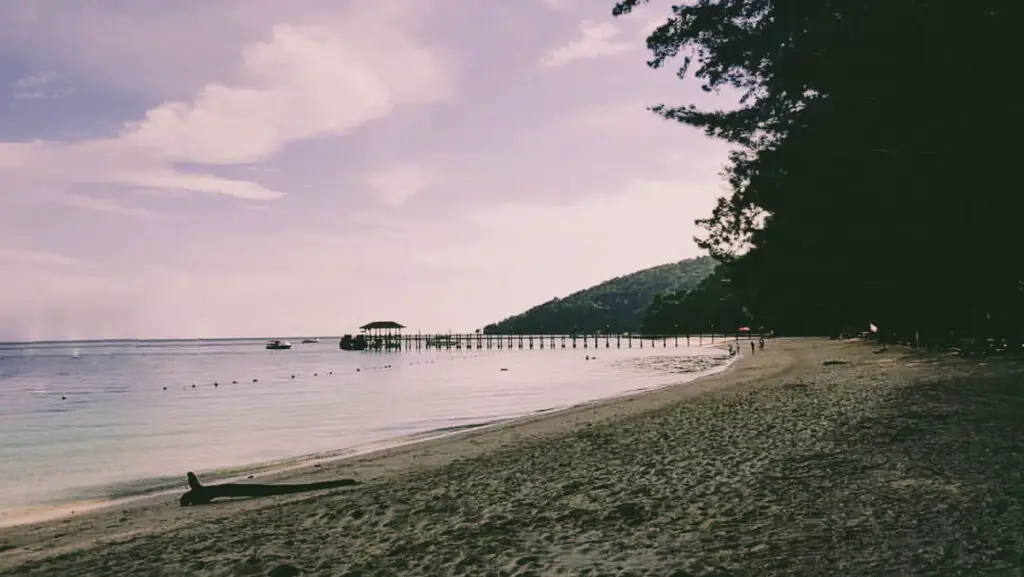 Located some 20 miles northeast of Sandakan on the mainland coast, Sabah's Lankayan Island in the Sulu Sea attracts scuba divers and holidaymakers alike. The island is covered by dense tropical forest, ringed by a clean, white sandy beach, and minutes from some of the world's best coral reefs. This makes a tiny jewel-shaped island a perfect place to explore and unwind.
Lankayan is part of the Sugud Islands Marine Conservation Area (SIMCA), which features more than 10 dive sites. Since it's one of the hottest diving destinations in the region visitors can enjoy long stretches of stunning hard and soft corals, amazingly diverse and healthy eco-system, home to flying gurnards, parrotfishes, guitarfish, rays, yellow tail barracudas, coral shrimps, seahorses, and a number of shark species.
Lankayan Island is an important nesting spot and foraging ground for green and hawksbill sea turtles in the region. They come ashore to lay eggs on the beaches throughout the 'turtle season' (approximately June to September). To protect eggs from poaching, the marine police patrol the beaches and take them to the hatchery where they are counted and incubated before the new hatchlings are released back onto the beach.
When it comes to finding accommodation the island offers twin or triple bungalows, built on stilts to allow nesting turtles to crawl under. All of the 25 wooden bungalows are equipped with direct beach access and offer an unobstructed ocean view.
Mengkabar Bay, Kota Belud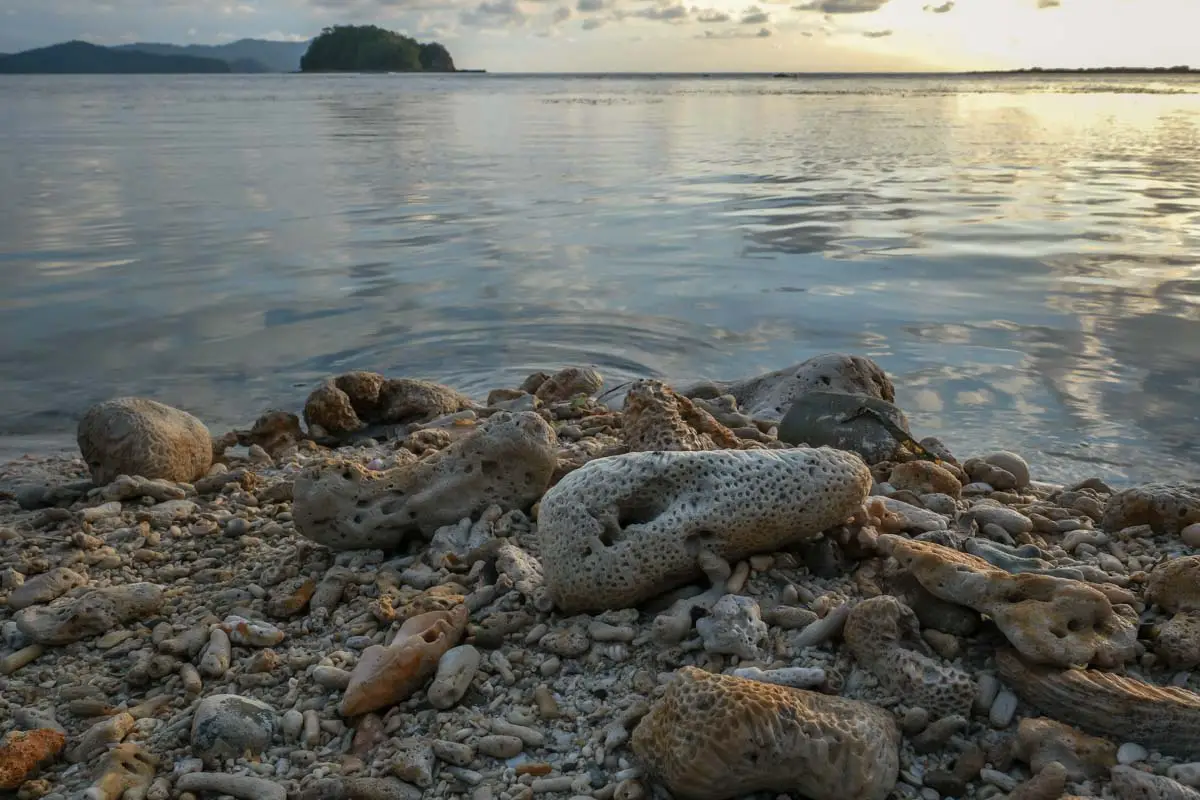 If your idea of a perfect Borneo beach is a place with very few tourists and a beautiful and deserted bay to relax, then look no further than Mengkabar Bay near Kota Belud. It's only about a couple of hours from capital Kota Kinabalu, and certainly one of the best alternative things to do in Sabah.
Besides beautiful purple sunsets, Mengkabar Bay is great for diving because it faces the "Coral Triangle", a reef so large it hasn't been fully explored yet. Also keep into account that between April and June the area is a passage for migrating whale sharks. Among the best dive sites, Mayne point has many underwater boulders, and Ella's Coral is studded with corals and is rich with leopard sharks, cuttlefish, stingrays, barracudas and squid. The dive sites, which also include a submerged WWII Japanese warship, are all very close to the bay and a breeze to reach.
One of the best and only places to stay at Mengkabar Bay is diving resort Bigfin which offers accommodation in dorms or cosy chalets perched on top of a high cliff overlooking the bay. Click here to see latest prices and reserve your room. They also offer PADI-certified scuba diving courses and all-inclusive diving packages.
Tanjung Simpang Mengayau, or the Tip Of Borneo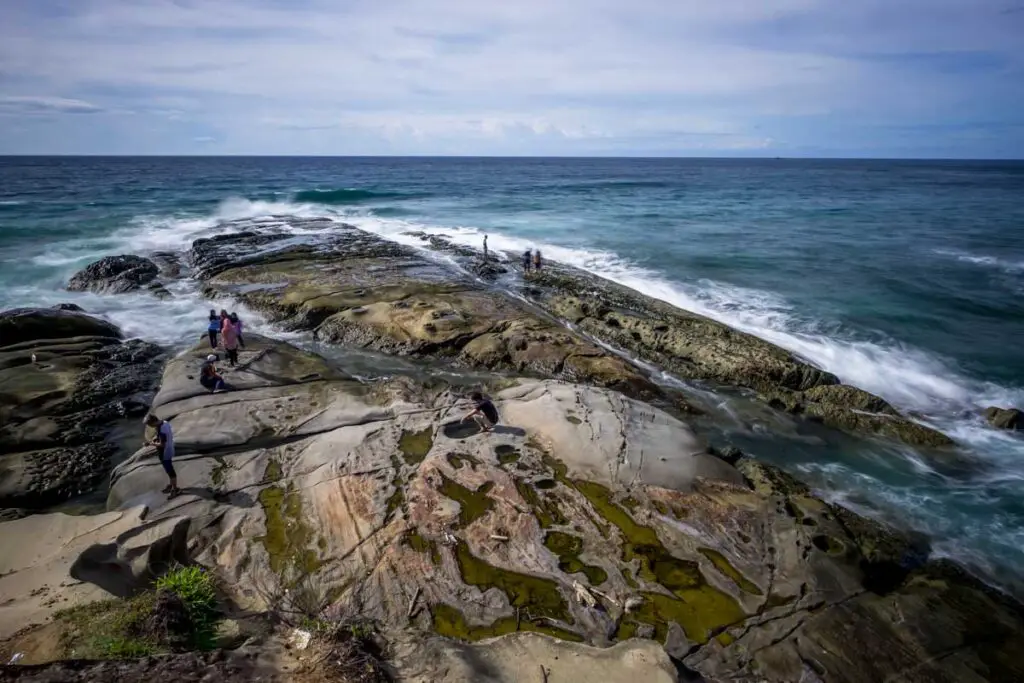 Simpang Mengayau, or the Tip of Borneo, is Sabah's and Borneo's northernmost point — if you could continue traveling by boat from here you'd reach Palawan in the Philippines in a few hours. Situated north of Kudat town, it's not only the home of the Rungus people, who live in charming thatched longhouses, but also of some great beaches.
Beyond the actual cape named Tip of Borneo, which is constantly washed over by strong currents and it's a dangerous place to swim, you should take your time to explore Kalampunian and Kelambu beach. Both are wide, white and deserted beaches where you can surf some of Borneo's best waves, but Kalampunian, shaped as a moon-crescent, is particularly beautiful at sunset and has most of the limited accommodation and restaurants.
If you want to stay here, the beautiful eco-resort Tampat Do Aman, run by a Brit-Rungus couple, is definitely the place of choice. Click here to check prices and make your booking.
Mabul Island
By Masha of Fingertip Travels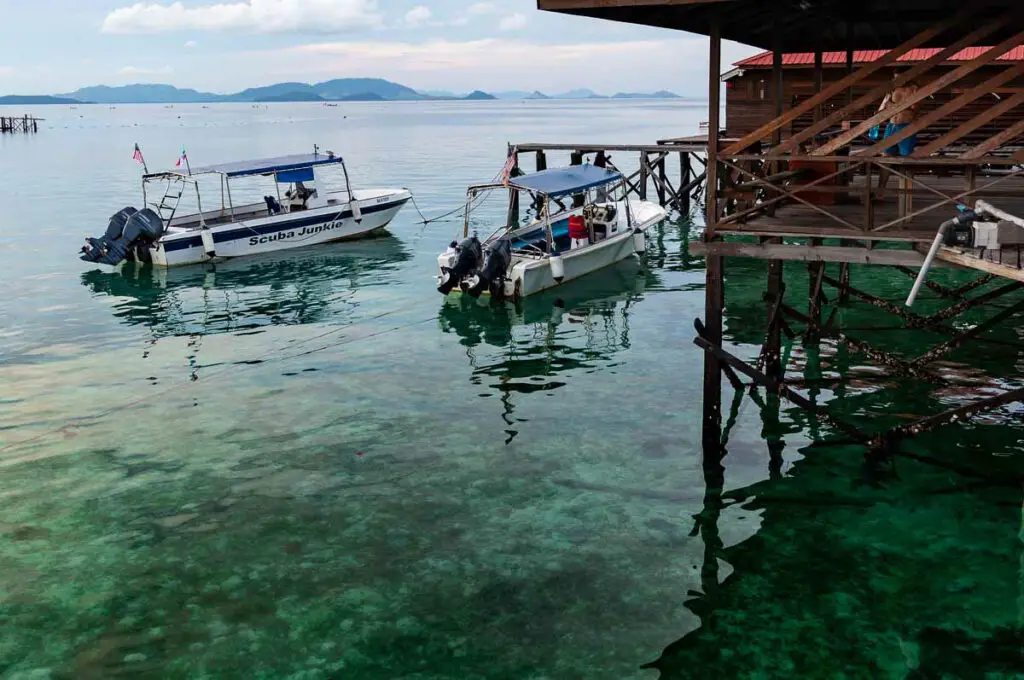 Mabul is a small island in the Semporna Archipelago, off the eastern coast of Sabah, Malaysia. Surrounded by a 2 square kilometer reef on the edge of the continental shelf, Mabul is one of the world's best sites for scuba diving.
Borneo is one of the best places to experience tropical wildlife, and Mabul is no exception. The reefs surrounding Mabul are rich in exotic small marine life like flamboyant cuttlefish, octopus, nudibranch, scorpionfish, frogfish, and many more. It's rare to not see a turtle on a dive. It's one of the best dive locations in the world for observing the abundant, colorful, and funky world of exotic small marine life.
There are two small fishing villages on Mabul, with houses situated on stilts over the water. The locals appreciate it if tourists wear conservative clothes while exploring their village, although in the resorts or on the dive boats bikinis and speedos are a-ok.
Scuba Junkie Mabul Beach Resort is an excellent choice for accommodation and diving on Mabul. Dive three times a day with conscientious, engaging instructors, and come home to abundant snacks and tea. There's a private beach that you can relax in-between dives. For cheaper options, Mabul Backpackers and Scuba Jeff are two other good options. Click on the links to see prices and reserve your room.
Although the beaches on Mabul do tend to collect trash, Scuba Junkie has a weekly group of volunteers who do a beach clean. There's a sea turtle conservation effort, where turtle nests get relocated to a sanctuary for a greater chance of survival. When a nest hatches, locals and tourists alike gather together on the beach to observe the hatchlings waddle furtively into the water.
Mabul is an incredible destination for diving, snorkeling, and immersing yourself in the lush tropical underworld.
Sipadan
By Wendy Werneth of The Nomadic Vegan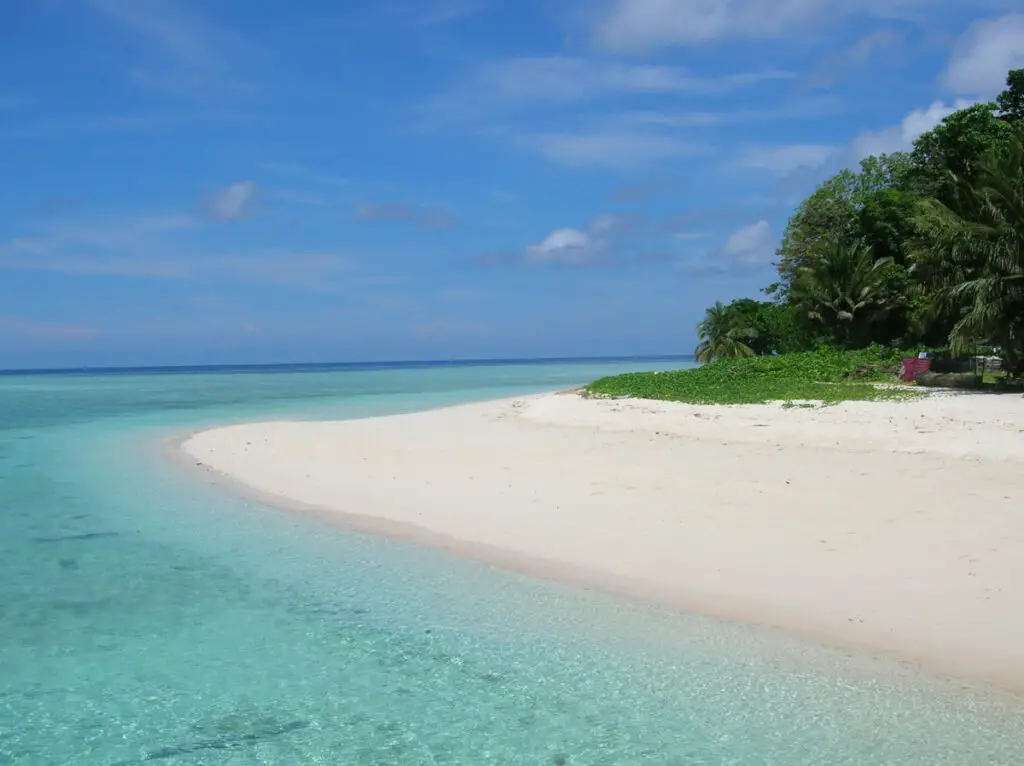 Sipadan claims to have the best diving in the entire world, and is certainly among the best to scuba dive with sharks. And while that's a huge claim to make, there's no doubt that the diving here is first class. While most visitors come here just for diving, Sipadan's white-sand beaches are pretty spectacular too, and if you want to snorkel the reef you can easily access it directly from the beach. Don't be startled if you see a huge monitor lizard; they're often found lazing on the beach or even paddling around in the water.
There used to be resorts on Sipadan, but the government shut them all down in 2002 to protect the fragile environment. Nowadays, the only way to visit Sipadan is by joining a dive tour organized by a resort on one of the nearby islands, like Mabul or Kapalai. Many resorts will only accept divers, but some have a few spaces for snorkelers as well. Since there are no restaurants or other facilities on Sipadan, dive tours typically include a packed lunch, which you can eat either on the boat or at one of the picnic tables set up near the jetty. Vegetarian and vegan travelers in Malaysia should make it clear to their resort what they do and don't eat.
Keep in mind that the number of daily permits to Sipadan is limited, so you'll need to book your Sipadan trip well in advance. Most resorts will only issue permits to visitors who agree to a minimum stay, which is usually three to five nights.
Best Borneo Beaches in Brunei
Muara Beach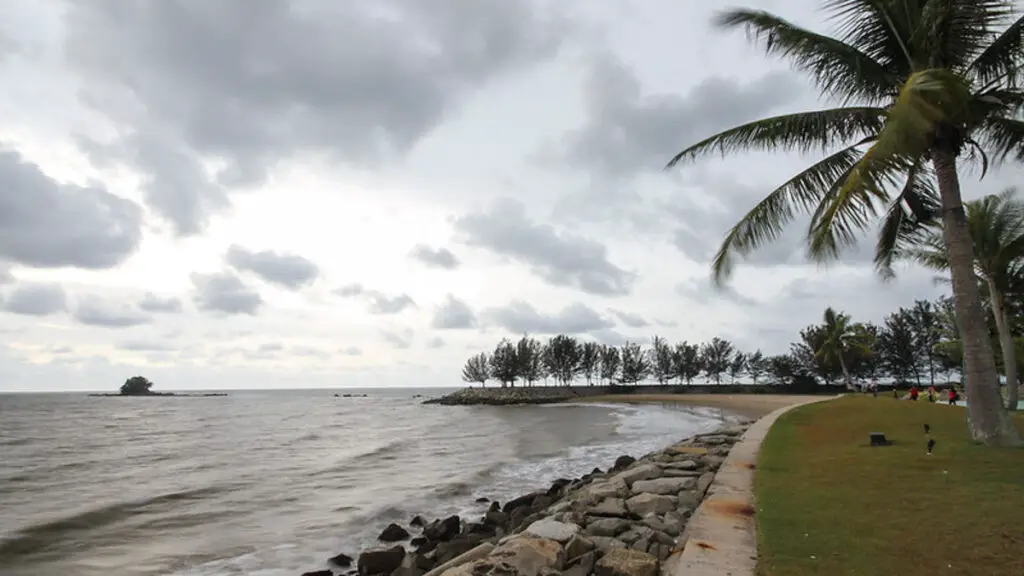 Let's say that Brunei is not very well-known for many things beyond offshore oil platforms, an extravagant sultan, and some of the world's most conservatives Muslim societies. In reality, Brunei is absolutely nice to visit for a few days and Muara Beach, perched on the north-easternmost end of this tiny country, is its only stretch of sand worth stopping.
Don't expect wonders or total seclusion, as the place is popular with locals who flock here on weekends, but the wide sand, hot water and clean shore are definitely worth stopping before you go to Muara port to hop on a boat to Labuan island in Sabah, the jump-off points for the daily ferries to Kota Kinabalu. That's where you'll continue your Borneo itinerary.
Best Borneo Beaches in Kalimantan
Derawan islands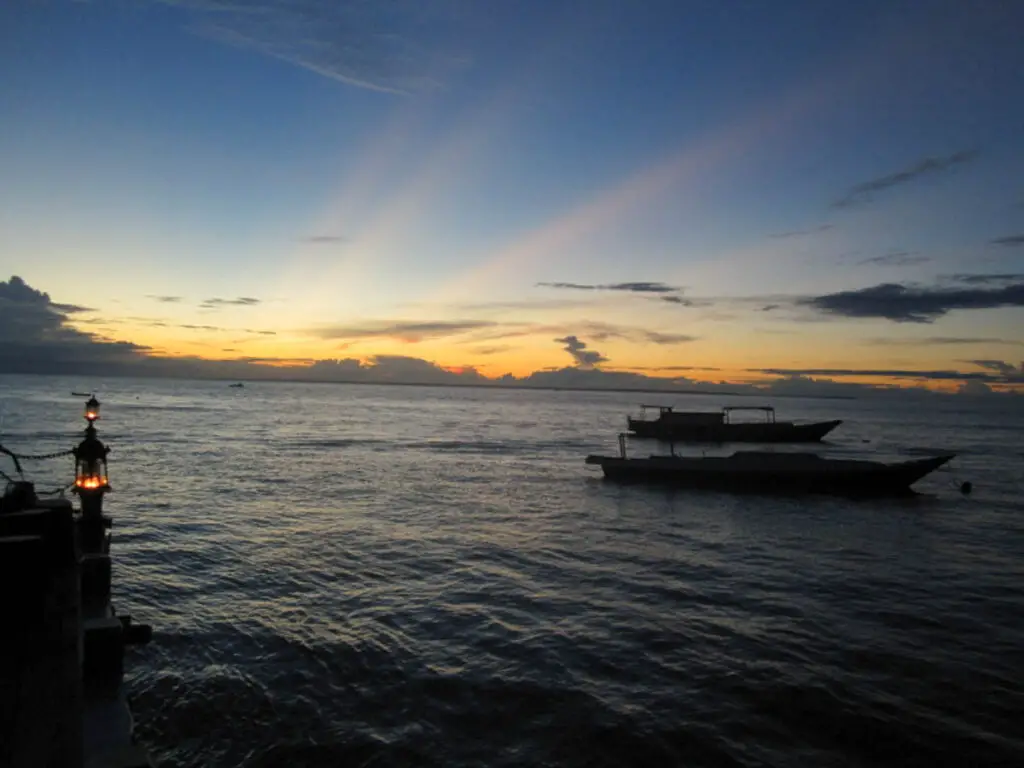 Set 30 kilometers off the northeastern coast of East Kalimantan, the 31 islets constituting the Derawan archipelago have stunning white coves lapped by turquoise water. The most famous are Derawan, Maratua, Sangkalaki and Kakaban.
The islands are fantastic for diving, with several operators, including popular Scuba Junkies, offering all-inclusive diving packages and PADI courses. Beyond beaches, there are two lakes filled with stingless jellyfish on Kakaban and Maratua islands.
Tanjung Puting National Park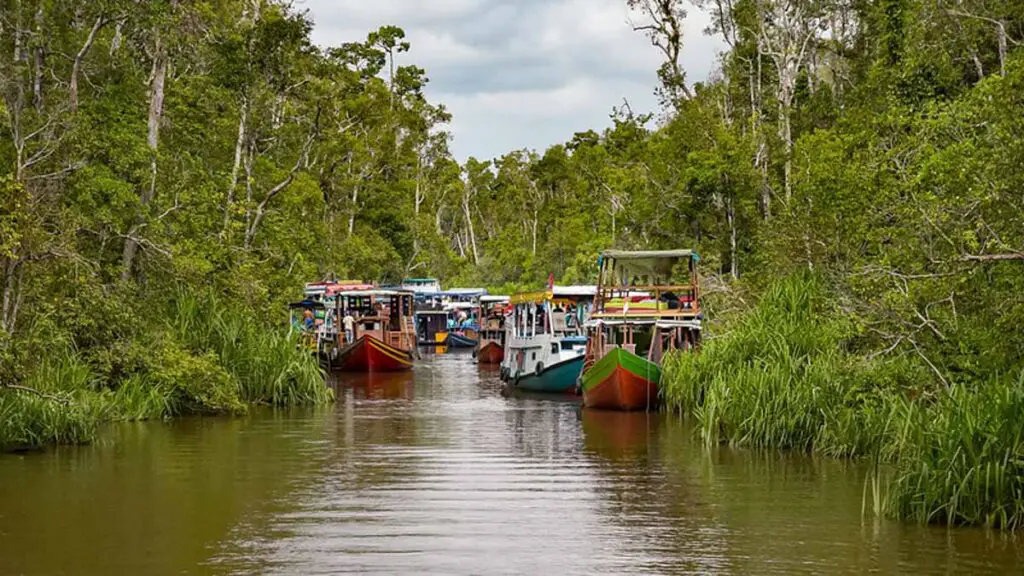 Most people come to Tanjung Puting national park for the renowned Camp Leakey Orangutan Rehabilitation Centre, which has been taking care of orphaned and rescued orangutans since Dr Galdikas started working here in the 1970s. Tanjung Puting is possibly the world's best place to see wild orangutans, which have 4,000 square kilometers of space to live pretty much undisturbed.
But what about beaches, then? Well, Tanjung Puting is a collection of dryland dipterocarp forest, peat swamp forest, mangrove and coastal beach forest crisscrossed by the Kumai and the Sekonyer river. Traveling here means exploring the wilds on small boats, plying small river bends and floating over water for most of the time. You must join a tour to visit, and if you can push yourself to the southern limits of the reserve, you'll emerge on the South China Sea.
Further Readings on Malaysia and Borneo
• Ultimate Guide to Backpacking Borneo
• Explore Bukit Piton Orangutan Sanctuary
• At Home with Pirates on a Sungai Kapur River Cruise
• Best Places to Visit in Malaysia in 3 Days
• Tawau Hills Park Hiking Guide
• 20 Great Short Getaways in Malaysia
---
Blogging transparency: this post contains affiliate links. These are products and services that we personally use and recommend. If you click on one and buy any service, we will get a small commission at no extra cost to you. Consider it a small way to say thanks, and keep Monkeyrockworld going.
---